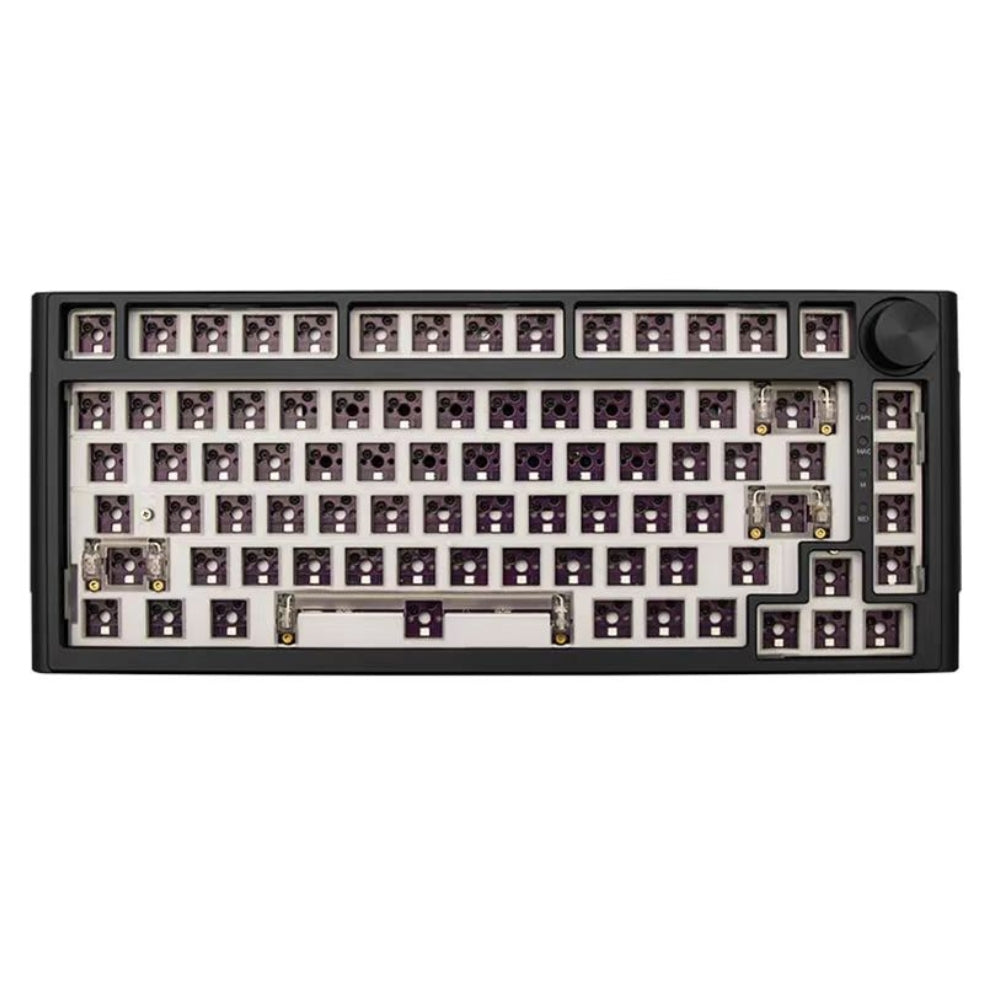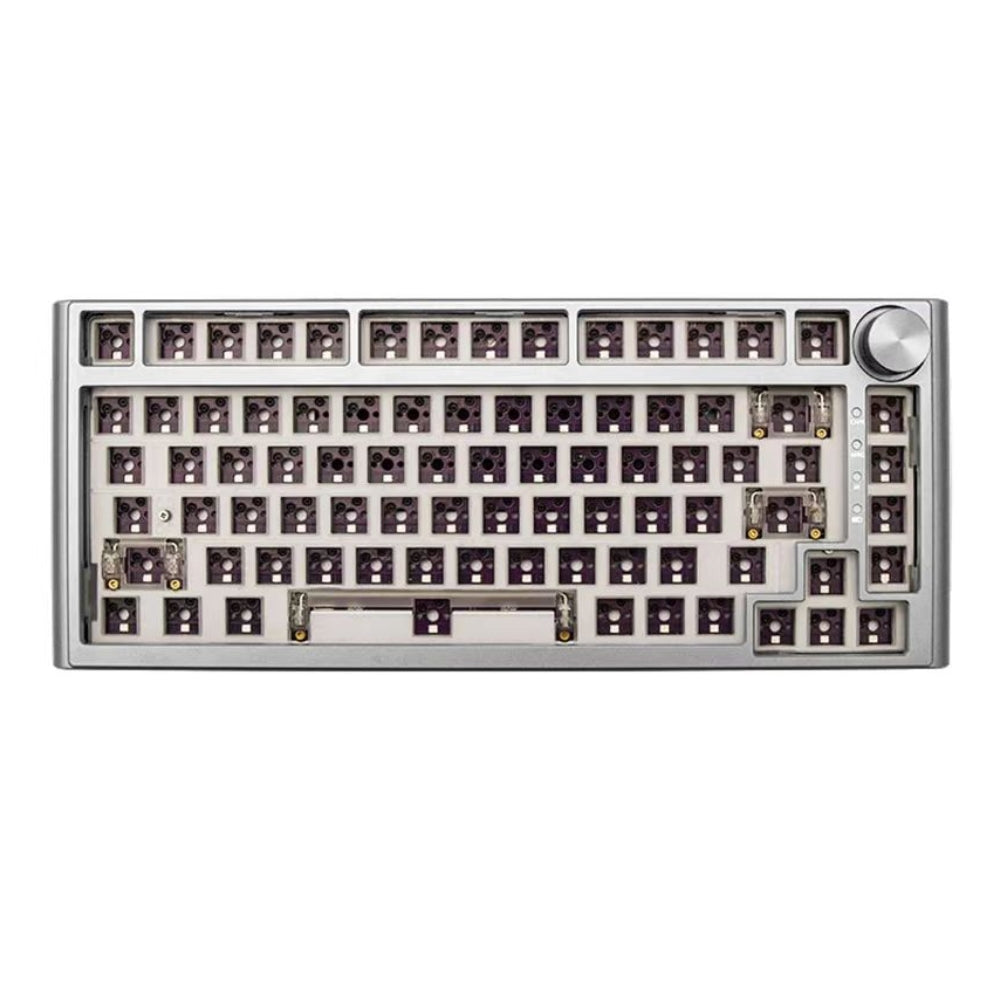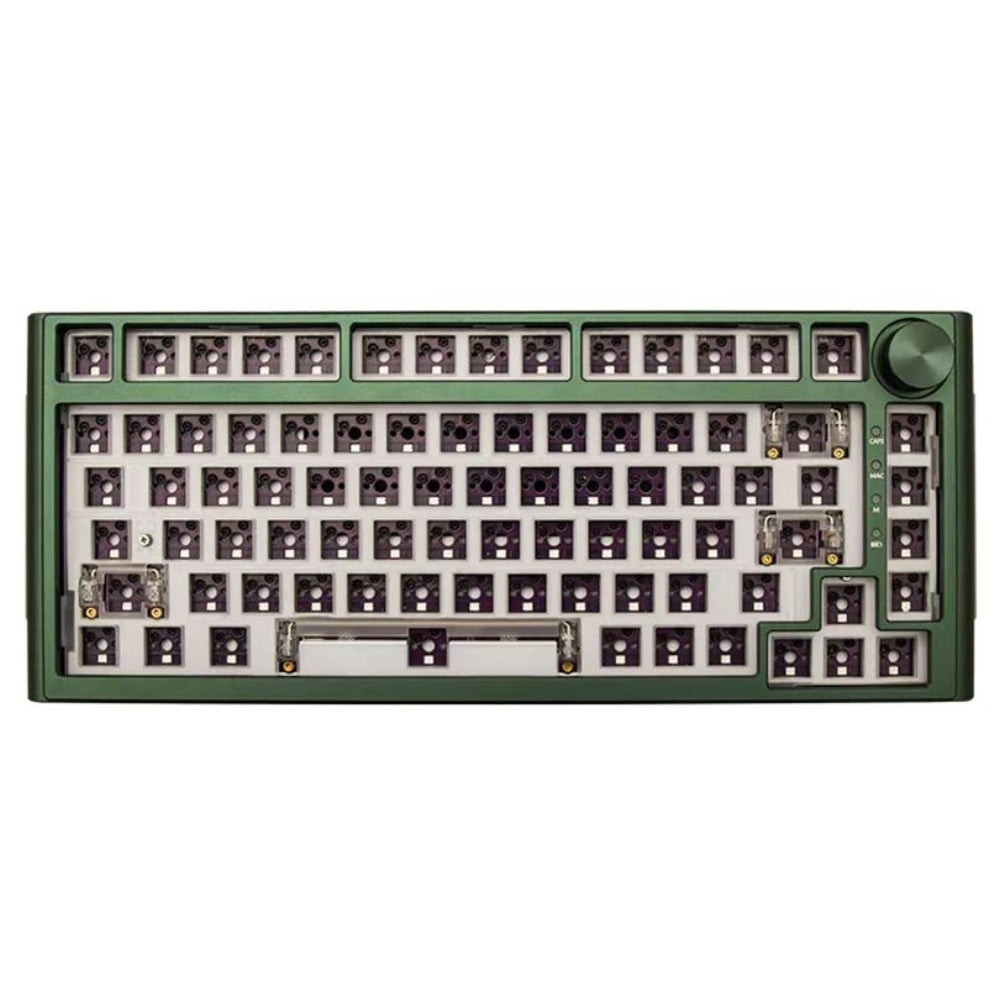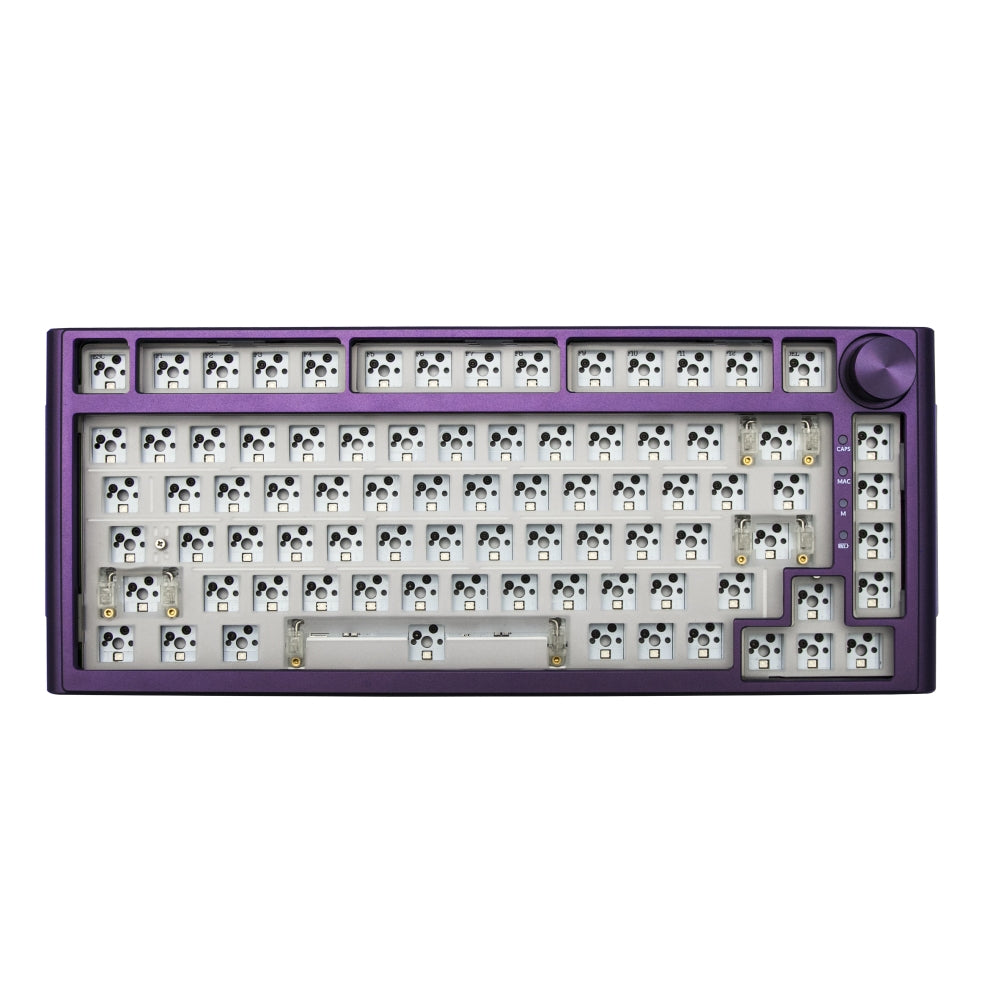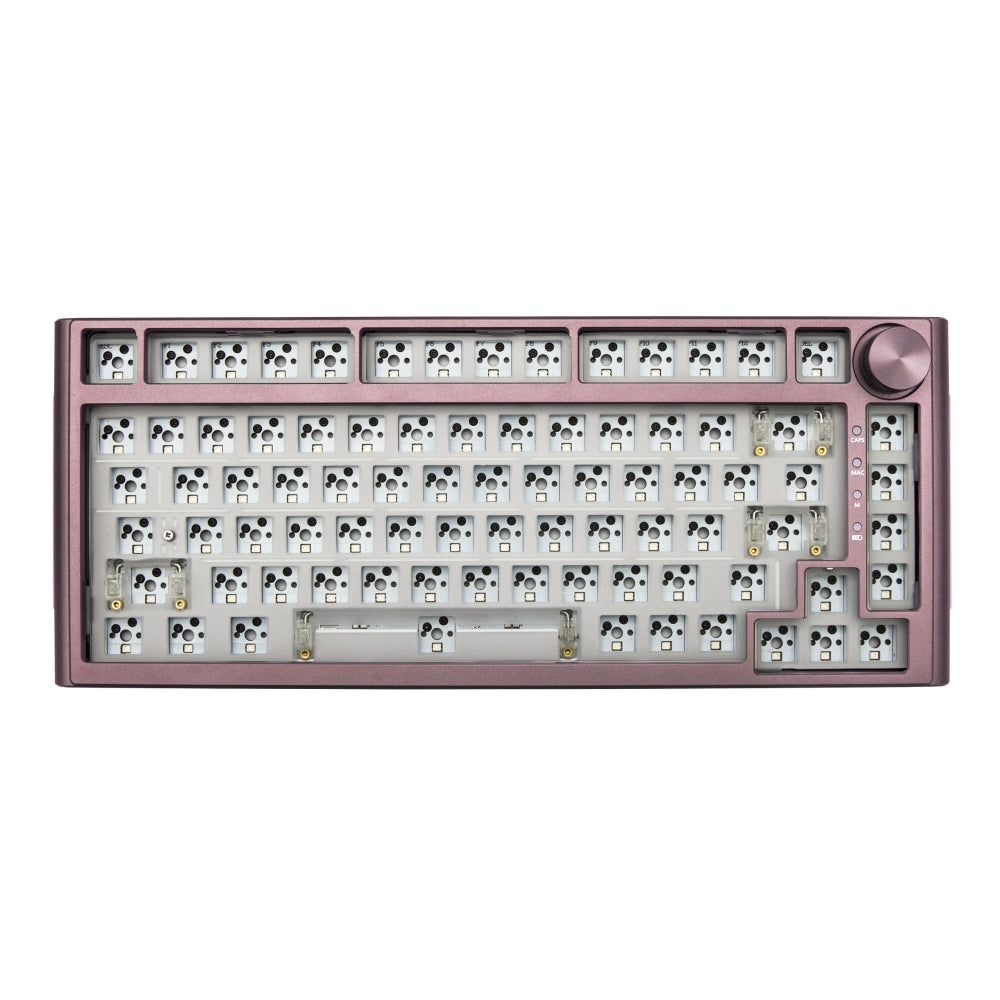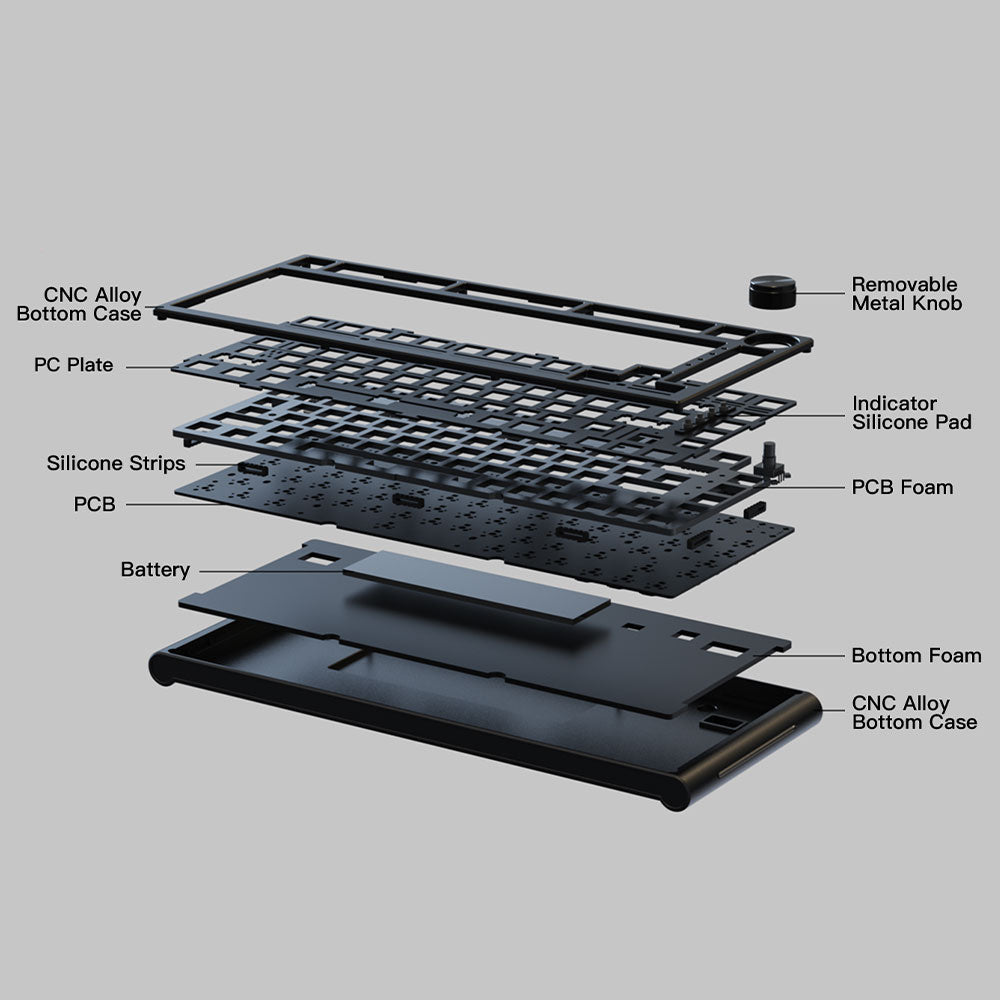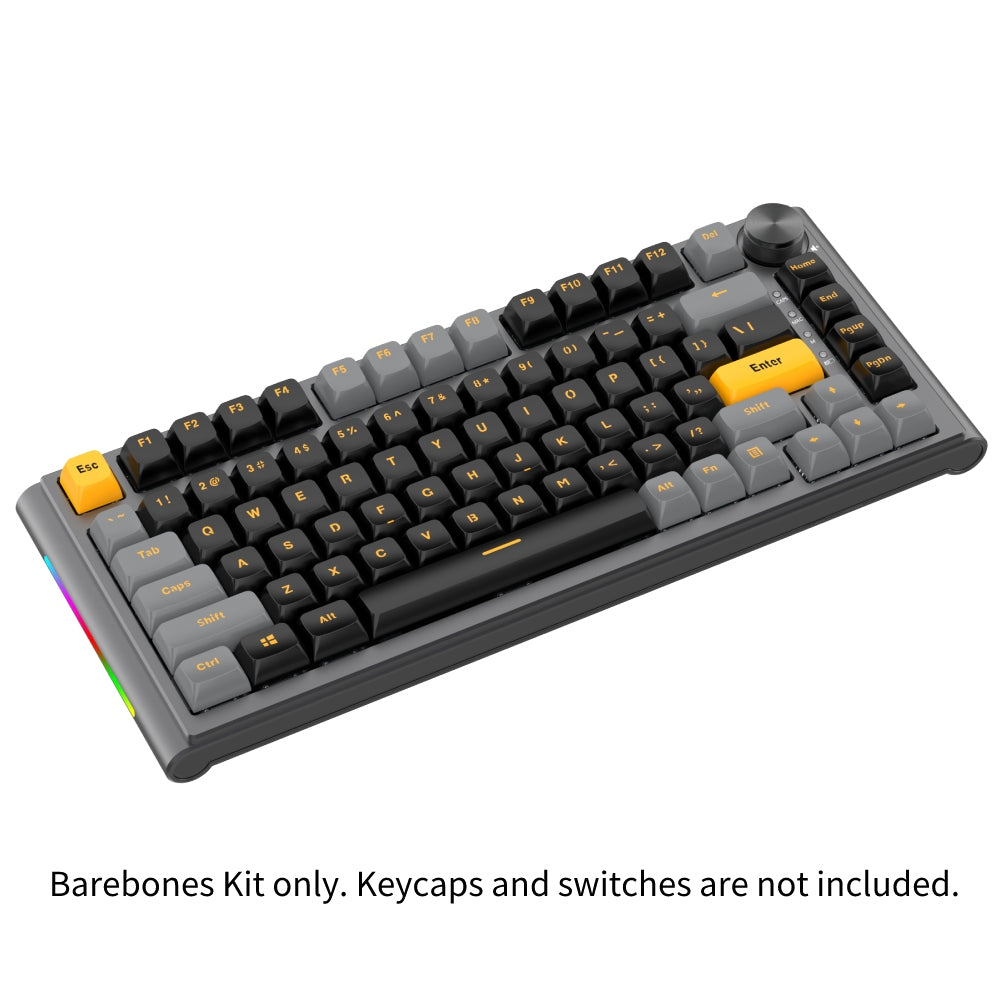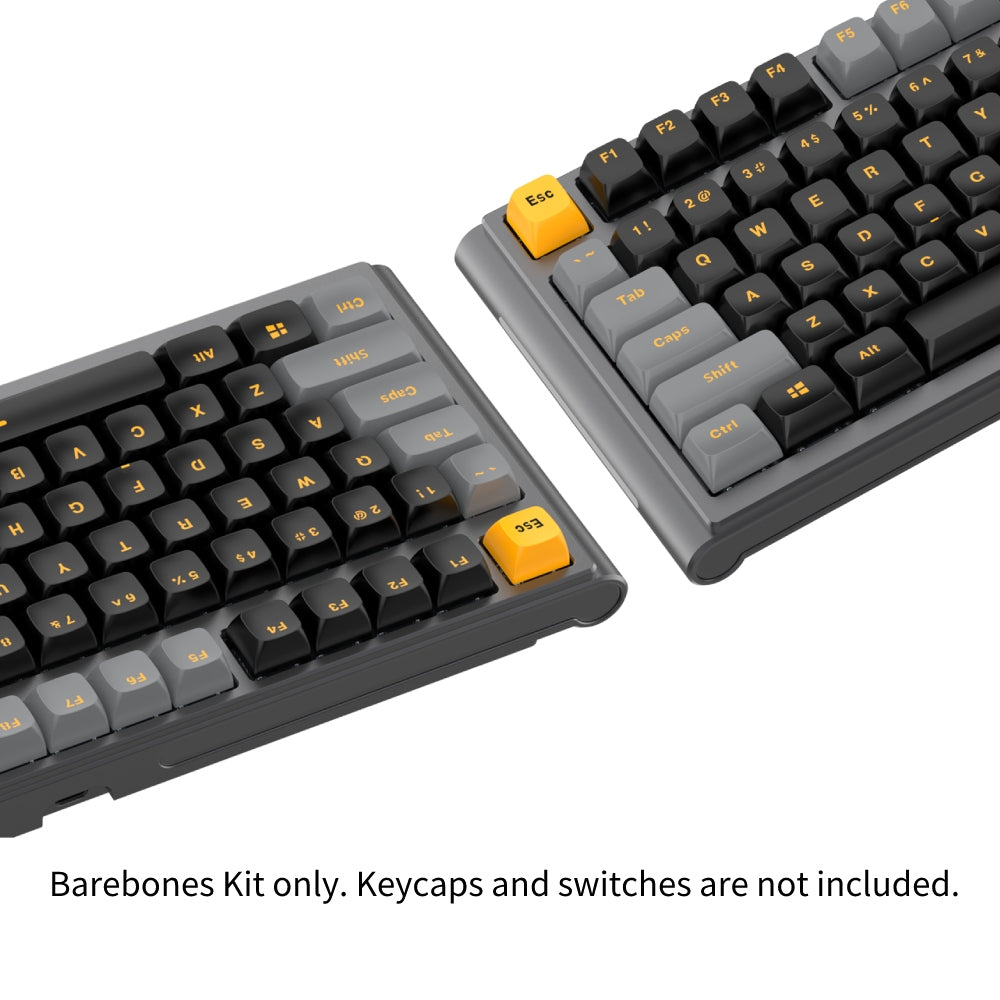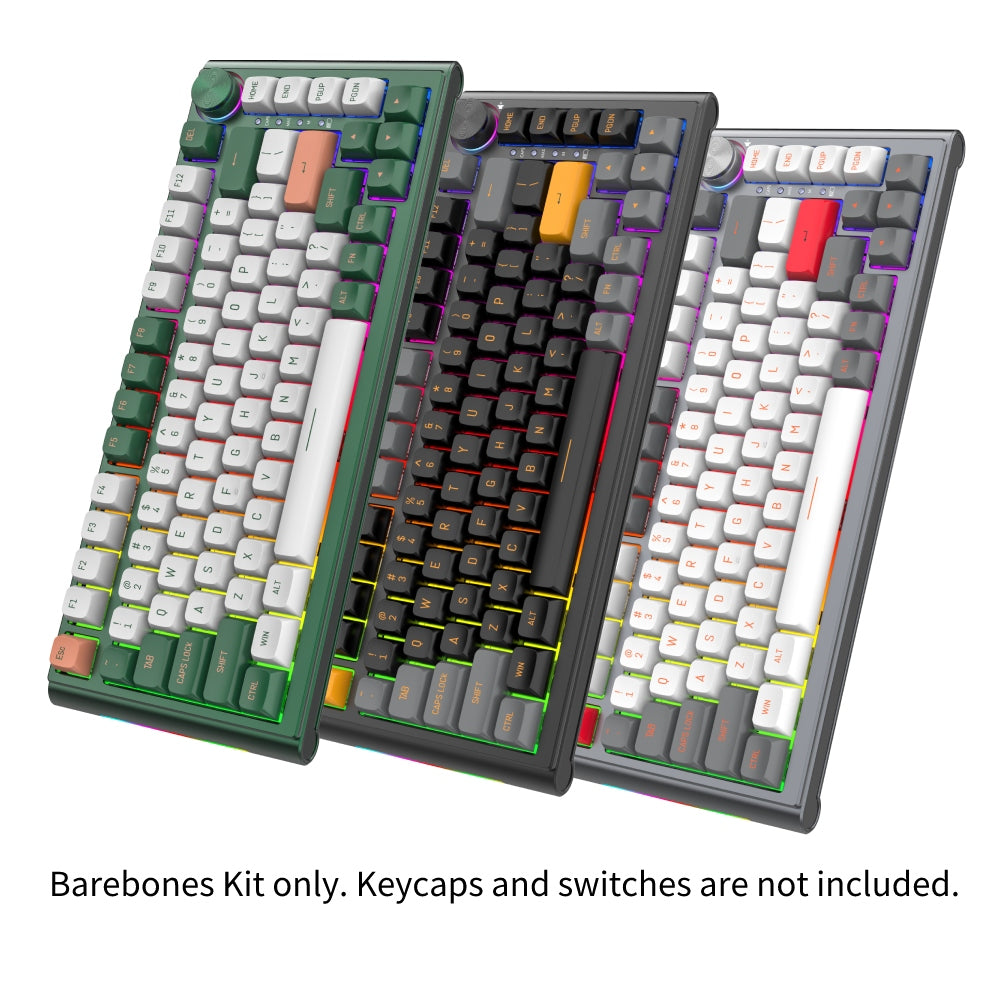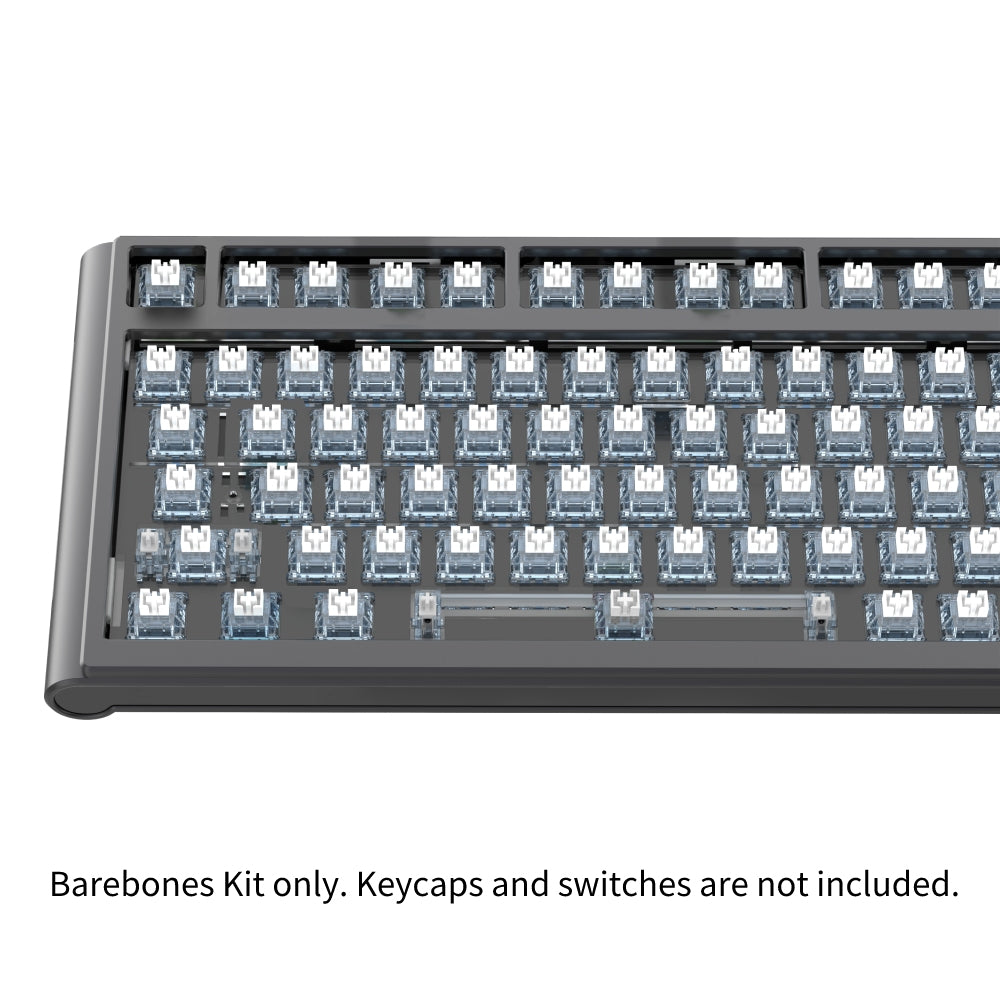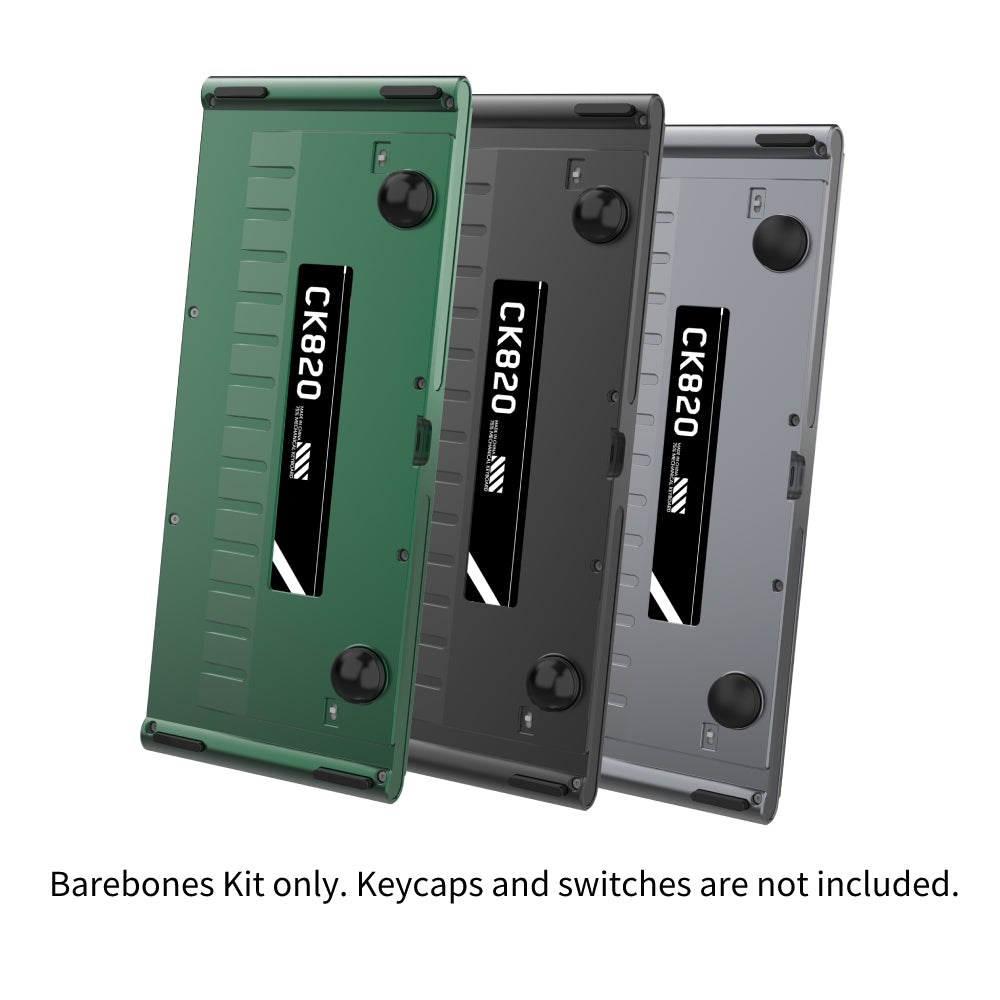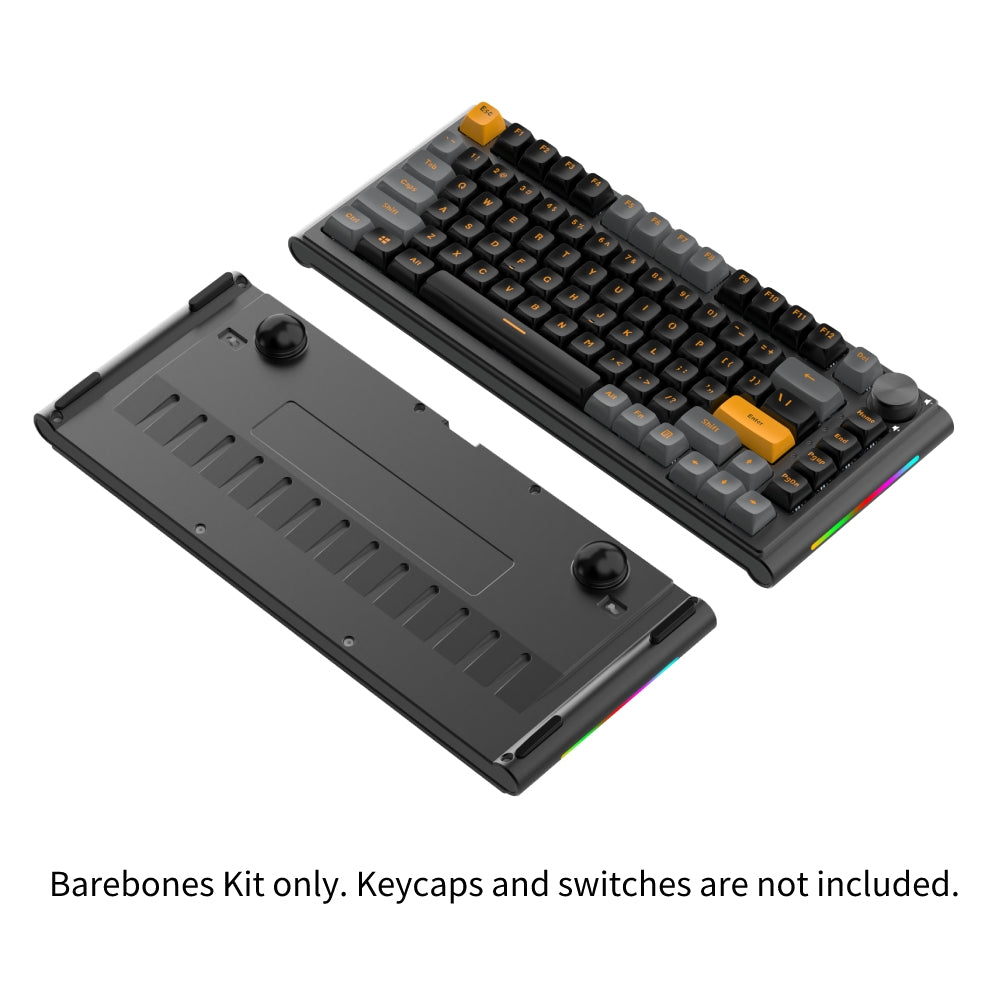 75% 82-Key Aluminum Gasket Mount Barebones Kit
75% Mechanical Hot-Swap Barebone Kit
Aluminum CNC Case
Three Connectivity: Bluetooth/2.4Ghz/Type-C
Gasket Mount
RGB Backlights & Sidelights with Rotary Knob
Note: This is a barebones kit that does not include keycaps and switches.
Sale price
$179.00
Regular price
Free standard shipping to most countries
Enjoy free shipping to most countries*. Please refer to our
shipping FAQ
to see if you apply.
Covid-19 Shipping Delay Notice
Shipping may be delayed due to covid-19 depending on your country regulations.
75% Mechanical Hot-Swap Barebone Kit
MXRSKEY CK820 is featuring the trendy layout and mount type. The MXRSKEY CK820 keyboard houses 82 keys, which saves space for the mouse in the right side. It is ideal for who demand accuracy, speed, reliability and endurance for long time gaming sessions. Equipped with hot-swappable PCB, the keyboard is convenient for replacing other mechanical switches freely without soldering issue. By swapping the switches, you can build your own keyboard that fits your typing habits easily.
Aluminum CNC Case
The CNC aluminum case aims at maximizing durability and tactile satisfaction. This material build to provide a stable and firm foundation, no matter how hard you type. The full aluminum case is a more premium feature that is hard to seek after by mechanical keyboard communities. Compared with plastic frames, mechanical keyboard enthusiasts have often loved the aluminum body for its durability, as well as the distinct tactile feel and sound that no plastic body can reproduce. 
Three Connectivity: Bluetooth/2.4Ghz/Type-C
More than being wireless, we have this kit in triple modes, that is to say, the latest Bluetooth 5.0 technology and ultra-fast stable 2.4GHz wireless, plus Type-C wired mode. Triple modes will be accommodating a variety occasions, such as trip, office, home... no more bulky accessories and no more be bothered by terrible transmission.
Gasket Mount
Gasket mounting is a type of keyboard mounting, where no screw holes are drilled into the switch plate. Compared to a top mount structure, a gasket-mounted keyboard has a cleaner sound profile because the gaskets cushion the shock of each keypress. Gasket-mounted keyboards also give a softer typing experience, which helps avoid hand fatigue for those who type for long periods.
RGB Backlights & Sidelights with Rotary Knob
RGB backlight is always considered as one of the important elements for mechanical keyboards. MXRSKEY CK820 keyboard features SMD LED RGB for backlights and sidelights. You can easily switch between different types of effects. In the meanwhile, media control is getting more and more essential in daily use and a rotary knob is there for an easy access to this function.
Technical Specifications
Key Amounts
82 keys +1 knob
Connectivity
Bluetooth/2.4Ghz/Type-C
Hot-Swappable
Yes, 3 pins and 5 pins
Stabilizers
Plate Mount Stabilizers
Software
Programmable with supportive software
OS Compatibility
Windows, Mac, iOS, Android
Dimension
About 346 x 104.5 x 29.5mm
Inside the box
Keyboard barebones (Aluminum case, PCB, mounting plate, plate-mounted stabilizers, built-in battery)
USB Cable*1
Excellent typing experience for the price - but with some questionable elements
Kitted this out with the Akko CS Wine White and the end result is impeccable. The sound is wonderfully marbly and the feel is just right. I don't like gasket mounts with too much flex but this strikes a good balance overall. Build quality is generally top notch - and MXRSKEY deserves an extra compliment for shipping this with stock spacebar stabs that neither rattle nor tick - but the design and software could use an extra pass or two given these minor issues:
- The magnetic feet are very well made, but it doesn't seem to provide a steep enough lift for a properly noticeable incline. Without the extra feet, it sits on the desk like a low-profile board even if it's nowhere near that slim.
- The knob light is oddly the only one with very limited controls. Seems like it can only run the spectrum backlighting and will always turn on automatically when the board powers on even when you've already turned it off.
- The side lights behave more consistently, but there is a severe lack of software controls (unlike all the other per-key lights) and it seems to have just a limited selection of colors available with no option to fine tune.
- No storage slot for 2.4GHz dongle.
- The placement of indicator lights for Caps Lock, Mac mode, wireless connection type, and battery level cheapens the otherwise nice design.
- No way to check current battery level - the light only goes green when it's 100%, red while charging, and blinking red at low power.
- The software occasionally boots up with no ability to actually open up the menus. It just sits at the splash screen and does nothing while still minimizing and closing as if it doesn't do anything else.
All of this sounds like a lot of complaints, but these are only so noticeable because the rest of the board is fantastic.
Purple Off Color
When I first received the keyboard I was pretty happy. Then I realized none of the keycaps I bought matched and was sad. But upon returning to this page to find out some details about the board, I realized its not my fault and the purple I got, doesn't match the purple in the picture.
Mine is lighter and slightly pinker. But they clearly didn't send me the pink board. Its like a weird hybrid.
Just wanted others to be aware. And this new purple/pink is way harder to match IMO.
Another one
This is an update about the third pcb or replacement number 2. It came broken, the spacebar hotswap socket is stripped and switch that is used to change modes came broken.
Dear customer,
We sincerely apologize to hear that the third PCB is broken.
To better solve this case, could you please kindly take some photos to our support team via support@epomaker.com?
Please don't worry, we will take responsibility and give you a better solution.
We feel so sorry again if it causes any inconvenience brought to you.
Kind regards,
Epomaker Team
Broken pcb twice
I initially received my unit and was excited to mod and use it. When I unscrewed everything I saw 4 missing hotswap sockets on the pcb. Even without the sockets I tried to use it which ended very badly. I spoke to a support member and they were able to give me a replacement pcb, however this pcb was yet again broken. The hotswap socket for O was completely stripped, meaning that there was no way to salvage the pcb. I once again went to support where I am currently waiting for another replacement pcb. This item gets a two star because even though the product was unsatisfactory, the customer service was great.
Join us on Instagram
Join our community in Instagram to keep up to date with our news, product releases, sales and giveaways!