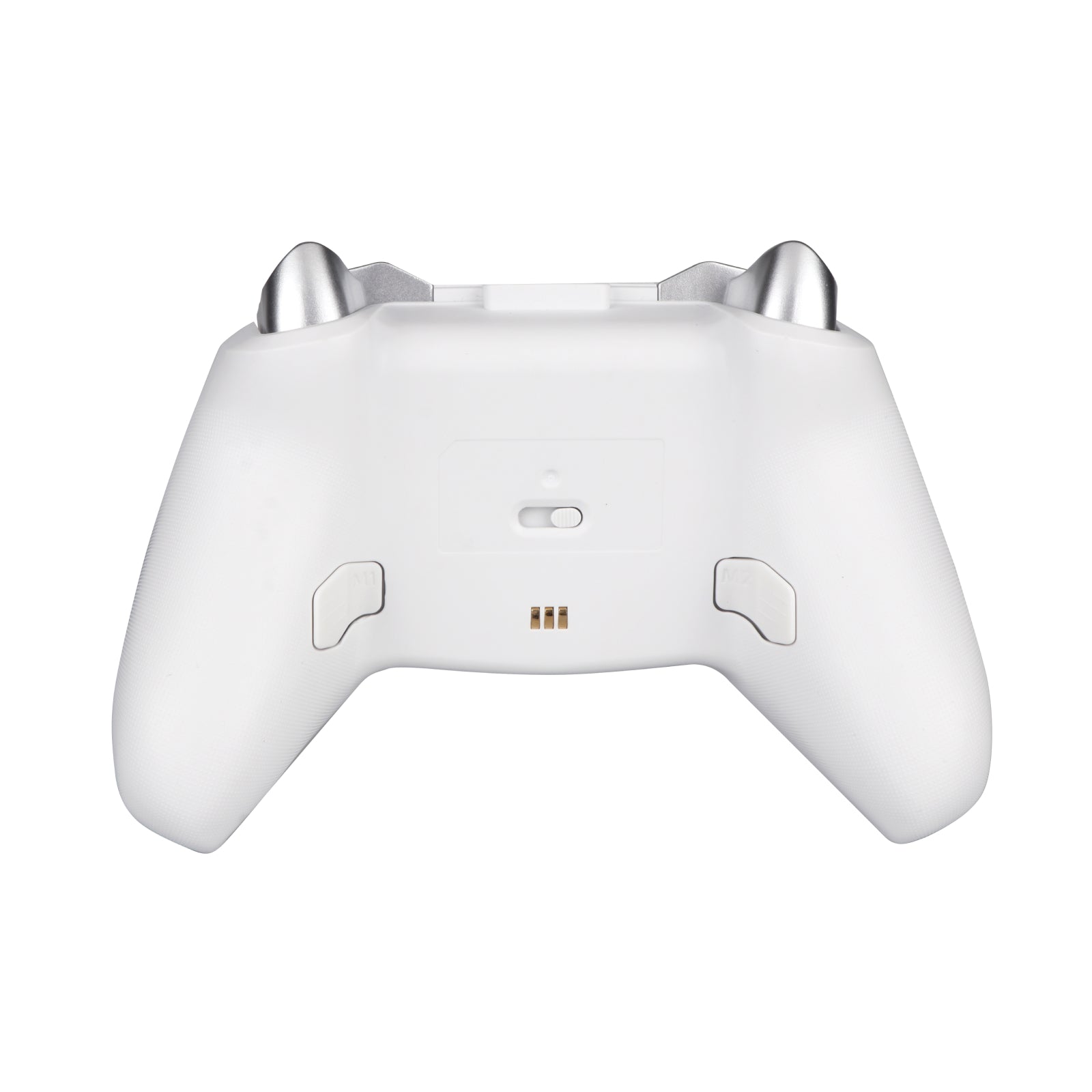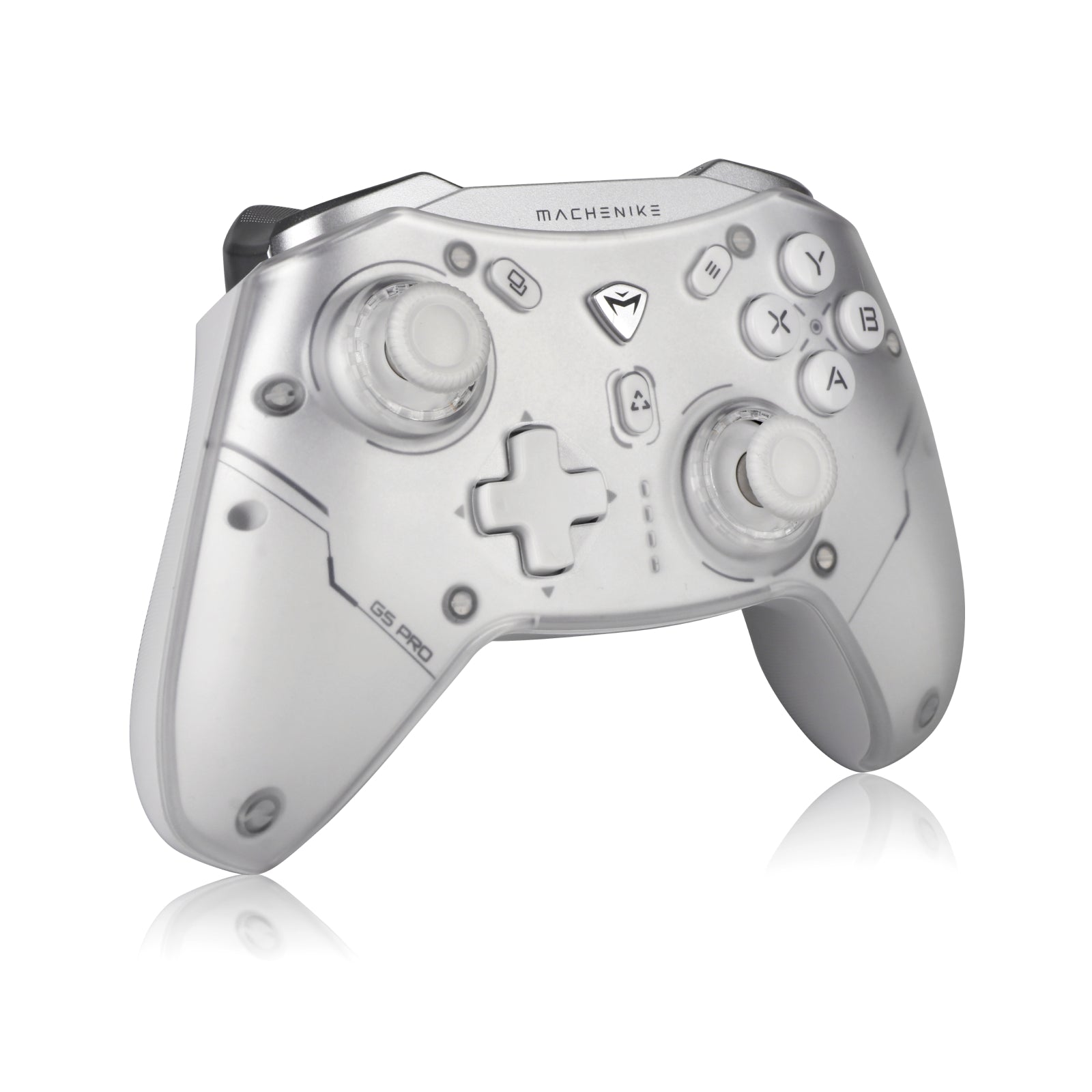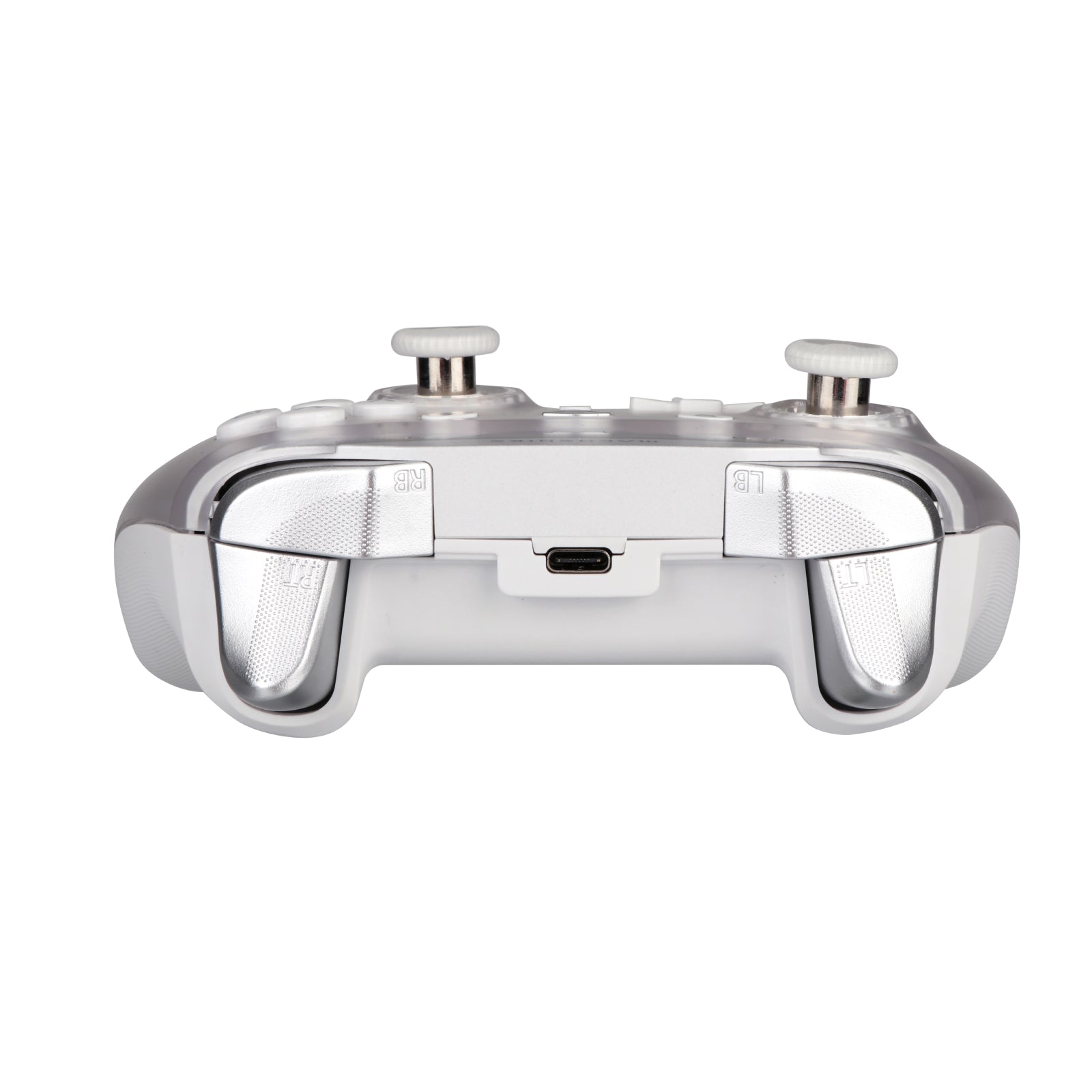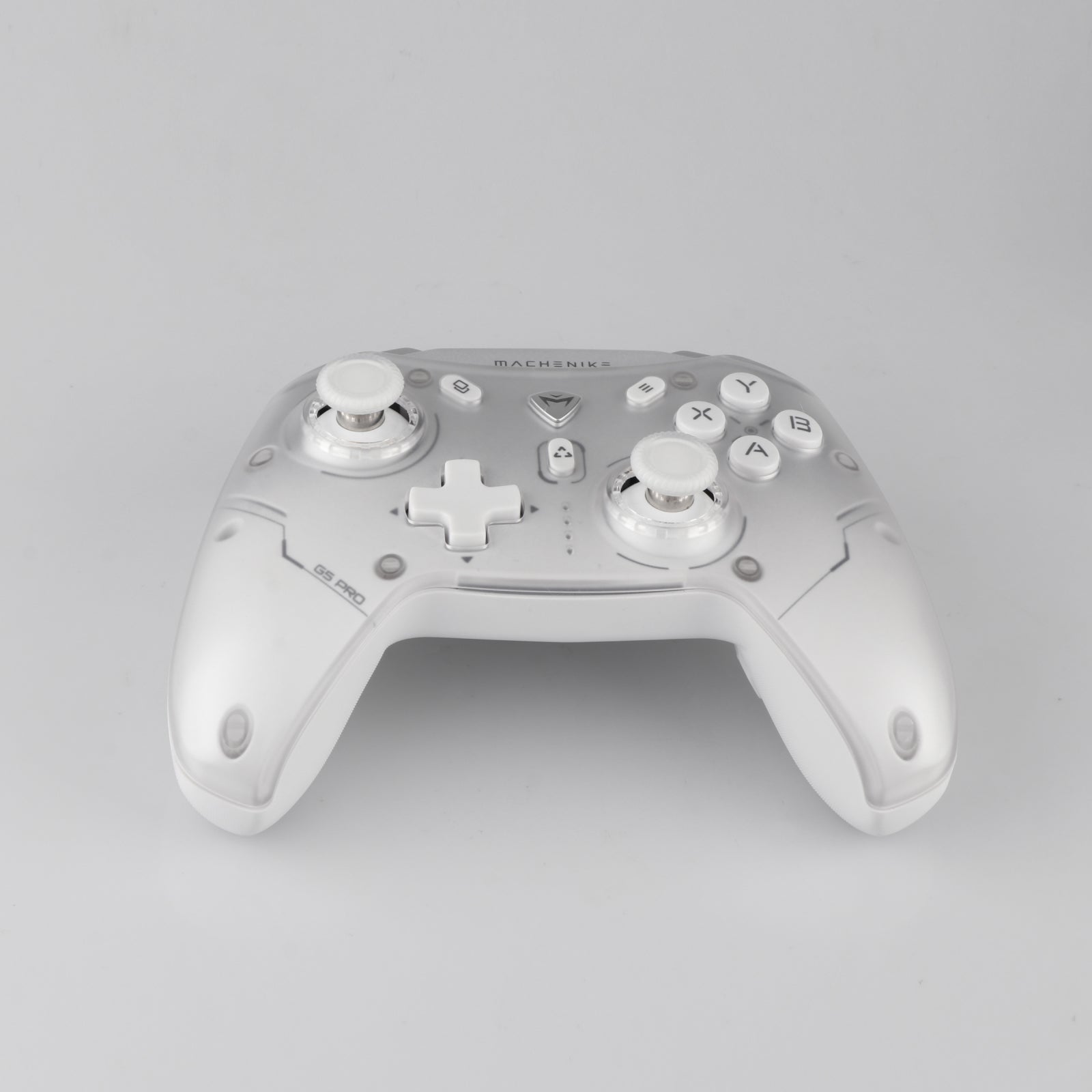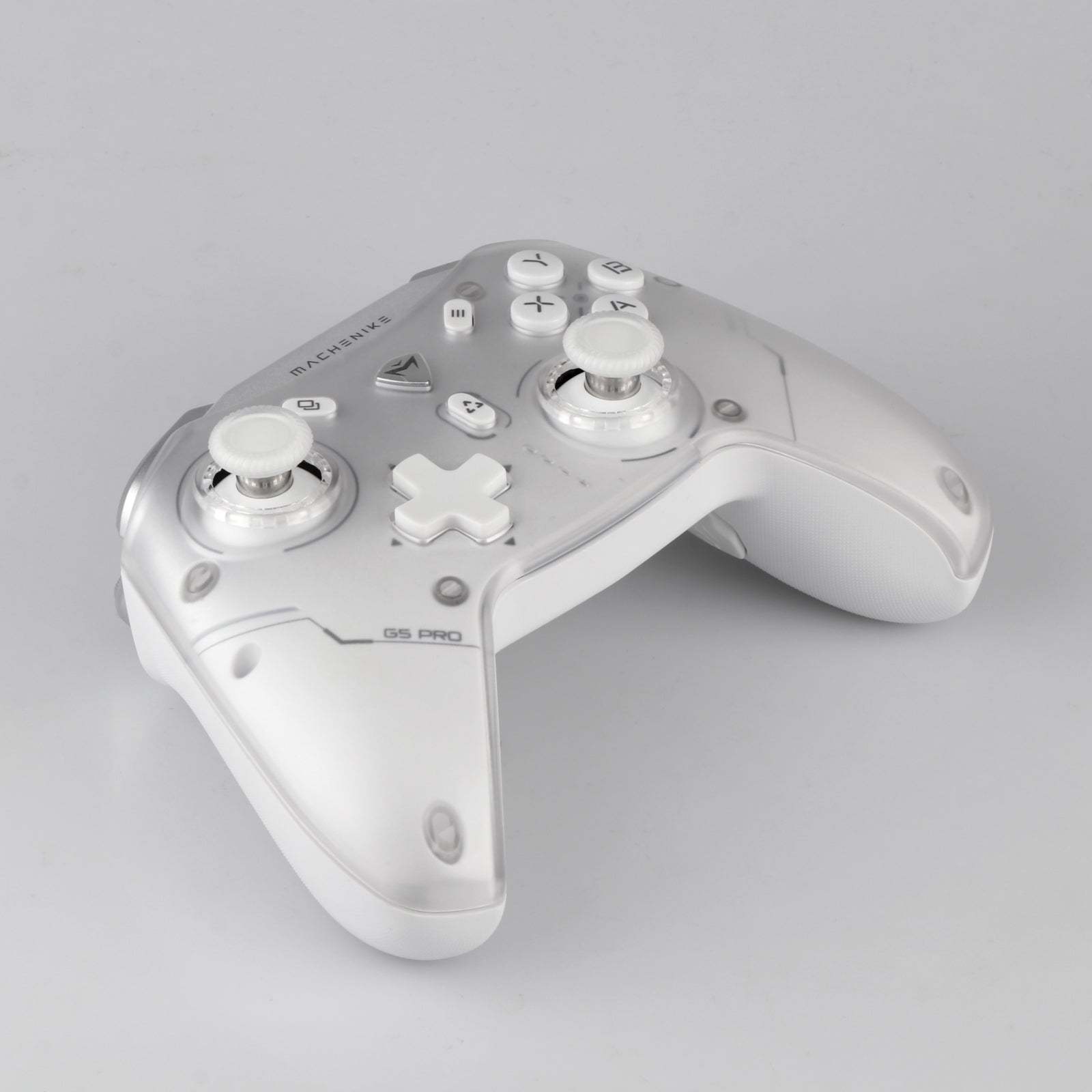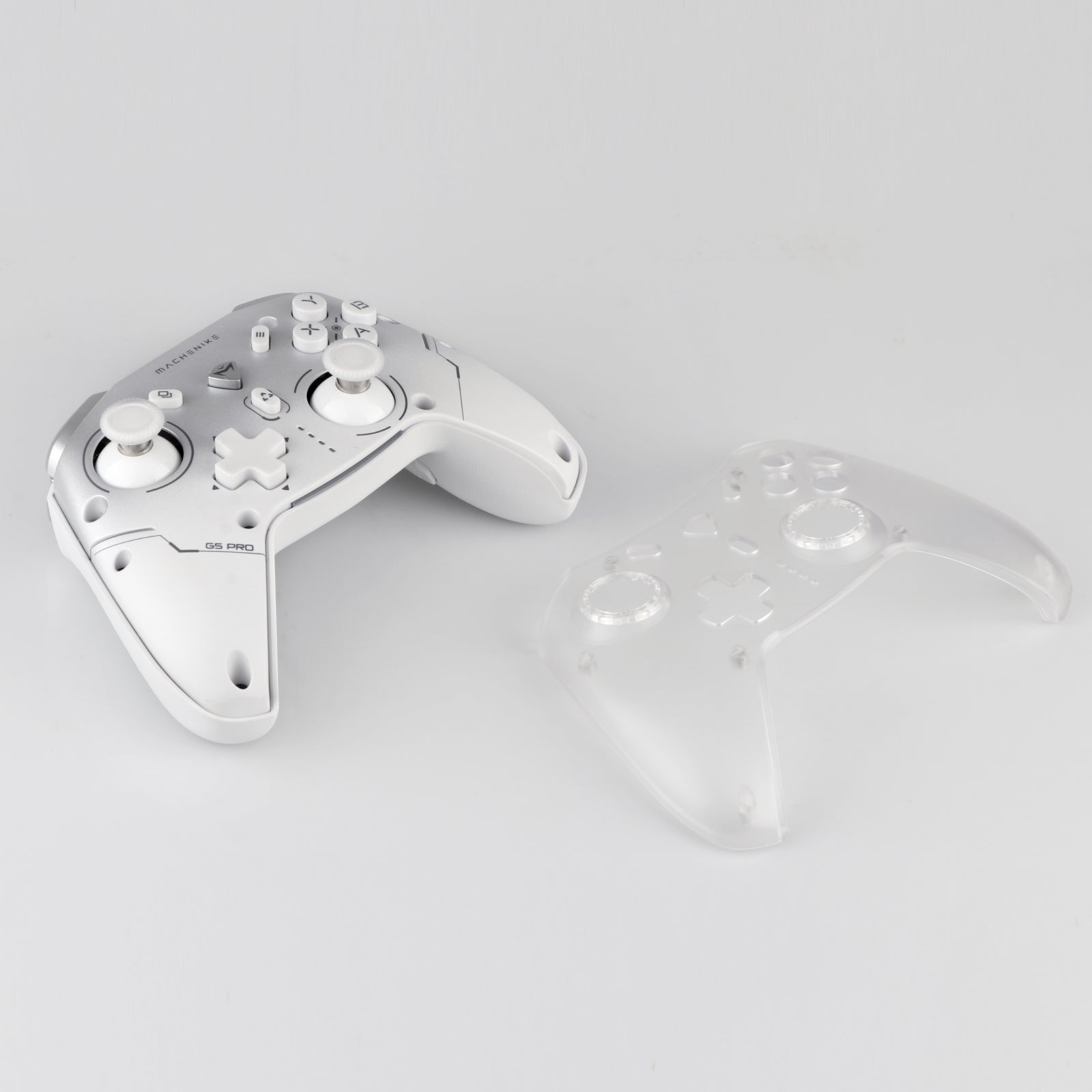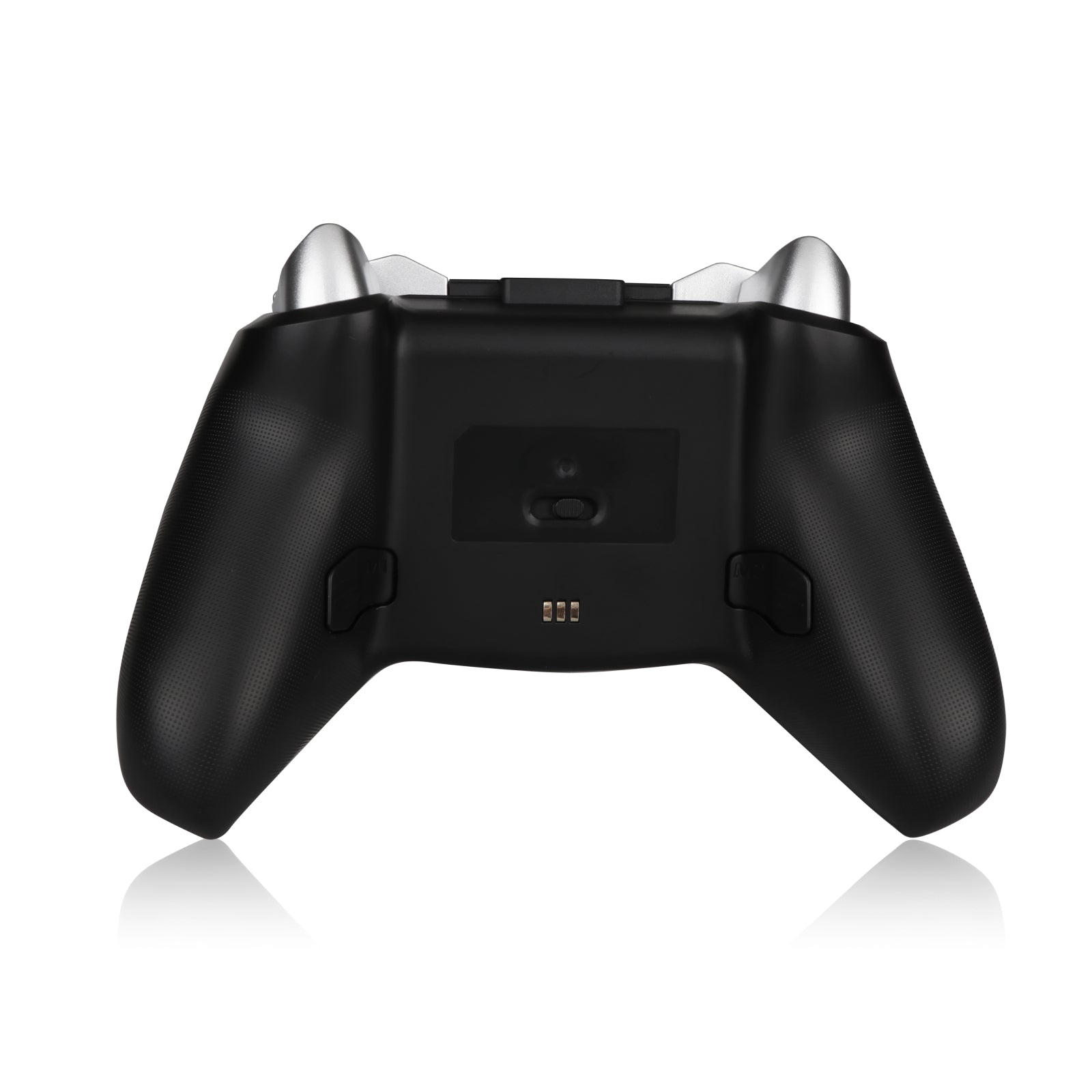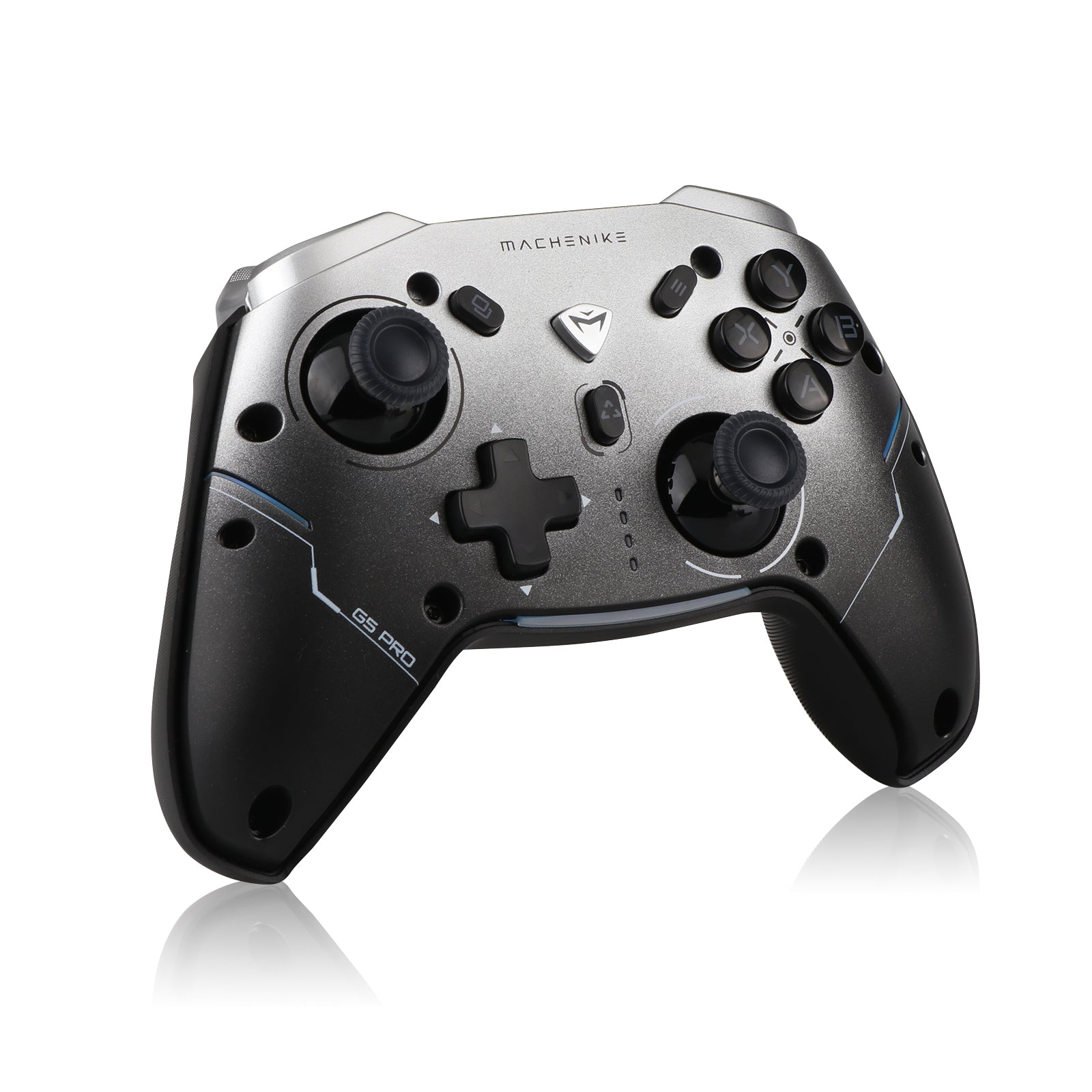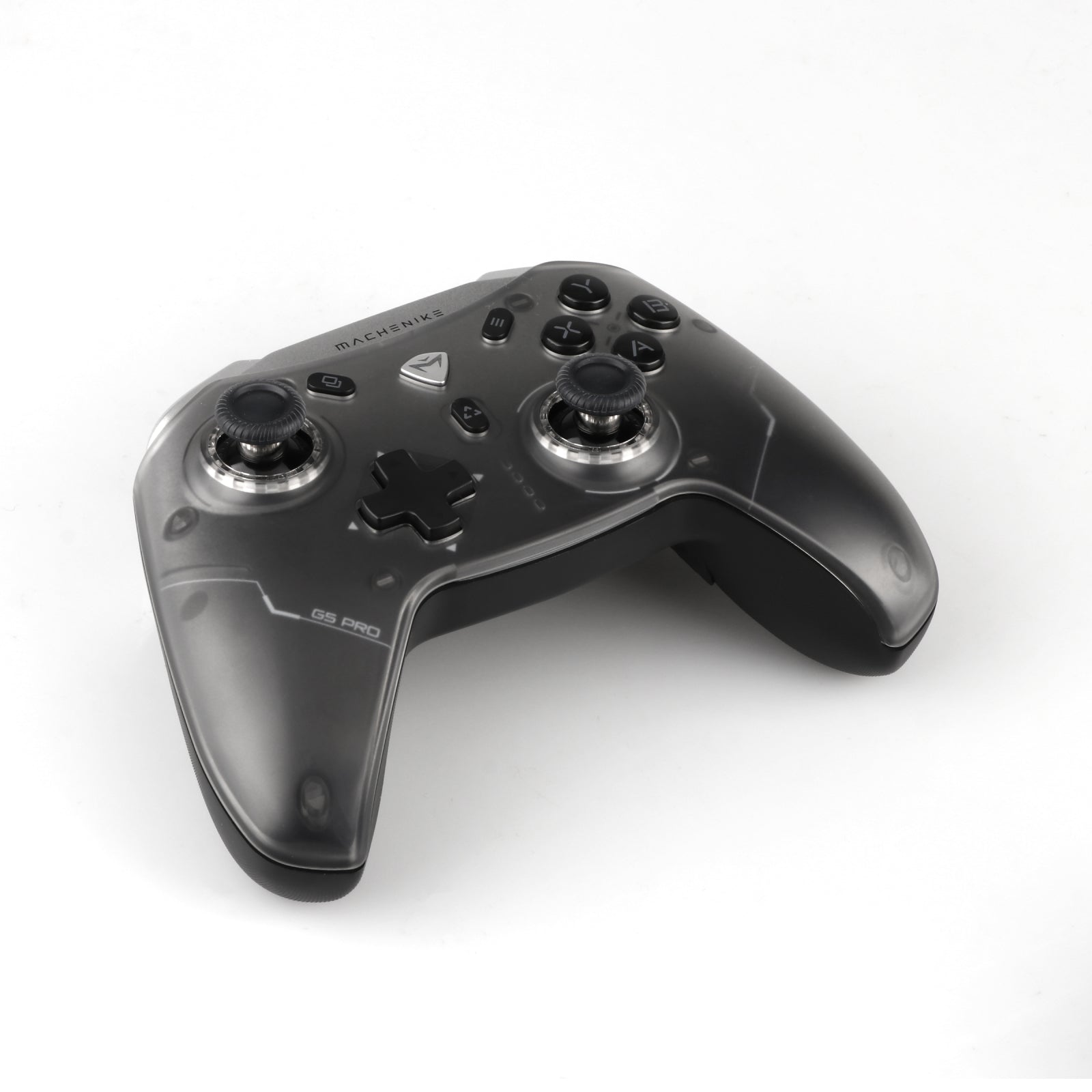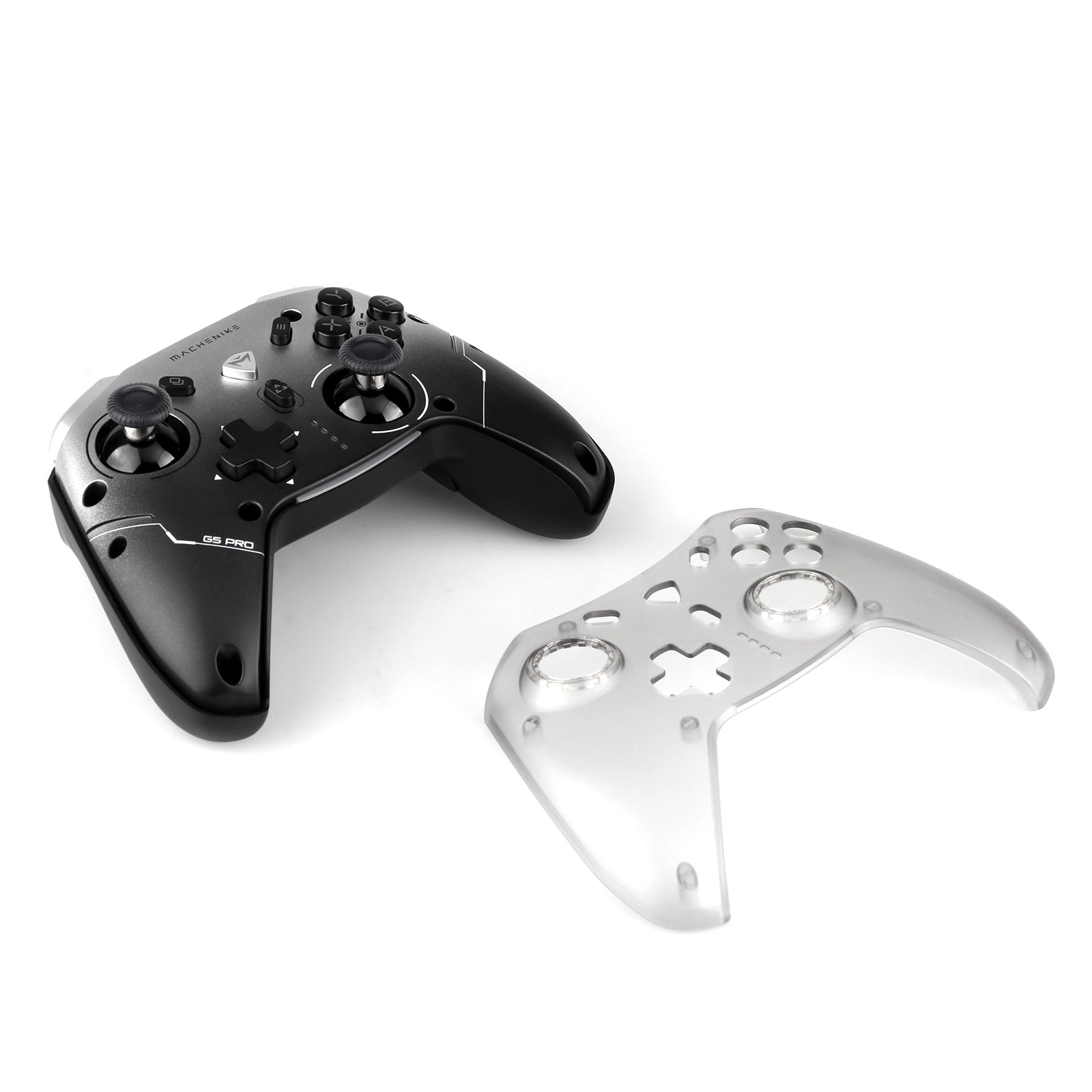 [In-stock] Machenike G5 Pro
The Ultimate Gaming Controller for the Serious Gamers
Update [12.6.2023]: 200 orders reached! Production will start today and shipping will be in late July - mid August, 2023 or eariler. Stay tuned!
Update [3.7.2023]: Groupbuy will end soon! Retail price will be resumed to $65.99 on July 4th.
Hall Effect Analog Sticks
Hall Effect Triggers
Upgraded Kailh Switch D-Pad
Motion-Sensing Support
Dual-Core Programmable Back Buttons
Supports PCs, Switch, Smartphones, Android TVs, Tablets, Car Multimedia Systems
Bluetooth 5.0, 2.4GHz, Wired Connectivities
Proprietary Software for Programming
NS One-Button Wake Up
Translucent Magnet Faceplate Cover
Customizable RGB Lights
Sale price
$65.99
Regular price
Free standard shipping to most countries
Enjoy free shipping to most countries*. Please refer to our
shipping FAQ
to see if you apply.
Covid-19 Shipping Delay Notice
Shipping may be delayed due to covid-19 depending on your country regulations.
The Ultimate Gaming Controller for the Serious Gamers
Hall Effect Analog Sticks
Hall Effect Triggers
Upgraded Kailh Switch D-Pad
Motion-Sensing Support
Dual-Core Programmable Back Buttons
Supports PCs, Nintendo Switch, Smartphones, Android TVs, Tablets, and more!
Bluetooth 5.0, 2.4GHz, Wired Connectivities
Customize it with Software
NS One-Button Wake Up
Translucent Magnet Faceplate Cover
Customizable RGB Lights
The Machenike G5 Pro is a cutting-edge gaming controller that offers precise controls, advanced features, and extensive customization options, providing the ultimate gaming experience across all your devices. As one of the few controllers on the market to incorporate both Hall Effect analog sticks and Hall Effect triggers, the G5 Pro ensures that every one of your commands is executed with superior accuracy and responsiveness.
Additionally, the G5 Pro's directional pad has been upgraded with Kailh switches, resulting in lightning-fast response times and intuitive tactile feedback. On top of the top-notch configuration and premium tactile feedback, the G5 Pro is also cross-compatible. It can be used on all of your devices, including PCs, Macs, Nintendo Switch, smartphones, tablets, Android TVs, and even your car's multimedia system. With this feature-packed design and fashionable look, the G5 Pro delivers a smooth and consistent gaming experience, taking your gaming to the next level.
Elevate Your Gaming Experience with Full Hall Effect System
The G5 Pro elevates your gaming experience with its full Hall Effect system. It utilizes Hall Effect sensors in both its analog sticks and triggers to provide unparalleled precision and responsiveness. The G5 Pro's analog sticks utilize sophisticated electromagnetic induction technology, allowing for pixel-level micro-movements that prevent drifts and unwanted movements in games. This is especially helpful for gaining competitive advantages in FPS games. Meanwhile, the Hall Effect triggers can detect micron-level magnetic fields for smooth movement, ensuring each command is executed with ease and accuracy. You'll feel the difference the moment you start playing with the G5 Pro controller.
Customization for Ultimate Control
Customization is a crucial aspect of gaming, and the G5 Pro delivers in this regard as well. With customizable dead zones, you can fine-tune your controller to match your preferences and playstyle, enabling every movement to be detected and translated into precise actions on the screen. Now you can achieve a game-changing moment in games where greater control is needed over your gaming experience.
Built to Last for Consistent Performance
Aside from precision and customization options, the G5 Pro is built to last. Traditional potentiometer-based analog sticks and triggers wear down quickly over time, resulting in decreased accuracy and responsiveness. However, the G5 Pro's full Hall Effect system accurately detects changes in magnetic fields without requiring any mechanical contact. This guarantees consistent performance over the long term. You can game with confidence, knowing that your controller will always perform at its best.
Advanced Configurations to Unleash Gaming Potential
We specifically upgrade the G5 Pro's D-pad with the Kailh switches, which are famous for their fast responsiveness, strong tactile feedback, and long lifespan. The 0.07cm actuation travel distance and lifespan of up to 5 million clicks ensure a smooth and precise gaming experience with faster movement in the game. On top of it, the G5 Pro comes with two elite back buttons that can be programmed using Machenike G5 Pro proprietary software to create your own macros.
With a simple one-click of the back button, up to 46-hit combo actions can be executed with ease, giving you an edge over your opponents. Moreover, the G5 Pro also supports the motion sensing feature to fully unleash the potential of the Hall Effect analog stick, resulting in an optimized FPS aiming experience. The combination of advanced configurations and state-of-the-art features makes the G5 Pro an exceptional choice for any serious gamer.
Cross-Compatibility* for Seamless Gaming Across Devices
The Machenike G5 Pro is compatible with various platforms, including but not limited to PC, Mac, Nintendo Switch, iPhone, Android, Android TV, and even your car's multimedia system. This cross-compatibility makes the G5 Pro an ideal choice for gamers who use multiple devices or want to switch between platforms seamlessly. Moreover, the G5 Pro can be used as a mouse on a PC for playing chess games or even as a remote controller for your Android TV.
With the G5 Pro, you can enjoy a consistent and smooth experience across all your devices, without having to switch between different controllers.
Some devices may require a dongle for use.
Wired or Wireless, All Your Choice
The Machenike G5 Pro provides multiple connectivity options to meet your needs. With Bluetooth 5.0, 2.4GHz, and wired connections available, you can easily switch between devices or choose the connection method that works best for you. Whether you are using a desktop computer, laptop, or gaming console, the G5 Pro has got you covered with its versatile connectivity options.
Proprietary MACHENIKE Software
The G5 Pro comes with the Machenike proprietary support software that allows you to customize your controller even further. You can program the back buttons to create your macros, adjust the sensitivity of the analog sticks and triggers, and set up different colors of the RGB lights on the controller to match your preferences. The support software is user-friendly and intuitive, making it easy to unlock your full potential as a gamer.
With the ability to fine-tune every aspect of the controller to your liking, you can enjoy a personalized gaming experience that suits you in the best way.
Stylish and Ergonomic Design
The Machenike G5 Pro boasts a sleek and stylish design that is sure to impress. The translucent faceplate cover comes in gradient colors, adding a cool aesthetic to the controller. The faceplate cover is also magnetically attached, making it easy to switch out and customize the look of your controller. The controller also features customizable RGB lighting, allowing you to add a personal touch to your gaming experience.
In addition to its stylish appearance, the G5 Pro is ergonomically designed for maximum comfort during long gaming sessions. The controller fits comfortably in your hands, providing a secure grip that minimizes hand fatigue and discomfort.
Comparison Table
| | | | | | | | | |
| --- | --- | --- | --- | --- | --- | --- | --- | --- |
| Product | FLYDIGI Direwolf Wired Gaming Controller | ThundeRobot G50 | Machenike G5 PRO | BEITONG ASURA 2 WIRED GAMEPAD pro(wireless) | BEITONG ASURA 2 WIRED GAMEPAD Pro(Multi-templates) | BEITONG ASURA 2 WIRELESS GAMEPAD | Microsoft Xboxs | Microsoft(Elite) |
| Price | $45.99 | $45.99 | $65.99 | $59.99 | $69.99 | $89.85 | $180.00 | $199.99 |
| Supported platforms | PC/NS/iOS/Android | PC/NS/TV/iOS/Android | PC/NS/TV/iOS/Android/In-car game consoles | PC/TV/iOS/Android/In-car game consoles | PC/NS/TV/iOS/Android/In-car game consoles | PC/NS/TV/iOS/Android | PC/XBOX | PC/XBOX |
| Rocker | K-SILVER | ALPS | Hall | carbon film | carbon film | carbon film | carbon film | carbon film |
| Trigger | Hall | Potentiometer | Hall | Hall | Hall | Hall | Hall | Hall |
| Action keys | Adhesive-conductive | Adhesive-conductive | Kailh Micro | Adhesive-conductive | Adhesive-conductive | Assembly | Adhesive-conductive | Adhesive-conductive |
| Back button | 2 keys | 2 keys | 2 keys | 2 keys | 2 keys | 6 keys | None | 4 keys |
| NS One Touch Wake-up | None | Support | Support | None | None | None | None | None |
| Somatosensory | Support | Support | Support | Support | Support | Support | None | None |
| Computer Flying Mouse | None | None | Support | None | None | Support | None | None |
| TV remote control | None | Support | Support | Support | Support | None | None | None |
| RGB lighting | None | None | Support | None | None | Support | None | None |
| Interchangeable faceplates | None | None | Magnetic transparent | None | None | Magnetic transparent | None | None |
| Matching software | PC | iOS/Android | PC | PC | PC | PC | None | PC |
| Case freebies | None | None | Event giveaways | None | None | None | None | None |
Compatibility of the G5 Pro
| | | | | |
| --- | --- | --- | --- | --- |
| PC+Mac | Nintendo Switch | Phone+Tablet | TV | In-car game consoles |
| steam | Standard | IOS+IPAD OS | TV(Android) | Tesla |
| EA | Long range | Android | Projectors(Android) | XPeng |
| Origin | OLED | Harmony | Set-top boxes(Android) | LEADING IDEAL |
| EPIC | Lite | | Various Xcloud | BYD |
| WeGame | | | | GAC |
| Xbox Game Pass | | | | Huawei |
| Various simulators | | | | |
Groupbuy Timeline
Late July
Mid-August Shipping Starts
*The Group Buy will start to prepare the mass production once there are 200 backers placing orders for the G5 Pro. Thus, the shipment may start slightly earlier than the timeline. The shipment will be based on the sequence of placing orders.
About Machenike
MECHENIKE is a leading professional company that specializes in designing and manufacturing innovative computer peripherals and gaming equipment. In collaboration with Epomaker, MECHENIKE is proud to offer a wide range of cutting-edge products to customers. The company's extensive product range includes game controllers, keyboards, and other accessories, all meticulously crafted to meet the demands of competitive gaming and enhance the overall computing experience.
MECHENIKE and Epomaker combine their expertise to deliver exceptional products that cater to the evolving needs of the gaming community. These products incorporate advanced features and ergonomic considerations to provide gamers with superior control, comfort, and precision.
About Epomaker
Composed of a team of young gamers, software engineers, and product designers who love tech gadgets, we set out to develop the best products that encapsulate personality, functionality, and affordability. Unsatisfied with the keyboards currently available in the market, we have created our own ultimate portable, wireless, and fully customizable mechanical keyboard to meet all of your daily needs. Our promise is to deliver keyboards that are well designed at an affordable price.
Epomaker means the Epoch Maker of Gamers. We are committed to providing worldwide with the best mechanical keyboards Asia has to offer. We are always here to match you with the perfect keyboard for your personalized needs. Join us on the journey to find the best keyboard for you.
Technical Specifications
Can be used as Mouse and TV Remote Control
PC, Mac, Switch, iOS, iPad, Android, Car Multi-Media System, and more...
15.9 × 11.1 × 5.8 cm (product only)
Inside the box
MACHENIKE G5 Pro Game Controller
Type-C Cable
2.4G Receiver
User Manual
Controller came fast and I love the controller.
Not bad-worth the cost
My ONLY complaint with the controller is the location of the Menu (double folder) button. You must turn the bottom of the controller completely away from yourself to get to it. Otherwise, a solid bit of competition for the competitors. I do not regret the purchase one bit.
Needs work
The feel of the tactile face buttons are perfect, and the hall sticks are smooth and precise, but the battery life is not great, and the drivers need a bug fix. My unit randomly turns off and bluetooth connection has an issue where the sticks give an input to the upper left every few seconds, limiting me to only wired or 2.4GHz which is not ideal for use outside my house. I want to love this controller so much, but the issues have me going back to a plain Xbox controller until the bugs are fixed. Also, where is the software? I thought it was estimated for August???
Great value
Buttons and triggers feel amazing, back buttons can be a little awkward to hit. The swappapable face plate is a nice touch both for customization and to easily deal with any scratches that might occur. Good luck trying to get better for the price.
Honestly just another cash grab
The best way I can describe the controller is that it's "alright". Not worth the 65$ I got lucky and bought into the 1$ reservation purchase. The controller feels great in hand but there are 3 things that I really don't like about it.
1st. The back buttons are horrendously placed. I was expecting to used my fingertips but I have to use the crease of my middle fingers to press it. Not a great implementation.
2nd. The DPAD is atrocious, it feels like a literal membrane rather than mechanical switches. Even the Xbox Series Controller has more response than these.
3rd. Probably the thing that made me sell this controller already is the View button. Who in the right mind would have it so far up on the controller. If you're not careful you will hit your left thumbstick trying to hit the view button. There have been multiple time, I have had to readjust my character in game because I accidentally hit the thumbstick.
Great on paper, horrible experience.
Dear Customer,
Thank you for your review. We are sorry for not bringing you a happy purchasing experience. We'll feed your idea back to the relevant department. We will keep optimizing the controller. Please feel free to contact us if you have any other questions.
Have a nice day!
Best Regards,
Epomaker Team
Join us on Instagram
Join our community in Instagram to keep up to date with our news, product releases, sales and giveaways!