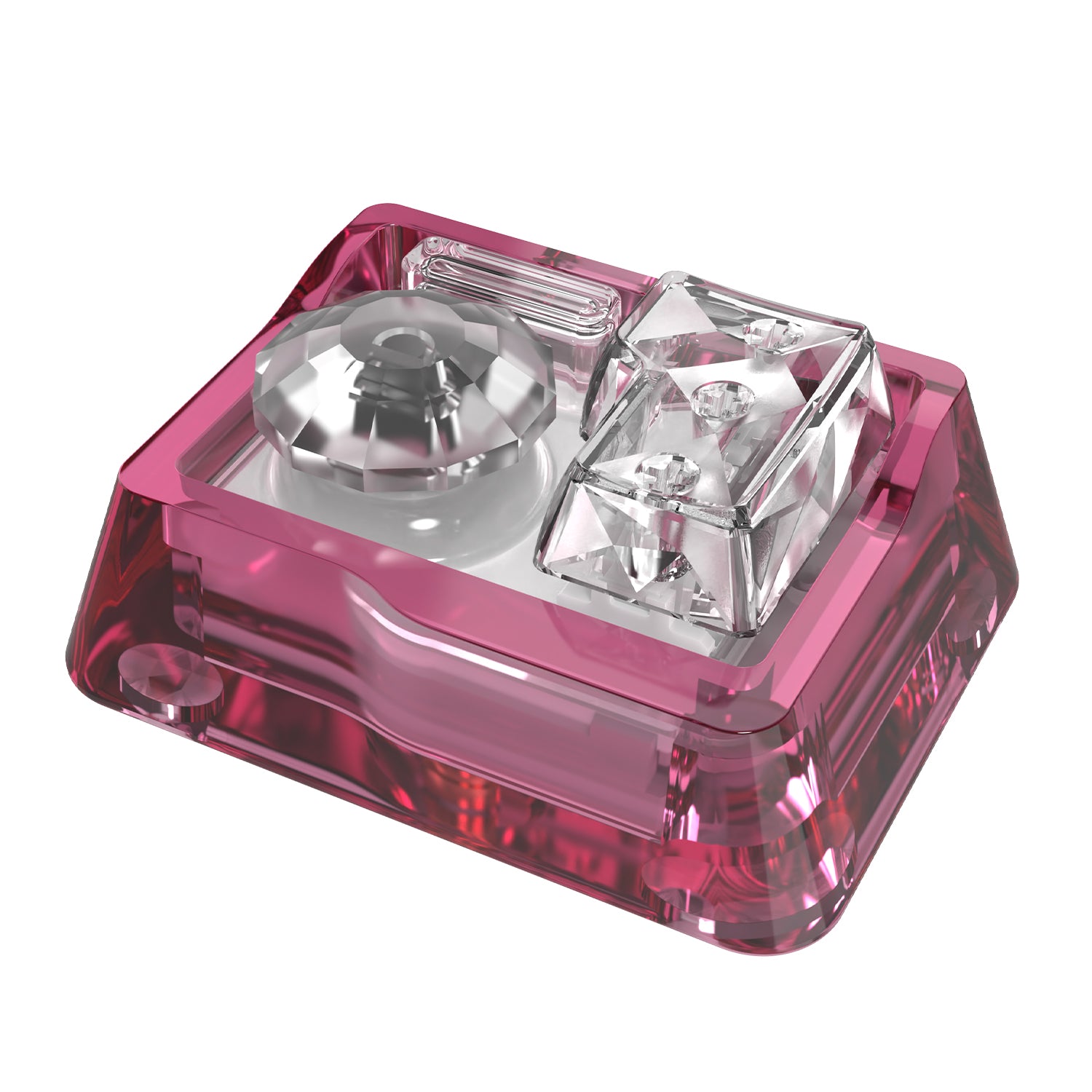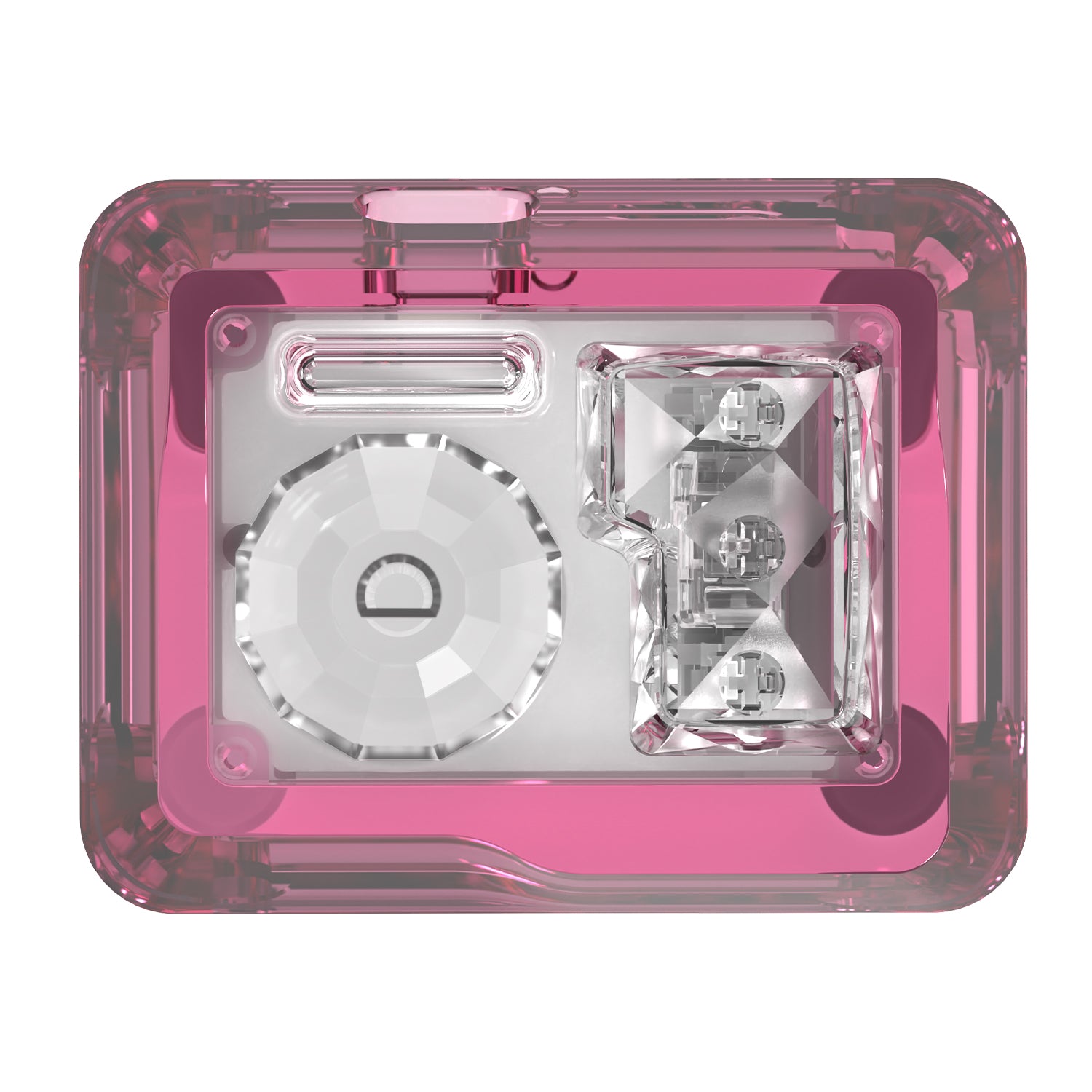 Mini Mechanical Keyboard with Macro Programming, Diamond-Faceted Acrylic Keycaps
"Breathing" Backlight Experience
Crystal-Clear Diamond Knob
Macro Programming at Your Fingertips
Icy Acrylic Transparent Keycaps and FIRSTBLOOD Ice Star Jelly Switches
A Palette of Choice: Burgundy and Clear White
Sale price
$35.99
Regular price
Free standard shipping to most countries
Enjoy free shipping to most countries*. Please refer to our
shipping FAQ
to see if you apply.
Covid-19 Shipping Delay Notice
Shipping may be delayed due to covid-19 depending on your country regulations.
Crystal Clear Design Inspiration
Discover a world of translucent design with the FIRSTBLOOD B2, a custom acrylic keyboard that offers enthusiasts the joy of macro programming. Featuring just 2 keys, the B2 isn't just a stylish accessory for your desk - it's a testament to the power of simplicity. With a focus on minimalist aesthetics, this mini three-mode mechanical keyboard effortlessly boosts your office or gaming experience. Paired with our existing B67 and B81 keyboards, it promises to elevate user experience to unmatched levels.
Icy Acrylic Transparent Keycaps and FIRSTBLOOD Ice Star Jelly Switches
Beauty meets function with our FCSA keycaps with diamond-faceted design. Crafted with precision, the diamond-cut process augments both the aesthetics and unique feel of each key press. Teamed with FIRSTBLOOD Ice Star Jelly Switches, these fully transparent linear switches ensure smooth keystrokes. FIRSTBLOOD Ice Star Jelly Switches Operating Force: 45 ± 10 Actuation Distance: 2.0mm ± 0.4mm Total Travel: 3.5mm ± 0.4mm
A Palette of Choice: Burgundy and Clear White
Both options guarantee two-way, 360° full transparency, establishing the B2 as a jewelry-grade, luxurious keyboard. The high-transparency acrylic shell gleams with a light transmission rate of 90%, resembling the dainty crystal jewelry boxes on a maiden's dresser.
Crystal-Clear Diamond Knob
The transparent knob with Kailh encoder (shaft light penetration) ensures not just beauty but also a consistent look throughout the keyboard.
Macro Programming at Your Fingertips
Feel the power of one-tap access: One-Tap Password: Input up to 18 characters with just one tap. One-Tap Open: Open files, folders, or launch software as you wish. One-Tap Launch: Directly access any web address and choose your browser. One-Tap Input: Key in specific text or quick responses in a flash. One-Tap Execute: Execute DOS commands effortlessly. Ideal for programmers, music creators, gamers, and efficiency enthusiasts.
"Breathing" Backlight Experience
Customize with multiple backlight modes to suit your vibe: Constant Mode: Maintain a stable backlight color. Gradient Mode: Transition smoothly between colors. Breathing Light Mode: Gentle pulsing light. Wave Mode: Ripple-like light patterns. Cool RGB Effects: Craft a unique lighting style. Seamless Transitioning: 2.4G, Bluetooth, and Wired Modes
Power-Packed Efficiency
With a built-in 600mAh rechargeable battery, the B2 ensures extensive battery life, catering to intense gamers' demands. Wired connection also facilitates charging simultaneously.
Technical Specifications
Product Name
FIRSTBLOOD B2 Keyboard
Dimensions
84mm x 65mm x 40mm
Material
Acrylic Injection Molding
Keycap Material
Thickened PC
Features
Shortcut Key Setup
Connections
2.4Ghz. Bluetooth, Type-C cable
Supported Systems
Windows Vista/7/8/10/11, MAC, Android
Join us on Instagram
Join our community in Instagram to keep up to date with our news, product releases, sales and giveaways!