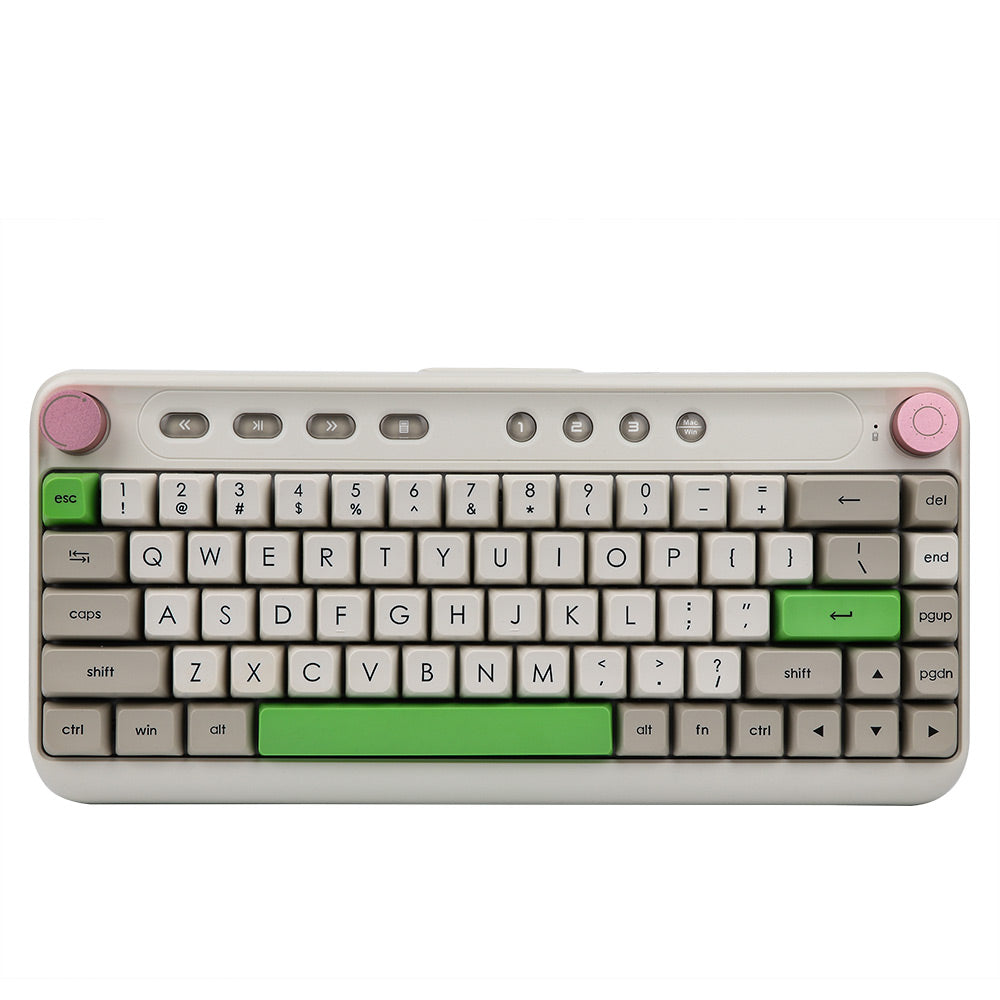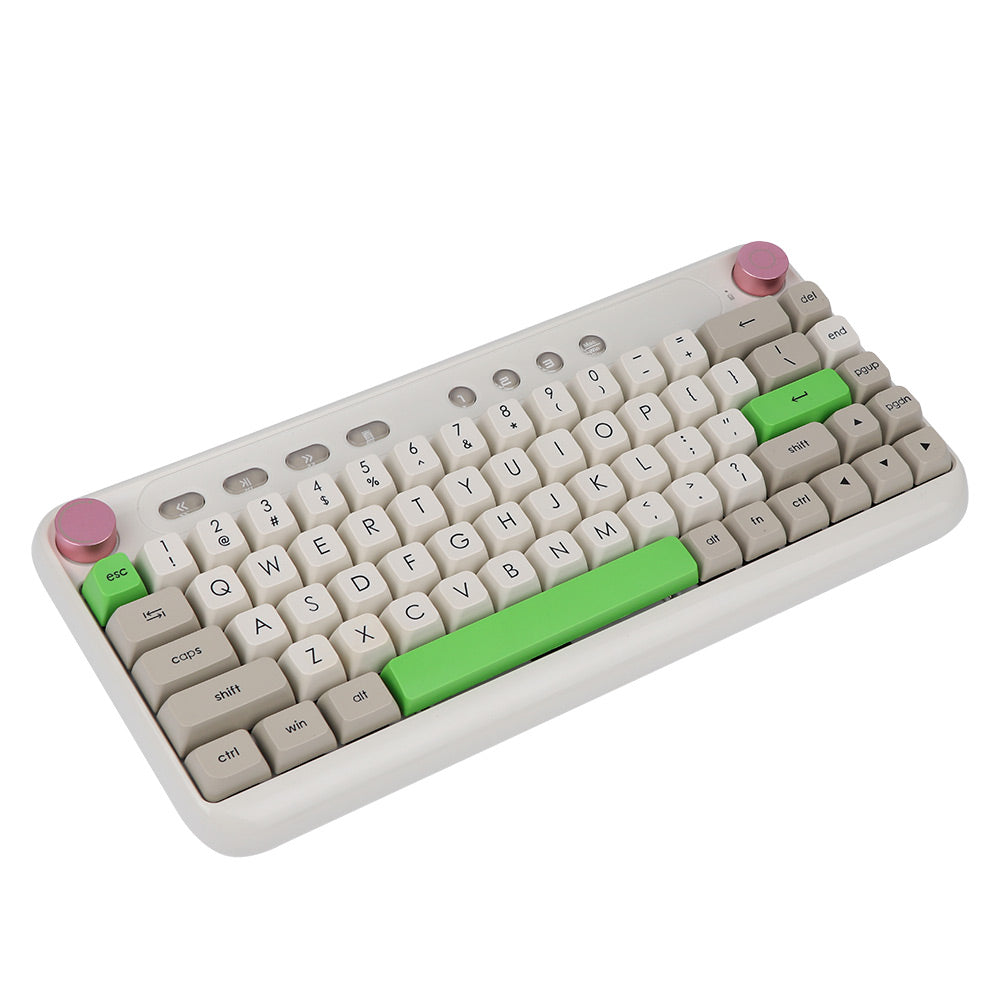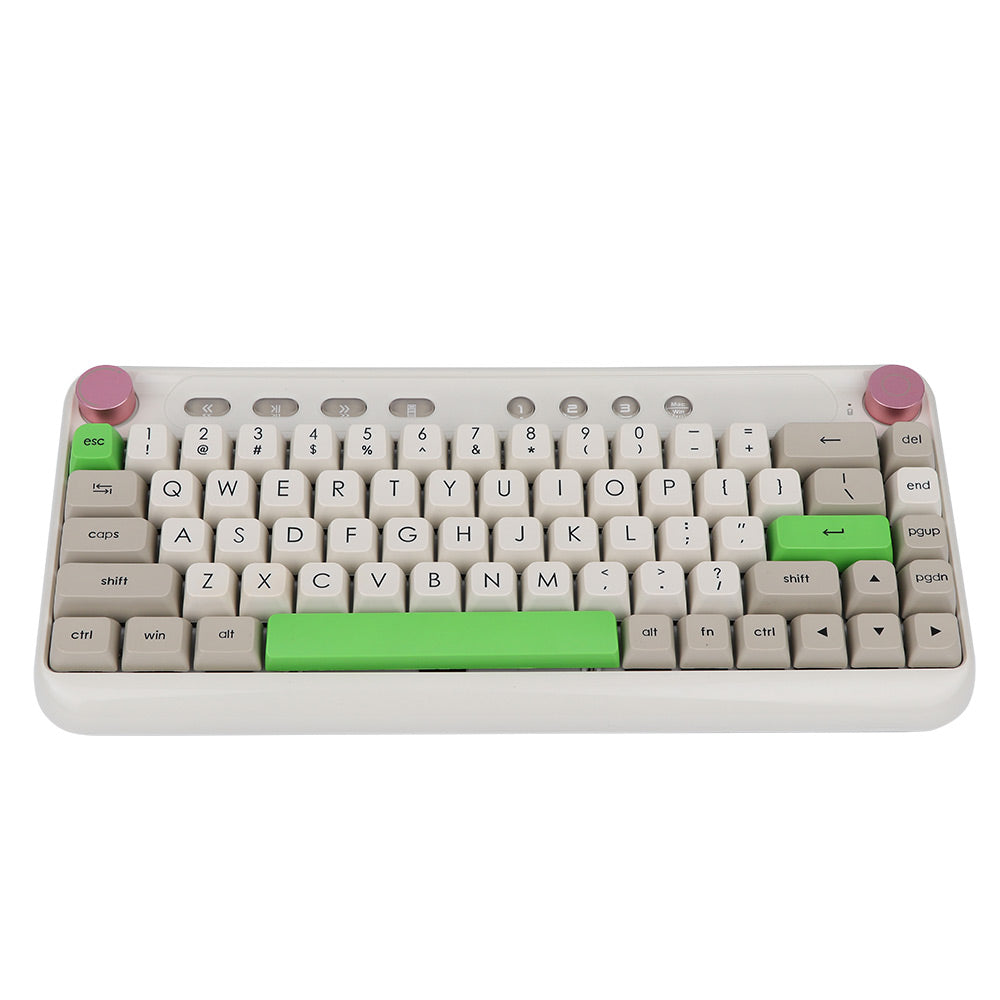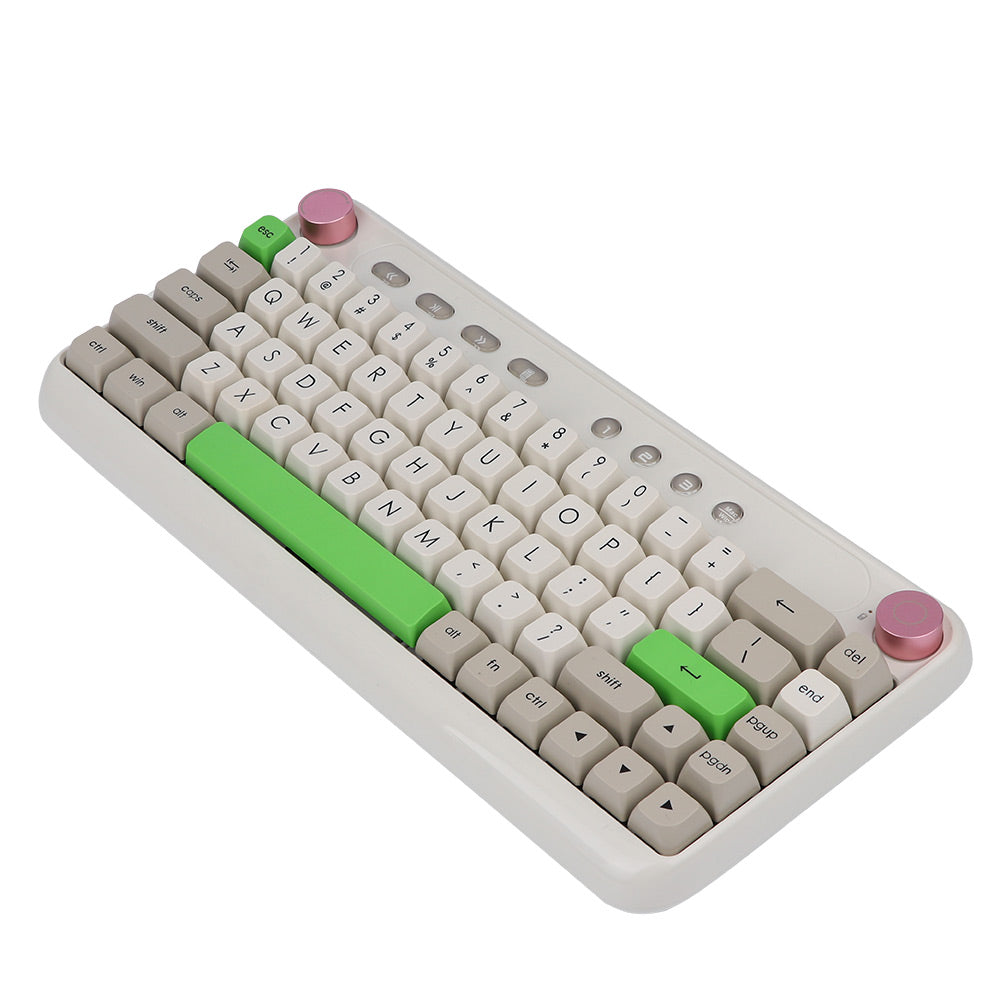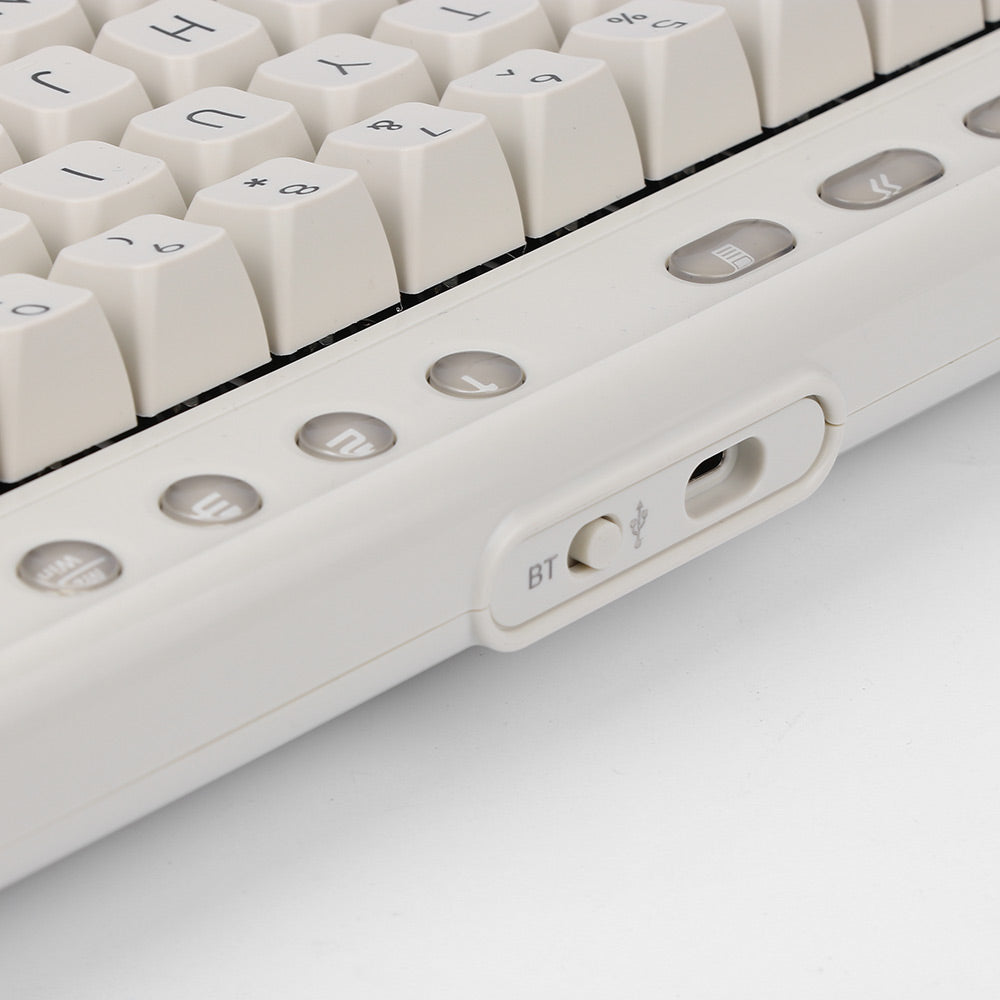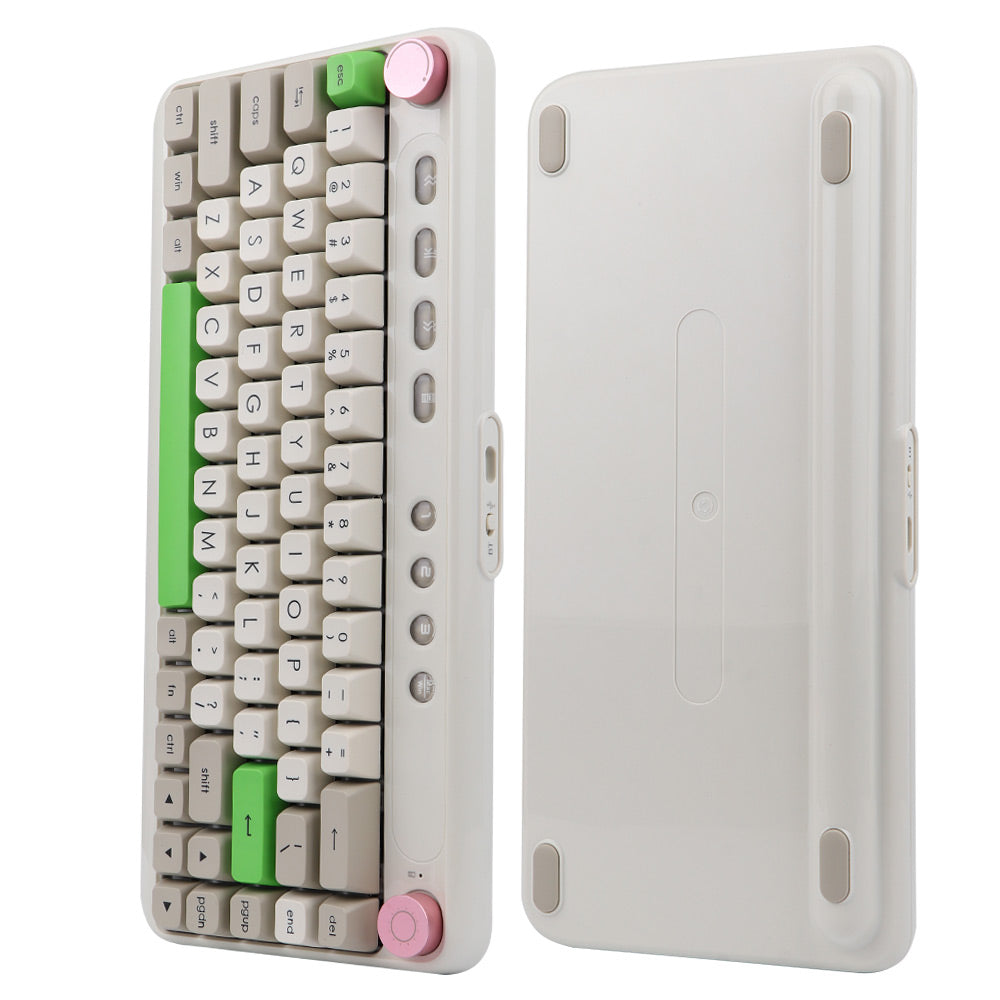 68 Keys Bluetooth Wireless/Wired Retro Mechanical Keyboard
Original Cherry MX Switches
Bluetooth 5.0 wireless/wired dual modes
Control knobs and multimedia keys
Connect up to 3 devices & compatible with Mac/Win/Android OS
Sale price
$149.00
Regular price
Free standard shipping to most countries
Enjoy free shipping to most countries*. Please refer to our
shipping FAQ
to see if you apply.
Covid-19 Shipping Delay Notice
Shipping may be delayed due to covid-19 depending on your country regulations.
65% Compact Retro Mechanical Keyboard
EPOMAKER B21 houses 68 keys but is also able to perserve all the essential multimedia and function keys on Mac and Window.  Furthermore, the layout provides natural presentation and location for the arrow, home, page navigation and delete keys - which are often left out in typical compact keyboards. The B21 also comes with control knobs and multimedia keys to offer the same functionalities of a TKL keyboard, but with a much smaller footprint.
Bluetooth 5.0 Wireless/USB Wired Dual Mode
With bluetooth 5.0, it enables to connect your smart phone, your laptop or your tablet to provide an efficient multitasking and speedy performance.  The B21 is built-in with a battery of 4000mAh capacity. Technically, it can last up to 36 hours with the backlights on and 240 hours with the backlights off, depending on our daily usage. 
Cross-System flexibility & NKRO
EPOMAKER B21 is compatible with MacOS, Android and WinOS. Switching among operating systems can be an easy move with just one press on the multimedia function key. Moreover, the keyboard is N-key rollover. It prevents the compouter from misidentifying key presses, even when mutiple keys are clicked simultaneously.
Original Cherry MX Switches
Epomaker B21 adopts original Cherry MX switches to achieve a rapid response and you can experience a more reliable and durable keyboard. Here we have three options for your choice: the clicky Cherry MX Blue, the tactile Cherry MX Brown and the linear Cherry MX Red.
SA PBT Keycaps & Dimmable Backlight
Combined with the advanced PBT material, the keycaps stays fade-free, oil-resistant and beautiful. The SA profile makes it round on the surface, which allows a natural guidance for each finger, regardless of the hand position. The B21 is also equipped with a dimmable backlight to increase the visibility under different scenarios.
Technical Specifications
Connectivity
Bluetooth 5.0 / USB wired
Product dimension
317mmm * 148mm * 45.8mm
Inside the box
Keyboard
USB-C cable
Instruction manual
Buggy and unsupported
The flaws of this keyboard are many. Functions keys (F1 etc., should be available via Fn+1) do not work in wired mode. Missing the `~ key to the left of 1 is awkward (available via Fn+Esc). The reversal of print on the equals key (it looks like the unshifted key will return "+") is surprisingly annoying. I miss not having a built-in USB hub for daisy chaining a mouse.
But the worst is that it is completely unsupported to remap the keys on a firmware level or even to fix outright bugs, like the F-keys.
The cherry keys themselves are OK, though.
Its so heavy
The bluetooth switching is nice but that's about it. Its so incredibly heavy and the dials don't really do much unless you're on a mac. I wish I hadn't purchased it.
Hello,
Thank you for leaving a review here. We appreicate your opinion on the keyboard.
If you meet any problems when using the keyboard, please feel free to contact us by emailing to support@epomaker.com and attaching your order number and a video to show the issue. Our support will be happy to help you out.
Thank you for your understanding.
Kind regards,
Epomaker Team
Better than expected!
I pre-ordered my B21 via the Indiegogo campaign, and have been very pleased with my purchase. The Bluetooth handoff between multiple devices (Win 10 and Android) has been working flawlessly for me, and the battery life without backlight seems to exceed the specifications (perhaps because of aggressive built-in power management - it takes a single keystroke to wake from sleep, so don't expect the keyboard to detect input immediately if you've been AFK for 10+ minutes).
Were there some hiccups with my order? Yes, absolutely. The pandemic disrupted production and US inventory ended up in limbo at a California port due to problems outside of EPOMAKERs control. However, communication from the manufacturer was prompt and my keyboard was shipped express at no added cost once it arrived at the distribution center.
I will say that I was a bit frustrated with my missing braided cable, and have been exchanging emails with Peter for several months to figure out where my parts order was and why it was missing. However, this was recently resolved in a professional manner. A lot of things "went wrong" with my order, all of which were outside of EPOMAKER's control. I can't fault them for that, and I'm impressed by their service recoveries.
Final note: I'm not into modding keyboards and purchased this unit in hopes of finding a wireless workhorse. The B21 does the job and does it well!
PS - Where can I find quality keycaps with clear characters? It would be nice to maximize the effect of my backlight! Also, replacement knobs in different colors?
Was excited....but not mod friendly
Bought this as the kickstarter and was really excited for it. Love the knobs and bluetooth features, however, it is not mod friendly. Switches are not hot-swap which wasn't the worst...except you can't get the PCB out either without completely breaking the plastic casing. So any sort of tape, foam mod or even swapping out switches is out of the question.
Not worth the list price.
Join us on Instagram
Join our community in Instagram to keep up to date with our news, product releases, sales and giveaways!