EPOMAKER TH96
96% QMK/VIA Gasket Mounted Mechanical Keyboard
The TH96 is a solid gasket-mounted mechanical keyboard born with the singular goal of providing a premium typing experience at a budget-friendly price!
Bluetooth 5.0, wireless 2.4G connection, Type-C connection
CNC Knob
Silicone Gasket Mounted Design
Hot-Swappable Switches
South-Facing RGB LEDs
QMK/VIA is supportable in the WIRED version only
Note: Preordered keyboards will be shipped in Three weeks.
Free standard shipping to most countries
Enjoy free tax and duty paid to most countries*. Please refer to our
shipping FAQ
to see if you apply.
Covid-19 Shipping Delay Notice
Shipping may be delayed due to covid-19 depending on your country regulations.

96% Mechanical Gaming Keyboard

The Epomaker TH96 is a powerful keyboard packed with functionality in a premium design. Thanks to the special structural design, the TH96 feels completely solid due to the stainless steel plate, which adds weight and strength to the board. It is innovatively designed featuring the silicone gasket mount structure, added silicone sound-absorbing foam, poron foam utilization, and a thick silicone damping bottom pad which all provide a responsive and peaceful typing sound..

Hotswappable Epomaker Custom Switches
When it comes to the feeling and performance of your switches, every detail counts. We are proud to present our latest innovations, the Epomaker Customized Switches! These mechanical switches are custom designed after extensive research on the market's most acclaimed switches and have been improved through community inputs. Strong, smooth, and see-through, Epomaker's first mechanical switches are available in linear switches or tactile switches.
Wired with QMK/VIA or Triple-mode with Bluetooth & 2.4Ghz
Equipped with different chips, this keyboard supports QMK/VIA under the wired version. With the QMK/VIA or the proprietary software, you can easily configure different keycaps for both Mac and Windows. Customize your keyboard with your personal typing preference! The wireless version, on the other hand, can be connected by either Bluetooth (up to 5.0) or 2.4GHz. TH96 can connect up to 3 devices wirelessly for seamless multitasking across your laptop, phone, and tablet. The modes can be easily switched by Fn+1!/2@/3#(Bluetooth) / 4$(2.4GHz) / 5%(USB Wired).

PBT Keycaps with MDA Profile & Dye-sub Technique
Continuing with our previous Epomaker TH66 and Epomaker TH80 models, which are already available on the market, the Epomaker TH96 also adopts PBT keycaps to provide a textured feeling and durability. Our premium PBT keycaps are made through thermal sublimation, meaning the labels will not fade over time. The classic MDA profile is for the Theory version and the MDA V2 profile for the Grey White Version. Compared with the classic profile, the MDA V2 inherits the height while optimizing the keycap edge to be rounder, delivering a smoother touching feel.
ISO Version Available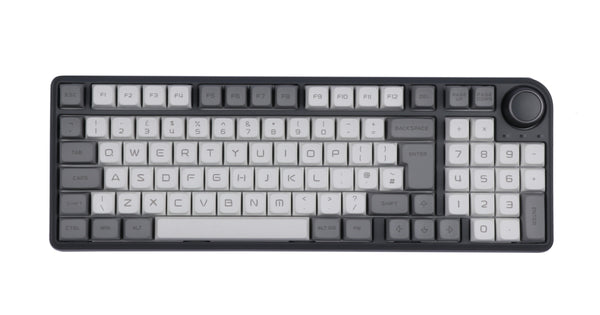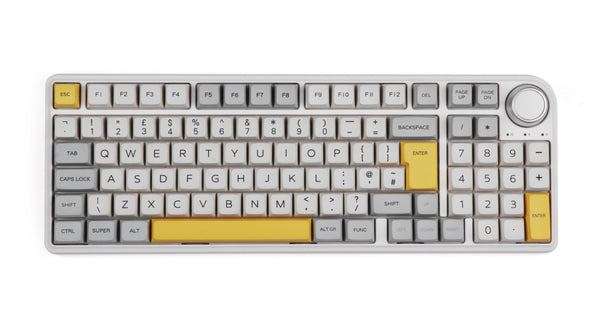 The whole community is calling for keyboards that has ISO layouts. And so, we are adding an ISO-UK layout to the TH96! With an L shape large enter key and 1u \| key between the shift key and letter Z, the ISO version can also fit other languages with the simalar layout.

Amazing RGB Effects with South-Facing PCB & Programmable with Software
Everyone loves RGB lights, but what's the use when the typist can't easily see them? The TH96 is designed with south-facing RGB to better illuminate the keyboard backlight from the typist's perspective. The south-facing RGB is also free from interference if the user decides to install Cherry-profile alternative keycaps on their keyboard. With more than 19 types of RGB backlight settings as well as a static white backlight option. You can further fine-tune the RGB hue, saturation, brightness, and effect speed with ease.
Select the best switch for your style.
Before choosing what type of mechanical or optical switch, we need to understand it is mostly about preference. You need to look into what will work best for you and what you will use your keyboard for the most. Our Epomaker GK series, and some of our other keyboards allow for hotswappability. This means that even if you dislike the current switch you bought, you can swap it to another switch. Which switch you can swap to depends on your keyboard type.
PRODUCT SPECIFICATIONS
HOT-SWAPPABLE
3-5 pin mechanical switches
CONNECTIVITY
USB-C, Bluetooth 5.0, 2.4 GHz
RGB
South-facing RGB LEDs
KEYCAPS
PBT in MDA-V2/MDA Profile
QMK/VIA
Supportable in the Wired version
Product dimension
388mm*138mm*38mm
Product weight
1180g+_10g
WHAT'S IN THE BOX?
Keyboard
Type-C Cable
Instruction Manual
2.4G Dongle (Wireless version)
Great keyboard, some issues, superb support
I had an issue with the keyboard unable to lay flat. I have contacted the support team and they have helped me with instruction vidoes and send me replacement parts twice over a period of two months. Abeit a long progress, they were very helpful and solved my issue (thank you Yvette!).
As for the keyboard, its great overall.
Pros:
- typing sound and feel is superb right out of the gate, no lubing is needed (pre-lubed)
- build is solid, plastic doesn't feel cheap
- good value
- looks great
- removable cable
- plug and play, but also supports QMK/VIA
Mid:
- nob's buttom is a bit hard to press; nob's shape and slippery texture makes turning it a little bit harder than I expected (you cannot turn the knob with one finger only)
- keycaps of the 4 arrow keys are somehow shorter, not a fan
Cons:
- does not support newest version of VIA, must use the version they provided (1.3.1)
- the three indicator lights are way too bright its like a flashlight lol, but its an easy fix (I put a small piece of paper to block some of the lights)
Other suggestions:
- would be great if home and end keys are also included
Love it! But just one flaw.
I love how nice my keyboard feels and the size of it is perfect. However, some of the keys don't work and need to be pressed multiple times to work.
Fantastic Keyboard, wish QMK was a little easier to use with it
Loving the keyboard for both work and gaming. However have had problems setting up QMK on it.
First Custom Keyboard - Theory ansi w Flamingos
This is my first custom keyboard so I'm using it stock (expt a few key caps). I went down the rabbit hole of custom keyboards on Youtube. This didnt have as many reviews as other keyboards but its design was my favourite by far.
I can say the keys are fantastic. Factory lube is pretty good. There are a handful of keys I would like to re-lube though.
Sound is great and thoccy (I have the linear switches).
The Nob is lovely and large.
I have the wireless version and with the addition of powertoys I've been able to remap and shortcut to my liking very easily. Not to mention its f*cking adorable.
RGB settings are pretty varied - you can change the speed and colour of each setting too.
It would be great if the lubing was 100% but I wont take any point off for that.
I'd love to see these come with extra lube for user application.
The best keyboard ever
I participated in the Kickstarter campaign for this product and I don't regret it. The materials of this keyboard are excellent. The RGB and functions are awesome. It's super easy to re-assign keys with the software and you can mode it by using other switches or keycaps.
I prefer to use this keyboard for work since it has the numpad included, which is awesome.
I had a problem with the windows key but contacted customer service. Now it is fine again XD
Thank you so much :D
FAQ
Shipping & Handling
Which countries do you ship to?
We are generally able to ship to most countries via DHL Express, and many countries via Standard Shipping. You may clarify with our team to see whether Standard Shipping is available to your country.
Note: For the country of UK, India and Russia, we can only do Standard Shipping. For countries of Africa, Argentina, Hawaii, Kuwait, Mauritius, Montenegro and Sri Lanka, to name a few, we can only do Express Shipping. Click here to read our Shipping Policy.
How much does shipping cost?
We have two shipping methods - Standard Shipping and Express Shipping.
Standard Shipping Is free for most countries/areas.
Express Shipping via DHL Express is 10-40USD depending on your country. If your order is over 500USD, DHL Express Shipping is free*.
*The GK96S, SK96S, AK84S and NT68 are exceptions for free shipping.
Shipping fees exclude import taxes or processing fees that might be applicable for your country. Epomaker is not responsible for any form of such fees.
How long does it take to receive the order after it is placed?
For in-stock products, your order will be shipped within 3 working days. Customized items will take a longer time (do check in with our staff for more information). On normal non-sale days, once your parcel is shipped:
For Standard Shipping, it takes about 2-3 weeks for items to be delivered after it is shipped. For some countries, it might take up to 2-3 months, depending on your country and its custom procedure. The duration for transit is beyond our control. Epomaker does not arrange refunds for such cases. Please consider an upgrade to DHL Express or keep the waiting time in mind.
For Express Shipping, it takes about 3-7 days for items to be delivered after shipping out.
*Note: Shipping period might be affected due to festive seasons or other unforeseen circumstances.
Warranty & Returns
7-Day Return Policy
On the ground of disliking a product, you may return any non-customized and non-sales product that is sealed, within the 7 days upon receiving it. To be eligible for a return, your item must be unused and in the same condition that you received it. It also must be in the original packaging.
Customized and sales products, accessories, or spare parts are excluded from the 7-day return policy. The shipping fee, handling fees, or any form of tax caused by return will NOT be refunded. Additionally, a restocking fee (35% of the item's retail value) will be charged under this circumstance... Click here to read our full return policy.
1 Year Warranty
Epomaker offers a 1-year warranty for keyboards and DIY kits, and offers a 6-month warranty for keycap sets and cases (e.g the case-only product sold separately). Batteries will be covered by the 3-month warranty. Accessories such as keycap pullers, switch pullers, free spare keycaps, cables etc., are excluded from the warranty. To claim for a warranty or confirm whether your product is eligible for return/warranty, please kindly contact us via support@epomaker.com.
The warranty does not extend to any product whose serial number has been defaced or altered, just as the warranty will cease if you make modifications in the software not authorized by Epomaker. Click here to read our full Warranty Policy.
48 Working Hours response to Support Inqueries.
For items that are damaged, incorrect, or faulty upon delivery, you must contact support@epomaker.com within 7 days upon delivery. You need to provide any solid proof of the problem you come across. Epomaker will help you identify the problem, and may cover the shipping cost according to the agreed amount. Please kindly note that a shipping fee that is extremely higher than the 15% of product value is non-refundable. The shipping fee won't be refunded if the product is not with any manufacturer defects.
Product Questions
How to choose different switch options?
To choose the suitable switch, it depends on the scenario you use the keyboard and your preference on the typing experience. Here is our helpful guide for your reference: View our Switch Selection Guide
Where can I find the manual/software/driver for my item?
For manuals and software, you may find it in this link: software downloads page
Are there any keyboard with layouts other than ANSI (US Layout)?
As the ANSI is one of the most popular layouts around the world, our keyboards are following this trend for now. For other layouts, we will try our best to make them available on our website in the future.
I want to make myself a DIY keyboard. Where can I find some help?
You may join our Discord to ask for assistance: Click here to Join