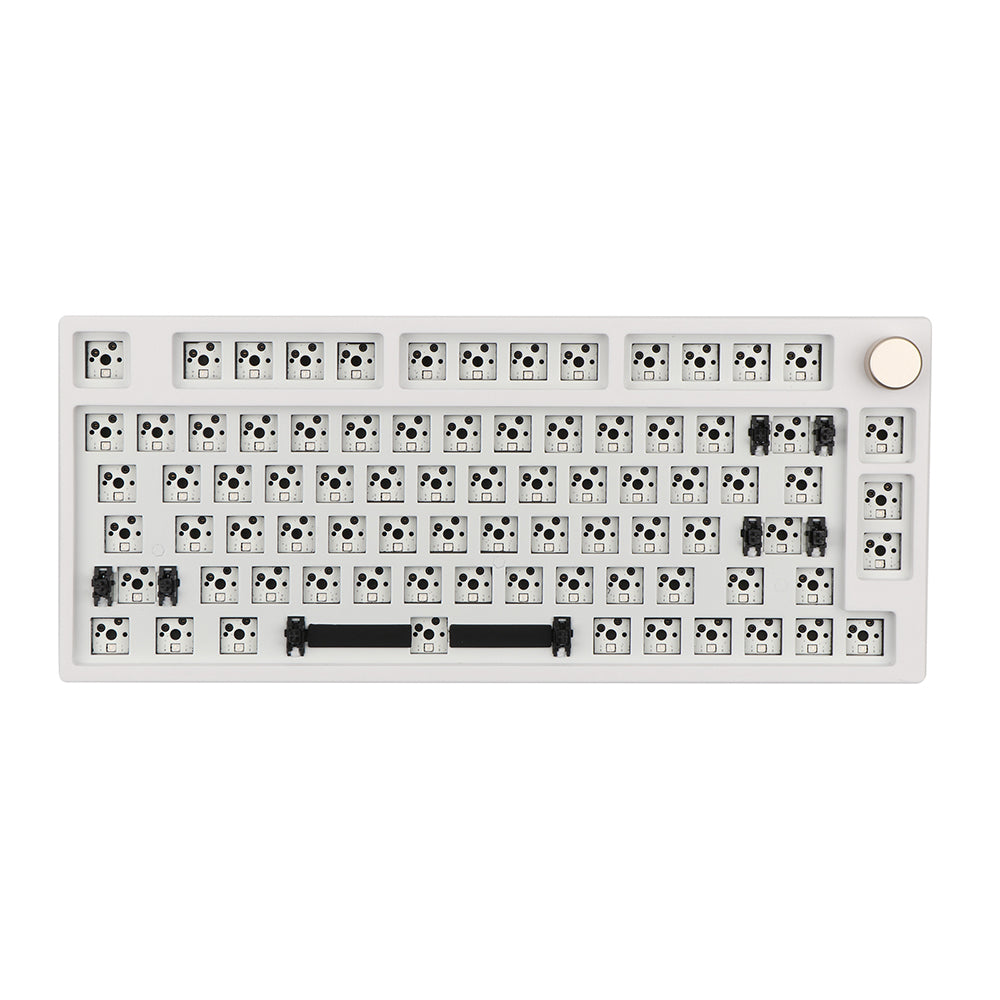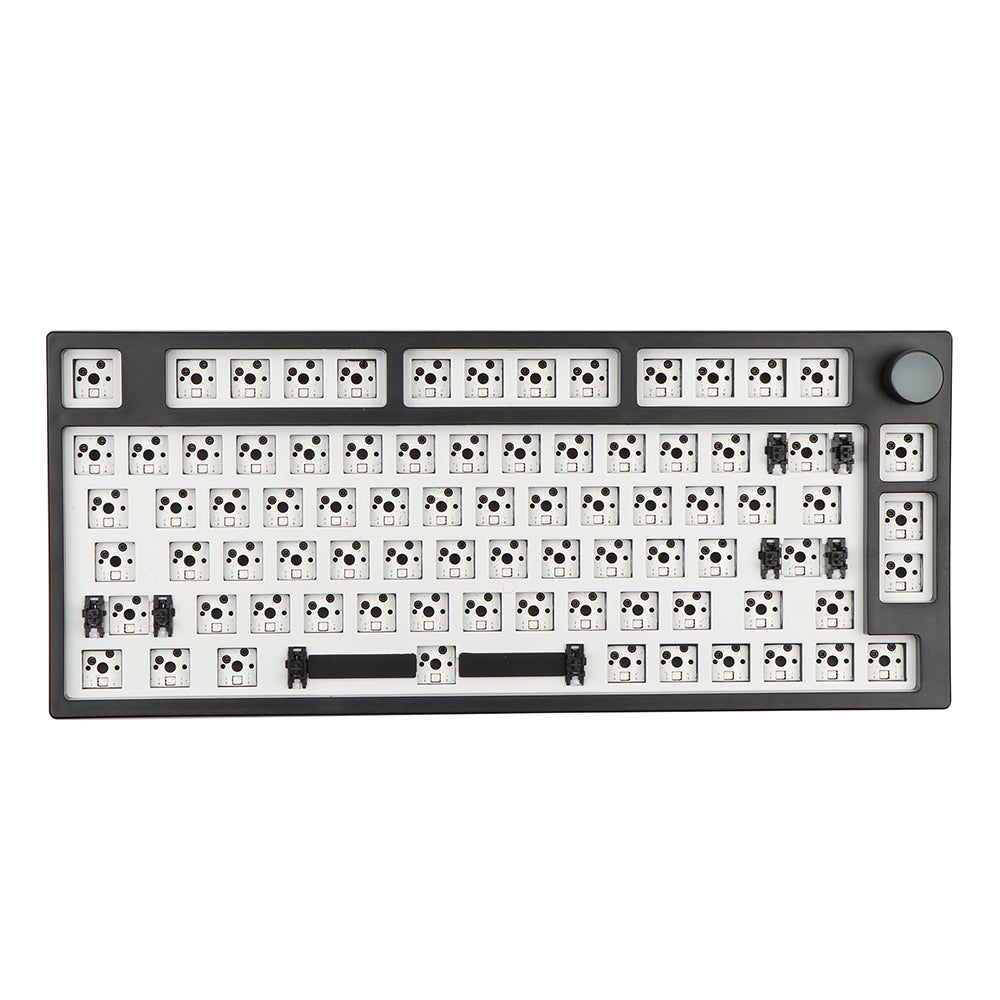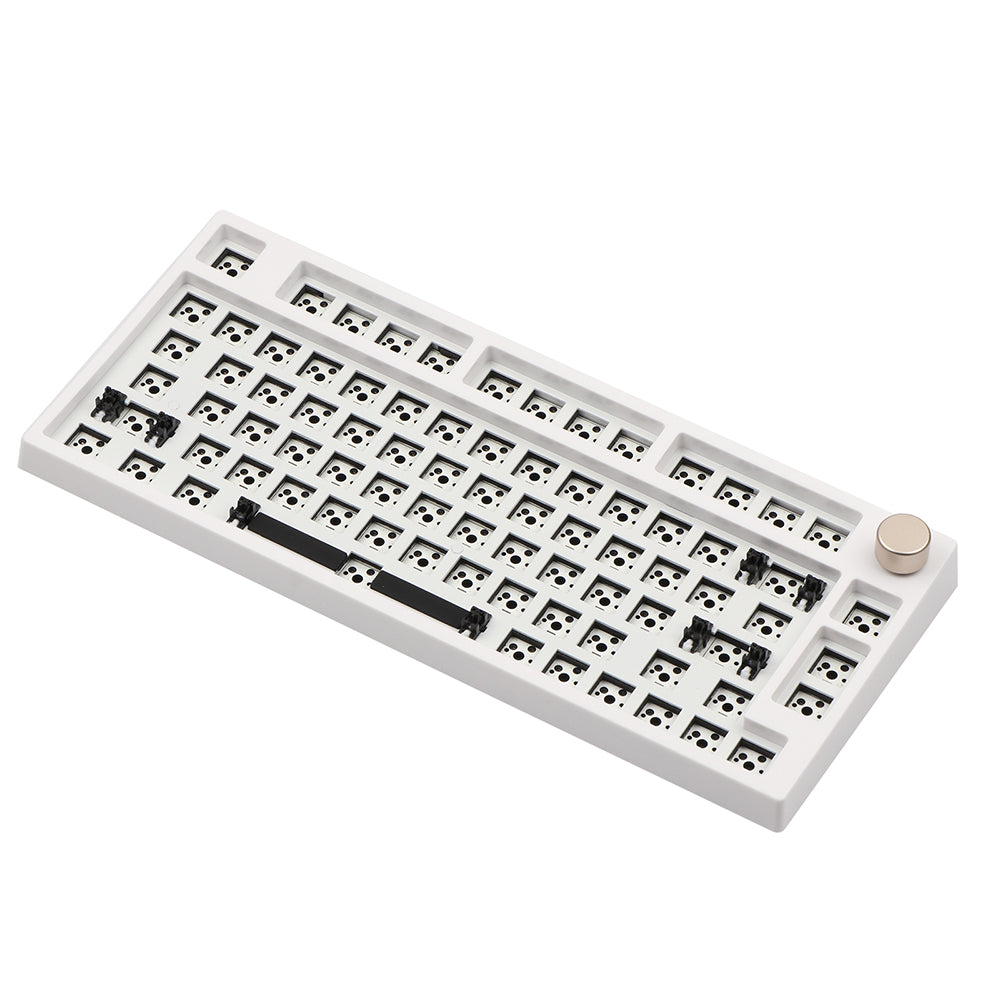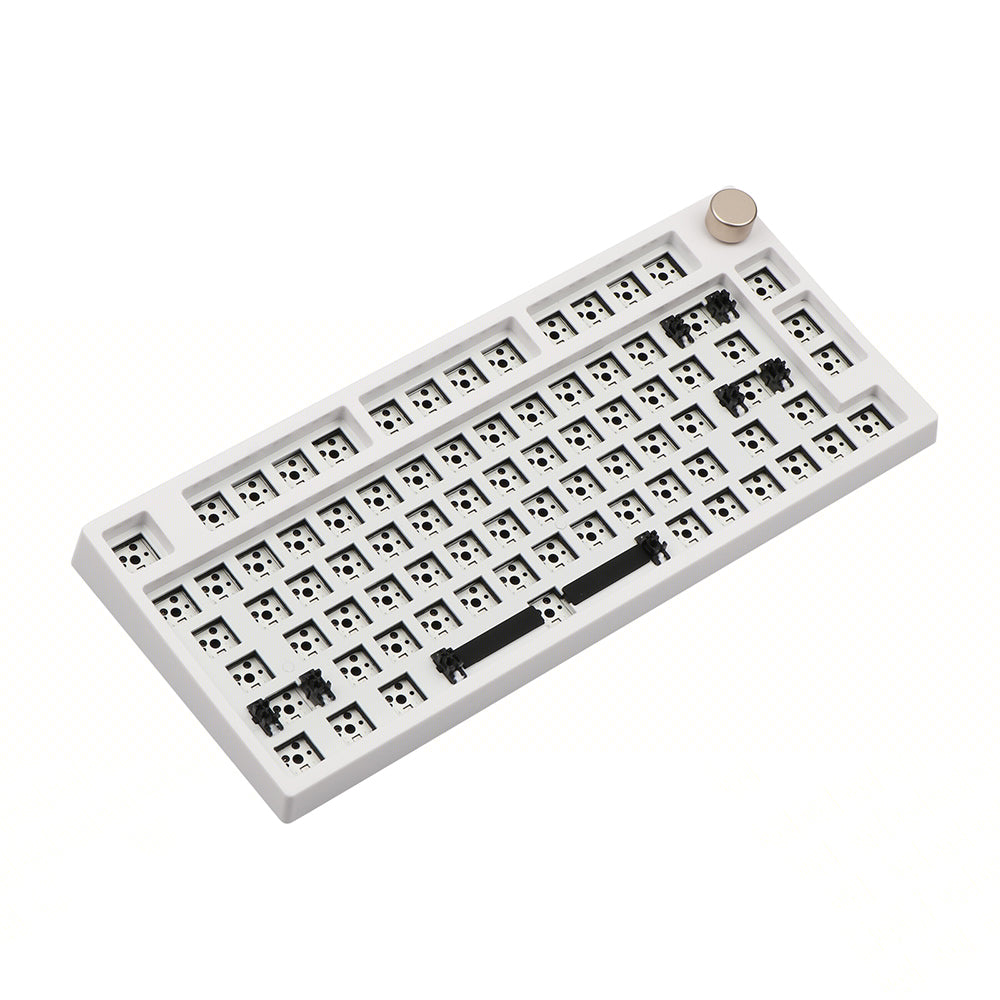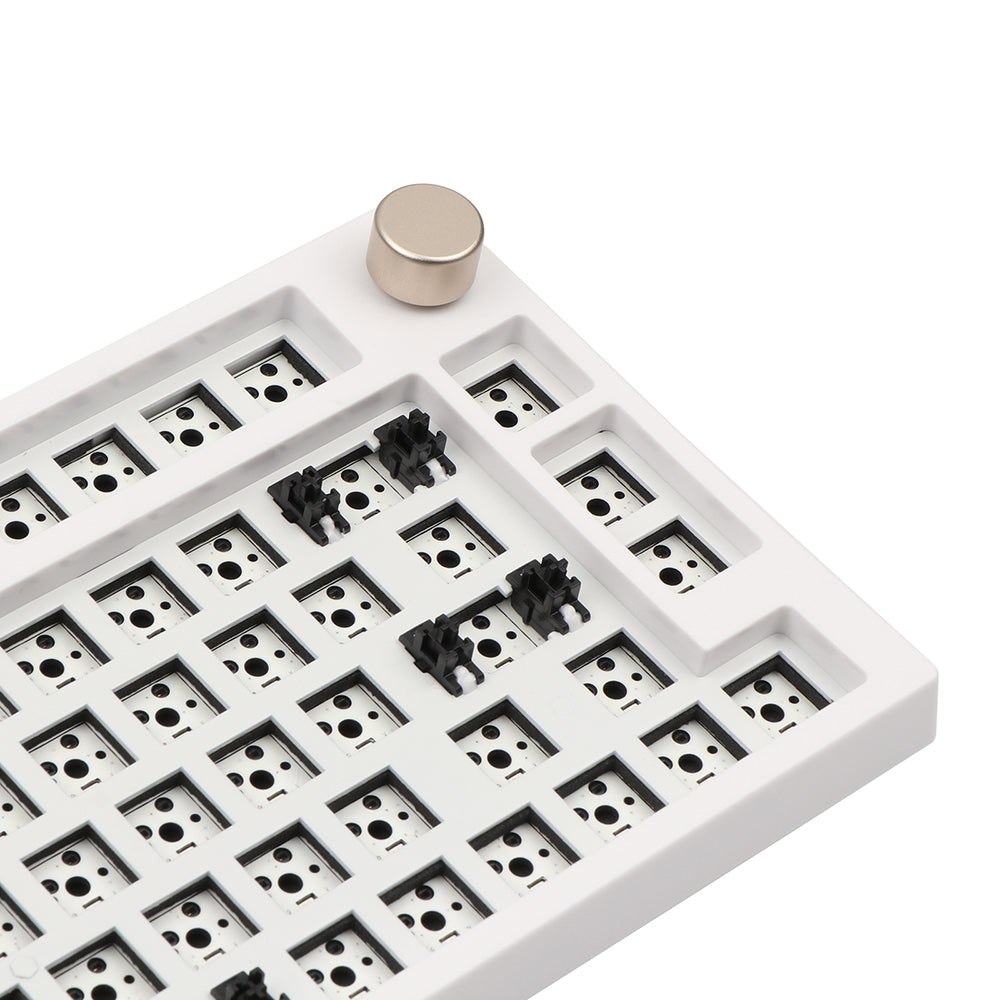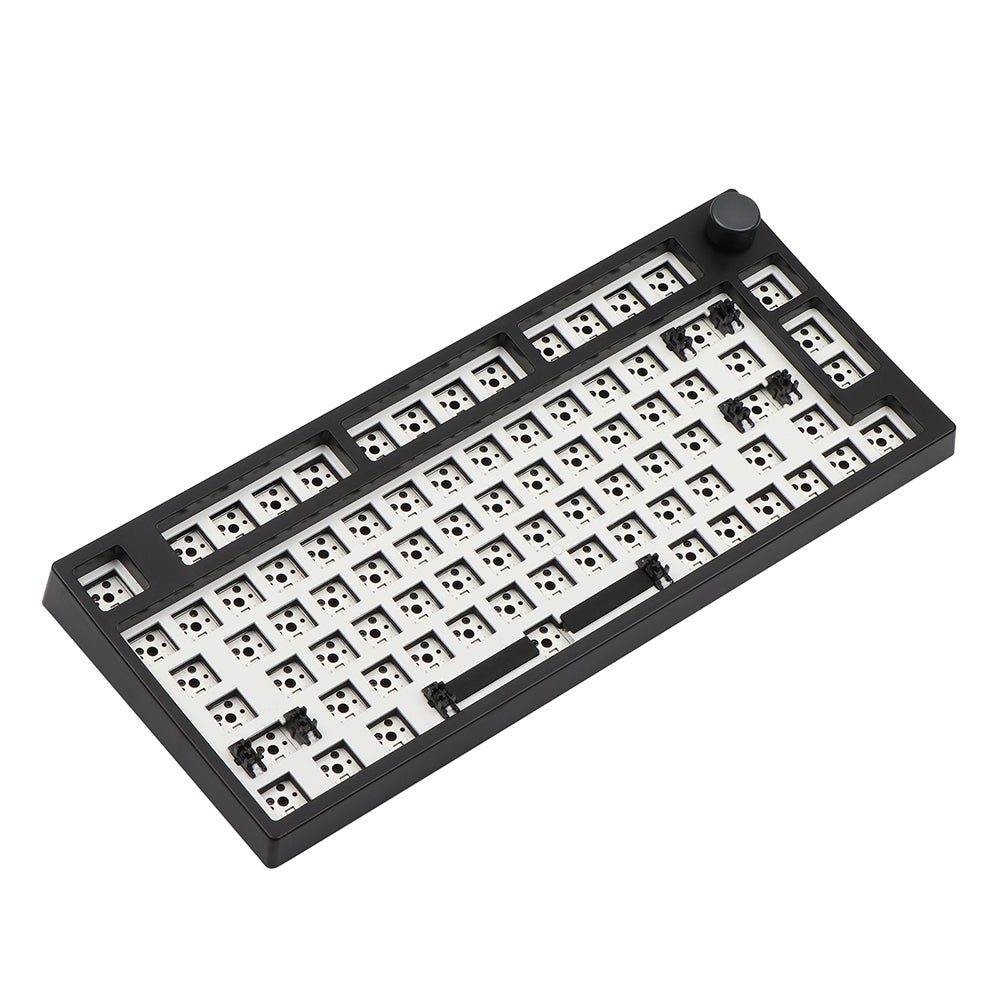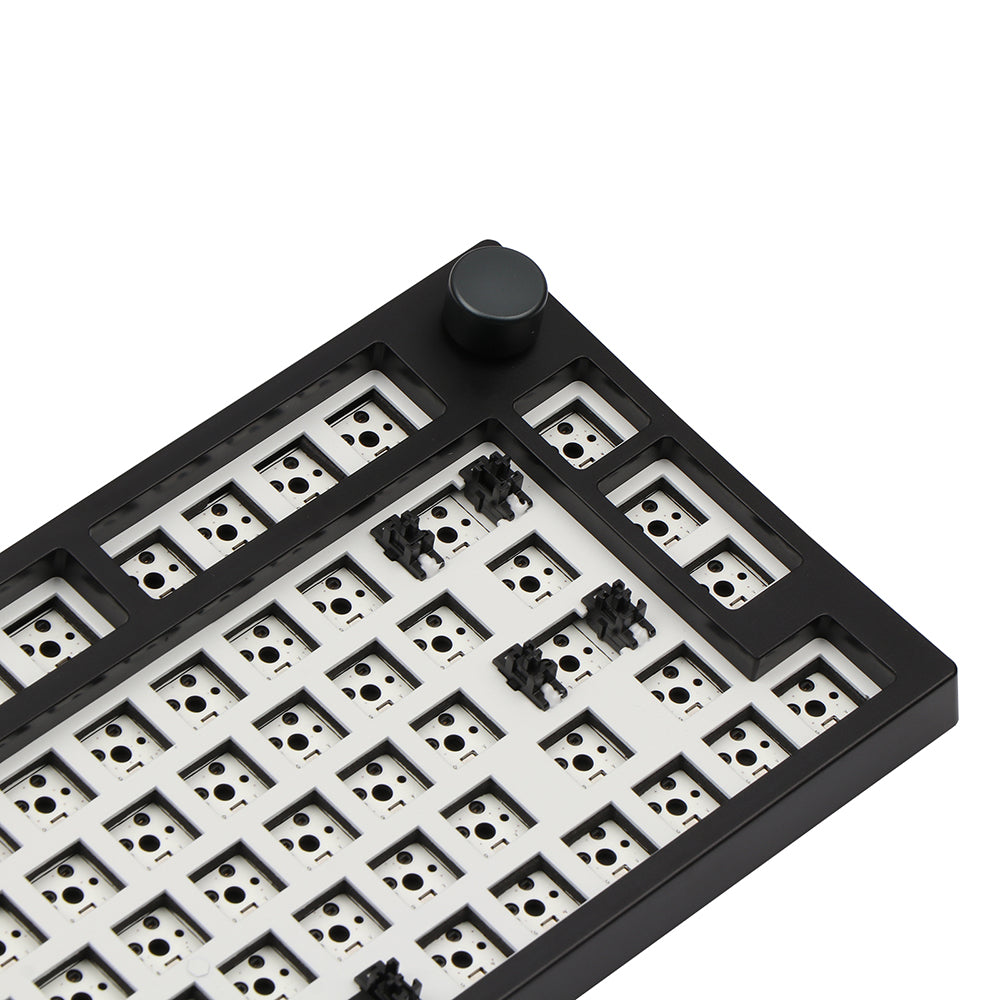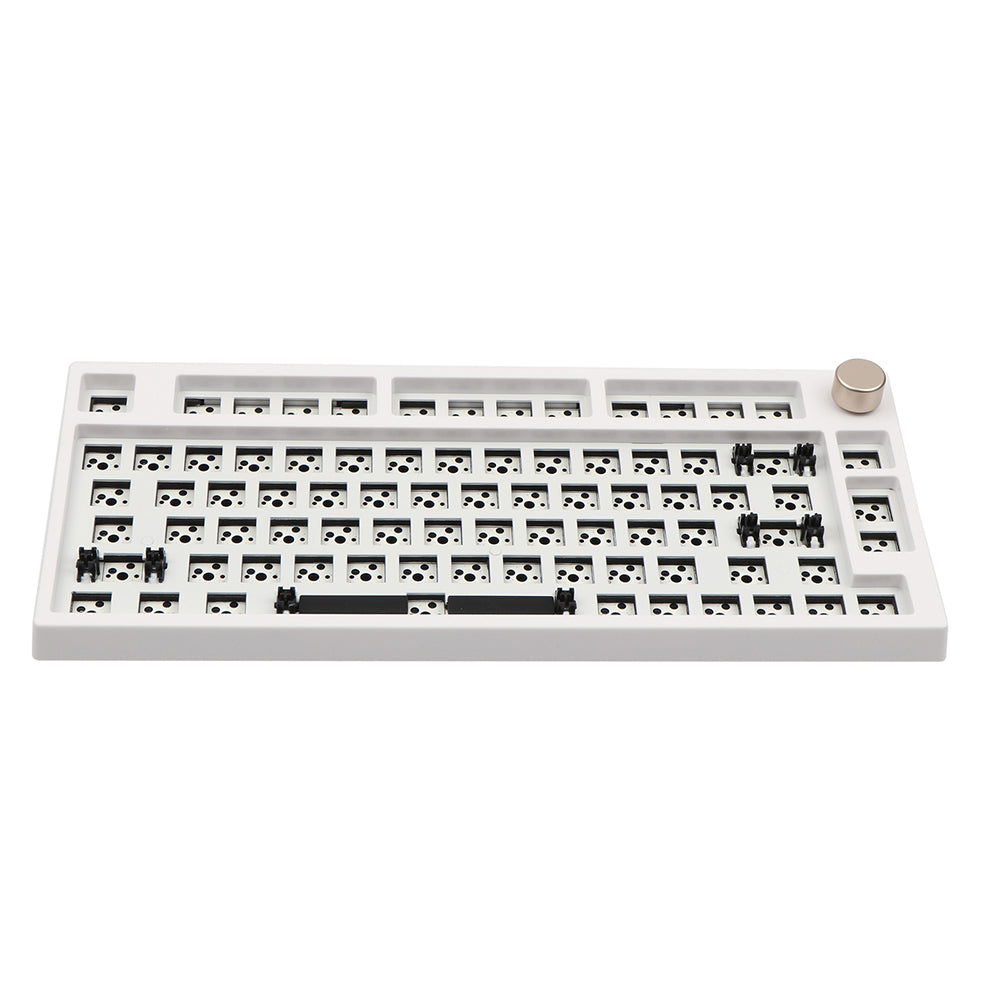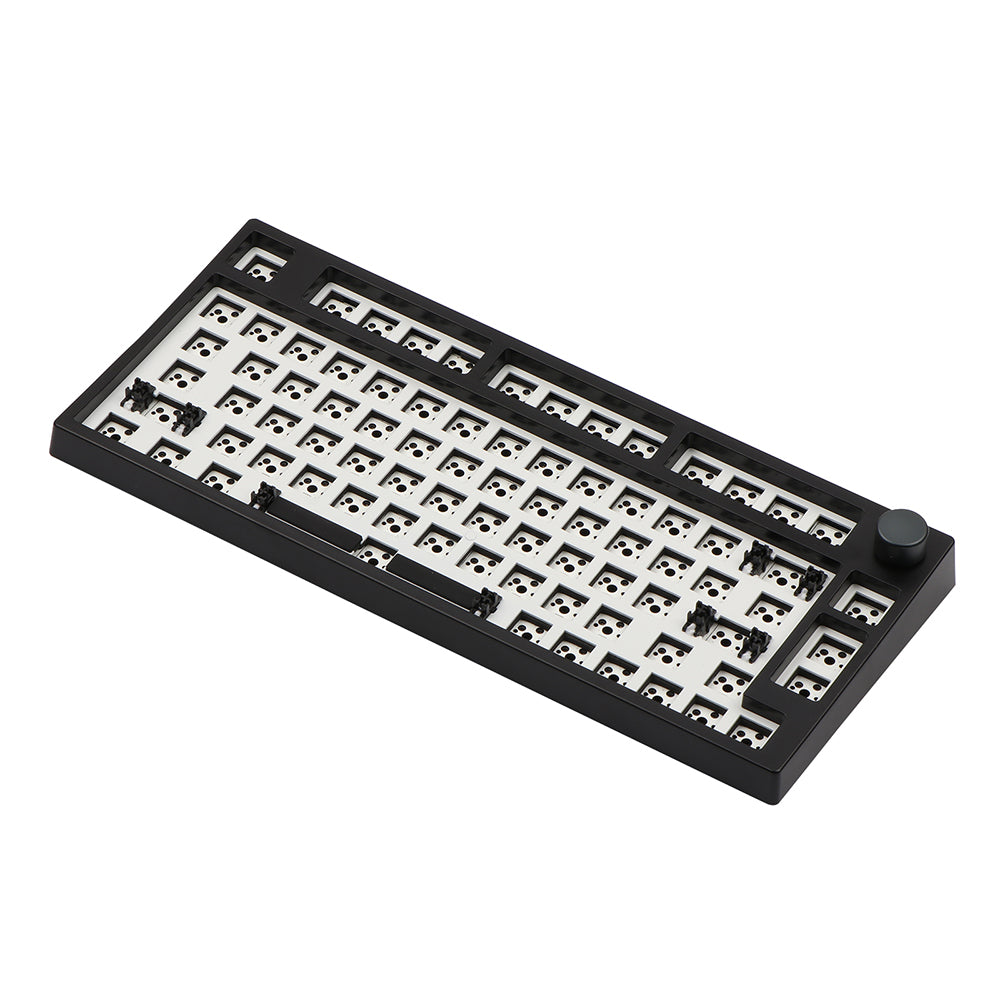 75% 80 Keys Hot Swappable Bluetooth 5.0/2.4GHz/Type-C Wired Mechanical ANSI Keyboard DIY Kit
Preordered items are expected to be shipped in 4 weeks (holidays excluded)4>
The Pro version has upgraded with more functions:
Automatically switch to Win/Mac mode once connected
Three editable layers; Fn layer programmable in the driver
More Fn combinations: Check Battery; Check keyboard Mode & Layer
Support changing sleep time in the driver
Support changing per-key RGB
Note: If your keyboard's firmware version is V2xx (i.e. V201, V206..) upon receiving, or ISO version, DO NOT flash the firmware V504, as the firmware only supports ANSI keyboards of V500 or V500+.4>
Sale price
$65.99
Regular price
Free standard shipping to most countries
Enjoy free shipping to most countries*. Please refer to our
shipping FAQ
to see if you apply.
Covid-19 Shipping Delay Notice
Shipping may be delayed due to covid-19 depending on your country regulations.
A Popular 75% DIY Keyboard Kit
The 75% layout is trending recently, for it's not only a compact keyboard, but also includes the essential F-row keys. Epomaker TH80 kit features the favorable 75% layout, along with a powerful triple connectivities, Bluetooth 5.0, 2.4 GHz, and a USB-C wired output. Thanks to the hot-swappable sockets, it can support both 3 and 5 pins switches to bring you ultra experience that nothing else can compare.
Triple Modes: Bluetooth 5.0/2.4GHz Wireless/Wired
More than being wireless, we make this kit in triple modes, that is to say, the efficient Bluetooth 5.0 technology and ultra-fast and stable 2.4GHz wireless, plus Type-C wired mode. Triple modes will be accommodating a variety occasions, such as on trips, at office and at home...no more bulky accessories and no more be bothered by terrible transmission.
Large Capacity Battery & South-Facing LEDs
TH80 is equipped with 3000mAh battery for ultra long-lasting performance. No more worries of battery shortage during trips. With south-facing LEDs, the RGB lights show brighter and brings more fun for customization. More than that, compatible software is available for those who loves more DIY settings. You can make your own effects with the software.
Note: Green light under the left CTRL key is the battery indicator. When the keyboard is fully charged, the light will be off.
Steel Plate with Foam Dampeners
TH80 is equipped with a steel plate to ensure the ultimate performance. It also comes with two different layers of dampening foams to absorb sounds from typing and also reduce hallow sound of bottom case.
Scroll Knob for Easy Media Control
The TH80 features a versatile rotary knob that works as a volume controller with any operating system. It can also be modded with other functions via the supported software. With one knob, this DIY kit indeed pulls up the experience of any possibilities to be more than a keyboard.
Technical Specifications
Layout
75%, ANSI Layout (Not for ISO)
Connection
Bluetooth 5.0/2.4GHz/Type-C wired
Stabilizer Type
Plate-mounted
Battery Capacity
3000mAh
Pro version: 4000mAh
Inside the box
Keyboard Customized Kit (Bottom Case, PCB, 2*Mute Foams, Stabilizers, 1*Positioning Plate, 1*Battery)
Type-C Cable
Keycap Puller
1*2.4G receiver
epomaker th80 pro kit
It's great I just wish the kit came in other colors
Fantastic from the go
I built mine with factory-lubed Gateron Pro V3 Yellows, and it's a dream. Switches are smooth, stabs are smooth, and the included case foam does its job admirably.
I was initially planning to do further mods to the keyboard (I wasn't convinced about the case foam as there was little detail included about material, amount, thickness, etc.), but after having built it I really don't feel the need to. I've been using mechanical keyboards for around 8 years now, and my previous keyboards have been decent prebuilds (Vortex Pok3r, AnnePro 2) but this really is night and day, It feels like the first time using a mech board all over again, except even better; I can't recommend this enough.
Sound is thocky, no rattle from the stabilisers, and customisation options are pretty vast. Per-key RGB, programmable layers/macros, even the knob is fully customisable: you can change action on clockwise rotation and anticlockwise rotation separately, and change action on click.
Support was great too; I read somewhere that Epomaker didn't offer great support after purchase, but this was definitely not the case for me. I had a slight problem with last-mile delivery (not their fault) and their support replied quickly and even followed up after the fact to make sure the keyboard was delivered.
Good
Everything is fine, but i didnt recieve my wireless dongle ... for wireless connection a bit dissapointing but my brother has the same dongle for wireless connectivity so that saves me.
Keyboard 9/10 got some light leaking out of keyboard when in low light
Delivery 8/10 a littel bit long but understandable because i chose normal deliverance.
Communication/reply 10/10 very kind and polite customer support, love it.
Good but over-lubed
The kit it self was honestly phenomenal easy to use and to build with, something I had realised though, that each stabiliser was completely over-lubed to gods no end. There was physically so much that I had to take apart each stabiliser to give it a thorough clean and wash.
Dear Customer,
Thank you for your review. We are sorry for not bringing you a happy purchasing experience. We will feedback your suggestion to the relevant authorities. Please feel free to contact us if you have any other questions
Thank you for your understanding and support, have a nice day!
Best Regards,
Epomaker Team
Join us on Instagram
Join our community in Instagram to keep up to date with our news, product releases, sales and giveaways!