The Pinnacle of Mechanical Keyboards
Don't miss out the Super-Early Bird!
Subscribe and get the best price when the EPOMAKER DynaTab 75X is available.
Harness the power of cutting-edge design.
Futuristic 75% Perel Layout
With an 84-key configuration, optimize every keystroke, eliminating extraneous elements. This meticulously crafted layout is fine-tuned for the next generation of both Mac and Windows enthusiasts.
Beyond Precision
Advanced Inner Keyboard Architecture
In the heart of the EPOMAKER DynaTab 75X lies an intricate fusion of cutting-edge technology and meticulous craftsmanship. It's not just a keyboard; it's an innovation marvel:
Gasket Structure

An ultra-resilient framework, ensuring that each keypress is consistent, stable, and remarkably smooth. The gasket design optimally distributes pressure, enabling tactile precision on every stroke.

PC Positioning Plate

Crafted with precision-grade Polycarbonate, this plate serves as the foundation of the key mechanisms. Its exceptional durability promises longevity while maintaining a lightweight profile.

Silicone Plugs

Perfectly embedded within the construction, these plugs offer enhanced shock absorption, reducing key noise and ensuring a muted, satisfying thud with every keystroke.

Poron Sandwich Foam

Positioned strategically within the keyboard, this advanced foam layer optimally cushions the internal components, safeguarding them from potential wear and tear while enhancing the tactile feel of each keypress.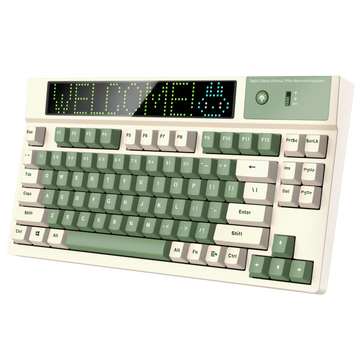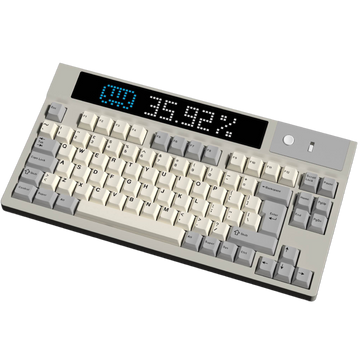 8x IXPE Under-Switch Padding

A revolution in key padding, this material elevates the typing experience, offering responsive feedback and unparalleled comfort.

Latex Shaft Base Foam

Meticulously chosen for its elasticity and resilience, this layer provides a buoyant foundation for the keys, ensuring a springy and consistent return after each press.

Slow-Rebound Sound Absorbing Bottom Foam

This final layer acts as an acoustic barrier, muting unwanted sounds and resonances, and offering a pure, unadulterated typing experience.
The EPOMAKER DynaTab 75X isn't merely built; it's engineered to perfection. Experience a symphony of technology, design, and innovation with every keypress.
Unparalleled Connectivity Fusion
Effortlessly shift between Bluetooth, wired, and wireless interfaces. Be it your smartphone, laptop, or iPad, the EPOMAKER DynaTab 75X stands at the vanguard. With multi-device synchronization, agile multitasking capabilities, and intuitive OS transitioning, we've crafted a nexus of technological brilliance.
Wireless Connection

Bluetooth Connection

USB-C Connection + Charging
Elegantly Universal
From the sleek realms of Mac to the dynamic world of Windows, and from the intuitive iOS to the versatile Android, the EPOMAKER DynaTab 75X epitomizes unparalleled compatibility. Furnished with OS-tailored keycaps, it promises an elite and cohesive experience, transcending platform boundaries.
Luminous Mastery in RGB
Dive into a spectrum of 16.8 million hues with the EPOMAKER DynaTab 75X. Crafted for the connoisseur, it empowers you to tailor illumination to your unique aura. Harmonize with your tempo and let the keyboard become an extension of your persona. Revel in a canvas of 540 distinct RGB Dot-Matrix LEDs, enabling intricate pattern design and dynamic GIF animation
Engineered for Eternity
More than a visual masterpiece, the EPOMAKER DynaTab 75X is a testament to enduring craftsmanship. Meticulously constructed for resilience, each keystroke echoes precision, promising an unwavering tactile experience through the ages.
Personalization Elevated
Beyond mere functionality, the EPOMAKER DynaTab 75X is an ode to bespoke elegance. Armed with programmable layers and exquisite keycap craftsmanship, it extends an invitation to sculpt your unique tactile narrative, be it in coding, prose, or the gaming arena.
Masterful Switch Engineering
Immerse yourself in the craftsmanship of the EPOMAKER DynaTab 75X's switches. Each meticulously designed to perfection, our bespoke switches offer a range of tactile experiences. Choose, customize, and curate your keystrokes, ensuring each press aligns with your distinct touch preference. A realm of typing nuances awaits, tailored to the connoisseur's fingertips.
Sculpted in Ergonomic Mastery
From the subtle curvature of our keycaps to the keyboard's innate inclination, every facet of the EPOMAKER DynaTab 75X is conceived through the lens of human anatomy. Our dedication to ergonomics transforms long hours into a symphony of comfort, eliminating fatigue and ushering in an unparalleled typing harmony. Crafted not just for touch, but for sustained, graceful interaction.
Enduring Energy, Swift Refuel
Marrying rapid-charge technology with superior battery prowess, the EPOMAKER DynaTab 75X seamlessly integrates a 2A quick-charge chip. Revel in the stamina of an impressive 10,000mAh battery reserve, ensuring your sessions remain unbroken and perpetually powered.
Technical Specifications
Model
EPOMAKER DynaTab 75X
Plate Material
precision-grade Polycarbonate
Connectivity
Type-C Wired, Bluetooth, Wireless
Battery capacity
10,000mAh
Charging
Supports fast charging with a chip, with a maximum of 2A rapid charging.
Keyboard dimensions
345 x 181 x 42 mm
Don't miss out the Super-Early Bird!
Subscribe and get the best price when the EPOMAKER DynaTab 75X is available.