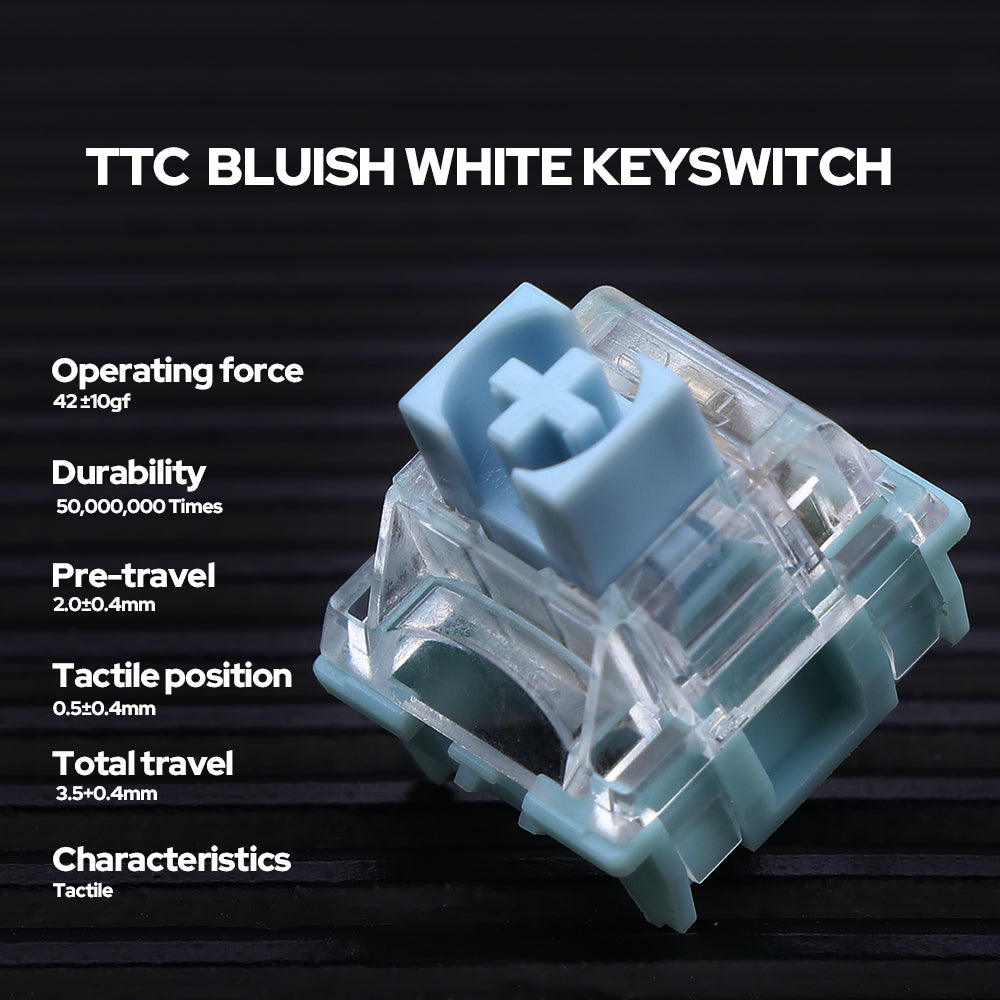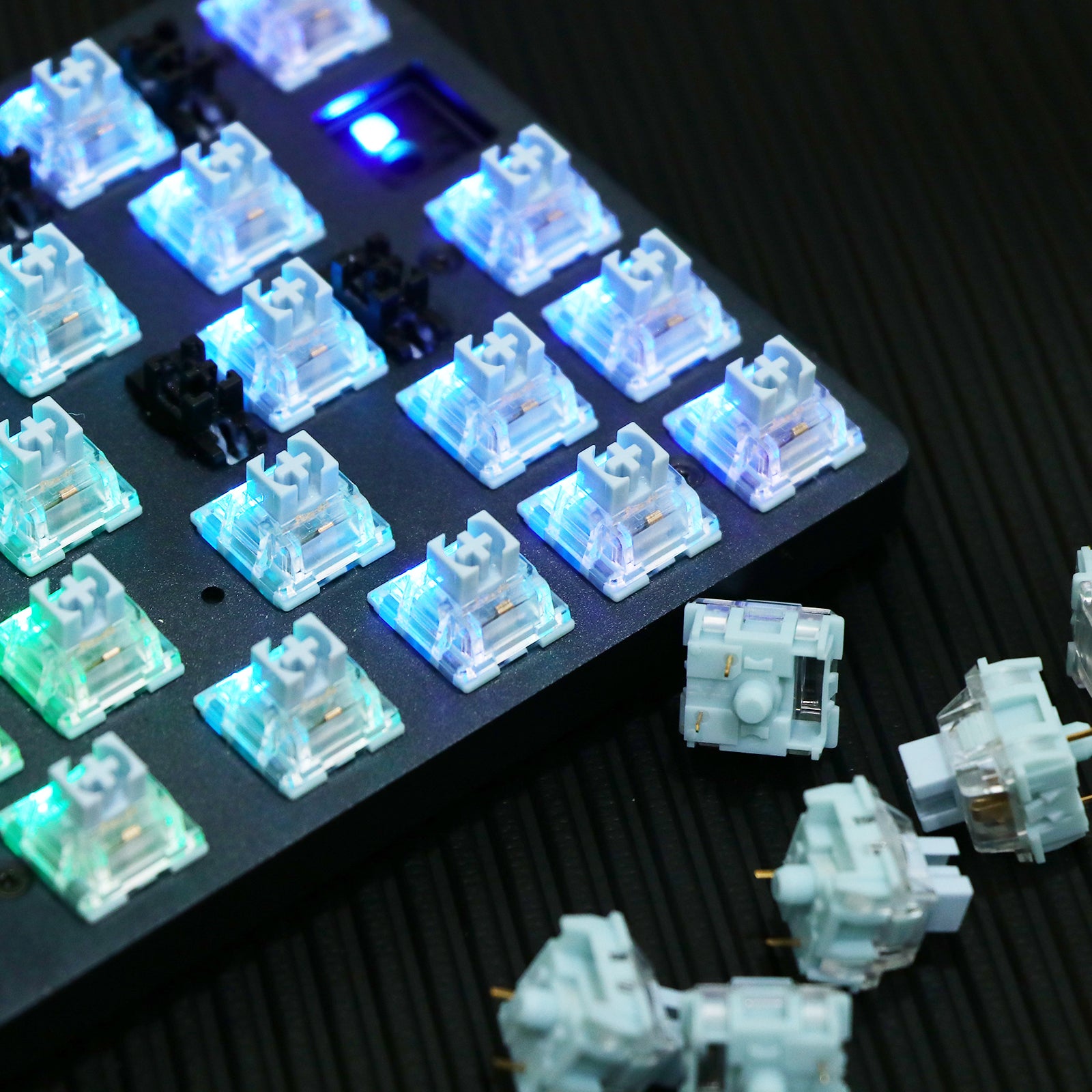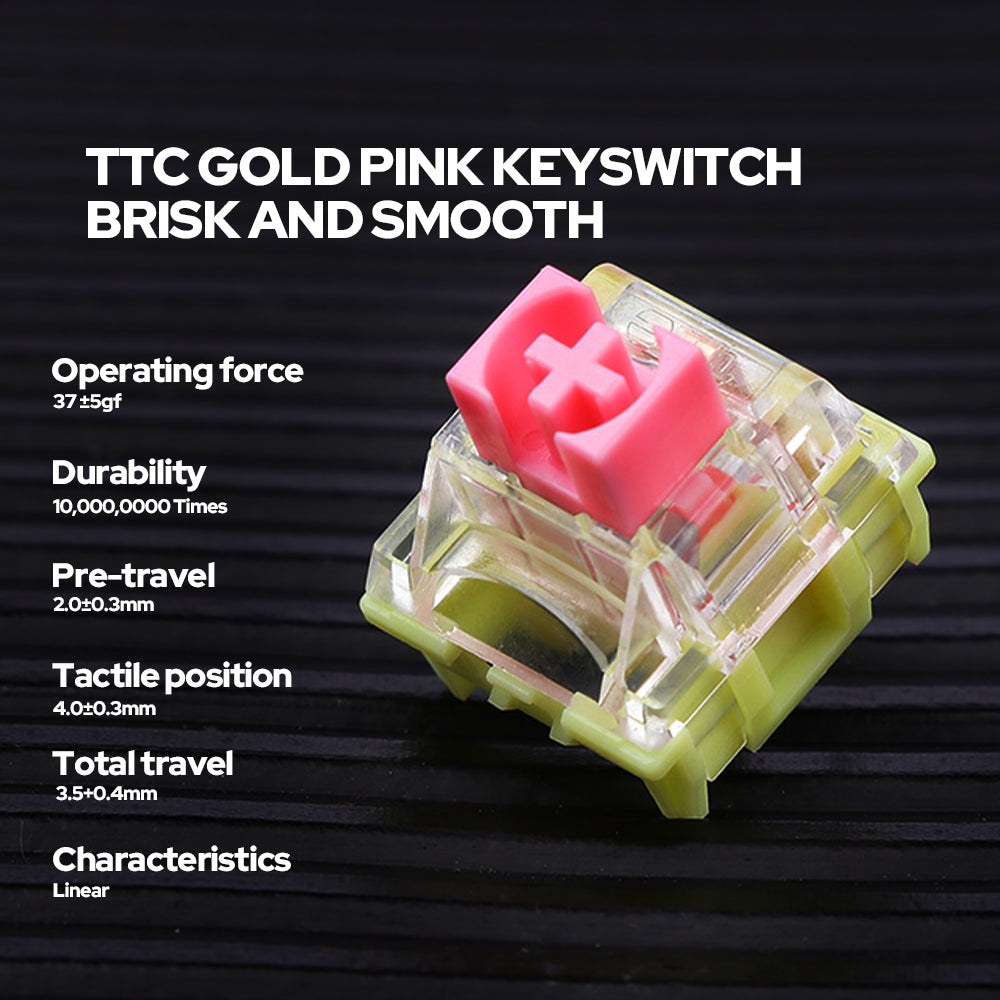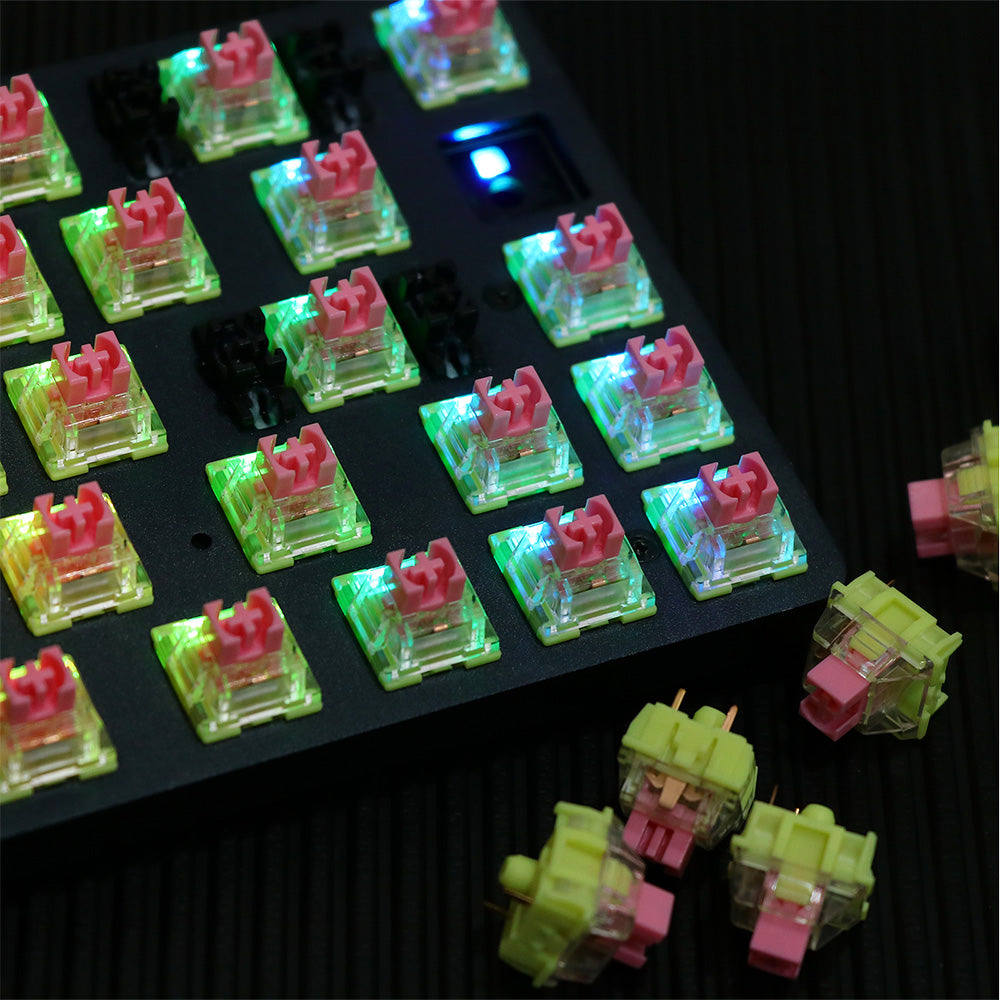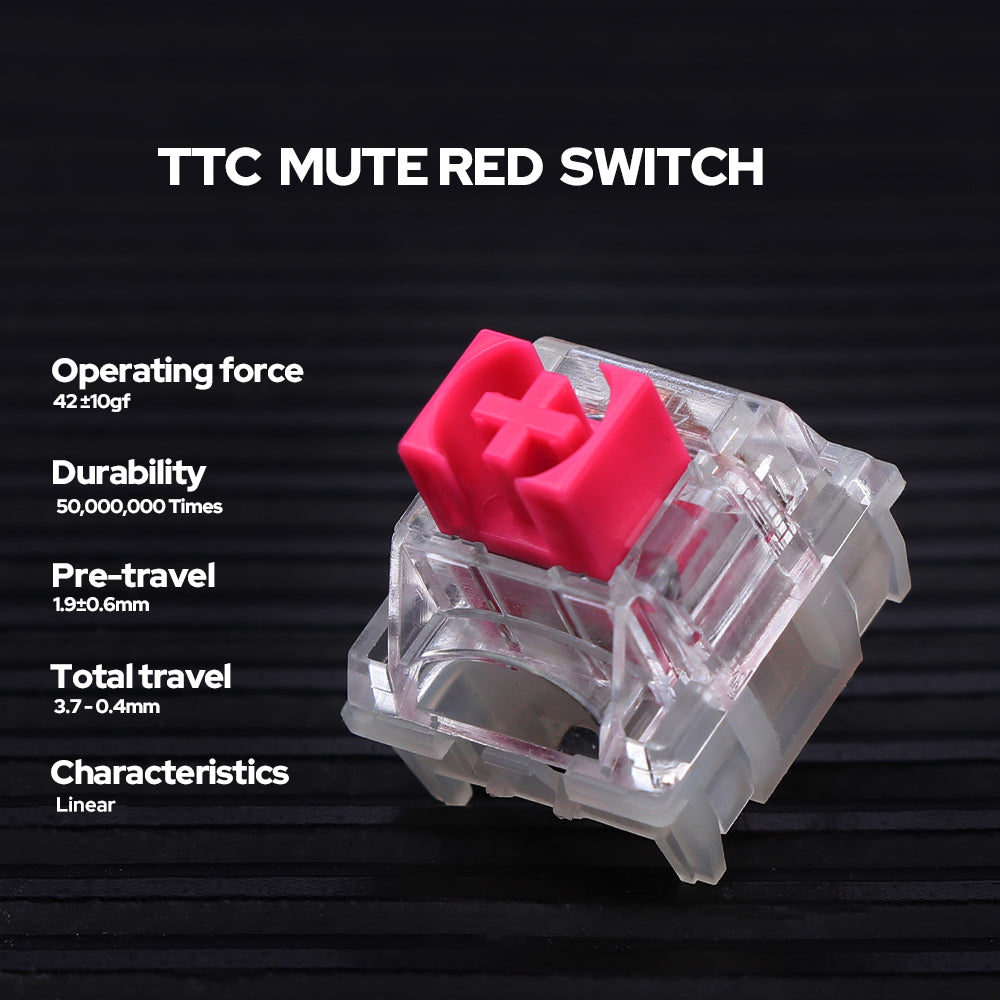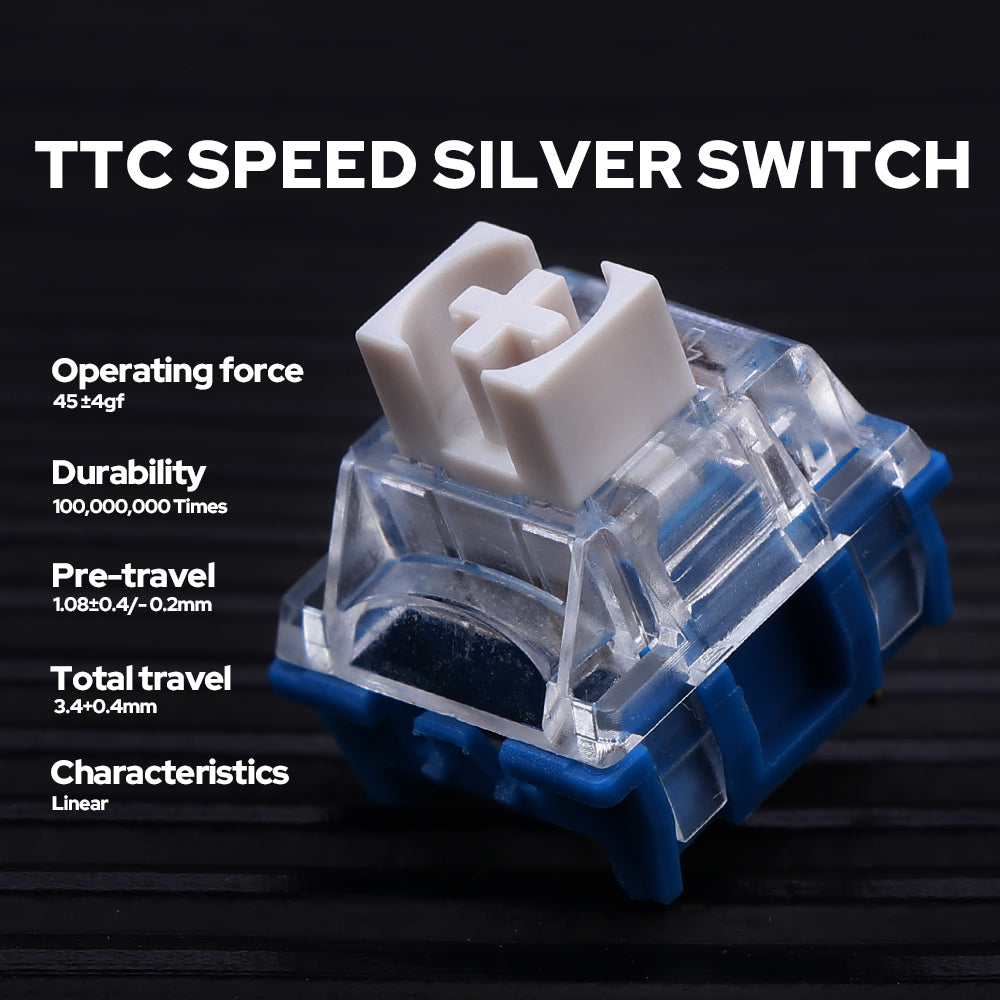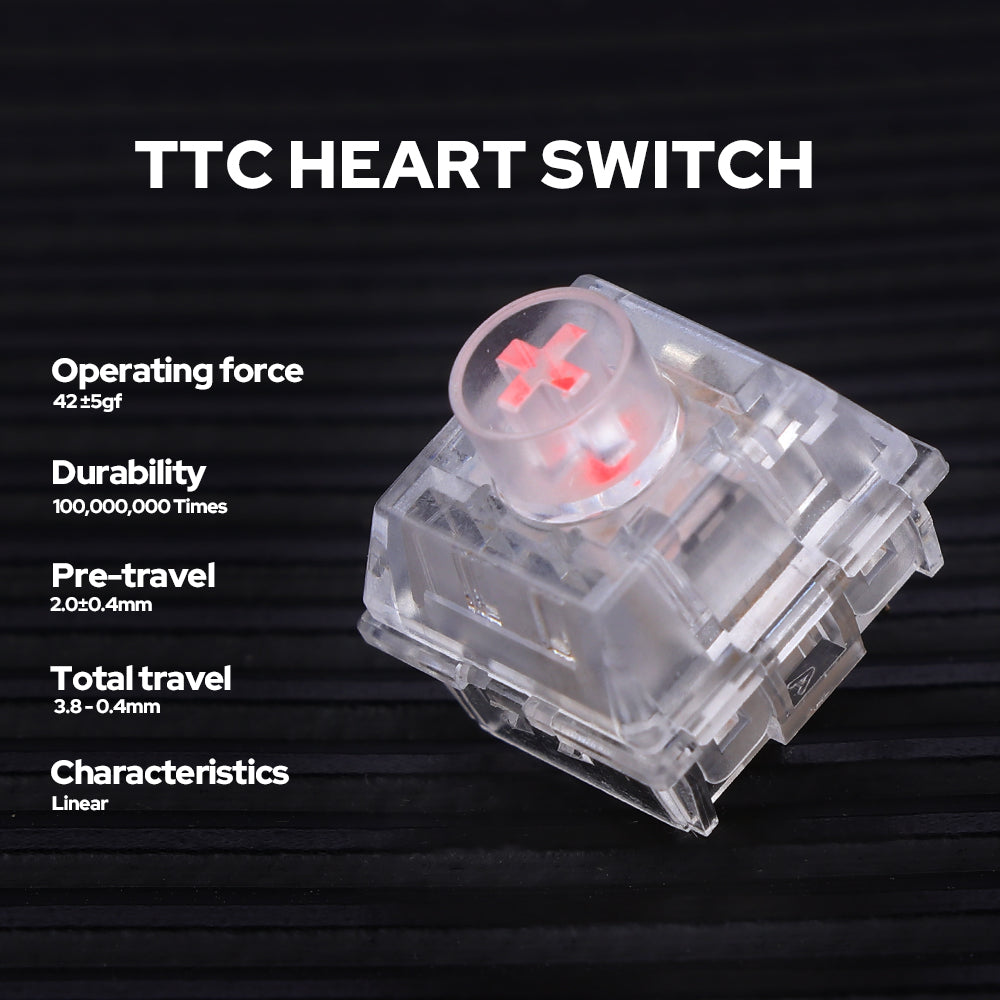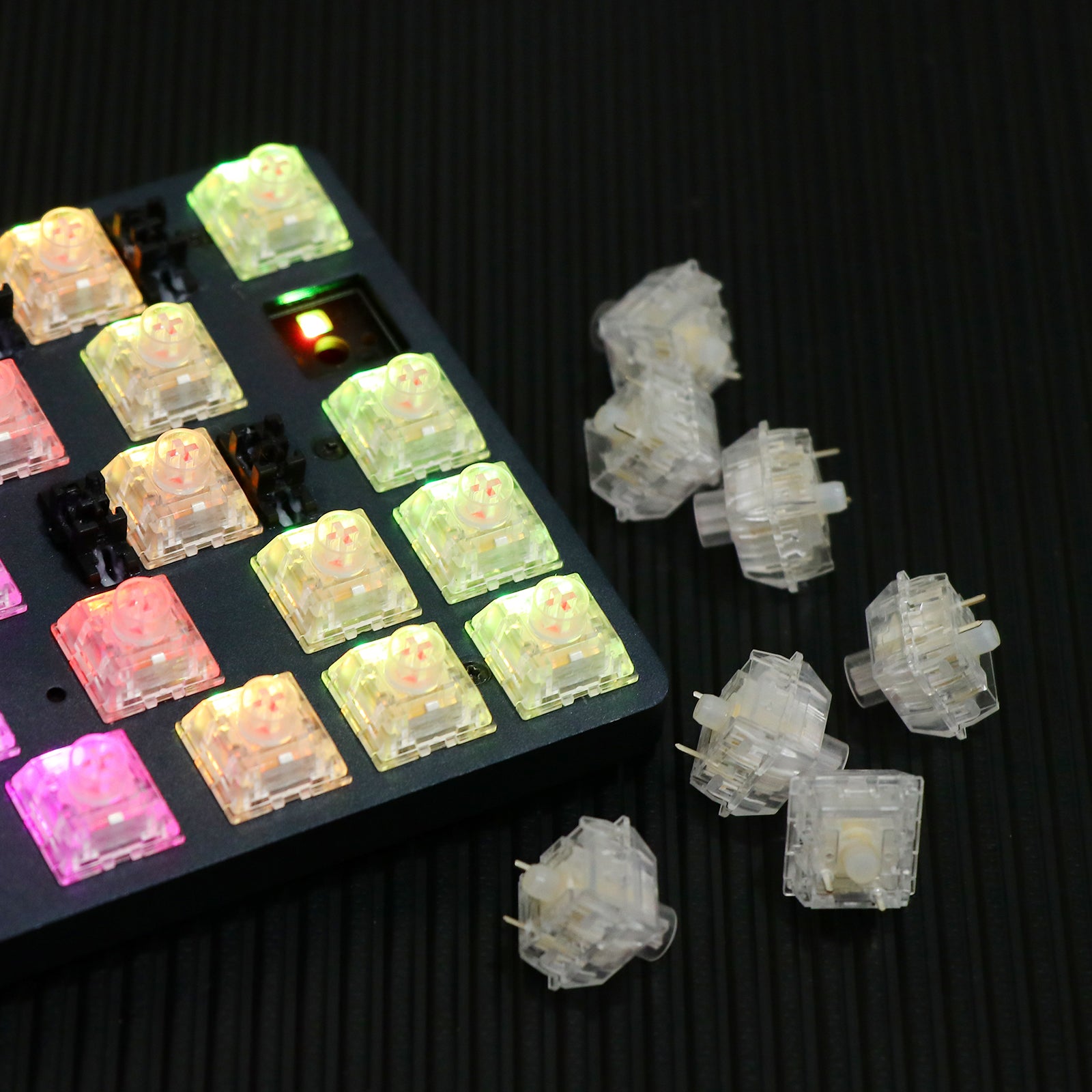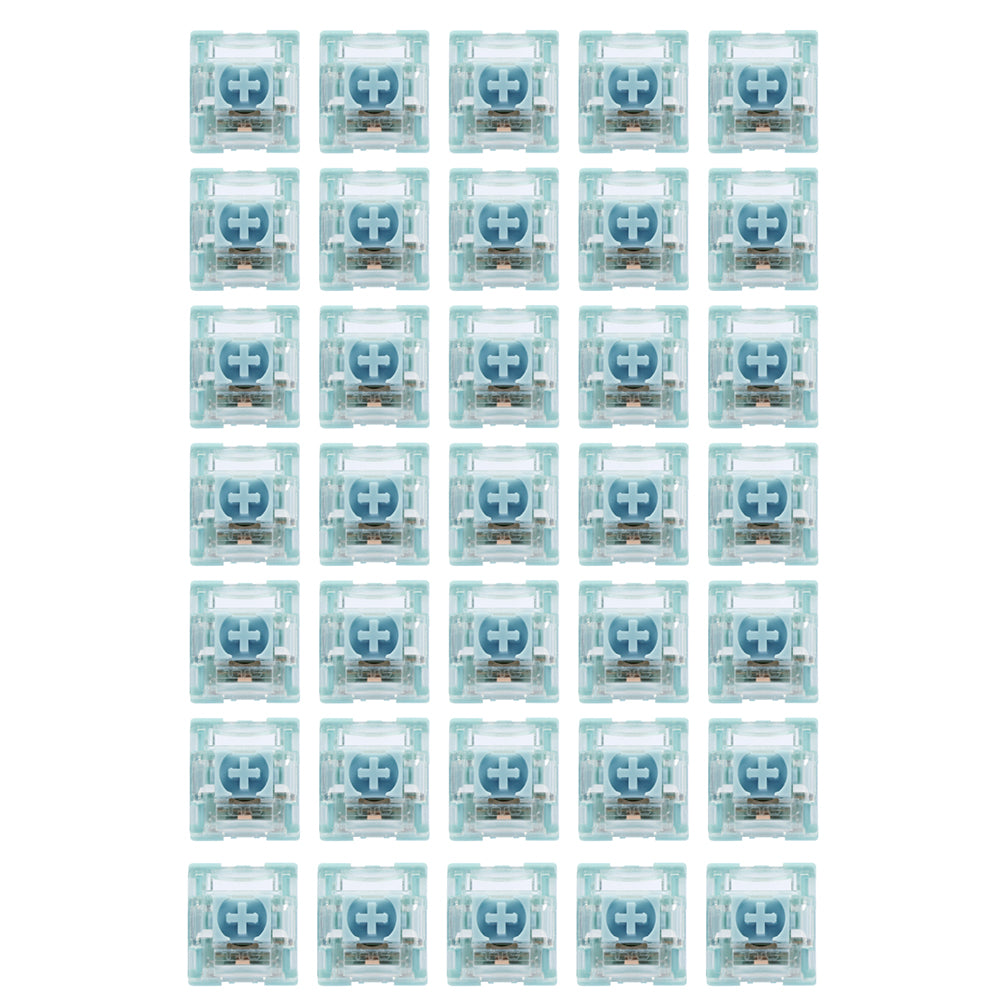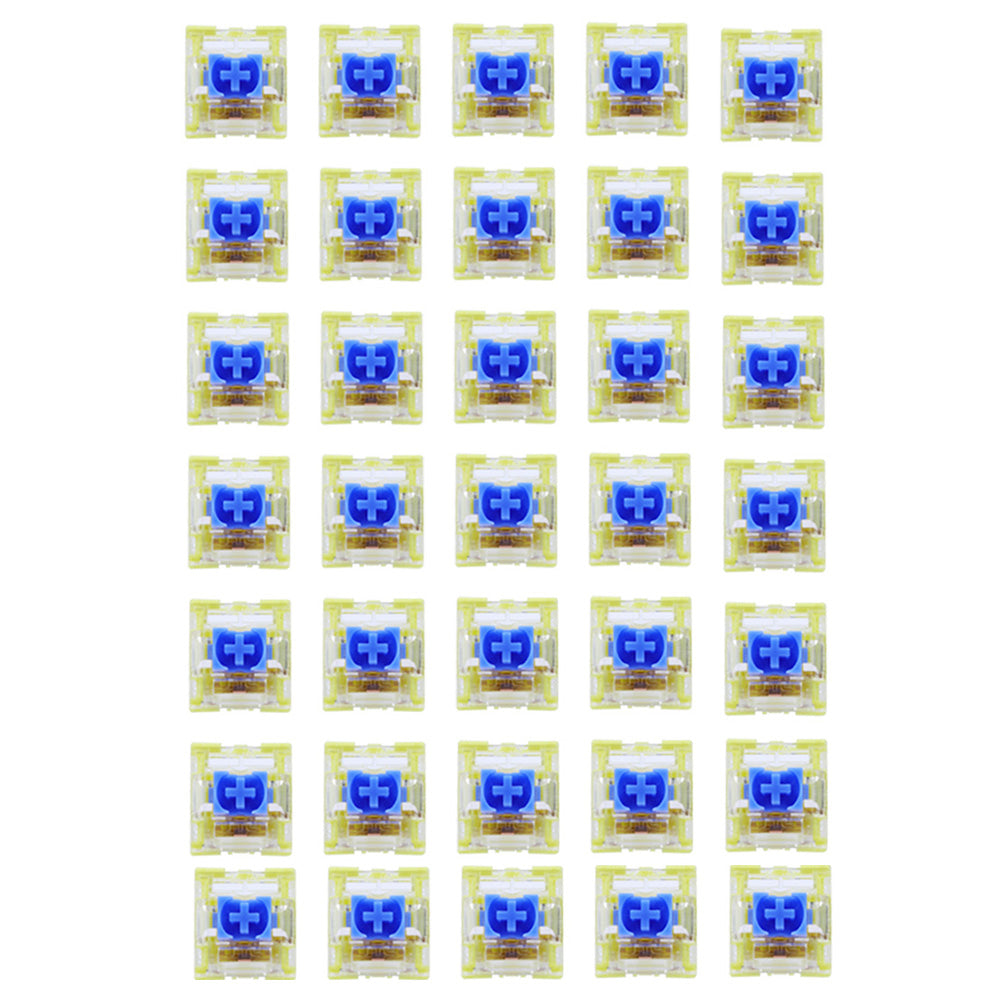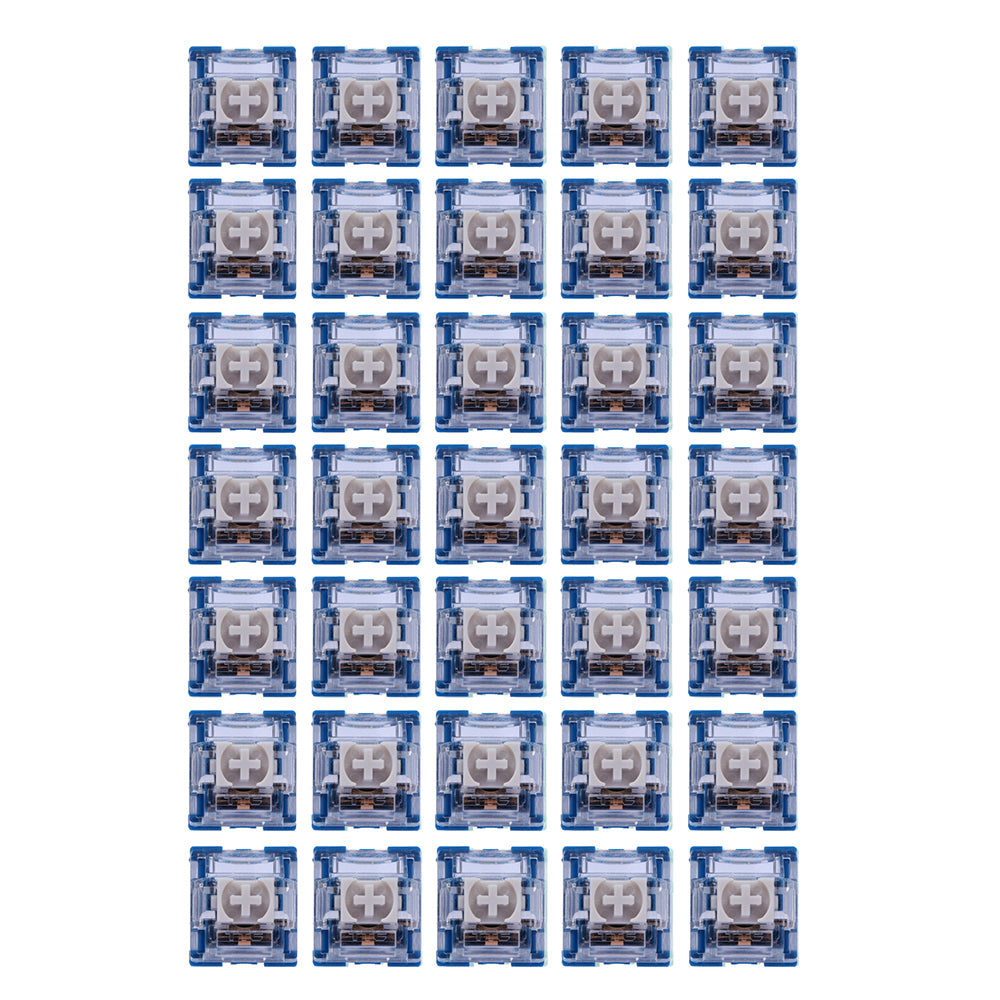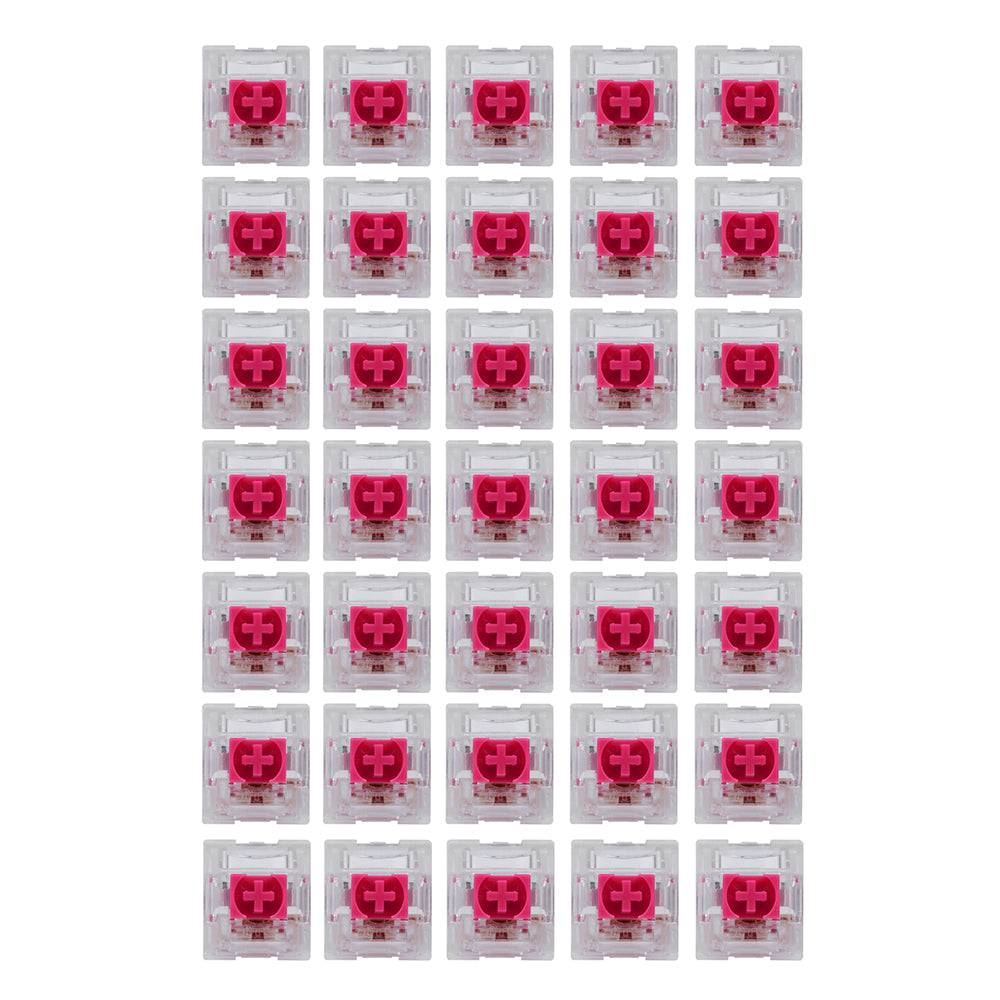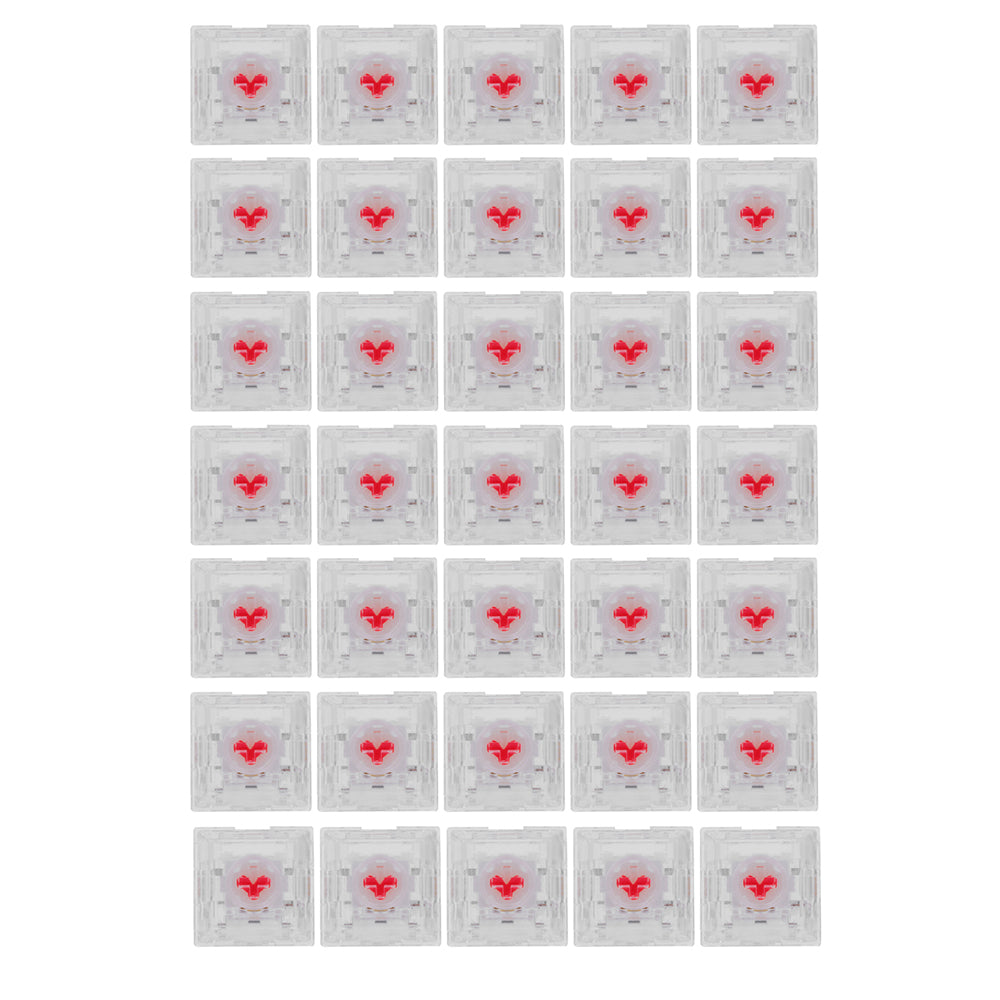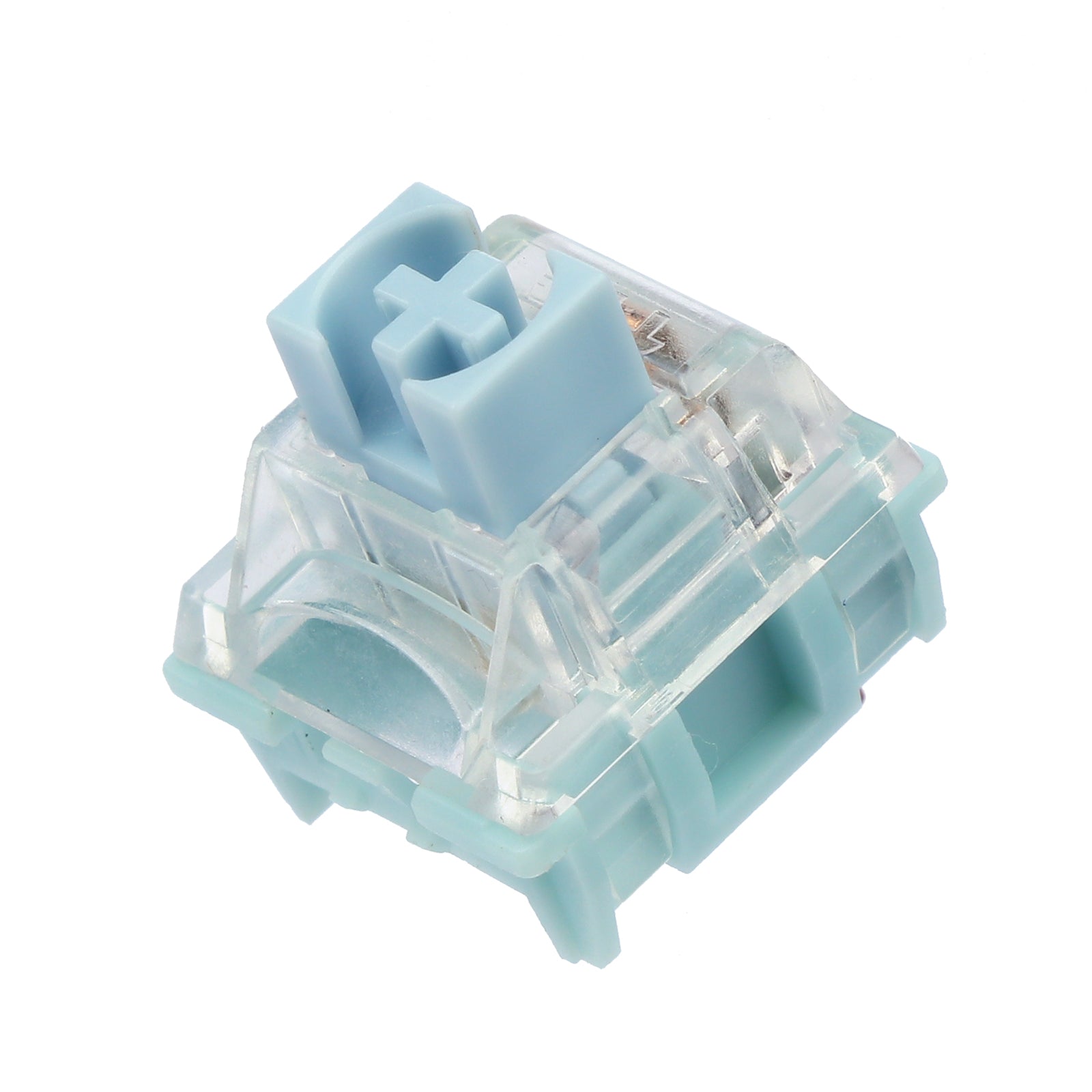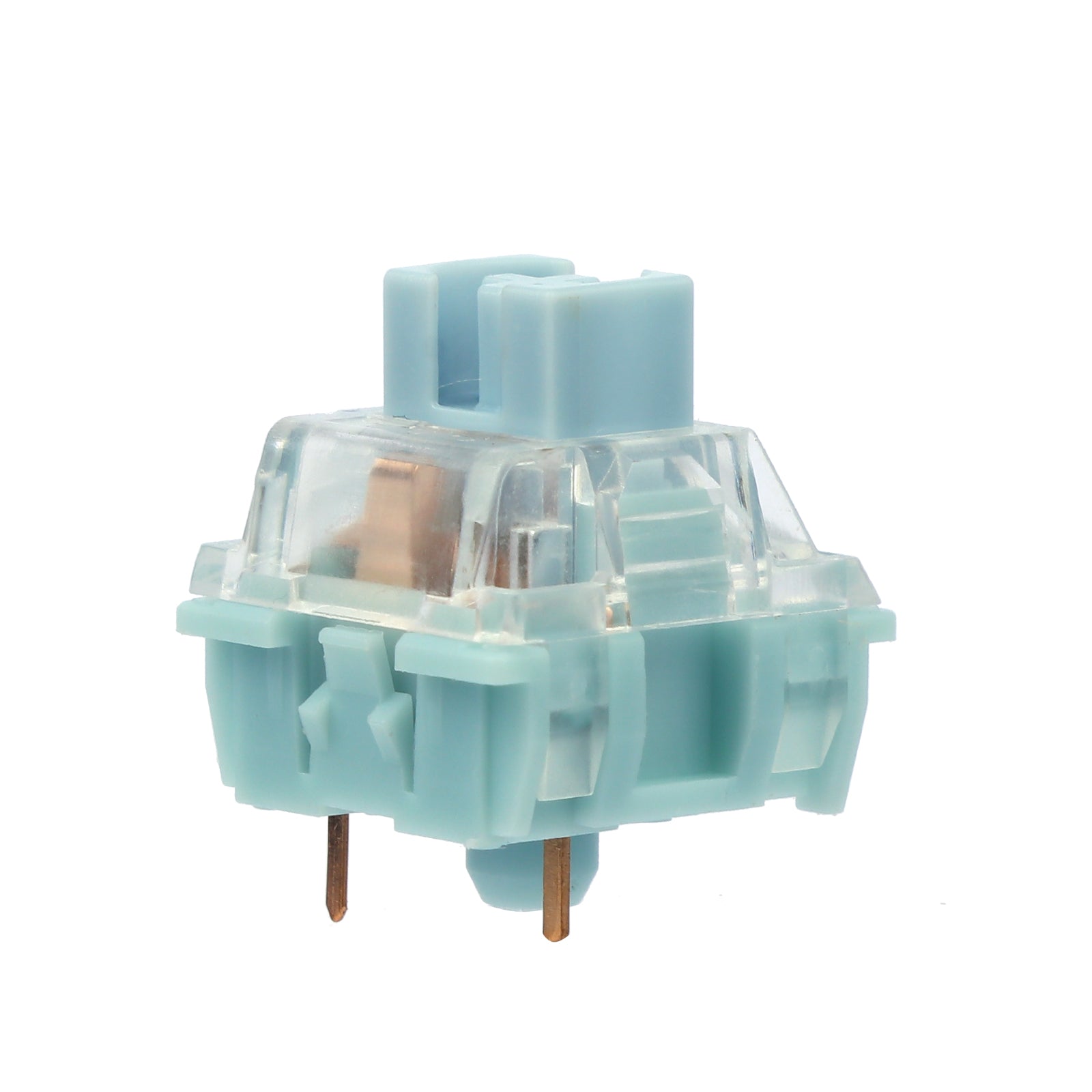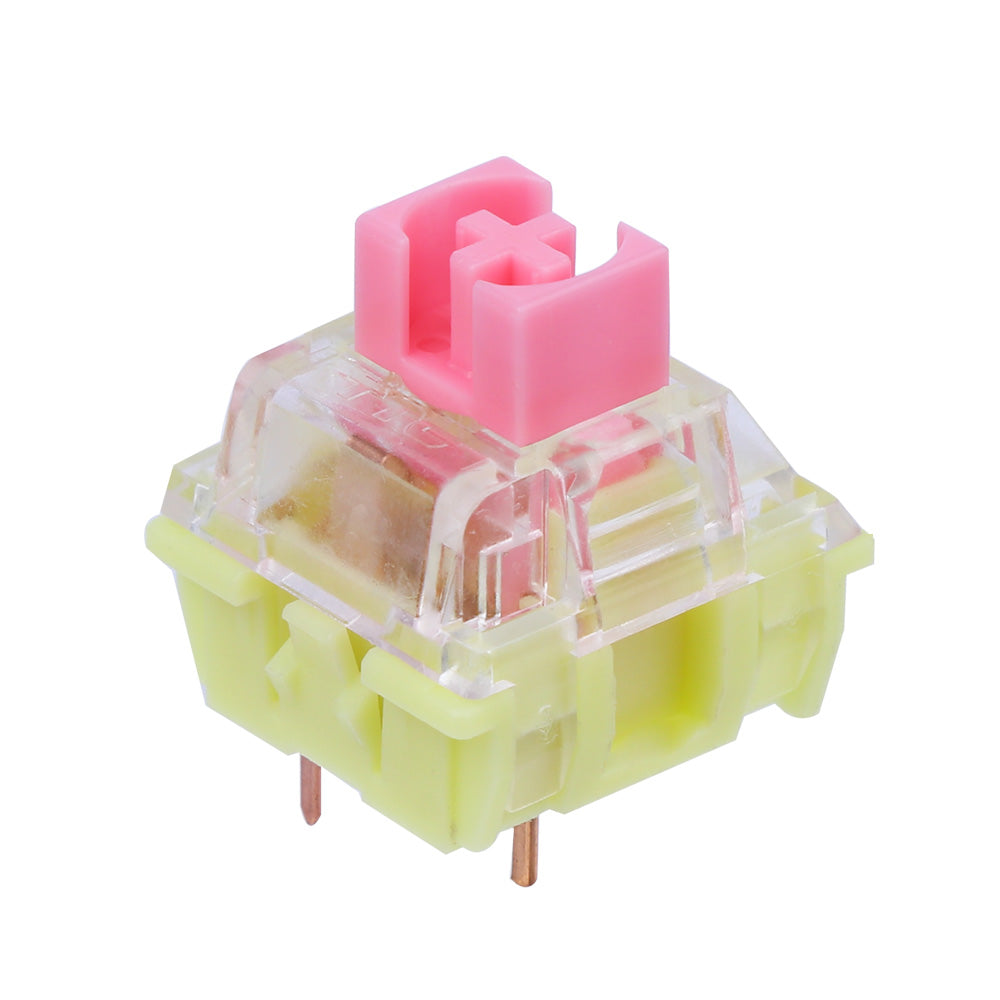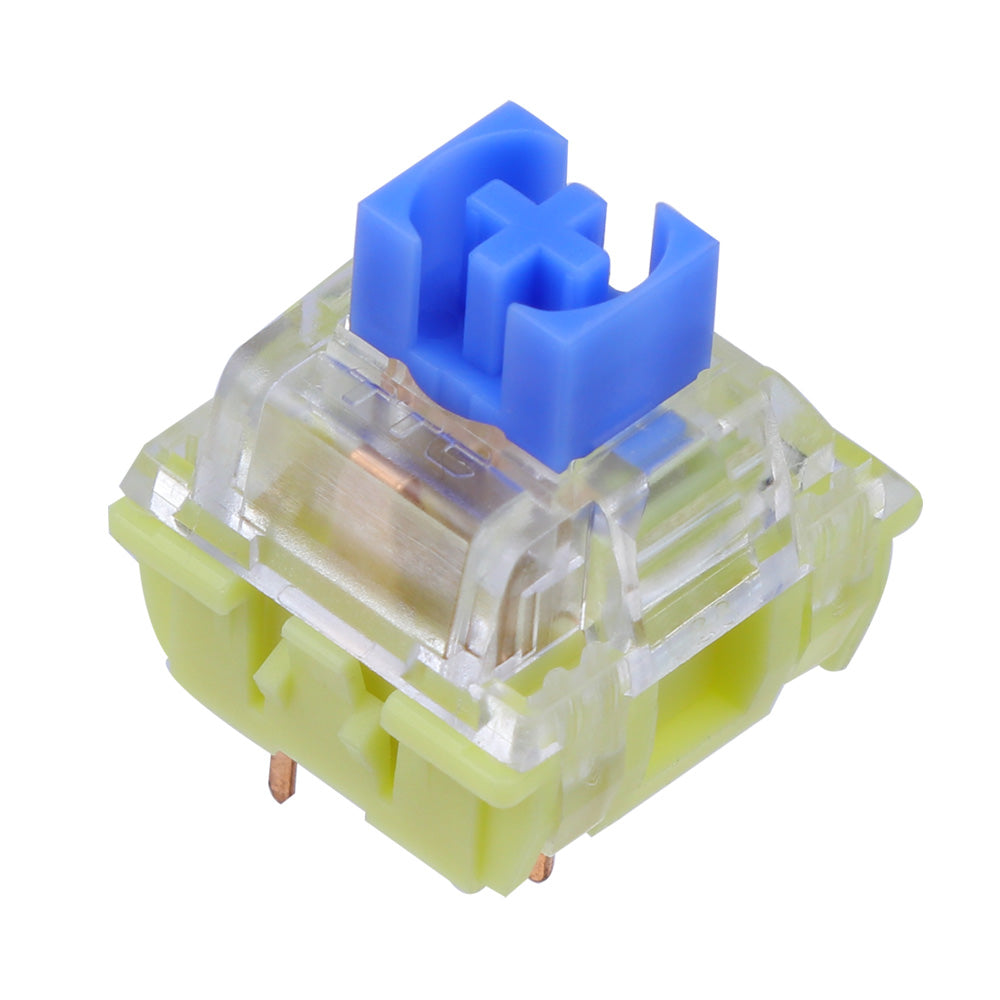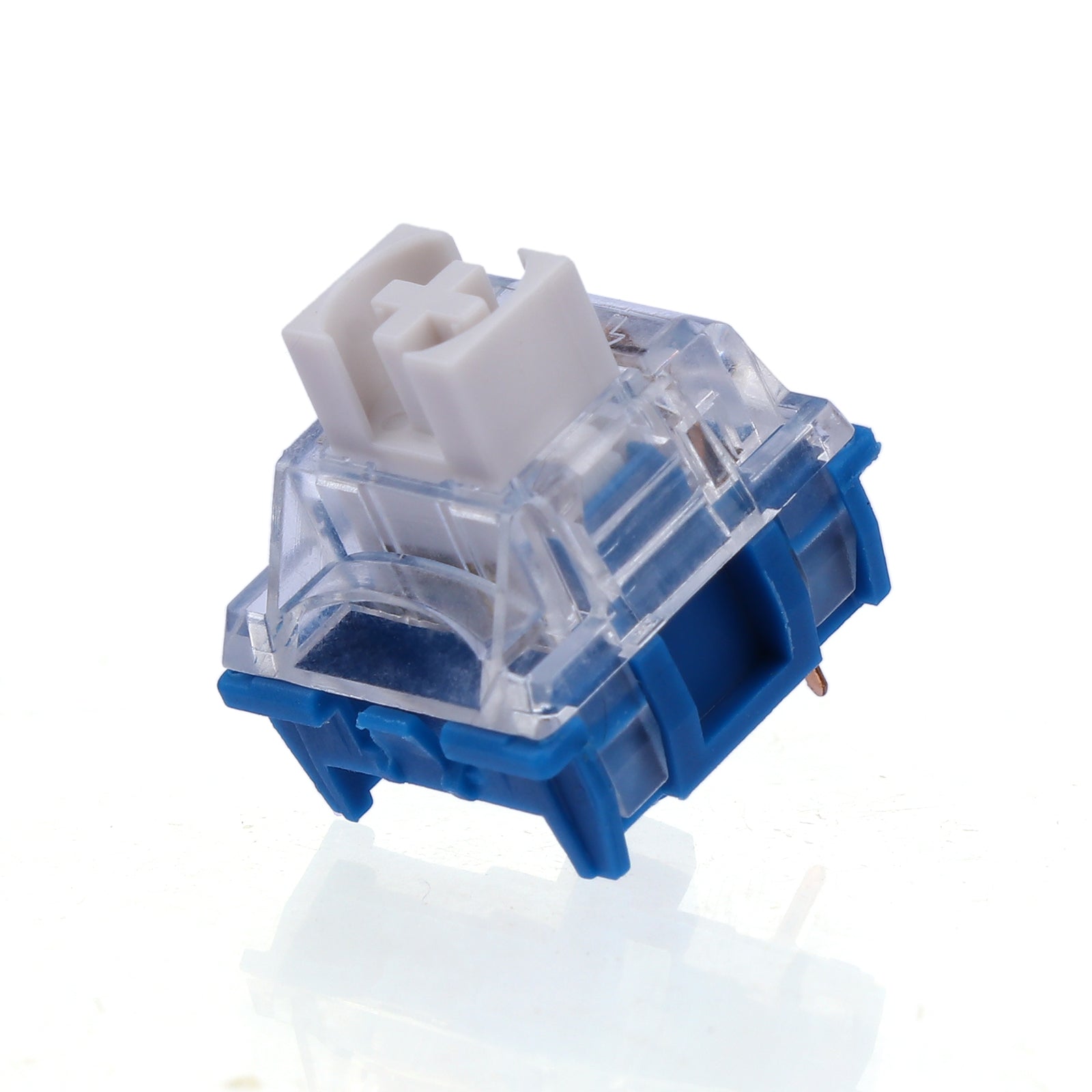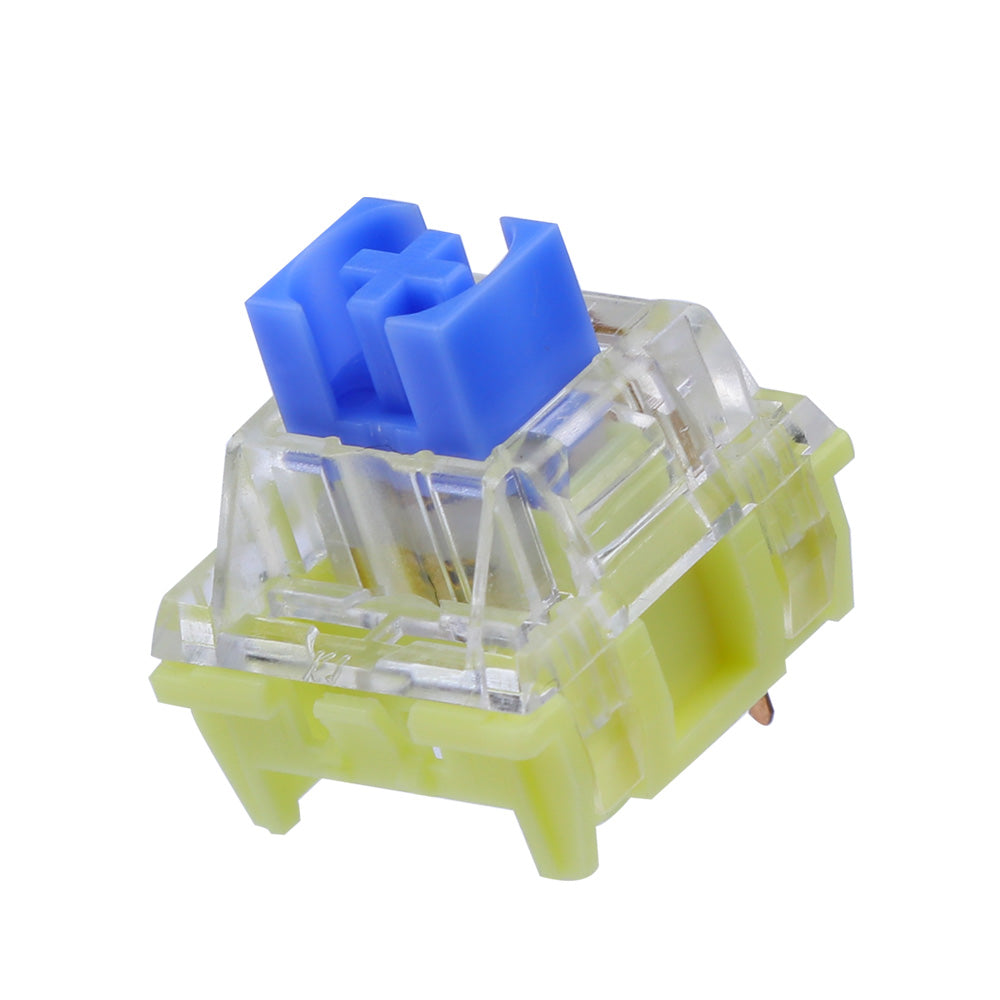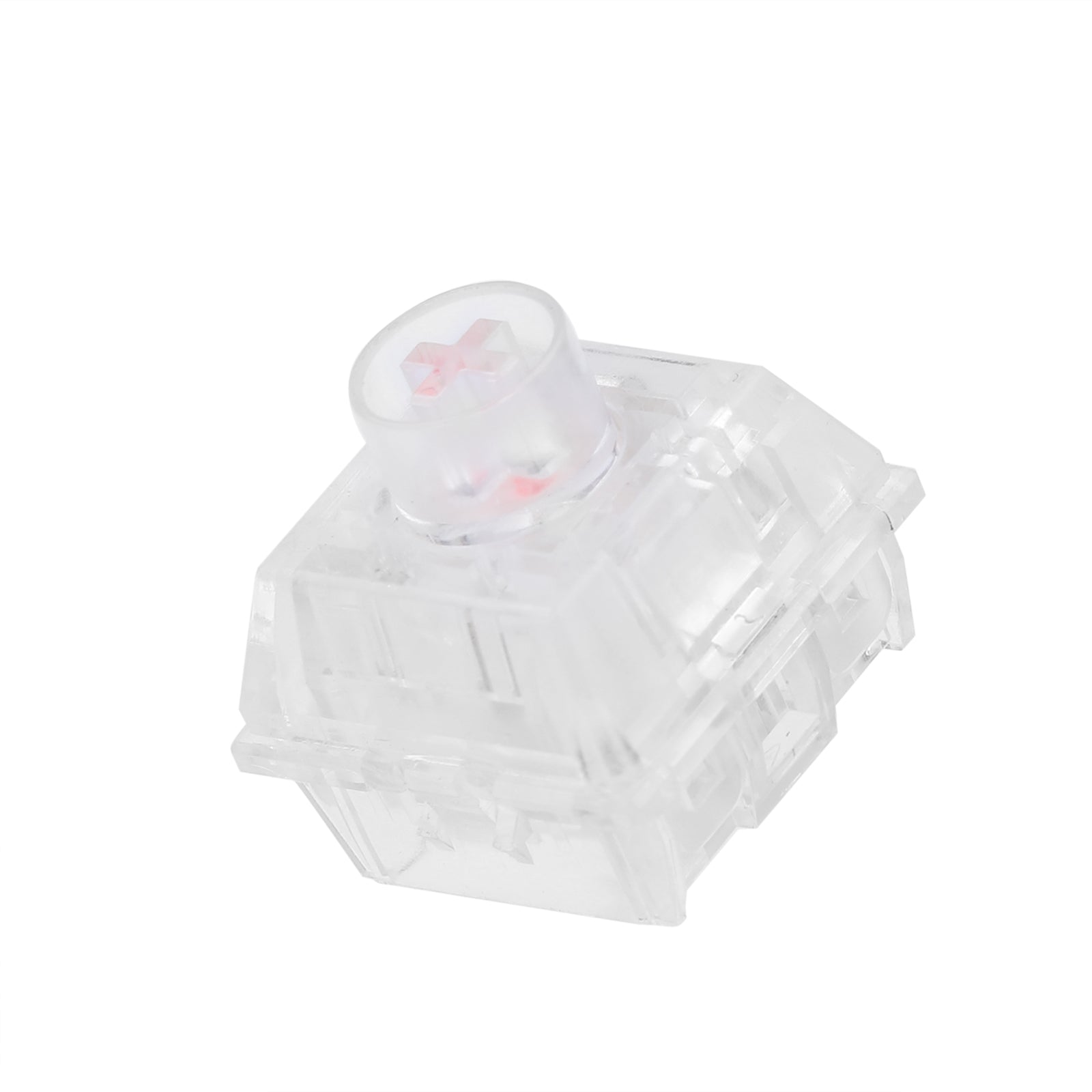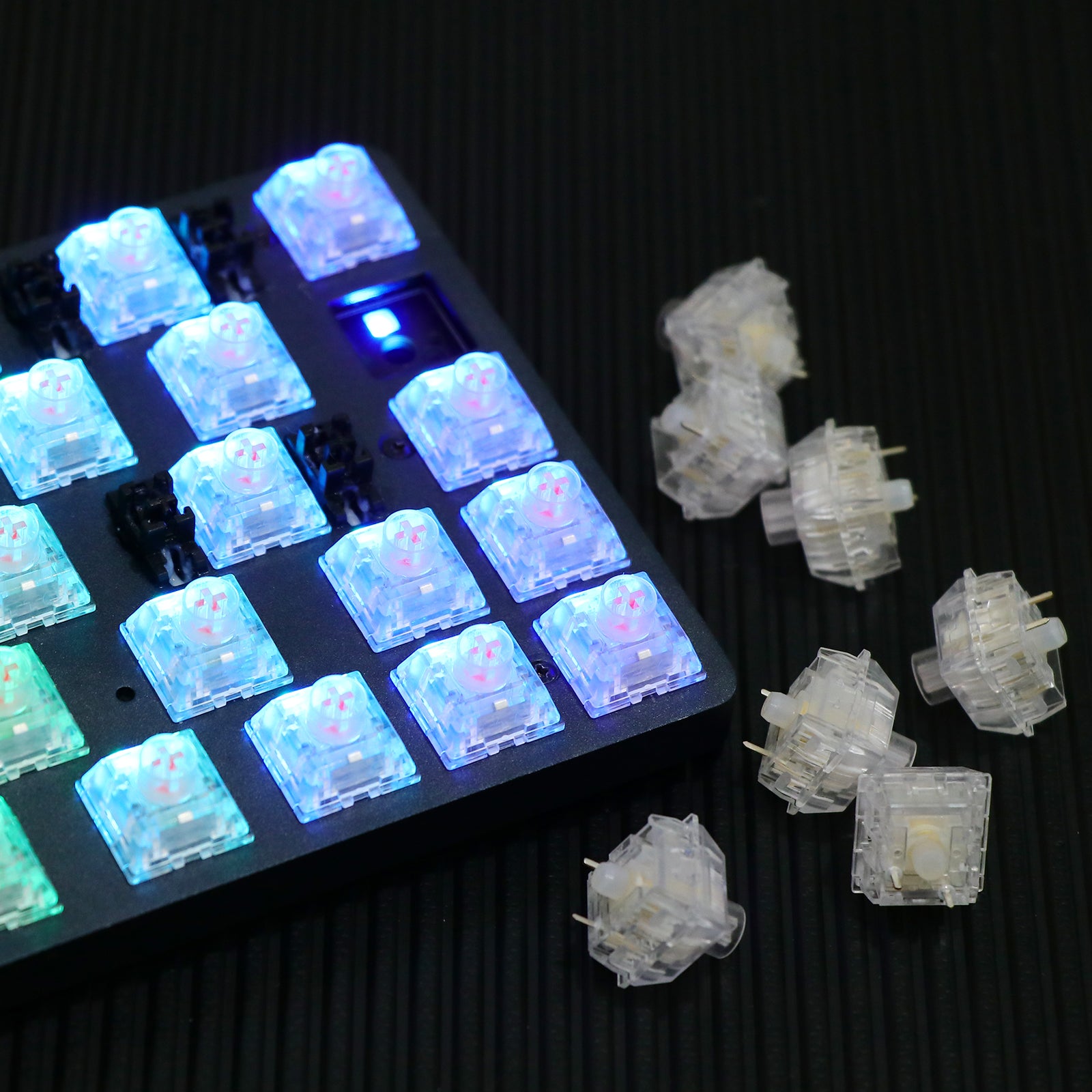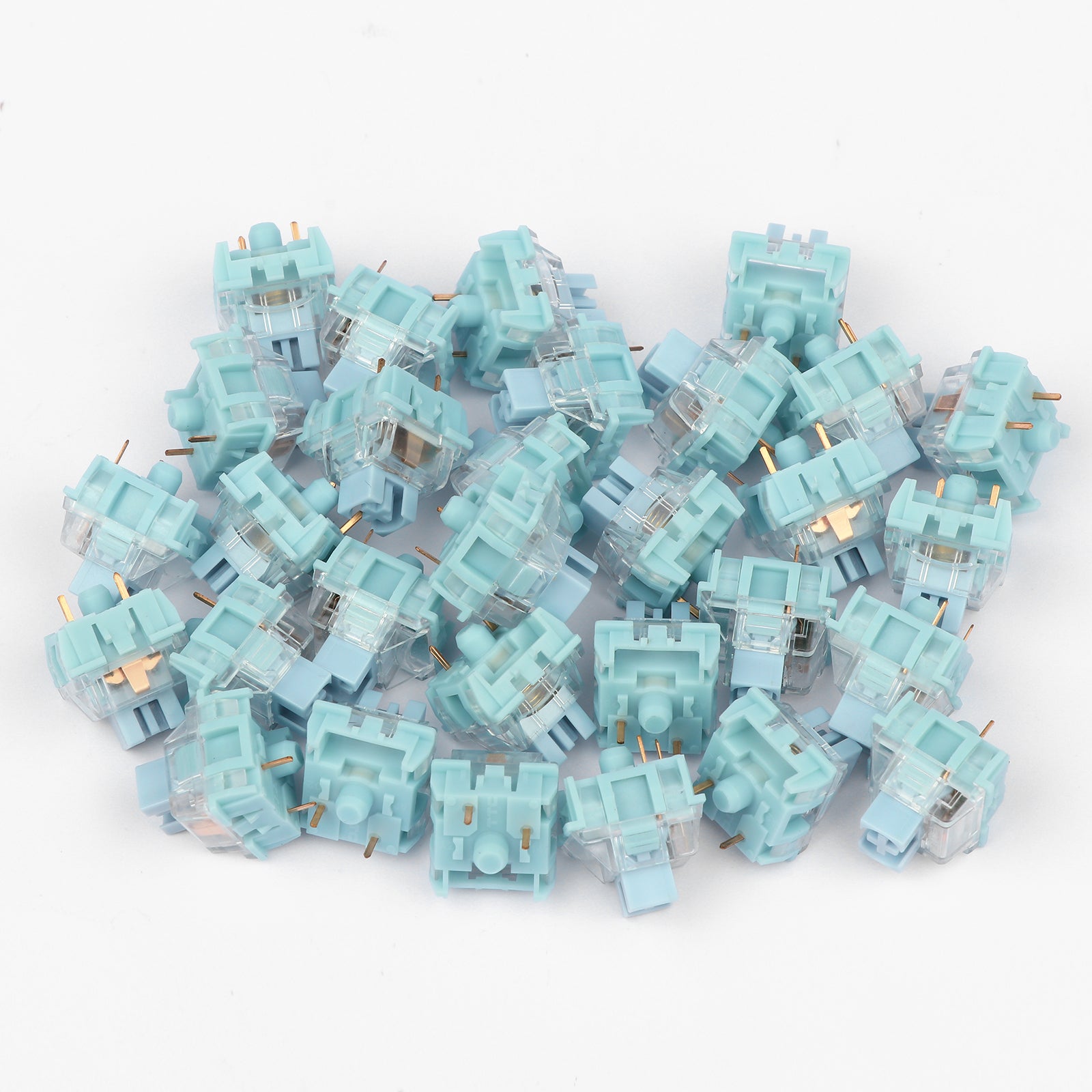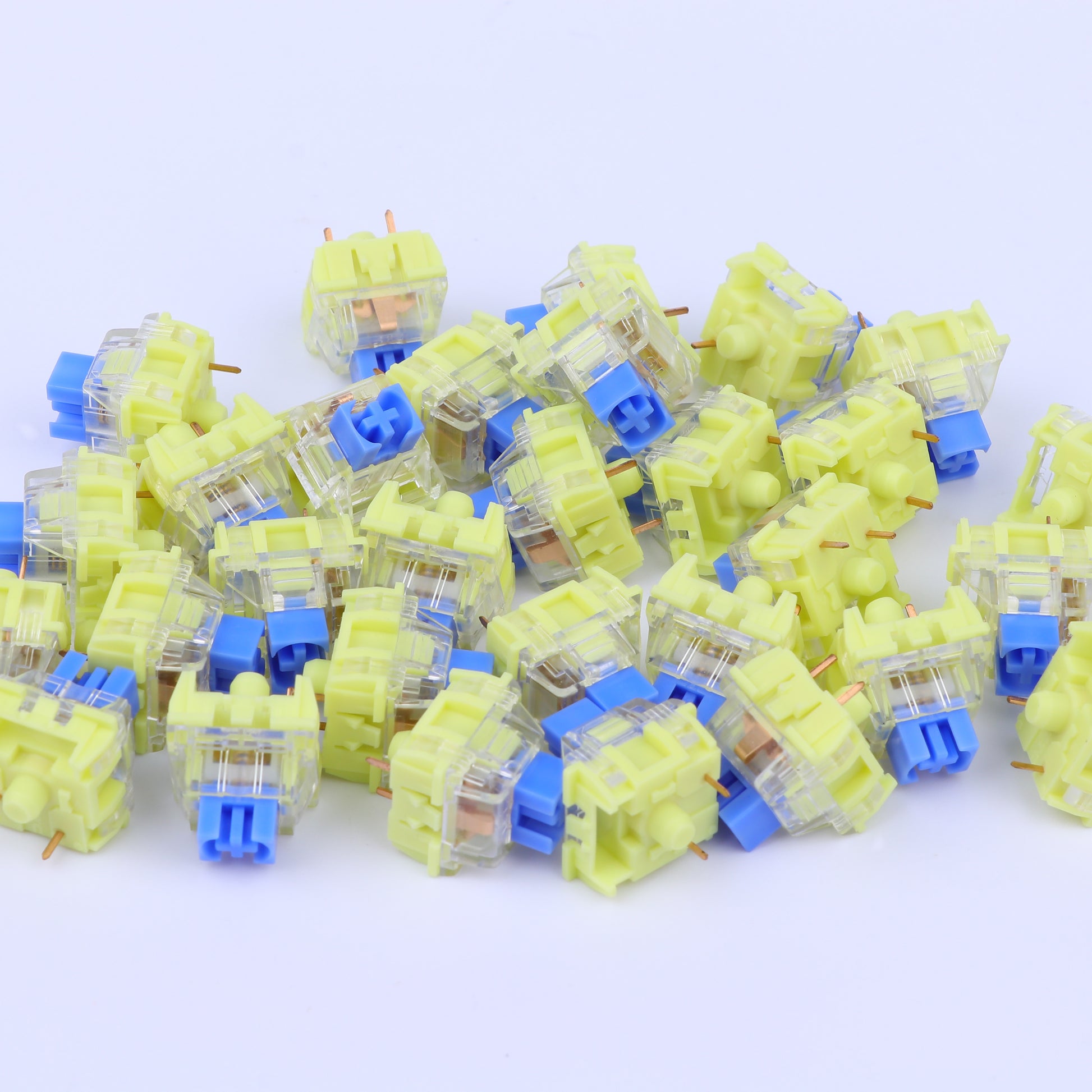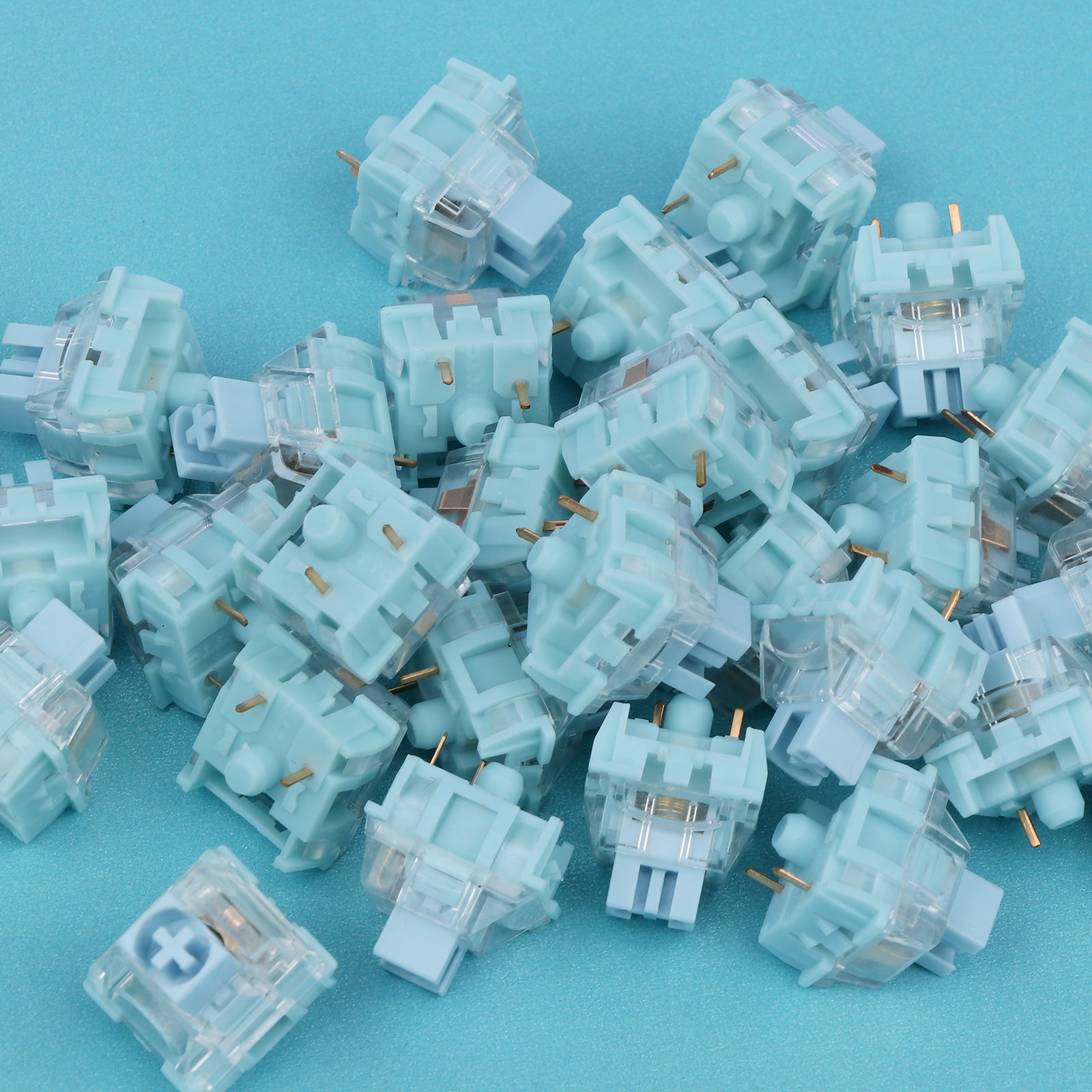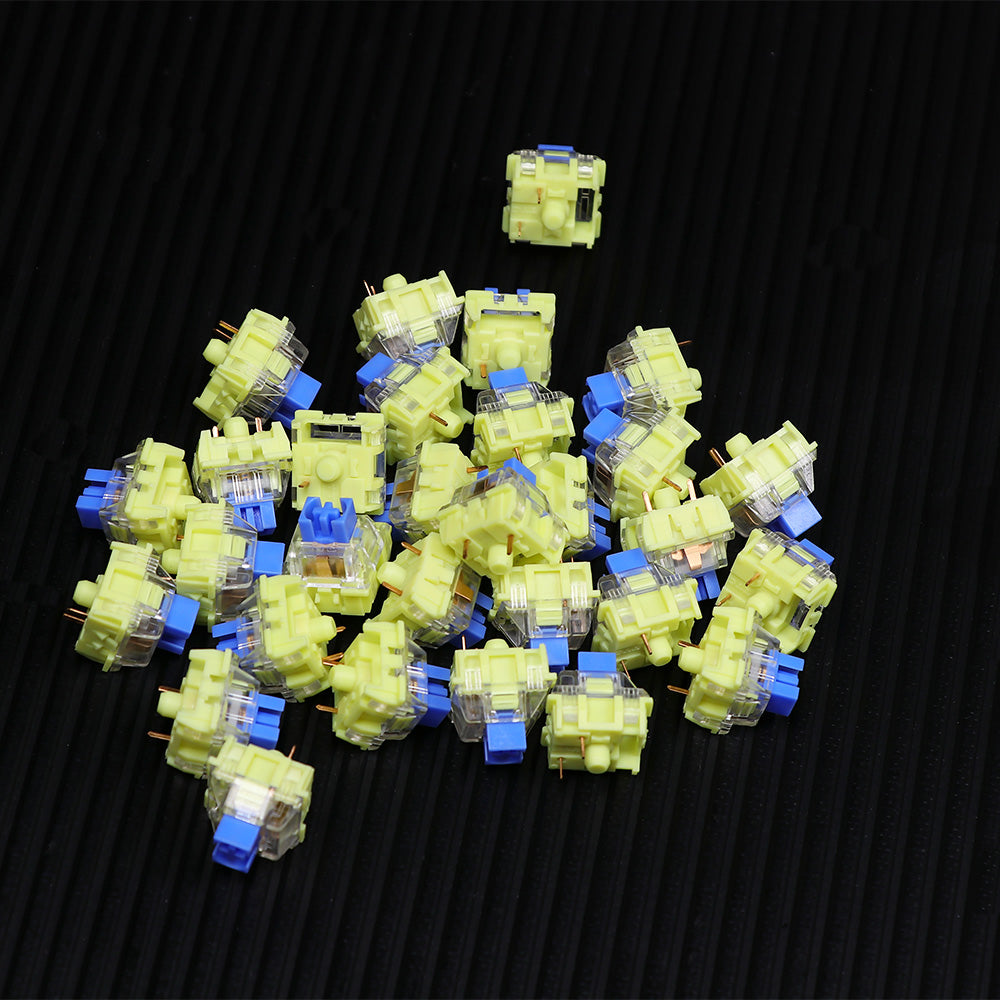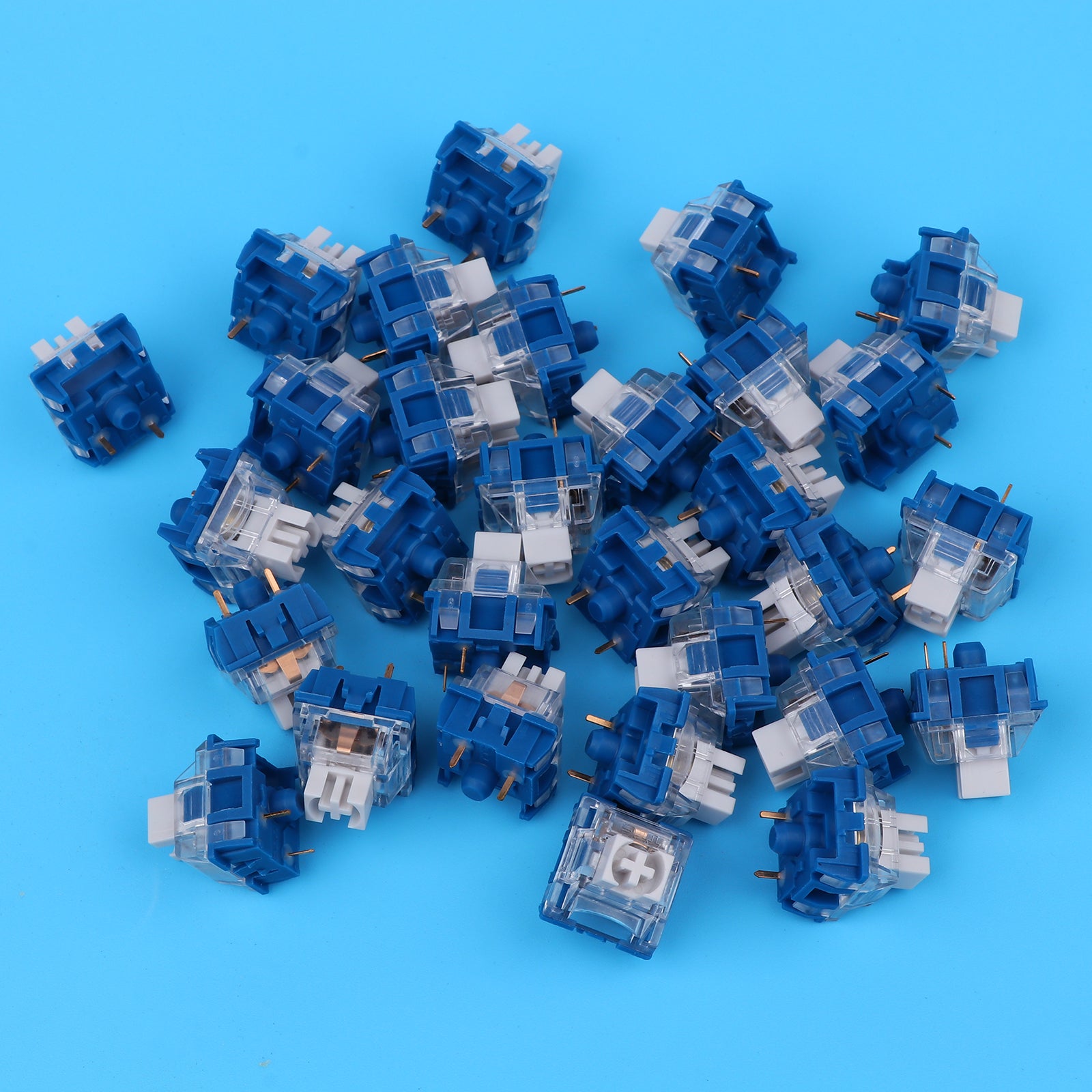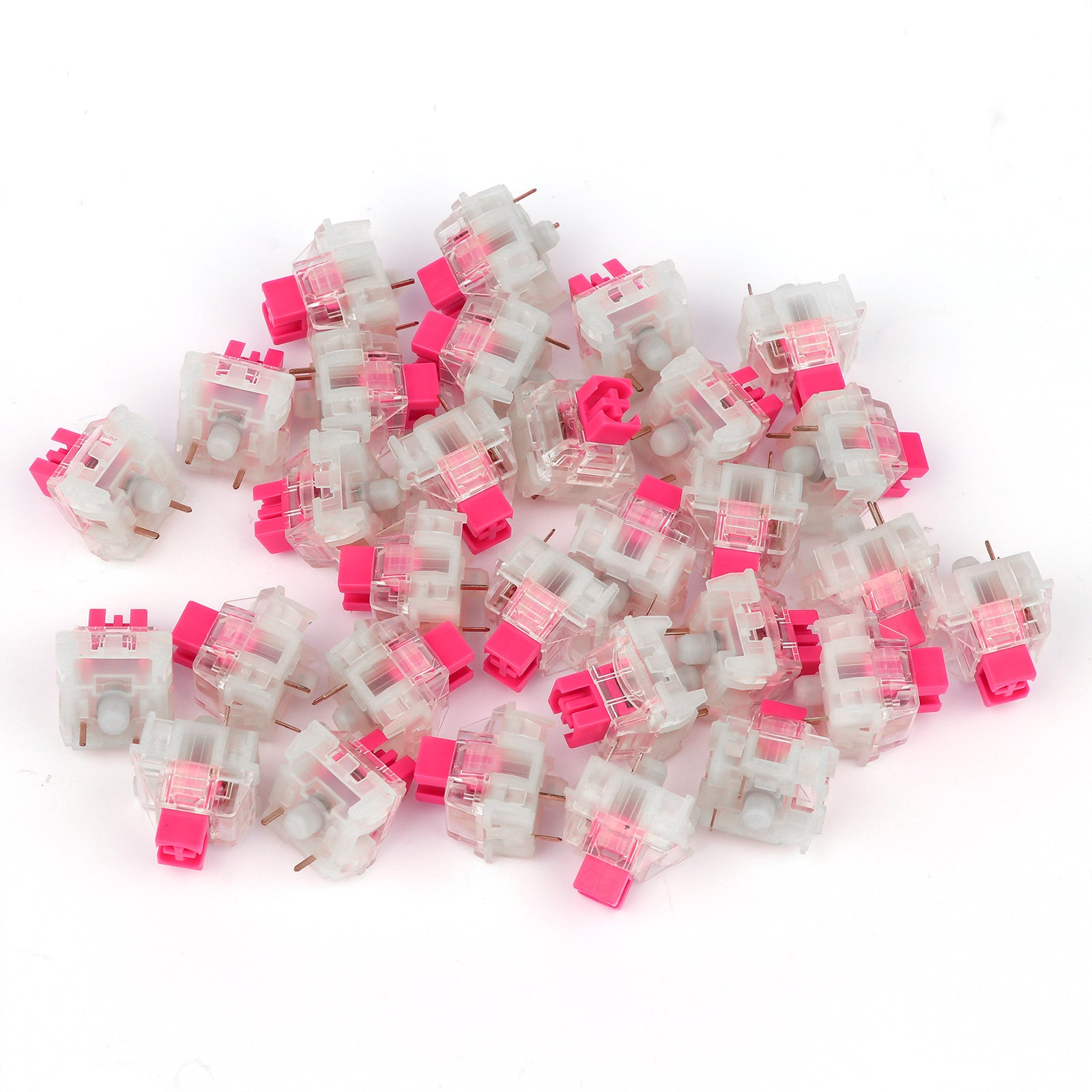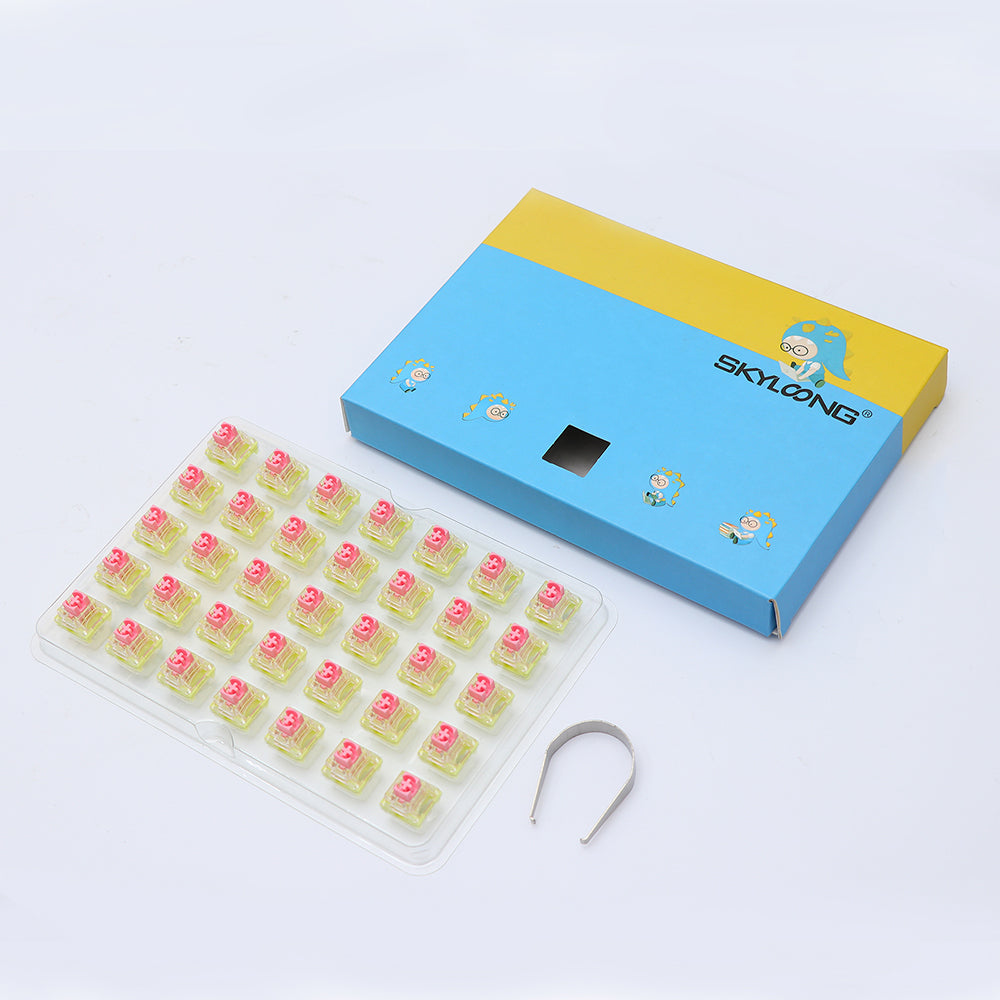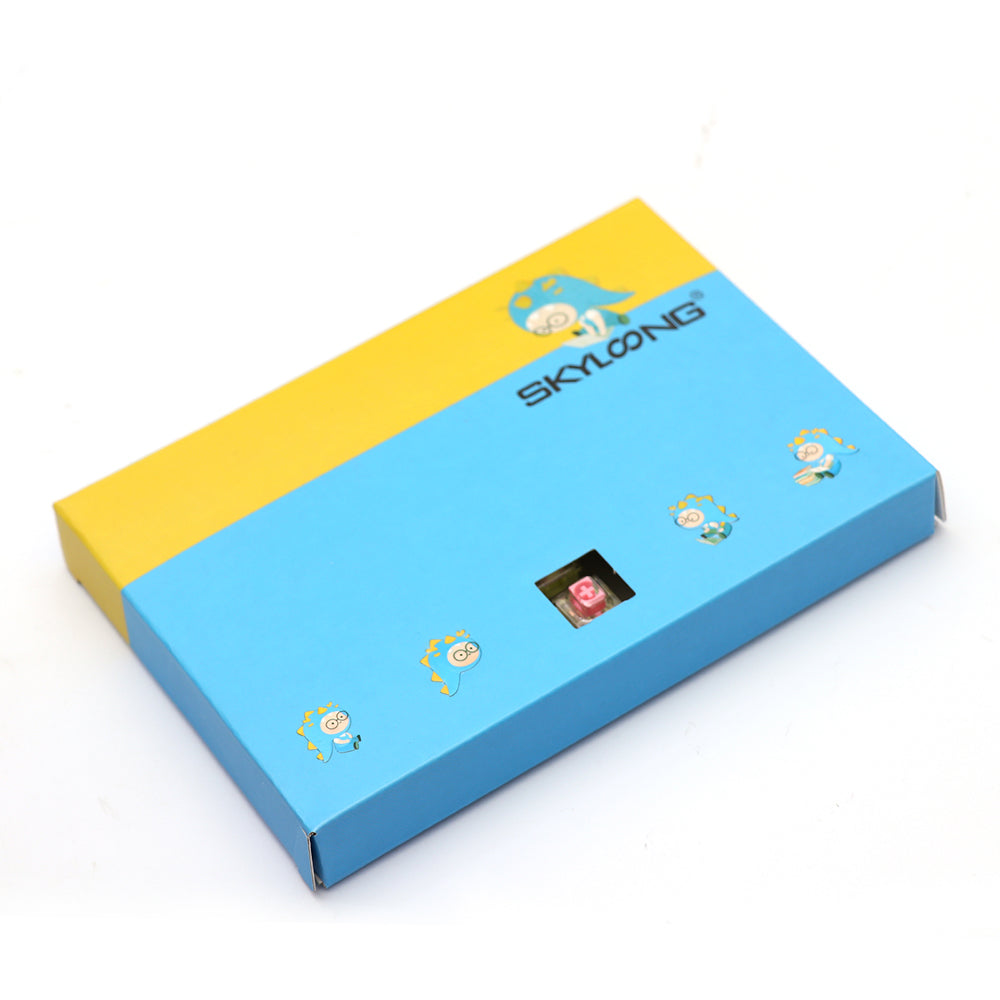 Original 35 Pieces of TTC Mechanical Switch Set for Mechanical Keyboard Replacement
Six options of TTC Mechanical Switches with different features
Suitable for customised keyboards
Sale price
$26.99
Regular price
Free standard shipping to most countries
Enjoy free shipping to most countries*. Please refer to our
shipping FAQ
to see if you apply.
Covid-19 Shipping Delay Notice
Shipping may be delayed due to covid-19 depending on your country regulations.
TTC - A Representative of Revolution
It features exceptional feeling of typing. But that doesn't mean TTC switches are only for typing. It comes in a variety of five options, each with different attributes. Gamers are just as in love with TTC switches which are responsive, smooth and budget friendly. It covers all your needs and feel free to choose it.
Make the Switch
Manufactured with clear casings, TTC Switches have quickly become one of the most popular switches in the keyboard community. TTC Switches use gold contact leafs and soft plastic stems, making an unparalleled, smooth typing experience. TTC Gold Pink 37gf, TTC Mute Red 42gf, TTC Heart 42gf and TTC Speed Silver 39gf come with a linear feedback. For those looking for a bit more tactile feedback, there are TTC Bluish White 42gf with a notably high actuation point and the 58gf clicky TTC Gold Blue.
Build Quality
TTC switches are popular around the community for their durability and distinct tactile and sonic characteristics. They are always ahead of meeting your need in the typing experience. If you are looking for splendid typing strokes, this should be your choice.
35 Switches in A Set, Custom Your Keyboard
Whether you prefer something heavy and tactile, or lightweight and linear, you can simply switch out the original switches with this replacement set. We offer the TTC Gold Pink/Bluish White/Gold Red/Gold Brown/Speed Silver switches. Choose either one you prefer and remake your keyboard!
Description
-The TTC Bluish White switch gives a tactile sensation and silent sound, with a noticeable bump with each press to ensure every keystroke is on point. 
-The TTC Gold Pink / Mute Red switch is a linear switch that presses smoothly down without any bump or click in between presses. This also means a much quieter typing sound that is perfect for the office workspace. 
-The TTC Gold Blue switch is a tactile switch like Blue switches, with a tactile sensation and noticeable sound. This switch is for those who like the experience of a typing machine. 
-The TTC Speed Silver switch is a linear switch like that of the TTC Red switch, but with a much shorter journey/travel. This means you can make every stroke easier. Many see this switch as an upgraded version of Red switches.
-The TTC Heart switch is a  linear switch like that of the TTC Red switch, with a operating force of 42+/-5gf. This switch is in lego structure that you can customise and assemble it easily.
Technical Specifications
Switch type
TTC Gold Pink, Mute Red, Bluish White, Gold Blue, Speed Silver, and Heart switches available
Number of switches
35 pieces
Inside the box
35 Pieces of TTC Switches
best speed switch
You can't go wrong if you buy it.
Great linear and smooth switches
Very smooth feel and super fast. The box switches add stability to each key press and sounds good too. I defiinitely recommend!
I should've done my research
This is partly my fault for not doing my own research but looking at the photo of the TTC Mute Red, it says "Characteristic: Tactile" yeah, survey says that was a lie.
it's a silent linear.
I don't hate linears, I just wasn't looking for one. I was on the hunt for interesting tactiles and yeah, this was a big miss.
Switch overview
I've had the pleasure to try all of these out as part of a switch tester. I'll give a quick overview of my thoughts on each switch below. My daily drivers are Boba U4 Silent Tactile, 62g, for reference.
**TTC Bluish White:**
Nice crisp bump, slightly more tactile than an Ocean Blue, but the bump is not as long or overwhelming as a Boba U4. There is a little bit of travel post-bump, and the bump itself starts pretty much at the top. There is almost no wobble, and even unlubed it feels pretty smooth. The sound is muted a little when pressed down, but they're not nearly as silent as the U4s and the upstroke still produces a clack, so I'm not sure if this is a silent enough switch for the office. Overall I really like this switch! At $0.77/switch, they seem to be living up to the price.
**TTC Mute Red:**
Speaking of silent, I can be very brief that I did NOT like the Muted Red switch. It feels extremely mushy and the entire down- and upstroke are scratchy. It may improve when lubed, but for less money you can pick up a very nice set of Bobagums if you want silent and linear. I'd definitely skip this one, especially compared to how smooth the other linears feel stock (bit of a spoiler).
**TTC Speed Silver:**
When comparing these with other switches, the shorter travel time is very noticeable. I find that I make a lot of accidental presses when I try linear or shorter travel time switches, so when combined, it's definitely not a switch I would personally use. Also don't have the ability to make use of the 'faster response competitive gaming' aspect. However, these are very smooth switches, and they produce a satisfying deeper sound compared to TTC Gold Pink, TTC Heart, and Akko CS Linears. $0.95/switch is a steep price though.
**TTC Gold Pink:**
A very light switch, when comparing it directly to Akko CS Vintage White, these feel definitely more premium (which is good, at almost 2.5x the price). This seems to be mostly due to almost no wobble, almost no scratchy sound while unlubed.and an overall smooth operation. Where the Vintage White has noticeable spring ping on the upstroke, this Gold Pink produces a nice clack. It's a little high-pitched but overall very satisfying. at$0.74/switch, I think these are my second favourite of the bunch.
**TTC Gold Blue:**
Don't have any other clickies to compare it to, because I've never had the need to become public enemy number 1 at the office or at home. The click/bump is positioned right in the middle of the downstroke, much lower than the bump on the Bluish White. The click is loud and crisp, and due to the position there's plenty of post-travel to avoid bottom-out, while not being as eager as a speed switch. Stem was a bit wobblier than other TTC switches in this list, and I just really don't like clickies, but despite that, I didn't hate them as much as Mute Red ;). At $0.77/switch you'll probably have to refer to a clicky enthousiast if this is worth it over other loud switches like the Kailh Box Jade and Navy.
**TTC Heart:**
The most expensive switch at over $1 per switch!!! Is it worth it? Not really in my opinion. Pros: there is absolutely no stem wobble in any direction due to the cylindrical box stem design. Also, they're completely transparent, so that should work great with any RGB or color theme you might want to go with. The heart inside the stem that they get their name from is cute, but it only works with a north-facing LED position, otherwise they're inverted. It also doesn't really add anything unless you have transparent or translucent keycaps to go with it. That leaves the way the switch operates. It's smooth enough, though slightly scratchier than the TTC Speed Silver or Gold Pinks. The sound is also quite dull, a bit deeper like the Speed Silver but muted somehow, despite it not being a silent switch. It's a shame because it really can't afford to be sub-par at this price level.
**Conclusion:**
TTC Bluish White, Gold Pink. Speed Silver get a thumbs up!
Gold Blue and Heart get a maybe, as someone else with niche interest might enjoy their characteristics more.
Avoid Muted Red.
Join us on Instagram
Join our community in Instagram to keep up to date with our news, product releases, sales and giveaways!