Reviews
2021 April Epomaker Keyboard Review: GK68XS, GK96S, B21.
by Agnes Du on May 13, 2021
Photo Cr: Christopher Coke
"I've been using the B21 for about a week and like it! The SA profile keycaps won't be for everyone since they're quite tall but one thing that's proved true in the enthusiast community is that those who like it really like it. They make an excellent fit for a retro keyboard. Not only do they look and feel appropriate for the overall vibe this keyboard is going for but they also have a unique, extra clacky sound due to their larger size. I count myself among the camp that enjoys SA keycaps and really enjoyed using them here. "
---- By Christopher Coke 
Apr 29, 2021 10:00 AM
Read the full review article here.  
Photo cr: Dan Seifert 
"The board itself is an Epomaker / Skyloong GK68XS aluminum, which has a compact 65 percent layout, hot swappable switches, and built-in Bluetooth support.I don't like noisy keyboards at all, but this setup is surprisingly quiet — even quieter than the keyboard on my MacBook Air. I have no issue using it during Zoom calls and will probably bring it to the office with me when we return to work there since it won't disturb others. That will free up space on my desk for another keyboard, giving me a whole new thing to tinker with."
 ----By Barbara Krasnoff 
Apr 23, 2021, 8:00am EDT
Read the full review article here.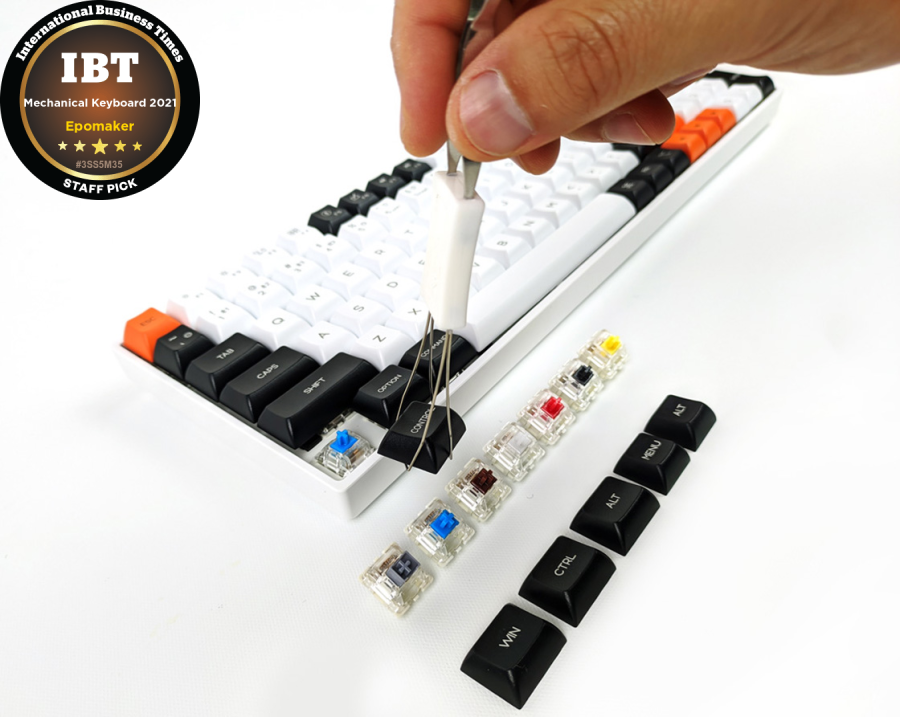 Photo cr: Sam Campbell
"The Epomaker GK96S is a product born of a collision between retro styling and cutting edge hardware and software customizability. It truly has all possible options covered for - dare I say all users, providing whatever control or feel or function that one might want from their keyboard.
We fully recommend the GK96S for its flexibility as well as performance - and we award it as our staff recommend for productivity."
---- By Sam Campbell
04/12/21 AT 11:18 AM
Read the full review article here.  
Photo cr: Krista Noren
"The Epomaker HS84 is a keyboard with an entirely see-through plastic case, which really harkens back to the way electronics used to look in the 90's. It's translucent, with the slightest bit of a frosted look to it, in order to better help diffuse all the RGBs packed into the board. This keyboard goes all-out when it comes to flashy lights--not a single part of it lacks RGB, with the rainbow flow emanating from all sides, top, sides, bottom, everything. "
----By Krista Noren
Apr 9, 2021
Read the full review article here.