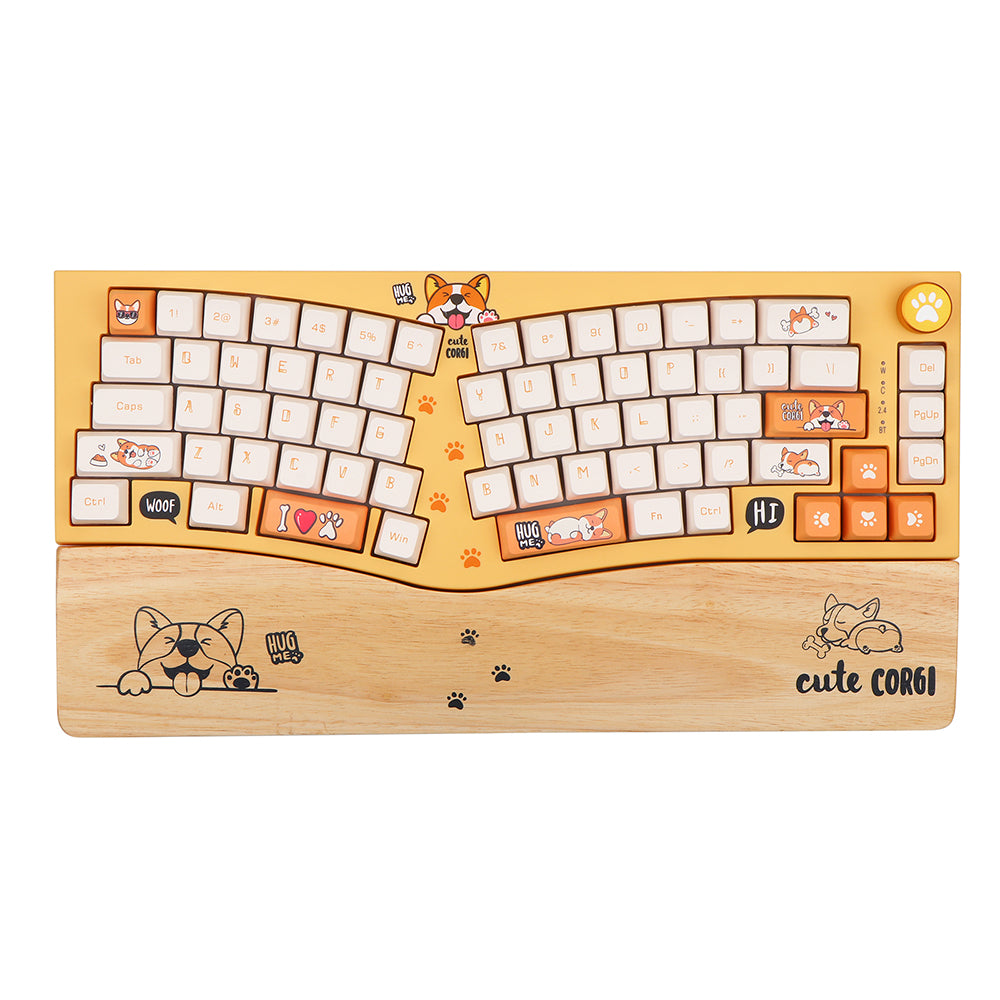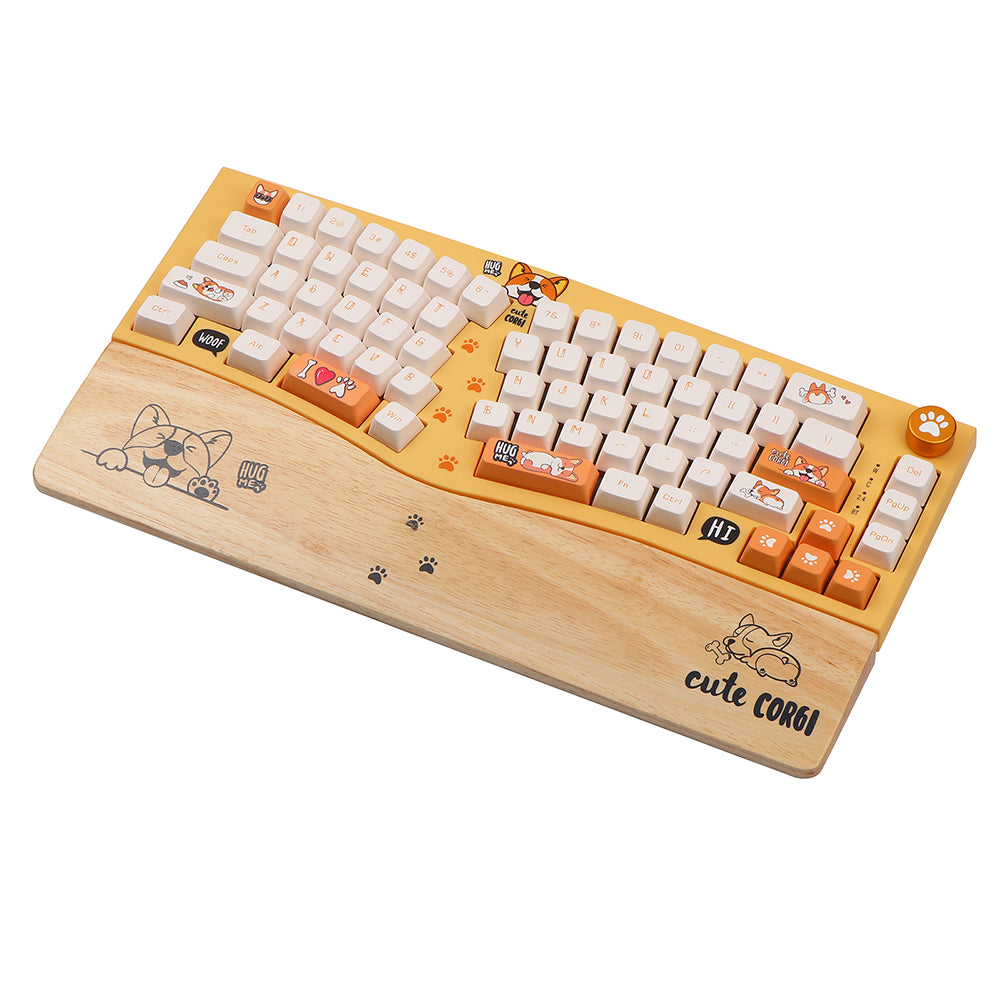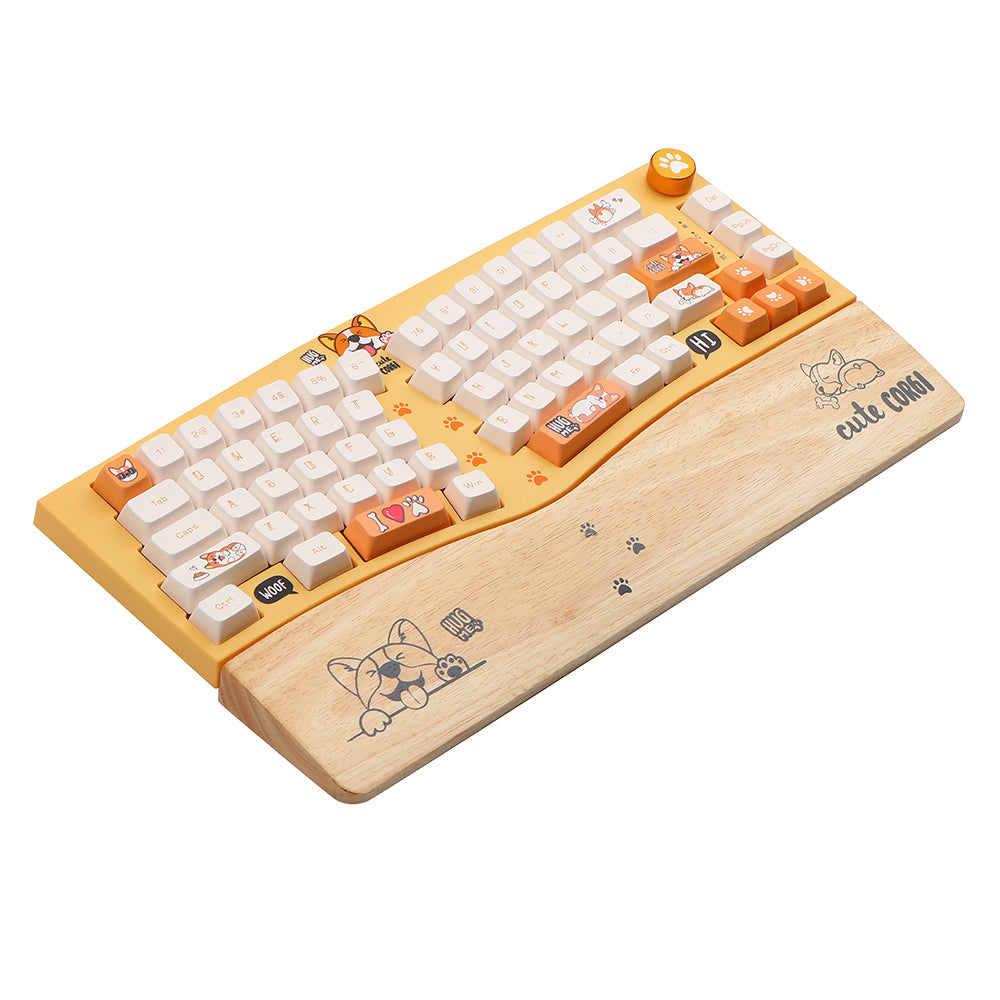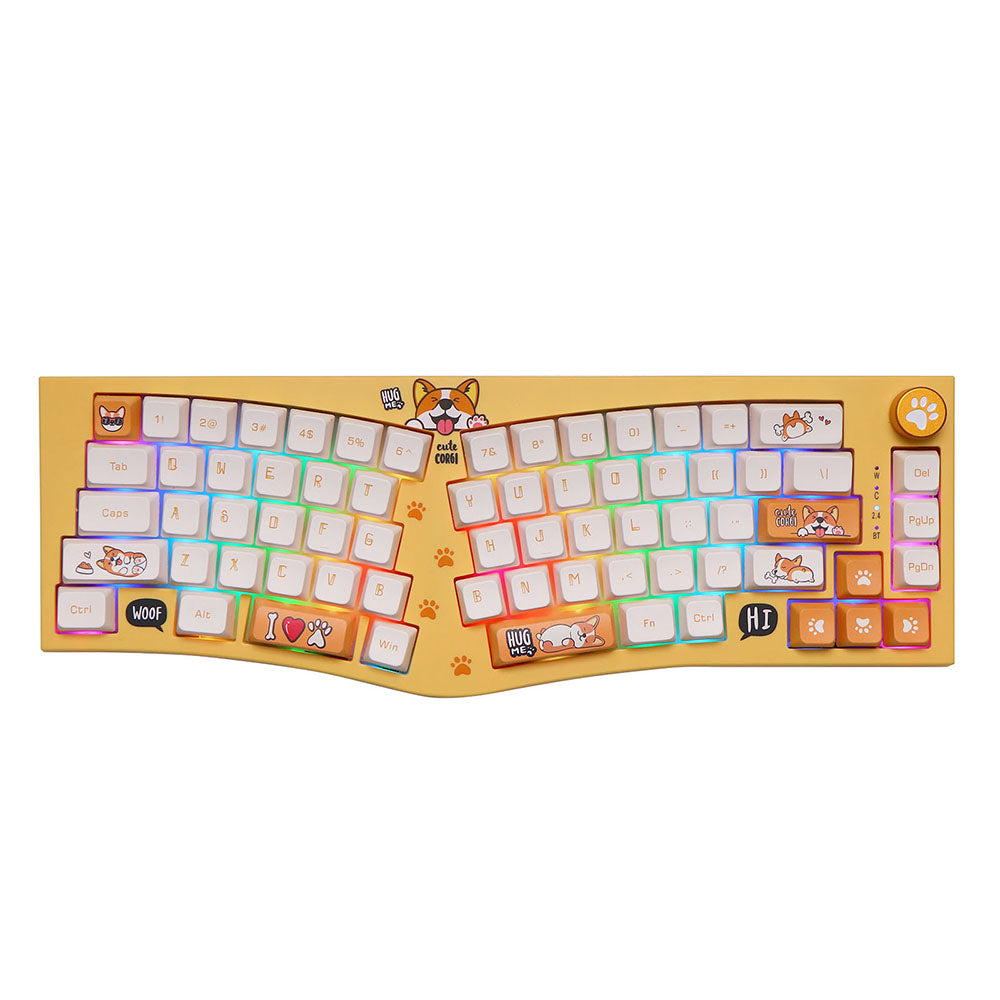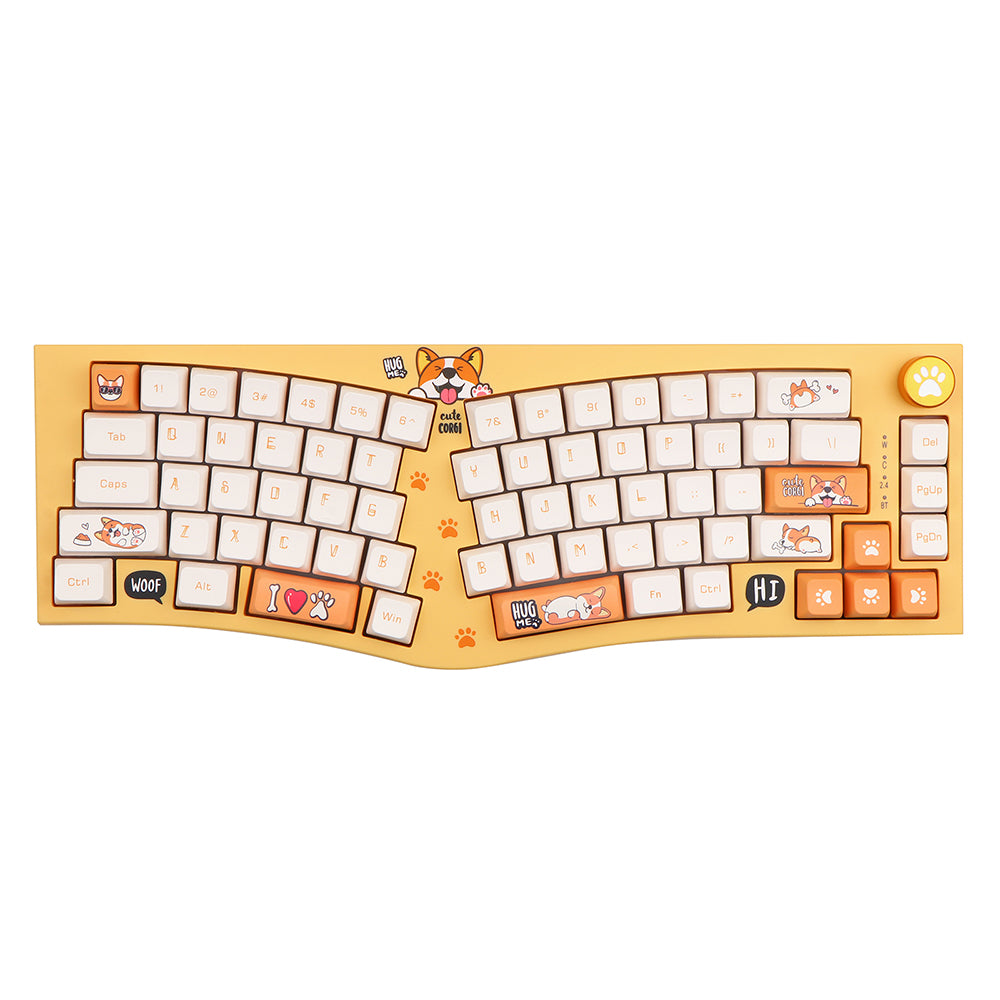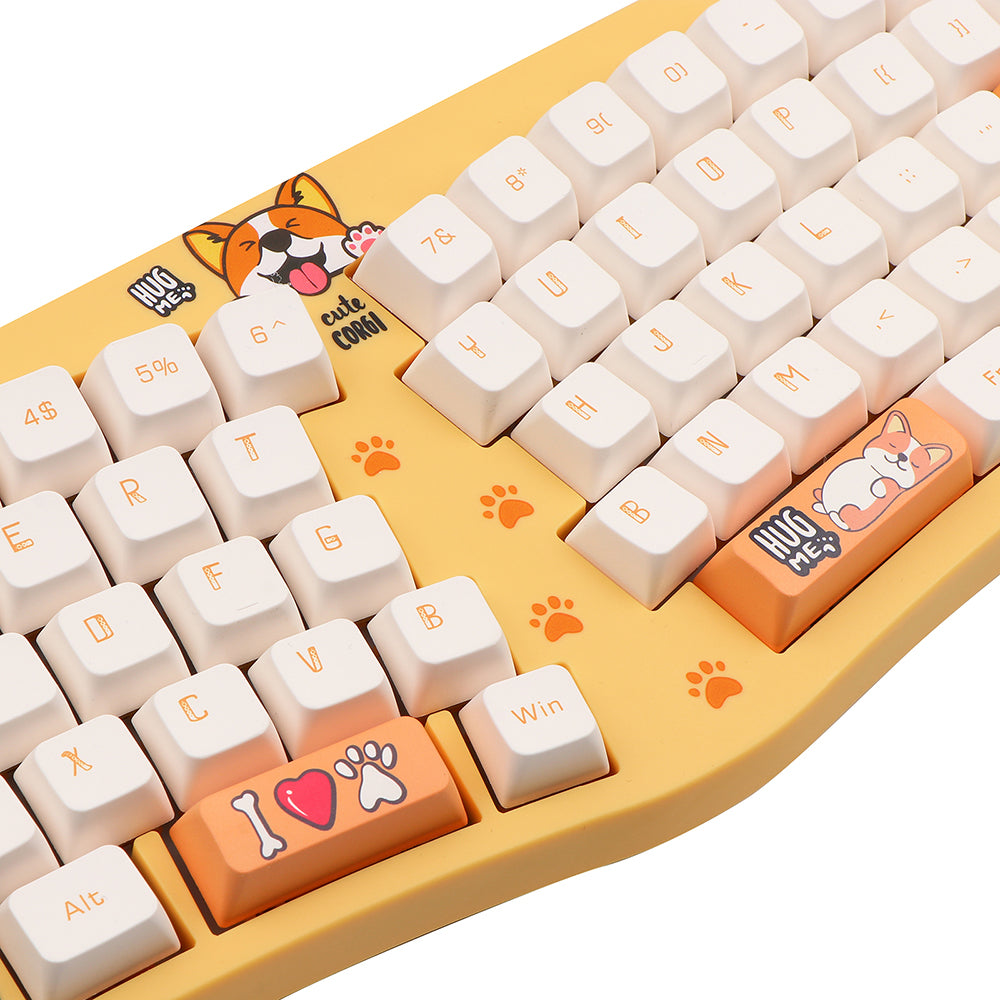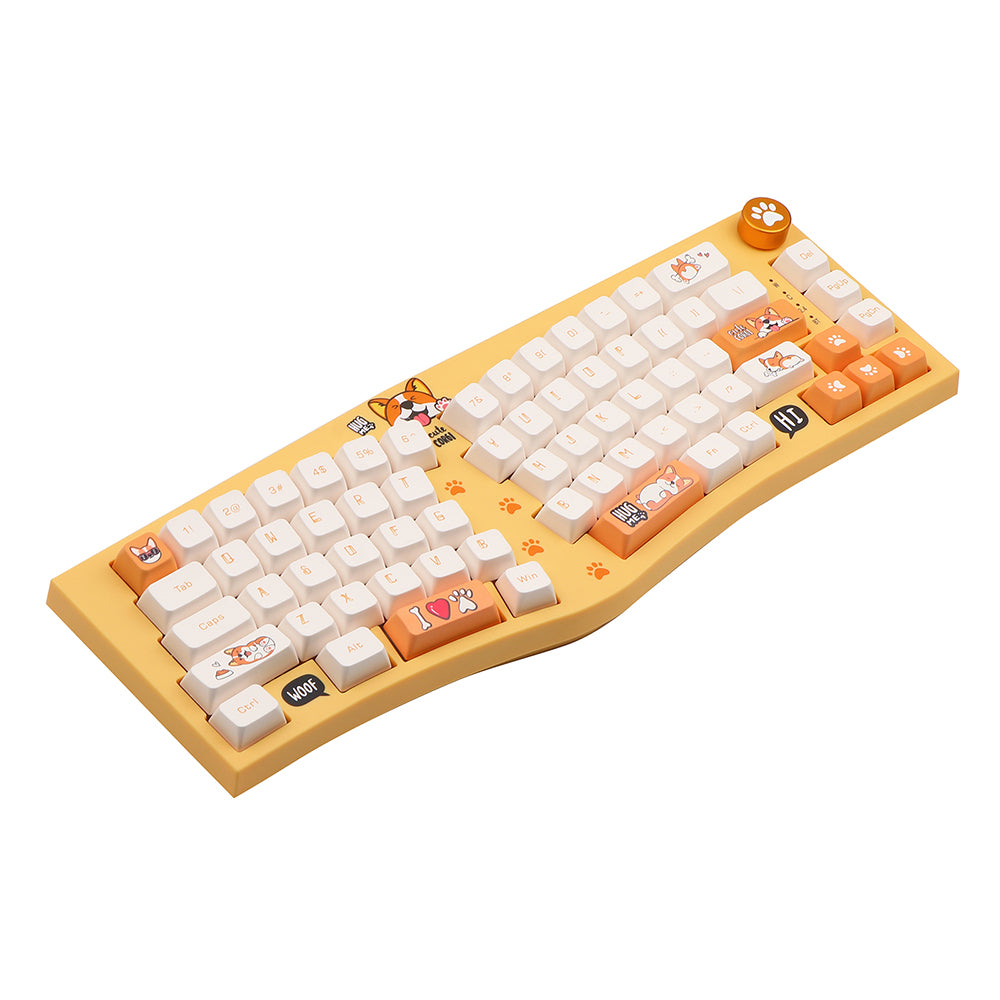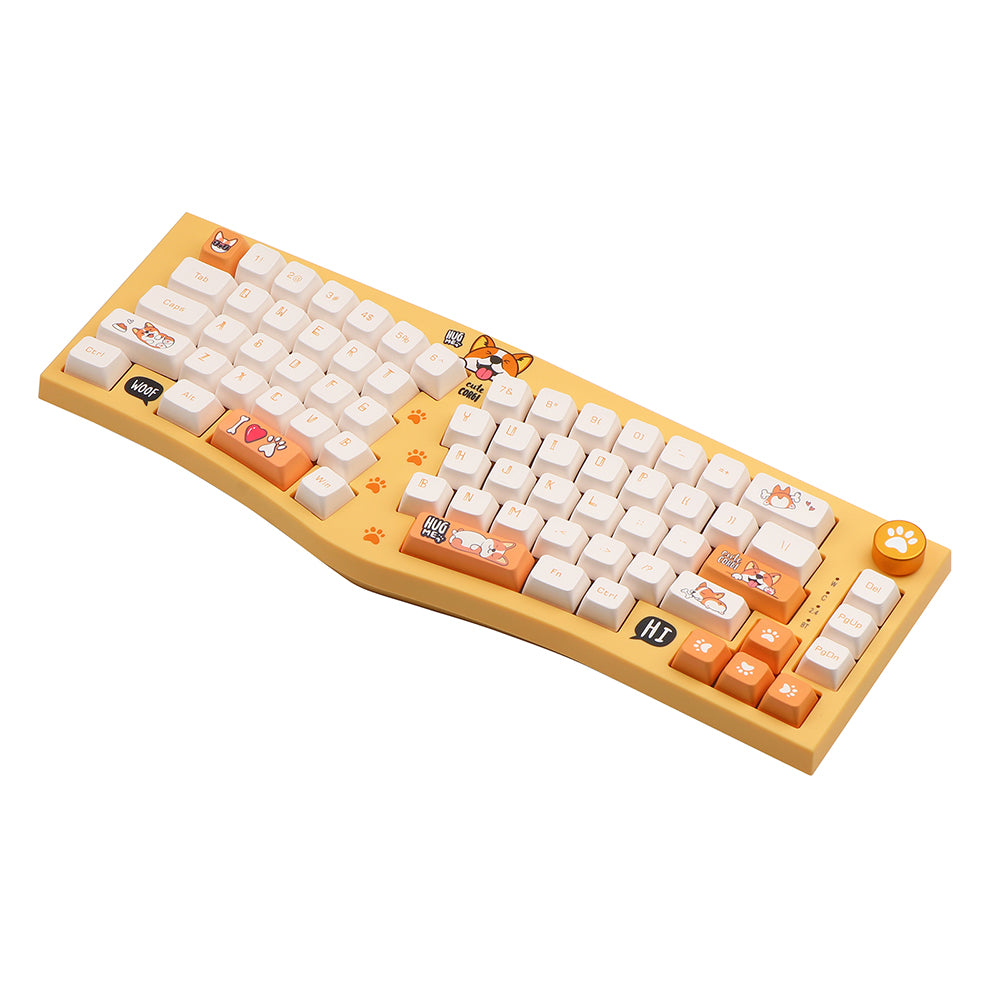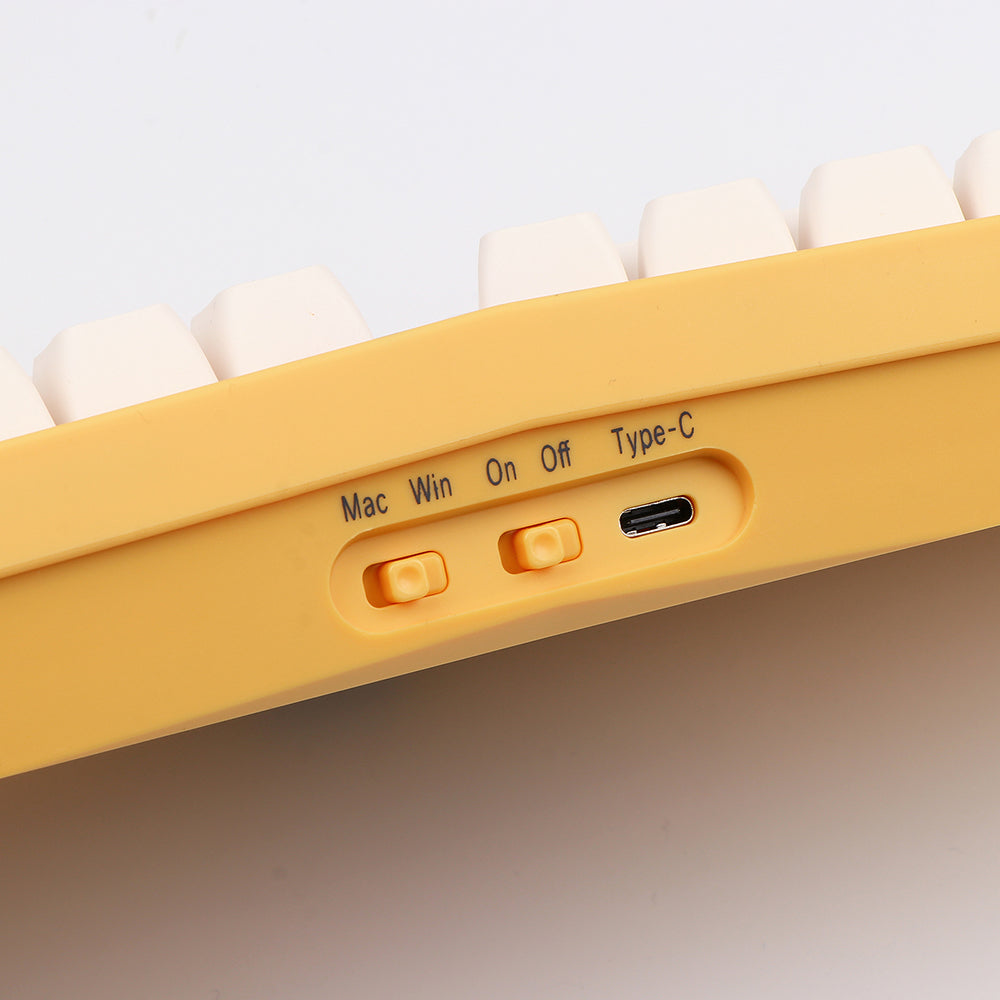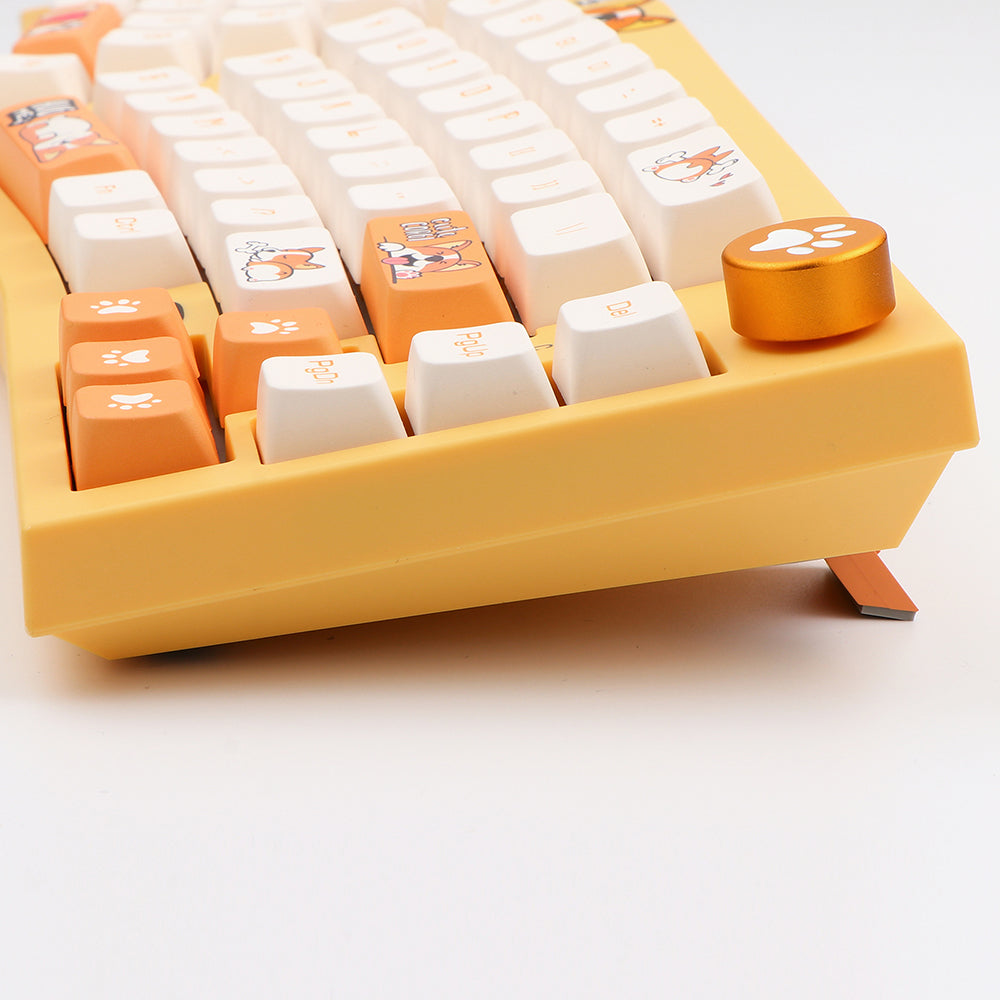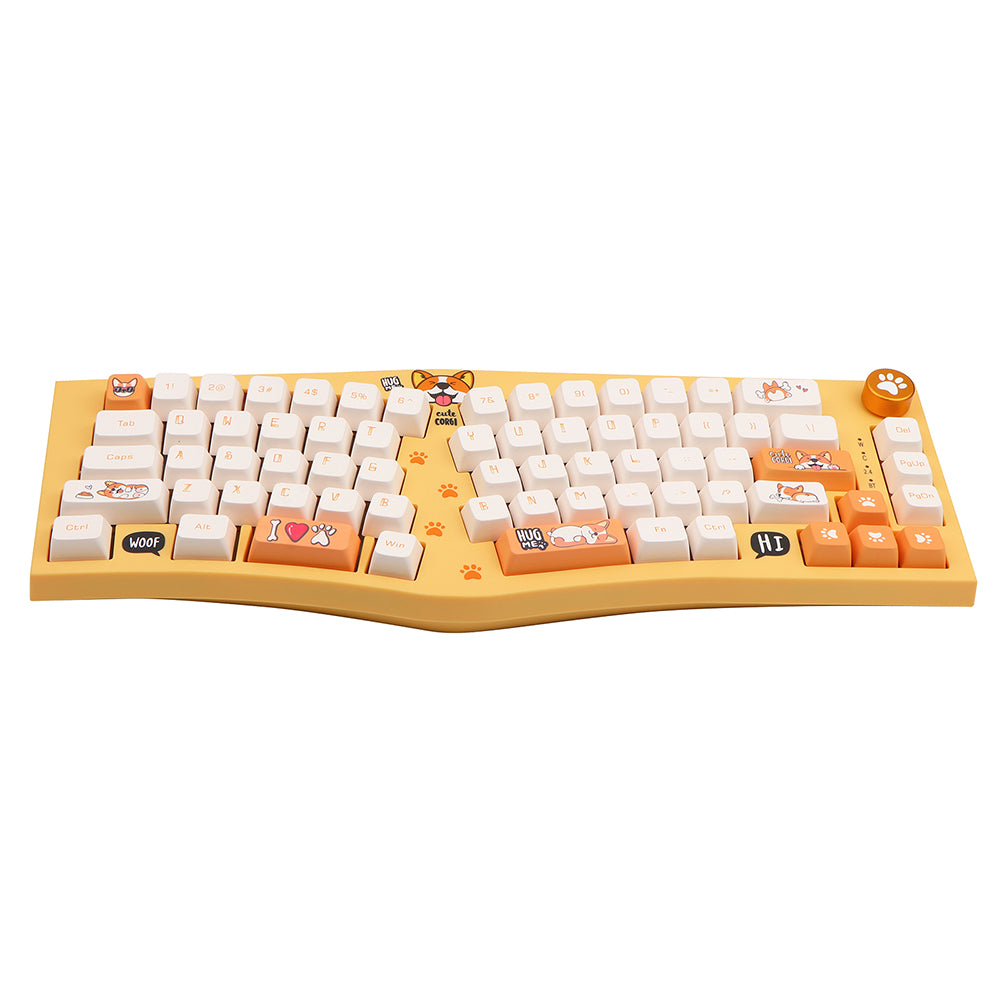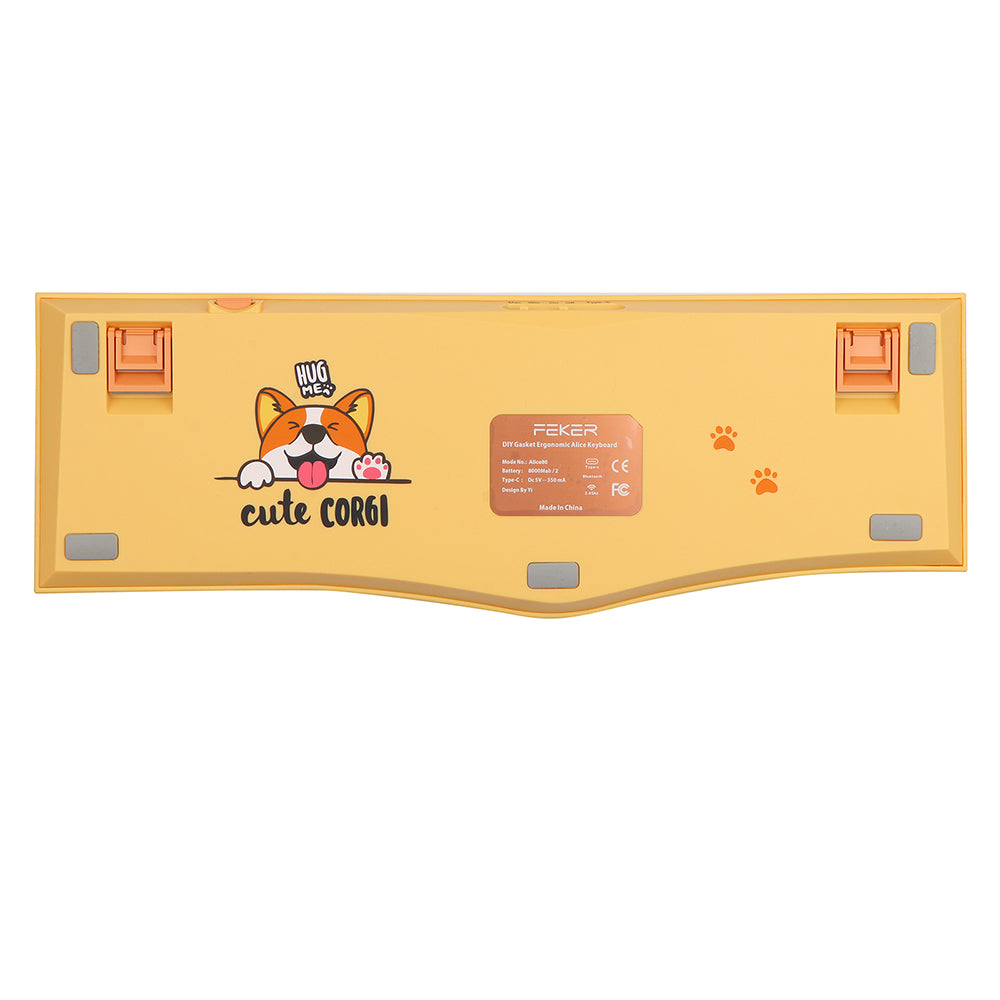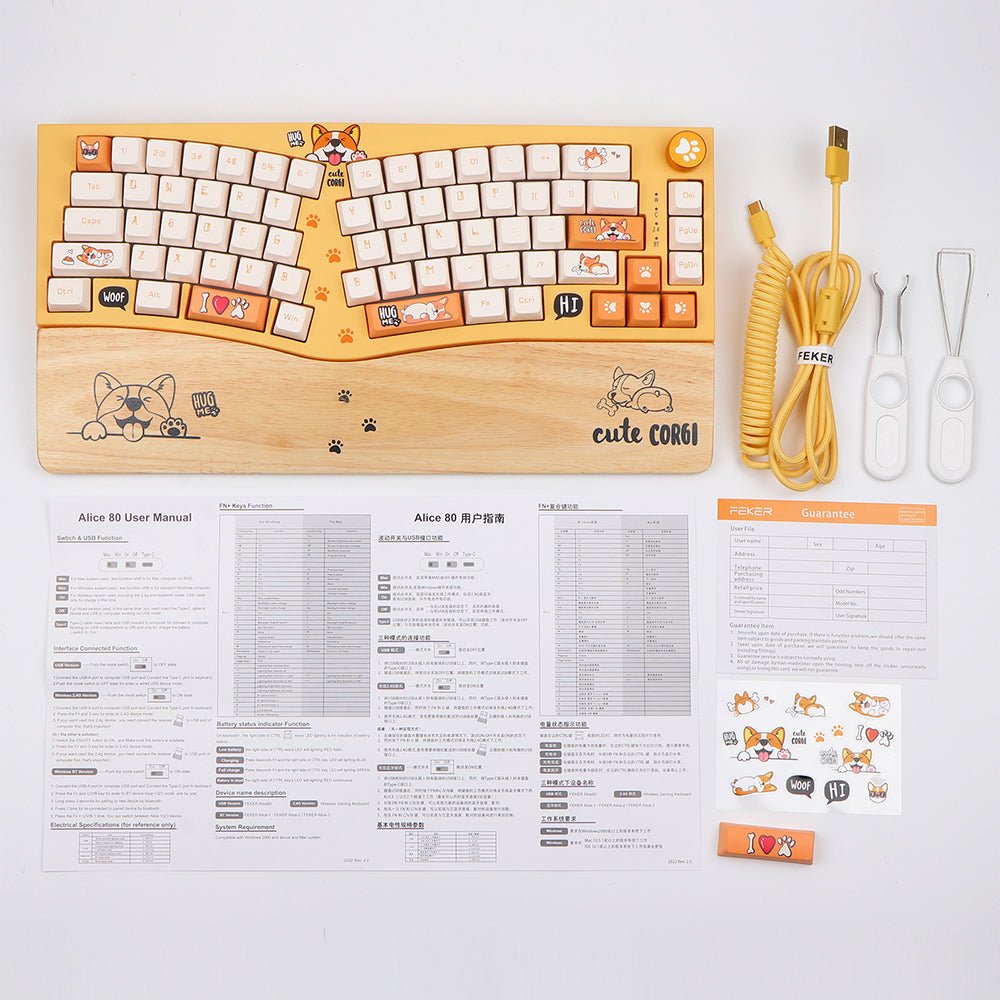 68-key Hot Swappable Split Wired/Wireless Mechanical Gaming Keyboard
Preorders will be shipped in 7 business days (holidays don't count)
Alice Split layout, 68-key Hot-Swappable Keyboard for Win/Mac
Gasket Mount & Sound Absorption Foams
Three Connections: Type-C Wired, Bluetooth 5.0 & 2.4GHz Available
PBT Keycaps in MDA Profile and A Knob for Media-control
South-facing LED RGB Backlight & Gateron Pro 2.0 Yellow Switches
Dye-sub PBT Keycaps & Detachable Type-C Cable
Sale price
$149.99
Regular price
$149.99
Free standard shipping to most countries
Enjoy free shipping to most countries*. Please refer to our
shipping FAQ
to see if you apply.
Covid-19 Shipping Delay Notice
Shipping may be delayed due to covid-19 depending on your country regulations.
The Ergo Alice layout and Corgi Theme
Feker has released the Alice layout keyboards and DIY kits for enthusiasts. With this Corgi theme Alice layout, Feker adds much Corgi elements to the case, the knob, keycaps, and even switches. It's still from a 65% layout which is split into left and right halves, leaving a small gap in between. The letters and the bottom row are angled at a certain degree to fit the direction of your hands when staying on the desk naturally. The spacebar is split into two pieces to be accommodate this design. It is considered to reach a balance at the aspect of ergonomics.
Gasket Mount & Sound Absorption Foams
To reach a top typing experience, Feker Alice 80 is assembled by gasket mount, which is constructed with the plate laying on the top and the bottom case perfectly without any screws in the middle, presenting a soft and even typing feeling at each corner of the keyboard. Feker has also made an effort to enhance the sound by placing a sound dampening silicon switch pad, a silicone PCB foam and a bottom cotton foam. These layers can greatly buff keystrokes. All is to provide a stunning typing sound and a premium typing feeling.
Triple Modes: Type-C Wired, Bluetooth 5.0 & 2.4GHz Available
The Feker Alice 80 supports connection via Bluetooth or 2.4GHz for wireless connectivity, or with the included Type-C USB cable. With Bluetooth 5.0, it easily connects seamlessly with your devices within 10 meters. Equipped with an 8000 mAh battery, the keyboard is also easily switched among the three modes for efficient multitasking and speedy performance.
South-facing LED RGB Backlight & Custom Corgi Linear Switches
Feker Alice features south-facing LED RGB backlights with 21 light effects. This is also perfect with the newly launched Corgi linear switches which includes LED lens to fit the amazing RGB lights. What's more, the switches are pre-lubed to increase the smooth sense. With the operating force of 37g and bottom force 45g, the linear switches are perfect on the keyboard to be easily pressed and shine-through.
NKRO & Detachable Type-C Cable
For this model, we go with lubed plate-mounted stabilizers for they are easier to be taken off, if some extra modding are needed. In the meanwhile, the keyboard also supports NKRO. That means you can type in multiple keys without conflicts. The keyboard comes with a 1.8m hand-braided type-C cable with golden plated connectors. Now you can easily build up your own mechanical keyboard with this keyboard!
Specifications for Corgi Linear Switch
Type: Linear
Initial Force: 30gf
Operating Force: 37gf
Bottom Force: 45gf
Technical Specifications
Model
Feker Alice80 Corgi
Key Amounts
68 Keys + 1 Knob
Keycap material
Dye Sublimation PBT
Case Material
ABS Plastic
Hot-Swappable
Yes, 3-5 pins
Connectivity
Type-C Wired, Bluetooth 5.0 & 2.4GHz
Anti-Ghost Key
NKRO in all modes
Backlit
SMD RGB backlit, 21 effects
Switch Included
SMD RGB backlit
Switch Included
Gateron Pro 2.0 Yellow Switch
Product dimensions
368 x 128 x 40 mm
Inside the box
1 * Keyboard
1 * USB Cable
1 * 2.4G Receiver
1 * Switch Puller
1 * Instructional Manual
Corgi keeb!
The keyboard is super cute with the corgi design! The layout is something I've been wanting to try and I have no regrets. There's a bit of a learning curve but I was able to adjust in a few days. So happy with my purchase 💖
Great Quality Board!
I was looking for an Alice type board, and when I came across the corgi edition: I had to have it (to match my real corgi). I am very impressed with the quality of this board. Comes with dampening inside, the keycaps and cord are nice, south facing leds, and the battery lasts a long time. The switches are cool because they all come with long spring and the ones with stabilizers are tactile and two stage. Definitely going to look into more fekers!
Cutest Keyboard Ever!
I am a little keyboard collector and I wanted to have at least one Alice type of keyboard. I really love dogs and I thought this would be perfect to add to the collection. Overall, I love stocky, creamy switches and this keyboard sounds soooooooooooo good! They come pre-lubed which is awesome, thank you <3.
Join us on Instagram
Join our community in Instagram to keep up to date with our news, product releases, sales and giveaways!