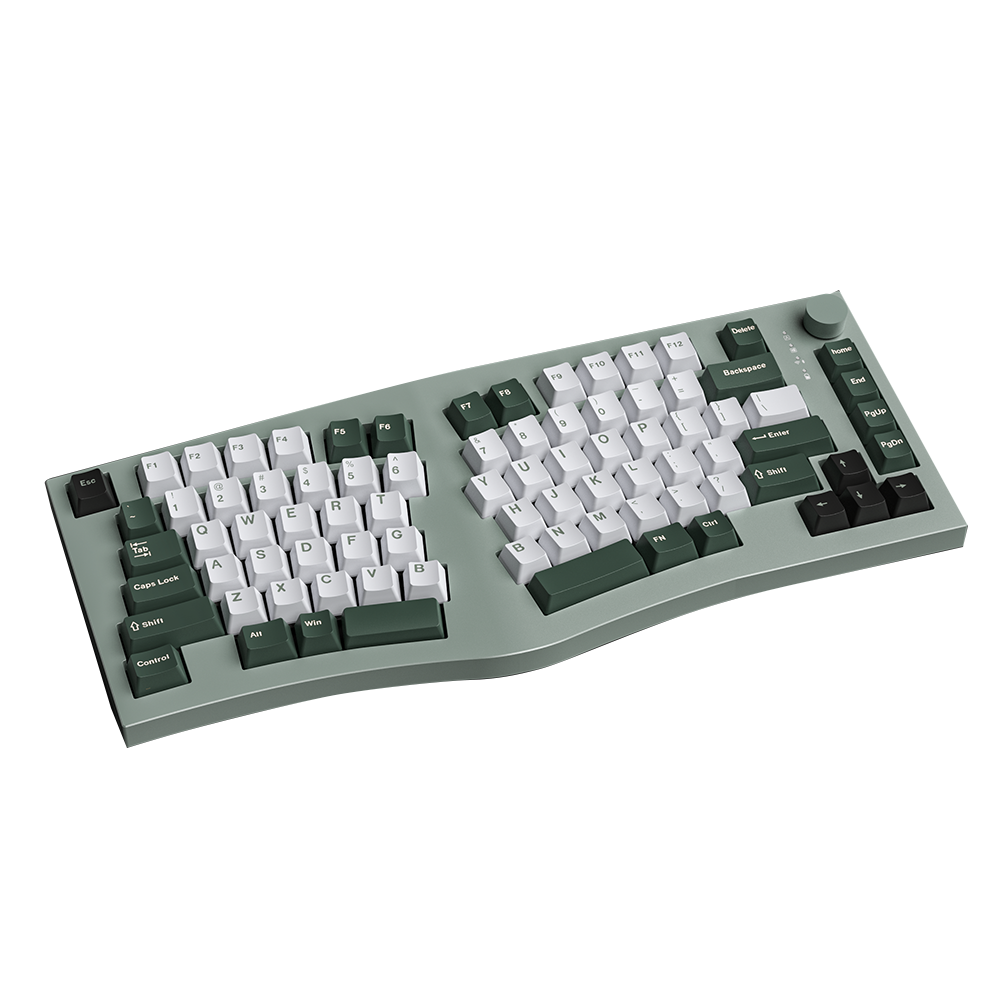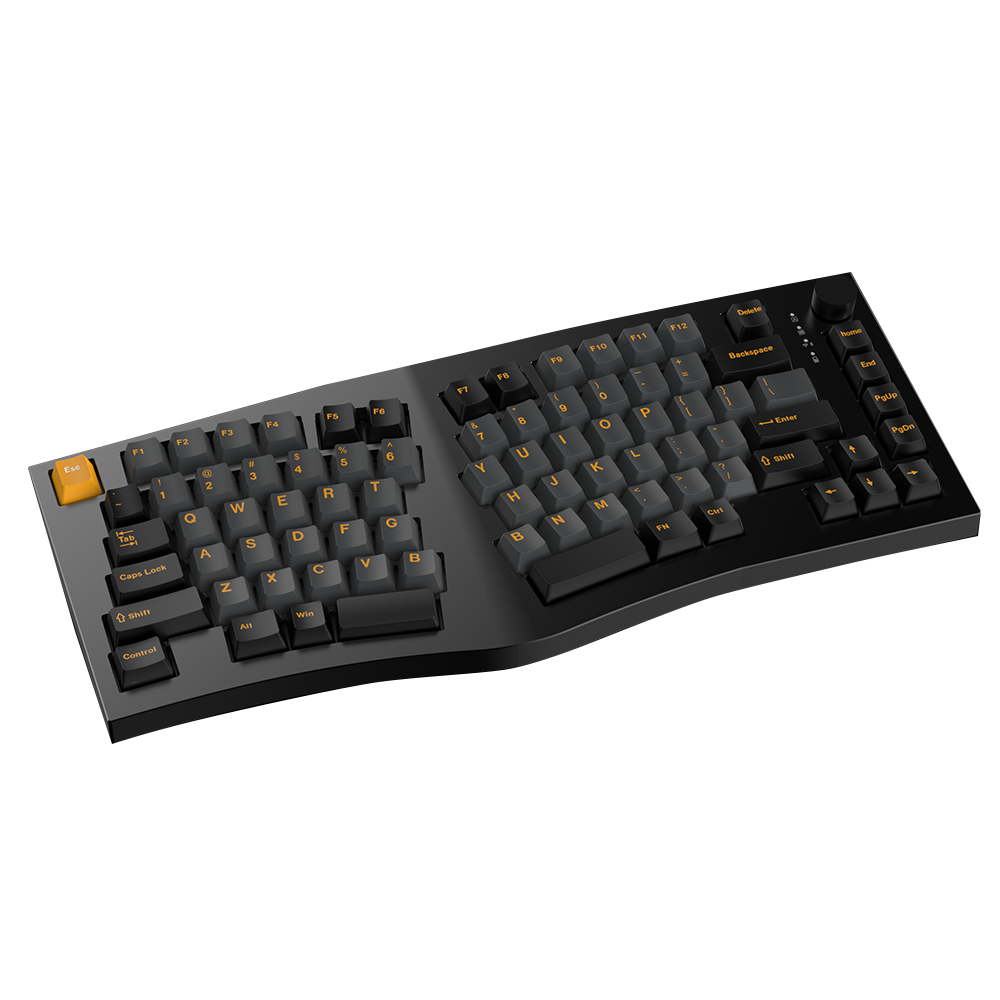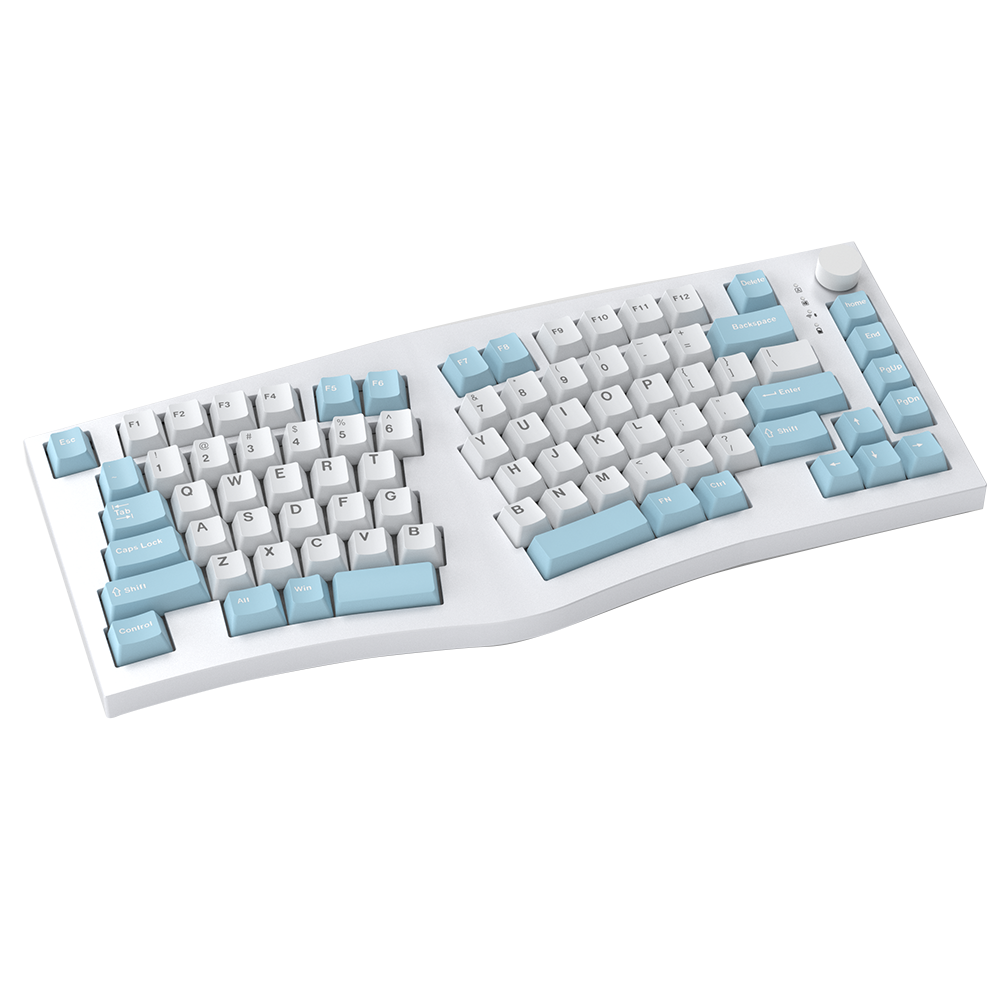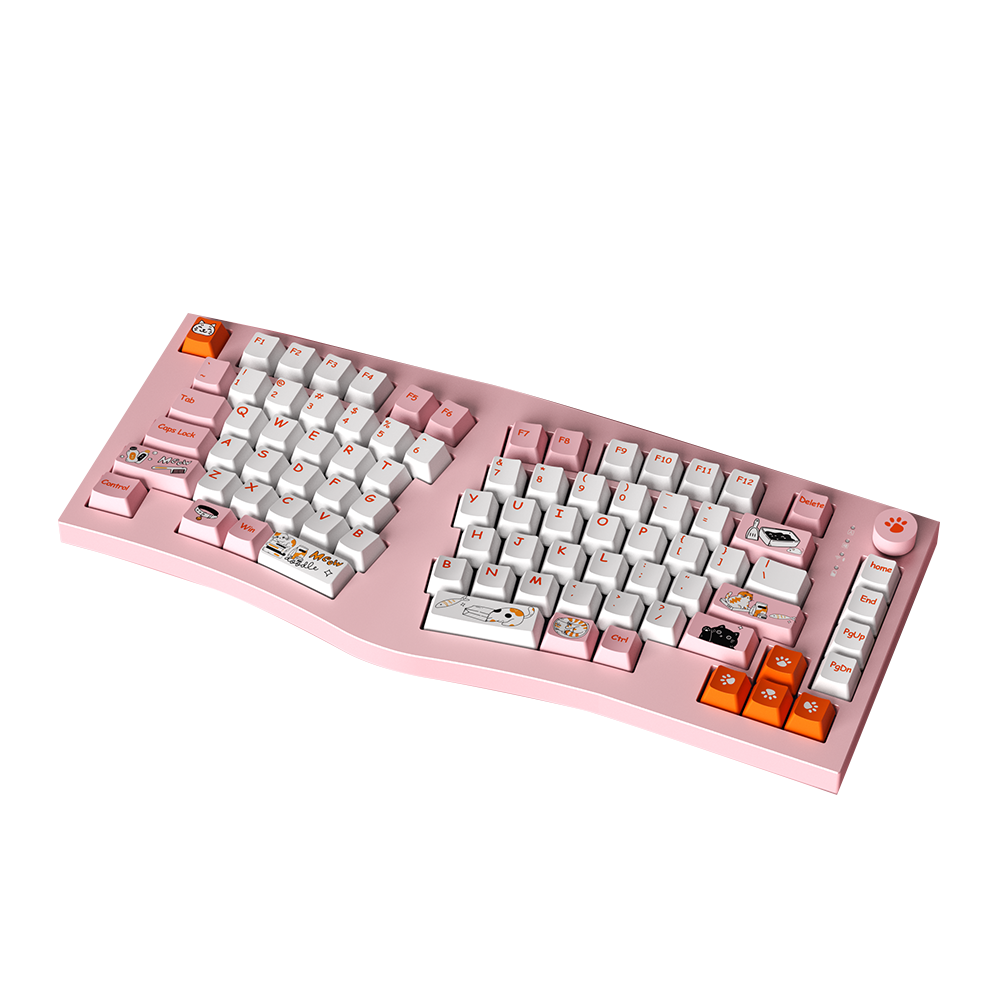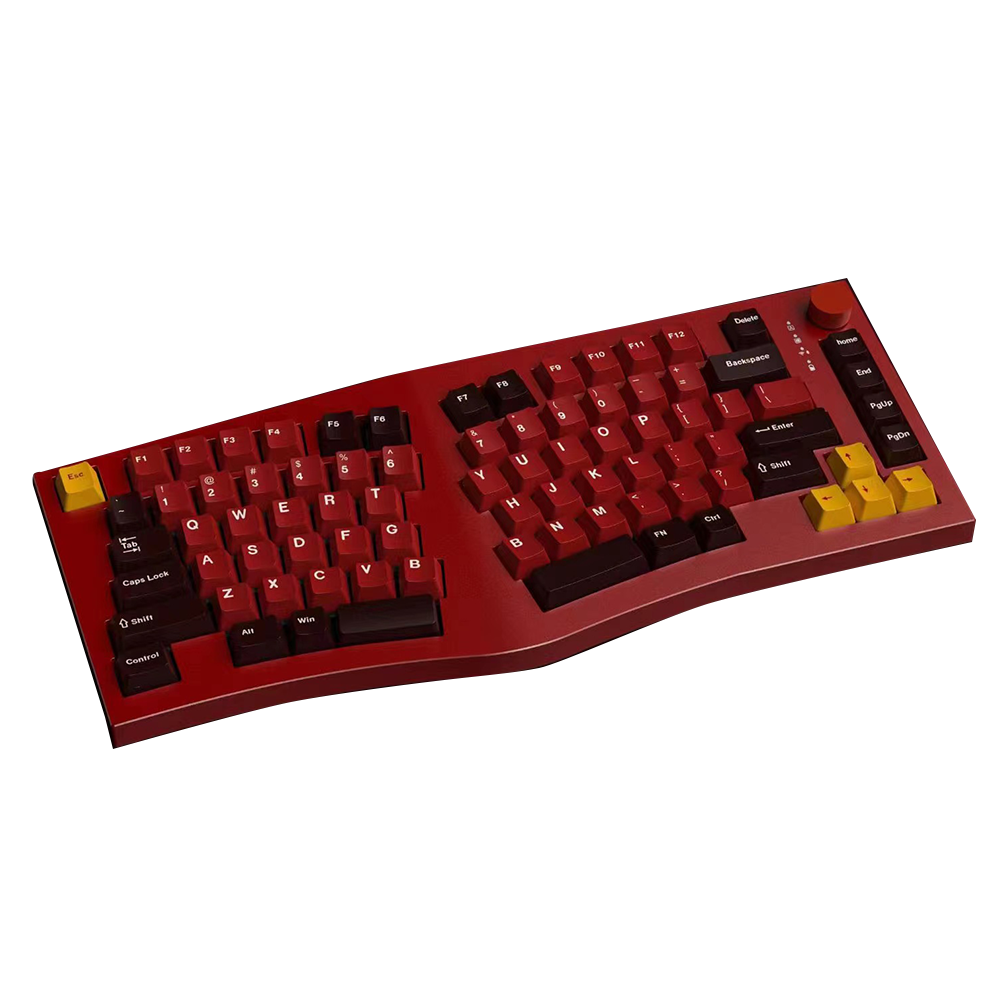 75% Split Alice Hot Swappable Wired/Wireless Mechanical Gaming Keyboard
Preorders for Feker Alice75 will be shipped in four weeks (holidays don't count)
Alice Split with F row, Hot-Swappable Keyboard for Win/Mac
Gasket Mount & Poron Foams
Three Connections: Type-C Wired, Bluetooth 5.0 & 2.4GHz Available
A Knob for Media-control
South-facing LED RGB Backlight
Dye-sub PBT Keycaps & Detachable Type-C Cable
Feker Alice75 comes with the matching keycaps but NOT with switches.
Sale price
$263.20
Regular price
$329.00
Free standard shipping to most countries
Enjoy free shipping to most countries*. Please refer to our
shipping FAQ
to see if you apply.
7-Day Return Policy
You may return any non-customized and non-sales product that is sealed, within the 7 days upon receiving it.
The Ergo Alice layout with F-row
Feker has released the Alice layout keyboards and DIY kits for enthusiasts. With this split Alice layout, Feker adds F-row to the top. It's from a 75% layout which is split into left and right halves, leaving a small gap in between. The letters and the bottom row are angled at a certain degree to fit the direction of your hands when staying on the desk naturally. The spacebar is split into two pieces to be accommodate this design. It is considered to reach a balance at the aspect of ergonomics.
Gasket Mount, POM Plate & Poron Foams
To reach a top typing experience, Feker Alice75 is assembled by gasket mount, which is constructed with the POM plate laying on the top and the bottom case perfectly without any screws in the middle, presenting a soft and even typing feeling at each corner of the keyboard. Feker has also made an effort to enhance the sound by placing a sound dampening IXPE switch pad, a Poron PCB foam and a bottom Poron foam. These layers can greatly buff keystrokes. All is to provide a stunning typing sound and a premium typing feeling.
Triple Modes: Type-C Wired, Bluetooth 5.0 & 2.4GHz Available
The Feker Alice75 still supports connection via Bluetooth or 2.4GHz for wireless connectivity, or with the included Type-C USB cable. With Bluetooth 5.0, it easily connects seamlessly with your devices within 10 meters. Equipped with an 8000 mAh battery, the keyboard is also easily switched among the three modes for efficient multitasking and speedy performance.
Premium Aluminum Case & South-facing LED RGB Backlight
Feker Alice75 comes in solid Aluminum case that avoids wobbling. With slight-angled slopes from both sides (3 degrees) that are peaked in the middle part, the keyboard presents an ergonomic standard for easy typing. What's more, the keyboard features south-facing LED RGB backlights with 21 light effects. This is also perfect with the newly launched Corgi linear switches which includes LED lens to fit the amazing RGB lights.
NKRO & Detachable Type-C Cable
For this model, we go with plate-mounted stabilizers for they are easier to be taken off, if some extra modding are needed. In the meanwhile, the keyboard also supports NKRO. That means you can type in multiple keys without conflicts. The keyboard comes with a 1.8m hand-braided type-C cable with golden plated connectors. Now you can easily build up your own mechanical keyboard with this keyboard!
Technical Specifications
Model
Feker Alice75 Aluminum
Key Amounts
81 Keys + 1 Knob
Hot-Swappable
Yes, 3-5 pins
Connectivity
Type-C Wired, Bluetooth 5.0 & 2.4GHz
Anti-Ghost Key
NKRO in all modes
Backlit
SMD RGB backlit, 21 effects
Switch Included
SMD RGB backlit
Product dimensions
368 x 128 x 40 mm
Inside the box
1 * Keyboard Kit
1 * USB Cable
1 * 2.4G Receiver
1 * Switch Puller
1 * Instructional Manual
Keycaps
A proper mechanical ergo split keyboard
The Feker Alice75 is the mechanical ergo split keyboard I've been wanting for years. When the Alice started gaining popularity, the harsh angle on the rows on both left and right sides seemed lazy at best. I appreciate the nice curve the Feker Alice75 has. As a programmer and someone who uses modern messaging apps, the 75% layout has the much needed ESC and Tilde key for coding. I would definitely buy another if it came back in stock.
End Game worthy keyboard let down by the plate design
Let me preface the revies that the Feker Alice keyboards are a great design and my favorite of the layout to type on. I just built the keyboard today with the included keycap set (matcha since I got the green version), which are amazing from feel, looks, and sound (thock). Keyboard has great sound with no case pinging, finish looks great, the gaskets give the right amount and the silicone & poron work well together. The problem is, this 5-star keyboard has a 3-star plate design. POM plates with flex-cuts don't work well. I had to take the top housing off, and use a keycap puller to support the plate otherwise the key switches (Feker Matcha's I had saved for this specific build because they are awesome) wouldn't engage; I tried other switches with same issue. The PageUp key has a defective socket, whether it was like that or from my installation of switches (yes I inspect the pronges for each switch), this plate design lends to difficult switch installation and possible socket damage if your not careful. This is constructive criticism, hopefully for a V2; either lose the flex-cuts in the POM plate, or maybe switch to/sell seperately a White or Black option FR4 plate with the flex cuts. POM is simply too soft a material for the way the cuts are, not enough support. Nevertheless and despite the plate, Epomaker and Feker hit this board out of the park. Not sure if these keycaps are specific to this GB, but dang, they are amazing to type on. Still a Feker fan boy, just need to make small adjustments to plate design; POM is my favorite plate material, but this is my first and last experience with flex-cuts in this material I woud deal with. I will give the plate one very glowing note, the hex heads for plate stubs being sunk into the mold and flush with the plate top was brilliant. Was debating knocking it down to 4-stars, but I'd rather encourage that one, this board continues to be made, and two, that with minor changes (and probably cheaper to make) in plate design this keyboard could give the Sagittarius Keyboard a real run for it's money; The Alice75 is that good...
Note to Epomaker, don't worry about the hotswap socket for my board. Gives me a reason to learn soldering, and so far it's just the one socket. I know it's not a board issue because I got it working before putting keycaps on, might just need reflowing or just a new socket. Either way, no biggy. Though I will question, what's with the really bad stamped metal keyswitch puller included in the box? The original Feker one was already fine.
Join us on Instagram
Join our community in Instagram to keep up to date with our news, product releases, sales and giveaways!