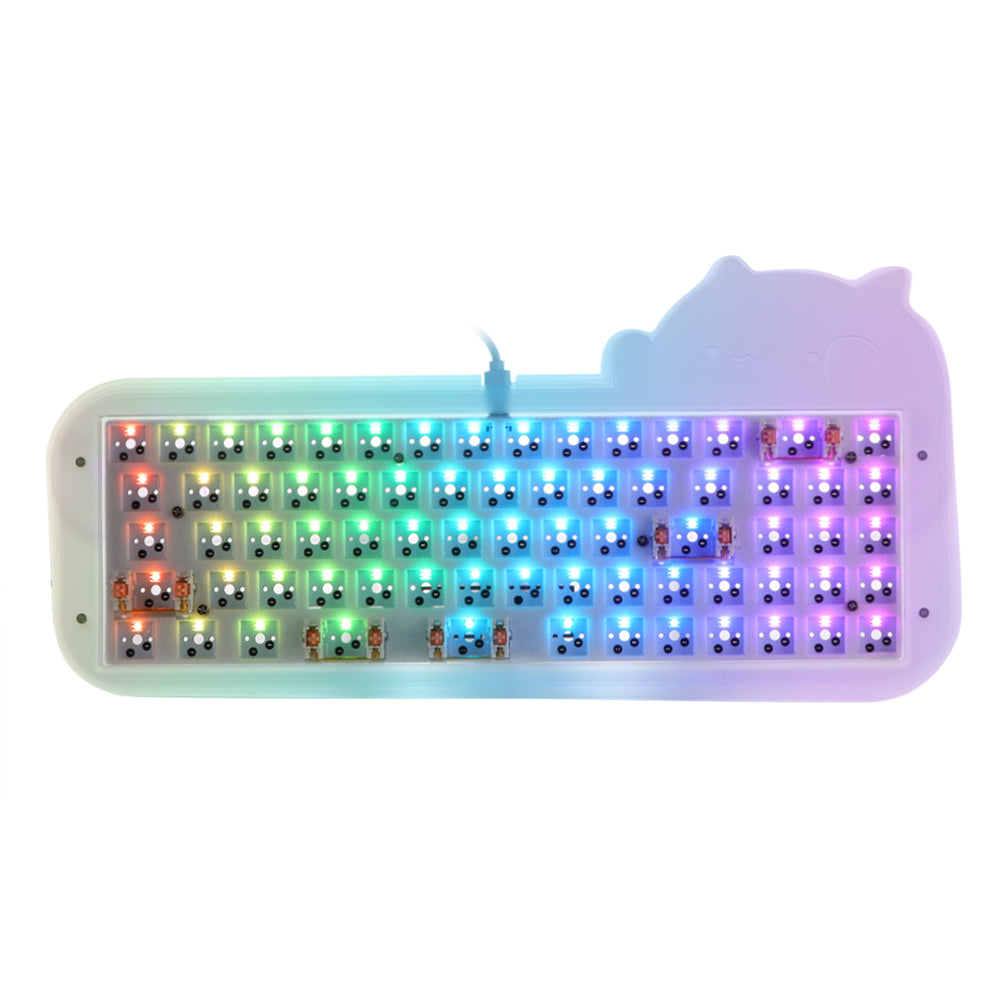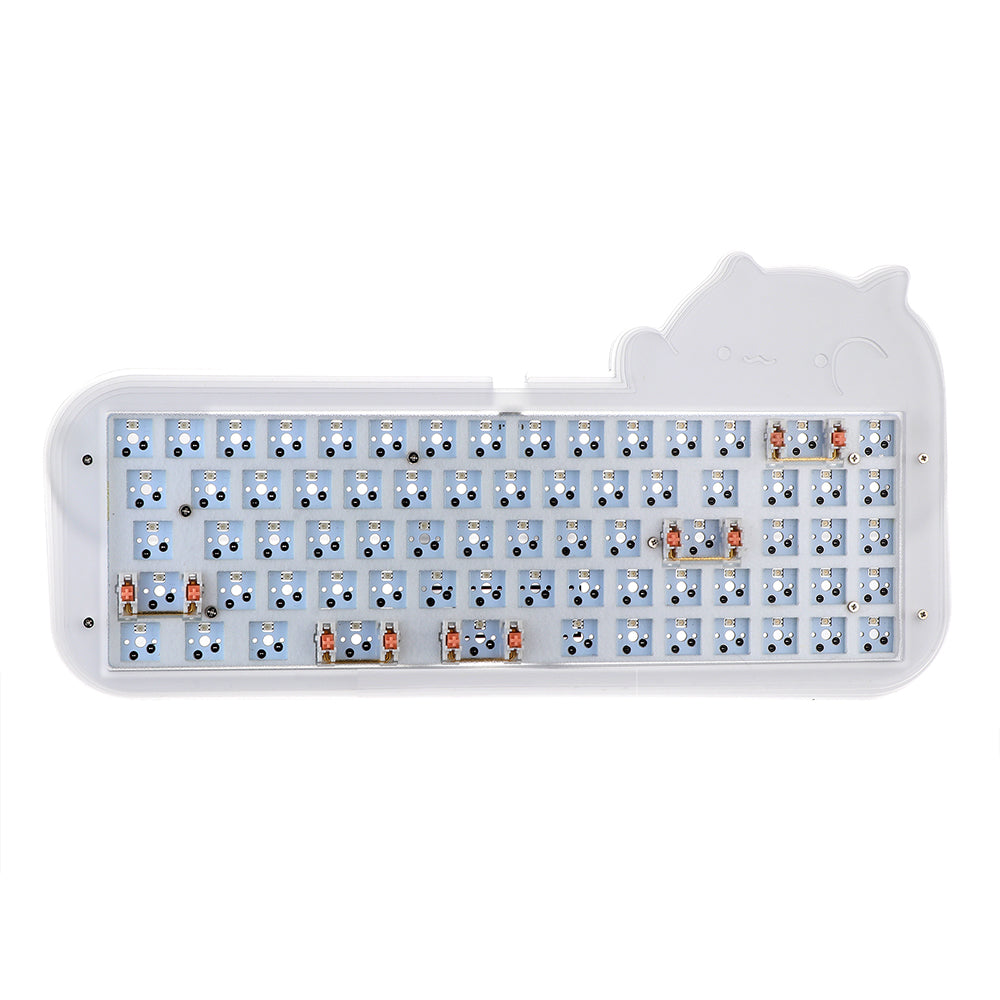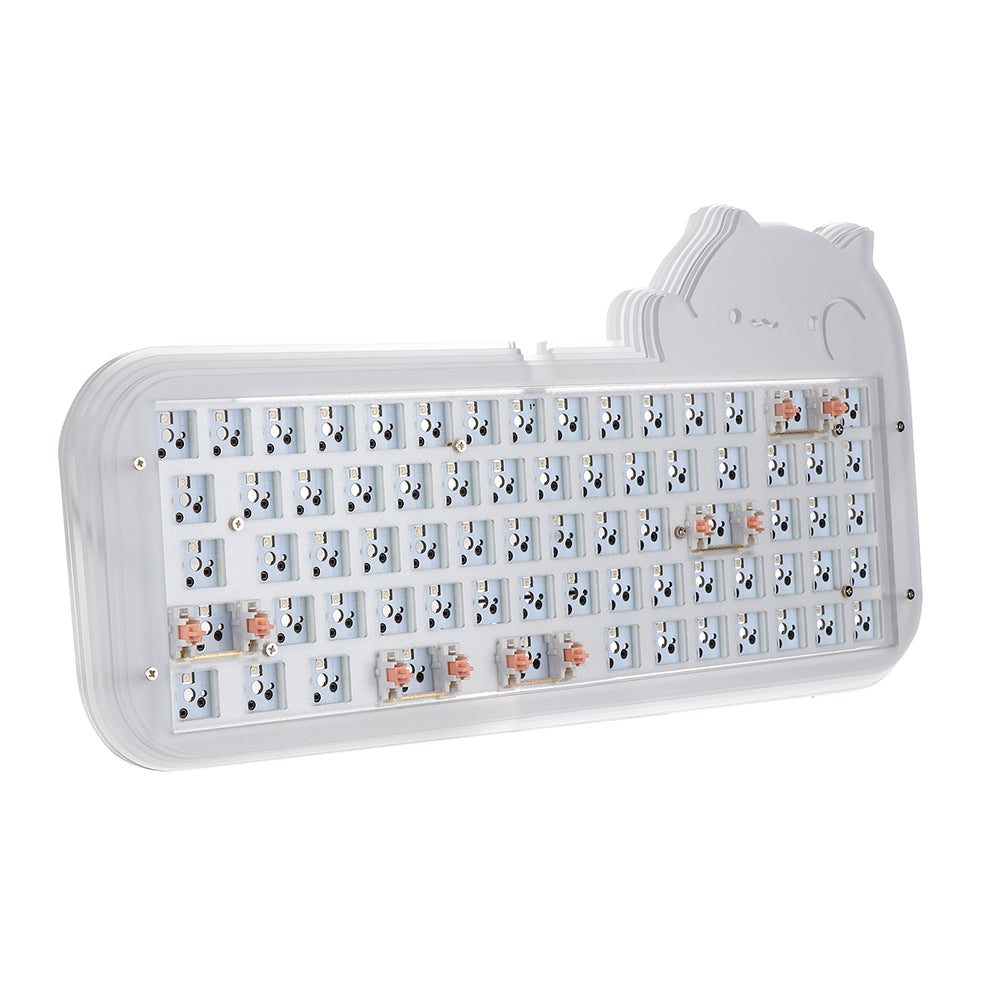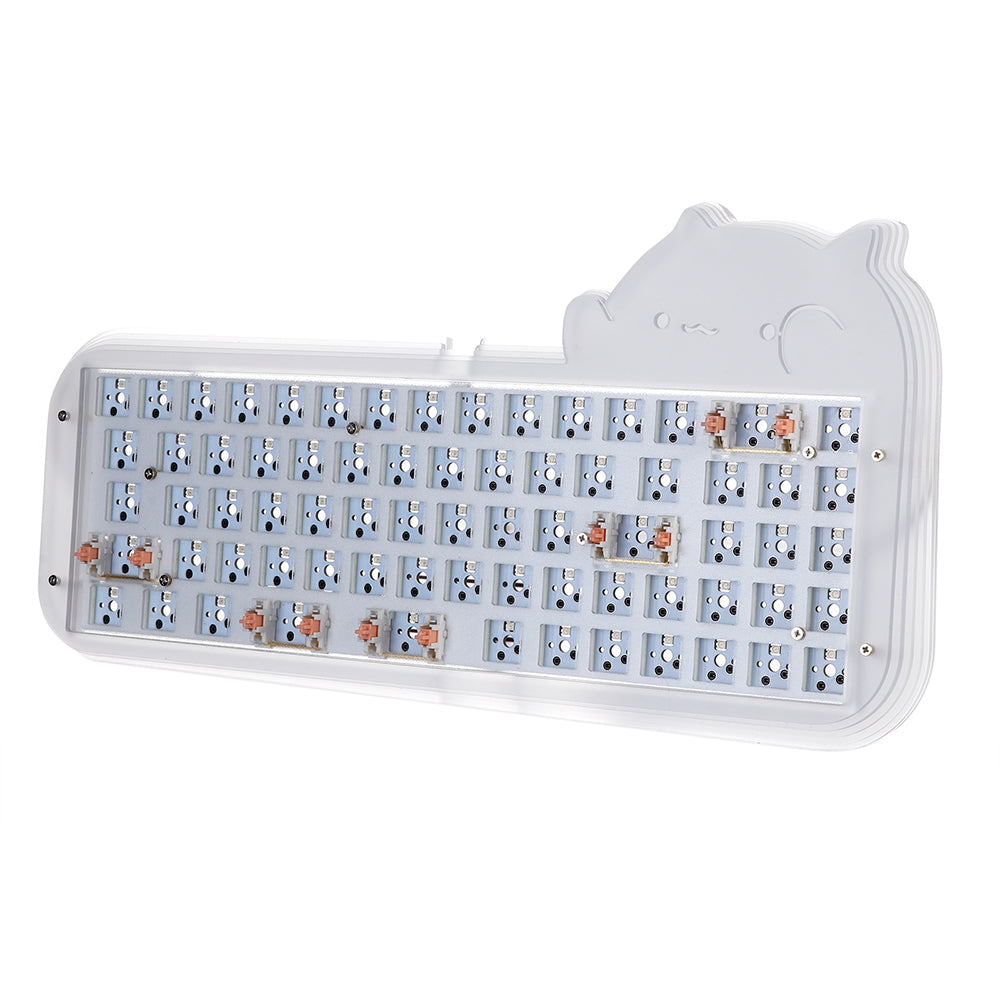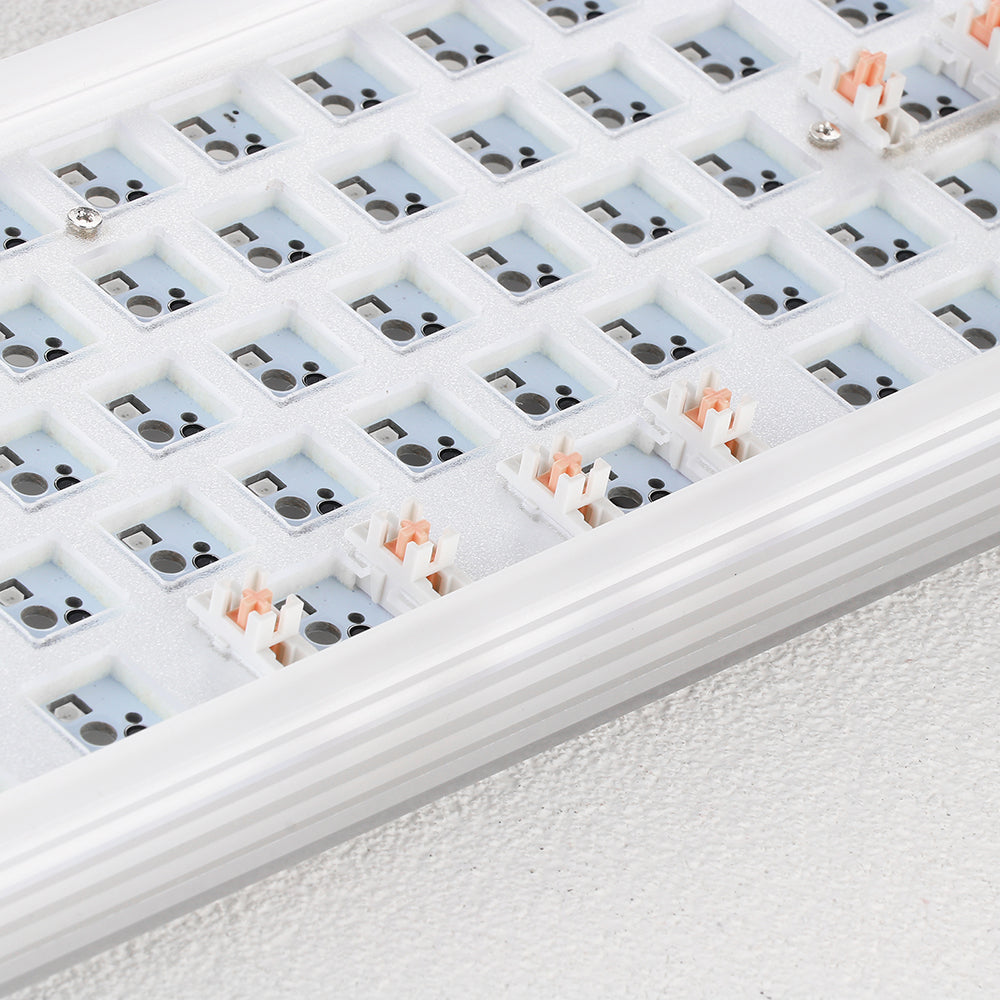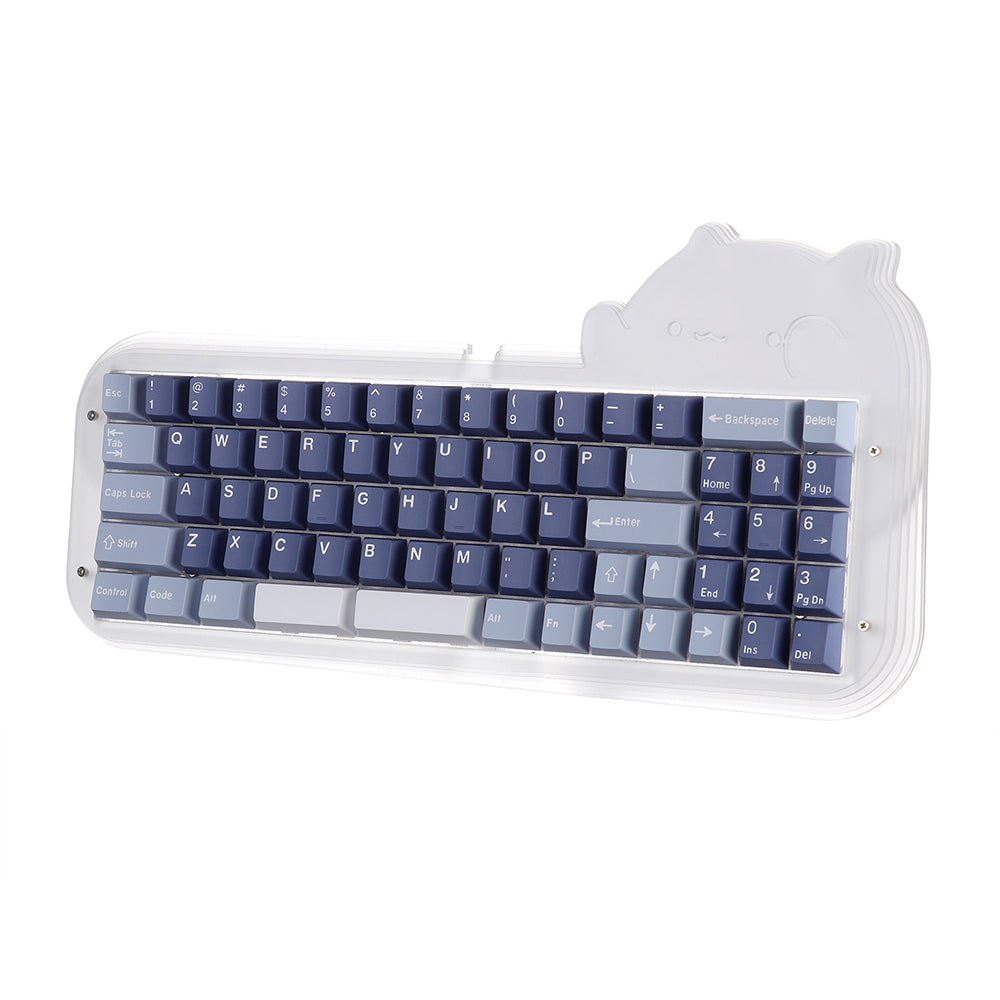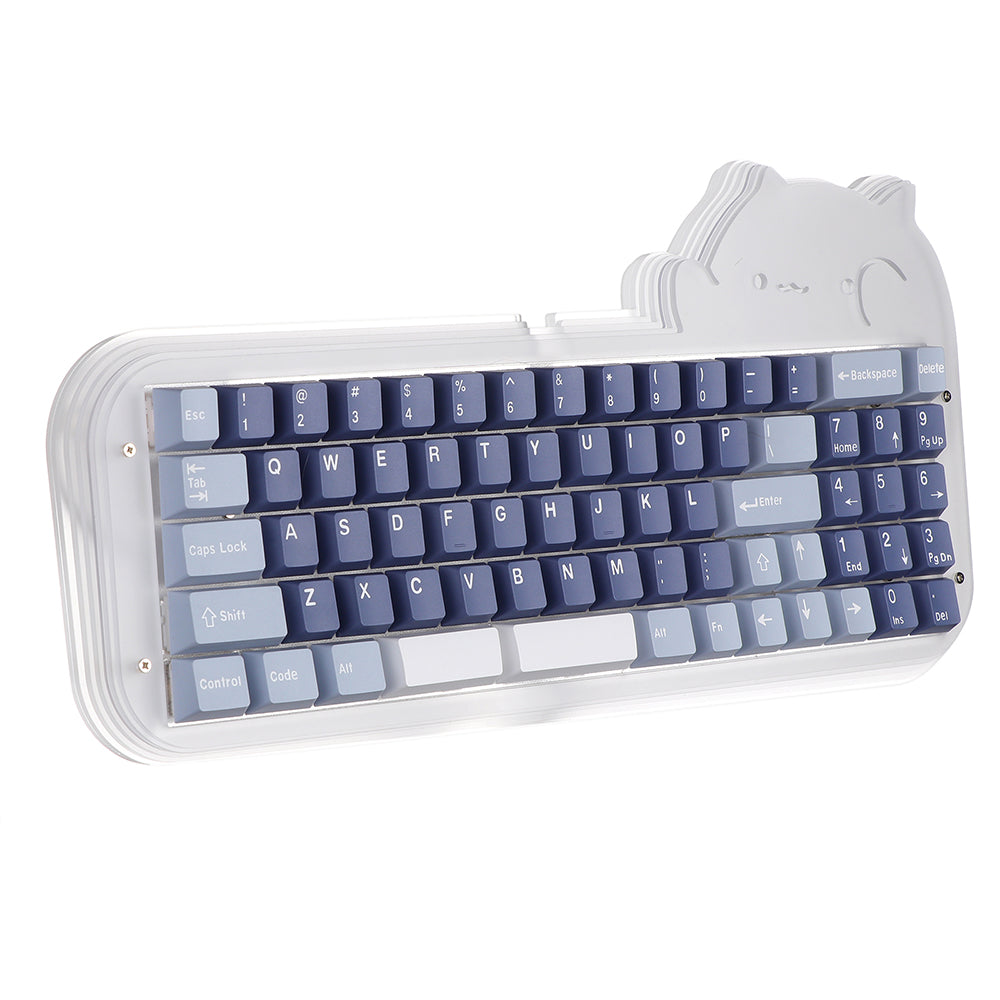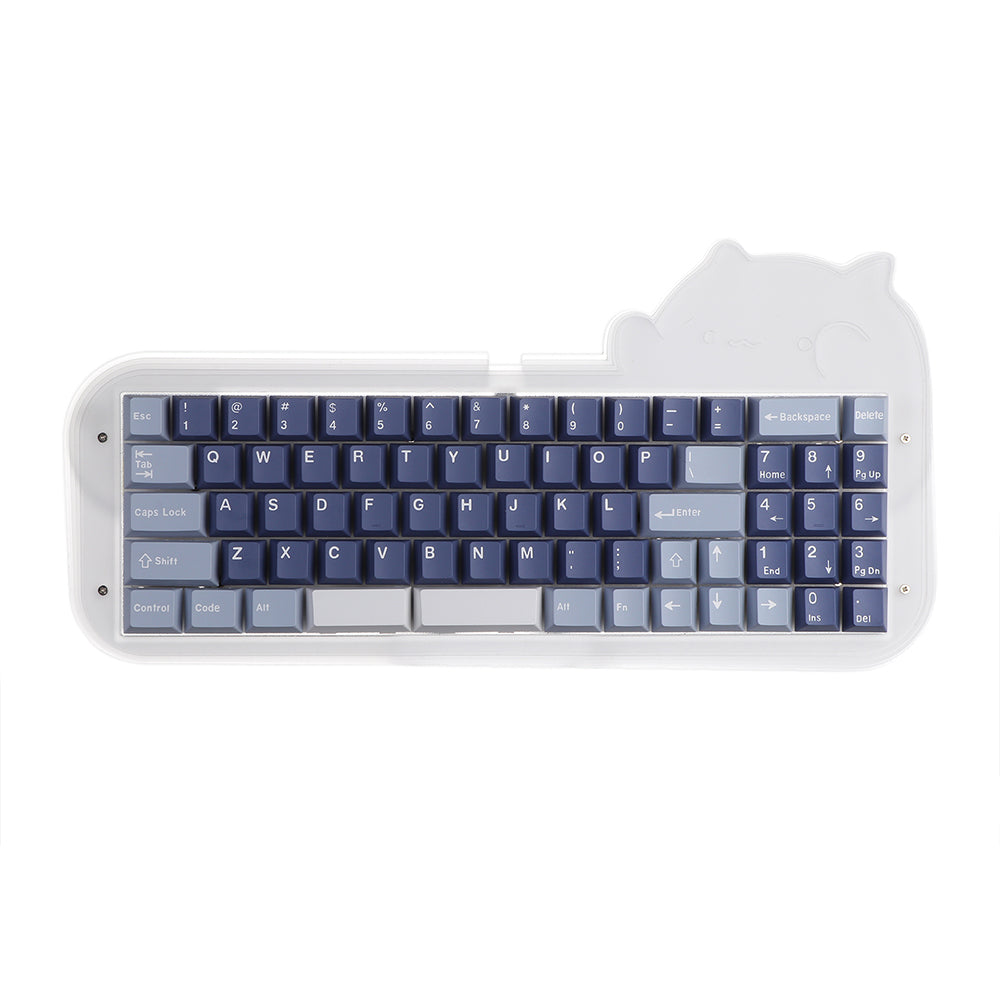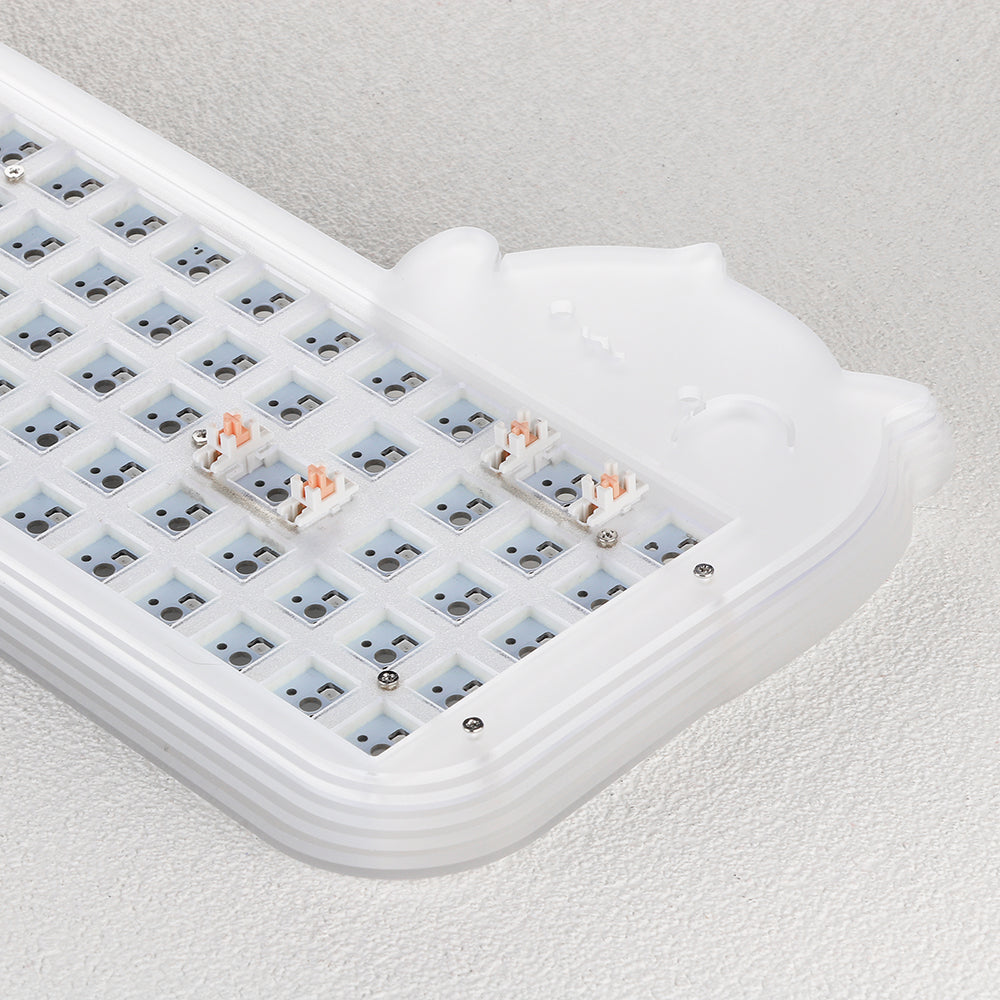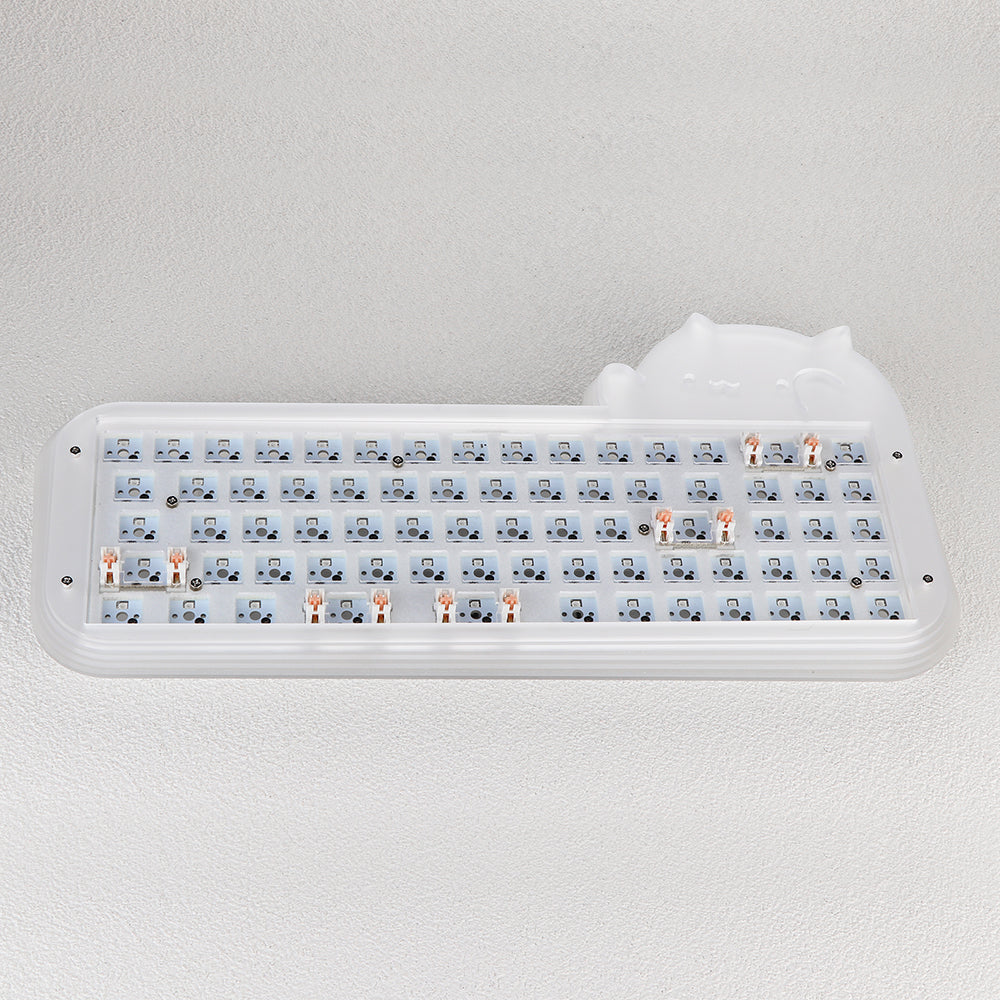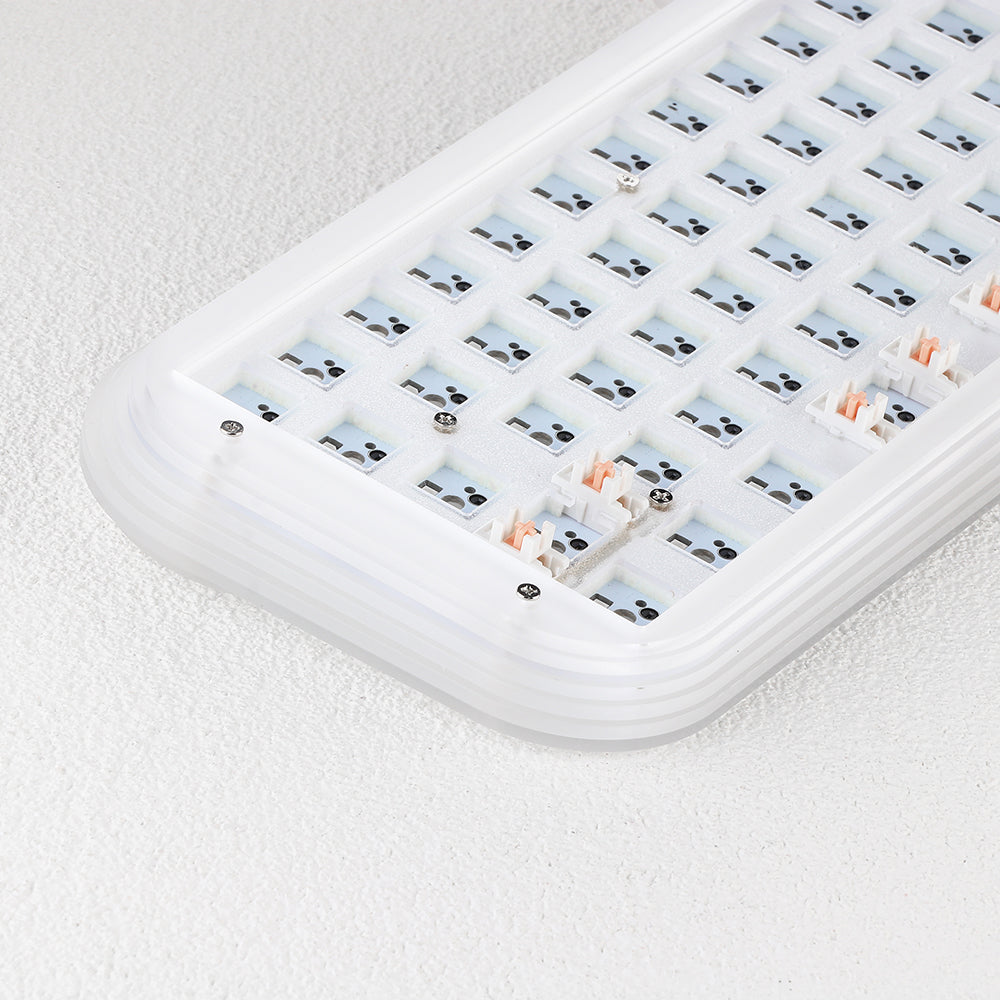 Cat-Shape Hot Swappable Acrylic RGB Wired Mechanical Gaming DIY Keyboard Kit
Hotswappble DIY Keyboard Kit
VIA Programmable
Stacked Acrylic Case with Amazing RGB Backlights
Type-C Connection & Compatible with Windows/Mac
Sale price
$84.99
Regular price
Free standard shipping to most countries
Enjoy free shipping to most countries*. Please refer to our
shipping FAQ
to see if you apply.
Covid-19 Shipping Delay Notice
Shipping may be delayed due to covid-19 depending on your country regulations.
Epomaker Mini Cat 69 Kit
Sale price
$84.99
Regular price
Mini Cat Theme with a Numpad
The Bongo Cat are quite favored due to its cute outlook. Unlike other traditional keyboards, the Epomaker Mini Cat keyboard adopts very different layout for different uses. This Mini Cat 69 retain the most commonly-used keys for those who are inclined to a compact keyboard to save more space on the desk. Including arrow keys to avoid mistyping and a numpad for convenience, this keyboad can be very convenient for those who need numpad in daily use. With shine-through ABS keycaps, Epomaker Mini Cat 69 is presenting a brilliant light effect in the dark environment to suit night typists and gamers.
Continue the Cat-Shape Design
Continuing to be an outstanding keyboard DIY kit, the Bongo cat is still literally on the top of the keyboard, sending greetings to our lovely enthusiasts. With this keyboard, it is definitely an eye-catching peripheral on your desktop with multiple great functions!
VIA Programmable
The Mini Cat 69 kit is programmable by VIA. For those who are not used to the compact layout, they can change the keymap by VIA without re-flashing the firmware. The changes can remain in the keyboard even when the keyboard is unplugged and re-plugged. By applying this function, the keyboard is with great potential to be programmed and modded.
Stacked Acrylic Case with Amazing RGB Backlights
Acrylic based keyboards are friendly to typists as they can be much brighter with backlights. The Mini Cat 69 kit can pull up this experience to the full by applying acrylic pieces stacked to a complete case and installing LEDs and RGB modules on the PCB. The backlight can shine not only through the sockets but also from the sides of the keyboard, creating a visible environment even under dark conditions.
Type-C Connection & Compatible with Windows/Mac
Equipped with the type-C interface in the middle, the Mini Cat 69 kit holds fast and stable connection and the cable will not be going around the keyboard anymore. Moreover, the DIY kit is compatible with OS on both Windows and Mac. It surely meets the needs of each user to work efficiently or switch between gaming and working status.
Technical Specifications
Layout
71 Keys with a numpad
Stabilizer Type
Plate-mounted
Dimension
Around 349 * 170 (includes cat-shape) / 126 (keys part) * 32mm
Inside the box
Epomaker Mini Cat 69 Keyboard Customized Kit (PCB, Mounted Plate, Stabilizers)
Type-C Cable
beyond disappointed
i just got into mechanical keyboards and modding them. I wanted to do one using barebones. However, this severely was a waste of my 2 hours in total. One hour to put the switches and keycaps, and another to only having to remove them finding out that the delete button at the end does not work. + sign does not work and the numbers at the right side. I was so excited when I ordered this Epomaker Mini Cat 69 specifically as I wanted to use it for work especially working with numbers. This was a sore disappointment. It is best to purchase one with the keycaps and switches on. As much fun as I thought it would be putting in my own switches from the get go, this was just a complete waste of my time.
Another weird thing, is there are 2 small space bars at the end which you cannot find a lot of keycaps on. Luckily, I had pudding white keycaps on hand and was able to find it to match. I even purchased the Yunzii cat keycaps in pink translucent to match the cat theme but oh no, what a waste of my time. DO NOT ORDER. I DO NOT RECOMMEND AT ALL.
Dear Customer,
Thank you for your review. We are sorry for not bringing you a happy purchasing experience.
Please don't worry, we will be fully responsible for it.
In order to solve your problem in a better way, our team has contacted you through support@epomaker.com, we are looking forward to your reply.
Have a nice day!
Best Regards,
Epomaker Team
Great quality, great customer support, one set of keycaps
The quality of this keyboard is so so nice! It's adorable and the lights are vibrant and beautiful. Thick, durable acrylic base. Highly recommend reaching out to customer support if you have questions or if you're new to DIY keyboards. They are quick to respond and eager to ensure customer satisfaction. One thing I will say is that there are special sized keys so only one set of keycaps will fit (the purple ones featured in the photo). Overall a great keyboard!
This keyboard has been a nightmare.
I do not recommend this keyboard. What they don't tell you is that there's only ONE set of keycaps that fit because of the special sized keys, making it less of a customizable DIY and more just a keyboard that you have to put together yourself. Finally, the link in the instruction manual to download the software required for it to work is expired. The link brings you to a "404 not found page". So now I have a keyboard that doesn't work and would require a re-stocking fee to return. The ONLY positive with this purchase is that customer service did respond very quickly to my questions which I appreciated. But overall I feel like this product was not advertised in an honest way and was a waste of money and energy.
Very cute, but not very functional
I love the design of the board and style, but none of the existing keycap sets I currently have contain the right size left shift or space bar keycaps. I purchased a completely different set that came with a variety of sizes for those particular keys, but unfortunately they still did not fit. :( I currently don't have anything on the space or left shift keys, and it looks kind of ugly. I wish I could have known the right measurements so that I could have planned ahead with they keycap situation. Other than that, I do like how aesthetically pleasing this keyboard is.
Join us on Instagram
Join our community in Instagram to keep up to date with our news, product releases, sales and giveaways!