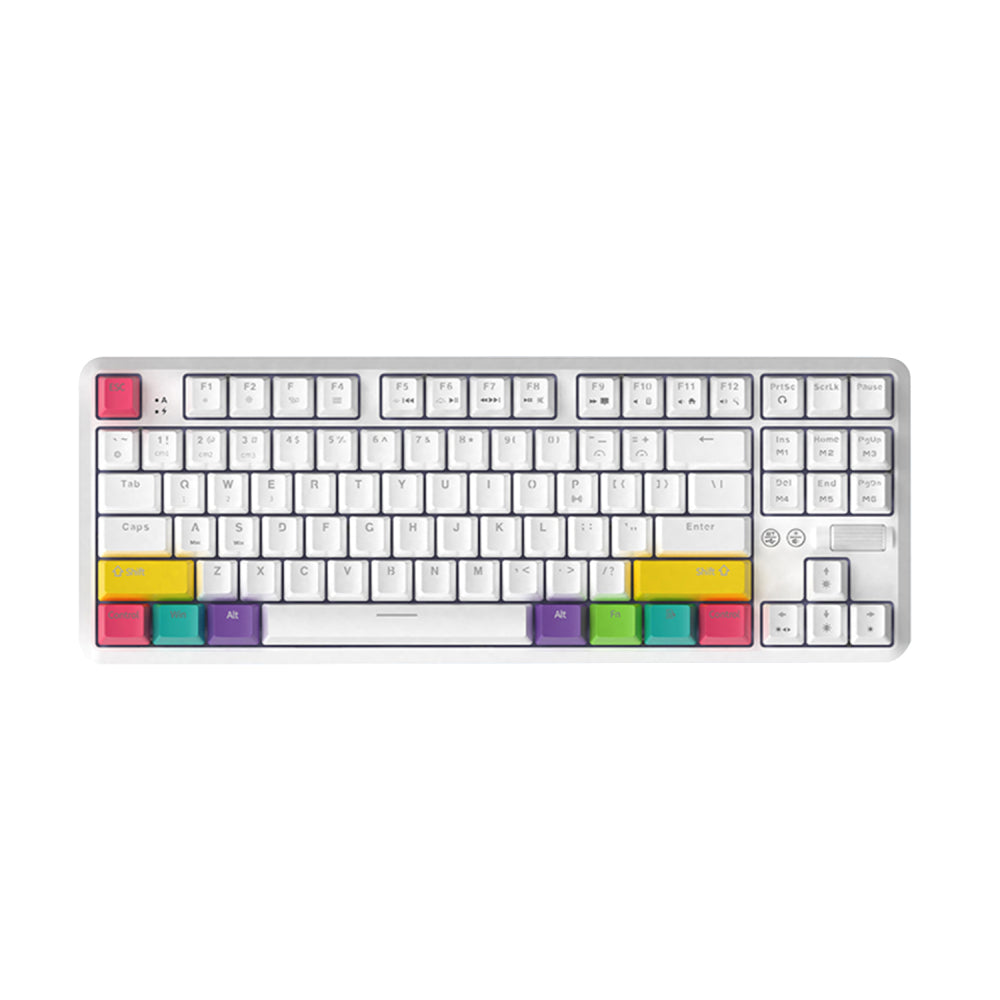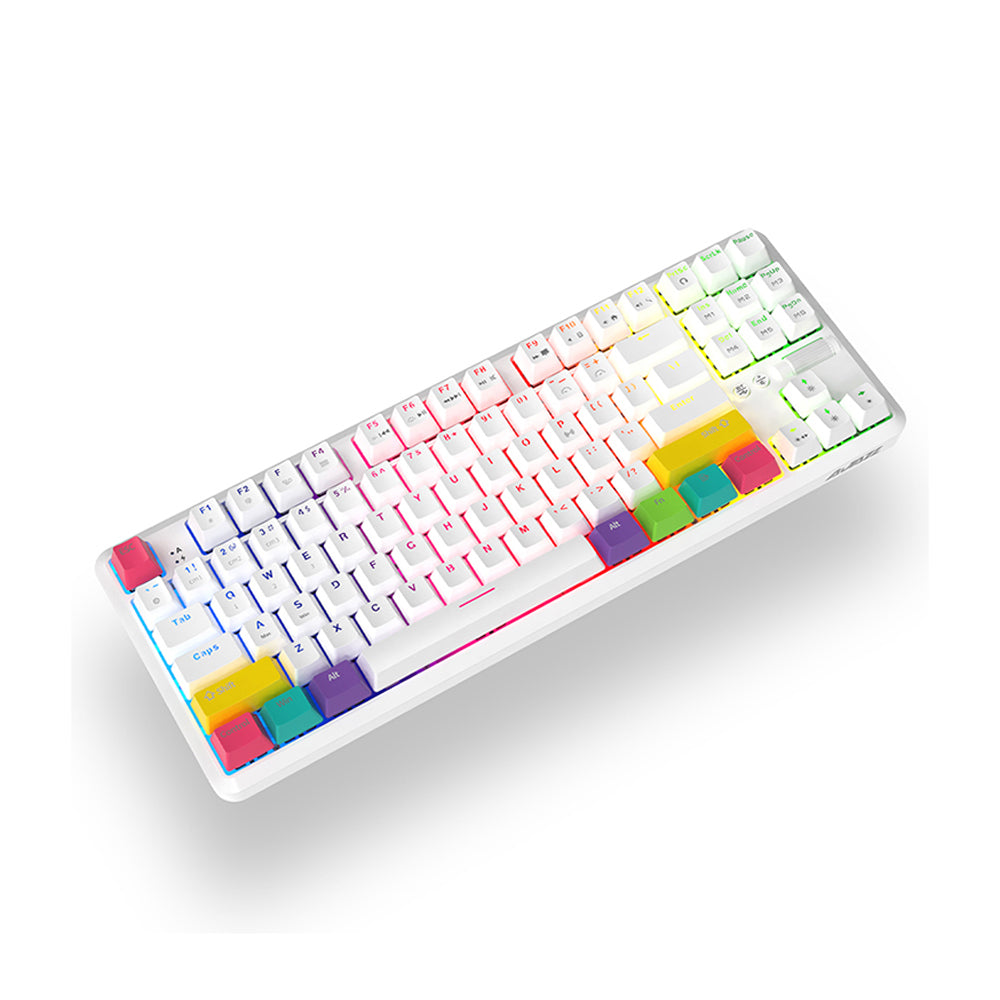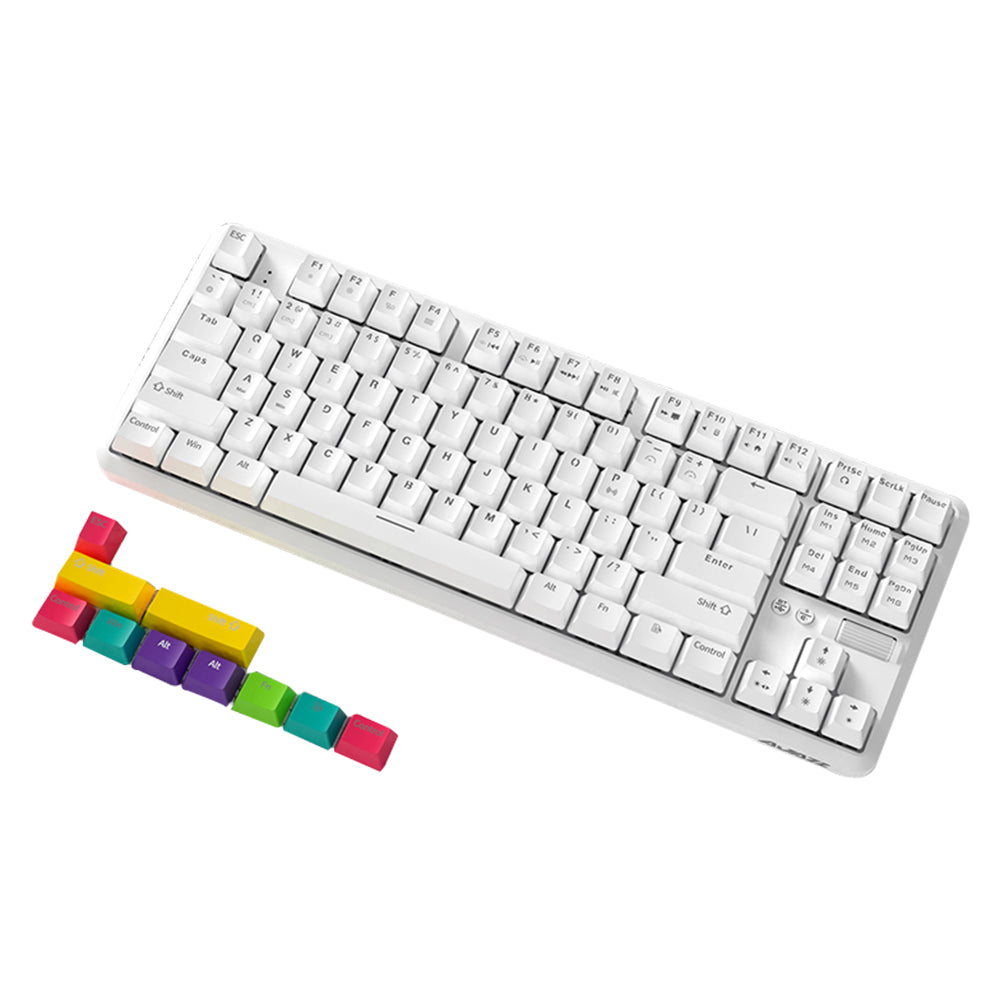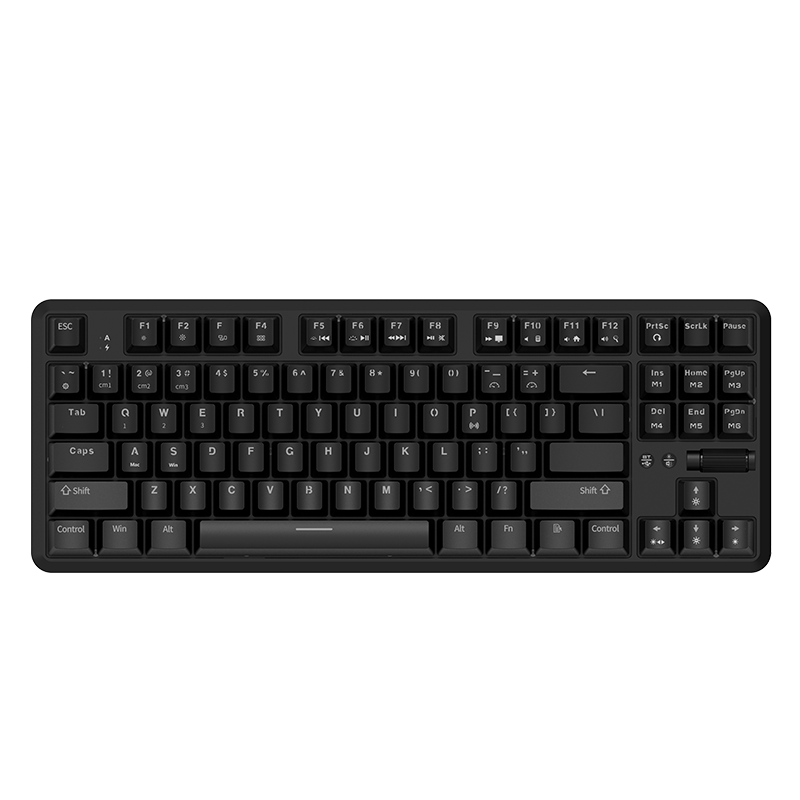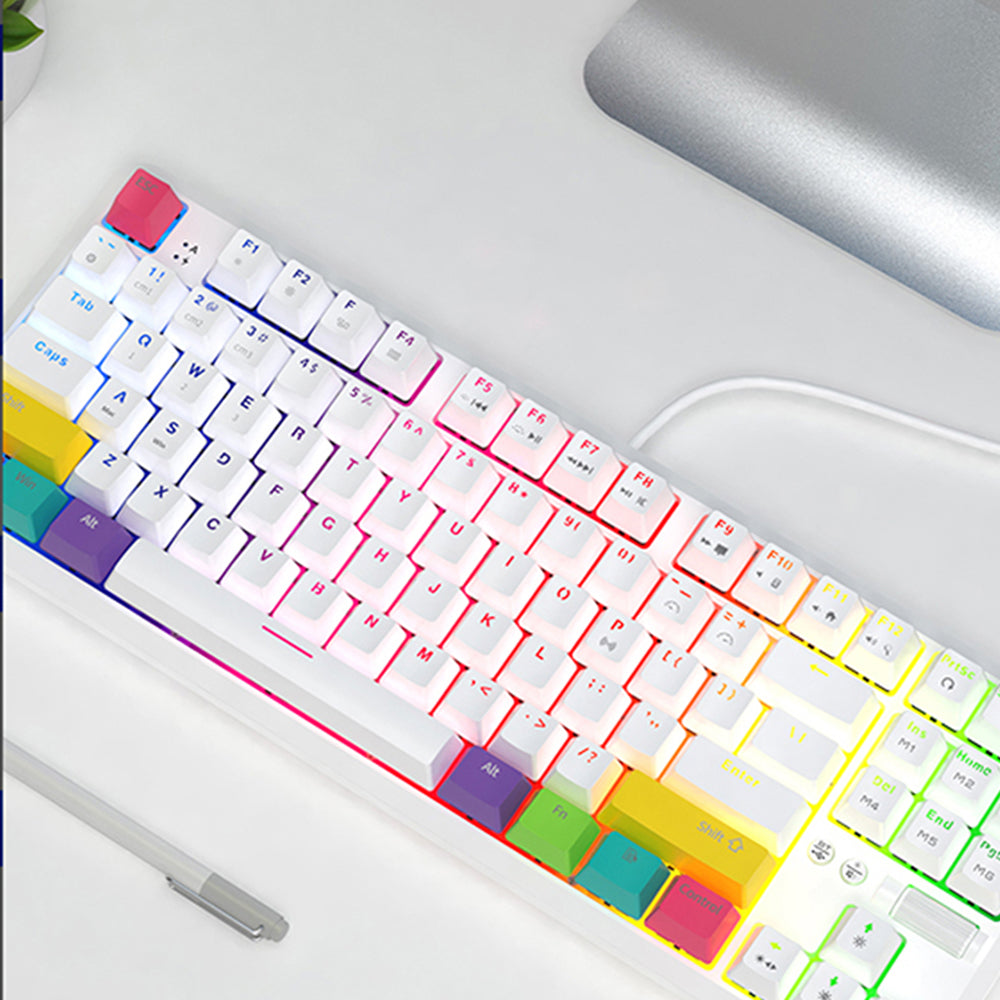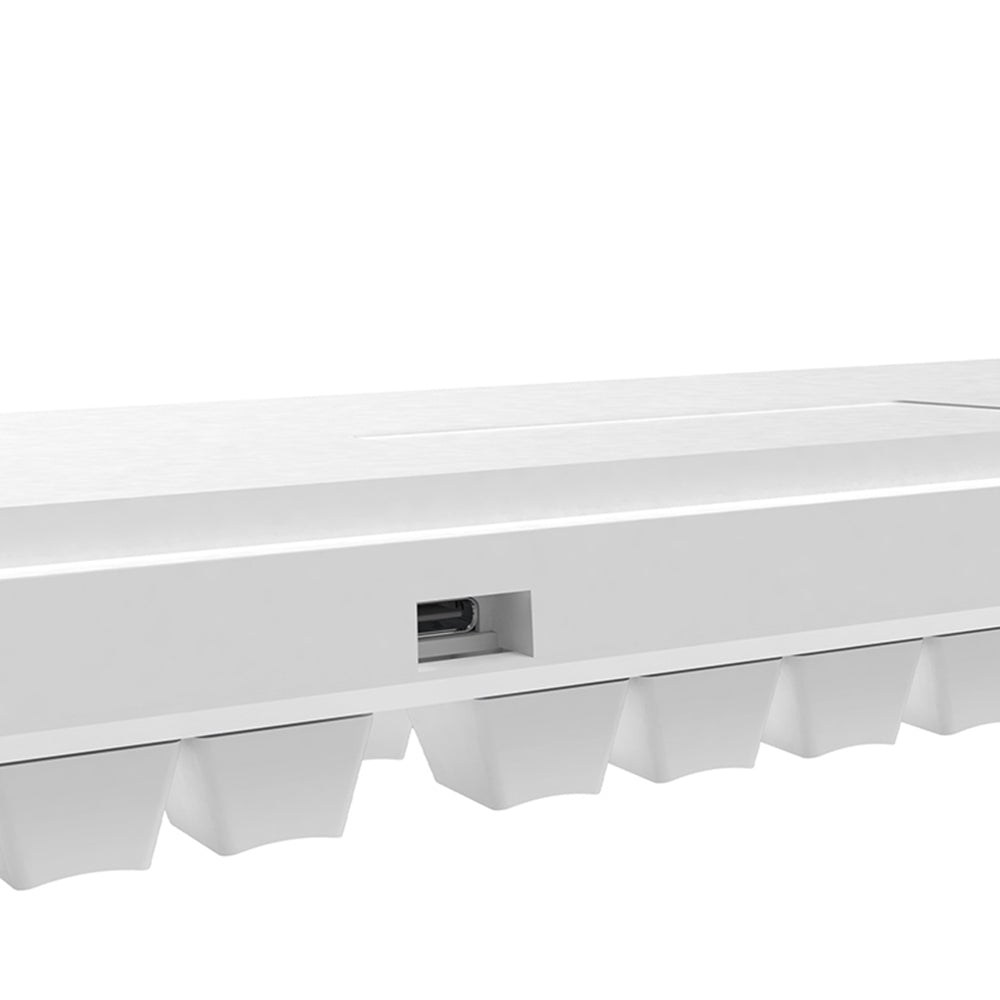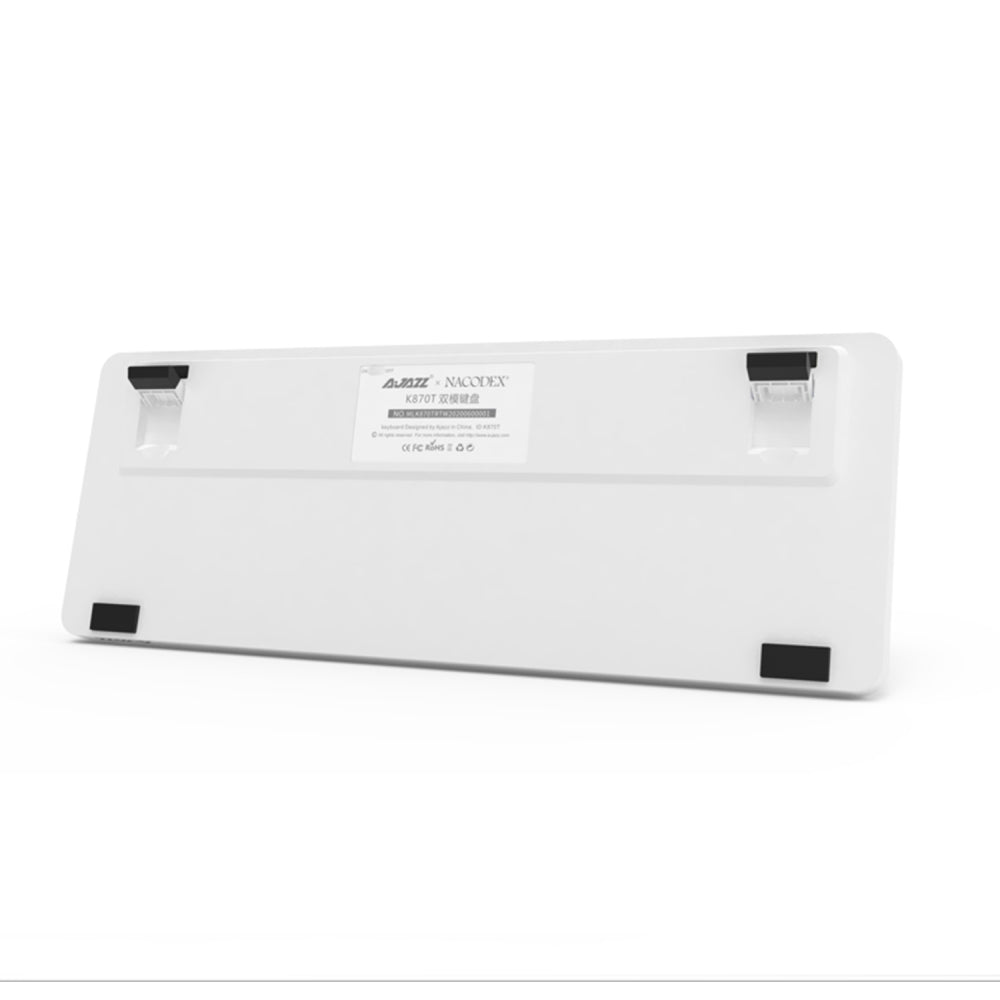 87 Keys Bluetooth Wired/Wireless Mechanical Keyboard with RGB Backlit, Type C Cable, B08N48PRHT B08N4B8T9D
Bluetooth wireless/wired dual mode, connect up to 3 devices
N-key rollover in wired mode, 18 RGB light effects
Professional chip for both game and work
2000mAh built-in large battery
Sale price
$33.00
Regular price
$65.99
Free standard shipping to most countries
Enjoy free shipping to most countries*. Please refer to our
shipping FAQ
to see if you apply.
Covid-19 Shipping Delay Notice
Shipping may be delayed due to covid-19 depending on your country regulations.
87 Keys Mechanical Keyboard for Mac & Win
K870T houses 87 keys and make use of each space. You have full arrow keys, and other basic keys for sure. It's designed for both Mac and Wins system, simply press button to switch between the system. This size saves lots of desktop space, giving your right hand and mouse more space, whether you are working, gaming or daily use, it will perform perfectly. Small in the appearance but big inside.
Bluetooth Wireless/Wired Mode, Connect Up to 3 Devices
Designed with Bluetooth mode and wired dual mode, you have more choices. Bluetooth3.0 is stable and strong enough to ensure 10 meters transmission distance. It can connect up to 3 devices at the same time, simply press FN+Q/W/E to exchange between devices, easy to use and suitable for both work and game. Moreover, the wired mode will also charge the keyboard at the same time, a cool function and time-saver indeed.
N-Key Rollover and Built-in 2000mAh Battery
This model is programmed to be N-key rollover in wired mode. The keys won't conflict with each other. Save you from trouble while playing a game. Built-in large capacity battery ensures long time use without falling behind. Without the backlit on, it can last about 100 hours. With backlit on, it lasts about 8 hours. Charge it to full only takes about 4 hours, and the standby time is about 200 hours maximum.
Ergonomics Design & 18 RGB Light Effects
The keyboard are designed with rubber feet to be more suitable for typing habits. You won't feel tired even after long time using it. 18RGB light effects are classic and neat, freely adjust the brightness and light speed. The double-shot injection keycaps are wear-resistant and more transparent, DIY your desktop even at night.
Innovative Roller Button Control
The keyboard is designed with a roller button in between to control volume and lights to facilitate operation. With a type-c cable, it offers steady transmission. The cable and keyboard is separated as well, wise design to use in wireless mode.
Key Functions Guide
Resetting Keyboard
FN+PS


For Mac System
F1=decrease screen brightness
F2=increase screen brightness
F3=call out screen of all the running apps
F4=previous song
F5=pause
F6=next song
F7=mute
F8=decrease volume
F9=increase volume


For Win System
FN+F5=previous song
FN+F6=pause
FN+F7=next song
FN+F8=mute


System Exchange
Press FN+S=WIN system change
Press FN+A=MAC system change


Tips About Bluetooth Connecting
FN+P: The keyboard will be ready to pair with devices after pressing the button (make sure the button on the keyboard is ON).
Press FN+Q/W/E to pair with your three devices. When it's completed, press FN+P again, the backlight of P key will blink until the pairing process is done.
FN+PS: Long press for 3 seconds to clear the light effects or Bluetooth devices information to reset to factory mode.
Technical Specifications
Interface
Type-C interface to USB
Transmission Method
USB wired + Bluetooth 3.0
Light
RGB(18 types of light effect)
N-Key Rollover
N-Key Rollover in wired mode
Inside the box
Keyboard
Instruction Manual
Cable
K870T is overall a great keyboard
Honestly if you guys gave another keyboard I'll be even happy 😁 since you guys make great keyboards
Alright Keyboard; Great Customer Service
The keyboard is alright. Plastic, and does it's job. I didn't realize the switches are not hotswap when I ordered it, and I sadly ordered switches I didn't end up liking. My keyboard also had a problem where it would go to sleep while plugged in and I had to switch it to Bluetooth mode and then back off in order to get it to respond again.
Fortunately the customer service team was very accommodating and offered a refund for the keyboard. Many thanks to them! Also this thing shipped like within hours of ordering it, which is great!
Keyboard never came
They asked me for a review and here it is. My keyboard hasn't come yet so die
Dear customer,
We sincerely apologize to hear that you still have not received the parcel.
To better solve this case, please contact our support team via support@epomaker.com.
Please don't worry, our teams will follow it and assist you to get the parcel.
We feel so sorry again if it causes any inconvenience brought to you.
Kind regards,
Epomaker Team
Never received it… eventually had to cancel my order
This is my first ever negative review, usually I let stuff go but I'm really disappointed this time. Despite putting my correct address through PayPal, I got notified that the incomplete info on the package resulted in it being sent back, there was a whole run around with support trying to see what can be done, no help there. Eventually I had to contest the purchase with PayPal to get my money back, so to whomever got the keyboard I wanted in the end, I hope that you enjoyed it.
Hello,
Thank you for leaving a review here.
We are so sorry for the issue you met. It could cause an incomplete address if you didn't include 'Apt.#'. before your house or apartment number. But we are working on to improve this process to avoid the issue you met.
In the meanwhile, you can also choose to add shipipng fees to upgrade the shipping for your order. The express shipping will greatly avoid such matters. If you agree to upgrade the shipping method, our support will be happy to help you with it.
Thank you for your understanding.
Kind regards,
Epomaker Team
Not too good
The quality just isnt good. It sounds light and cheap amd it feels like it too
Hello,
Thank you for leaving a review here.
We are so sorry that you found the keyboard not satisfying. We will report the opinions you shared to our team to avoid the issue you met.
If you have other thoughts on the product, feel free to leave a review here.
Thank you for your understanding.
Kind regards,
Epomaker Team
Join us on Instagram
Join our community in Instagram to keep up to date with our news, product releases, sales and giveaways!