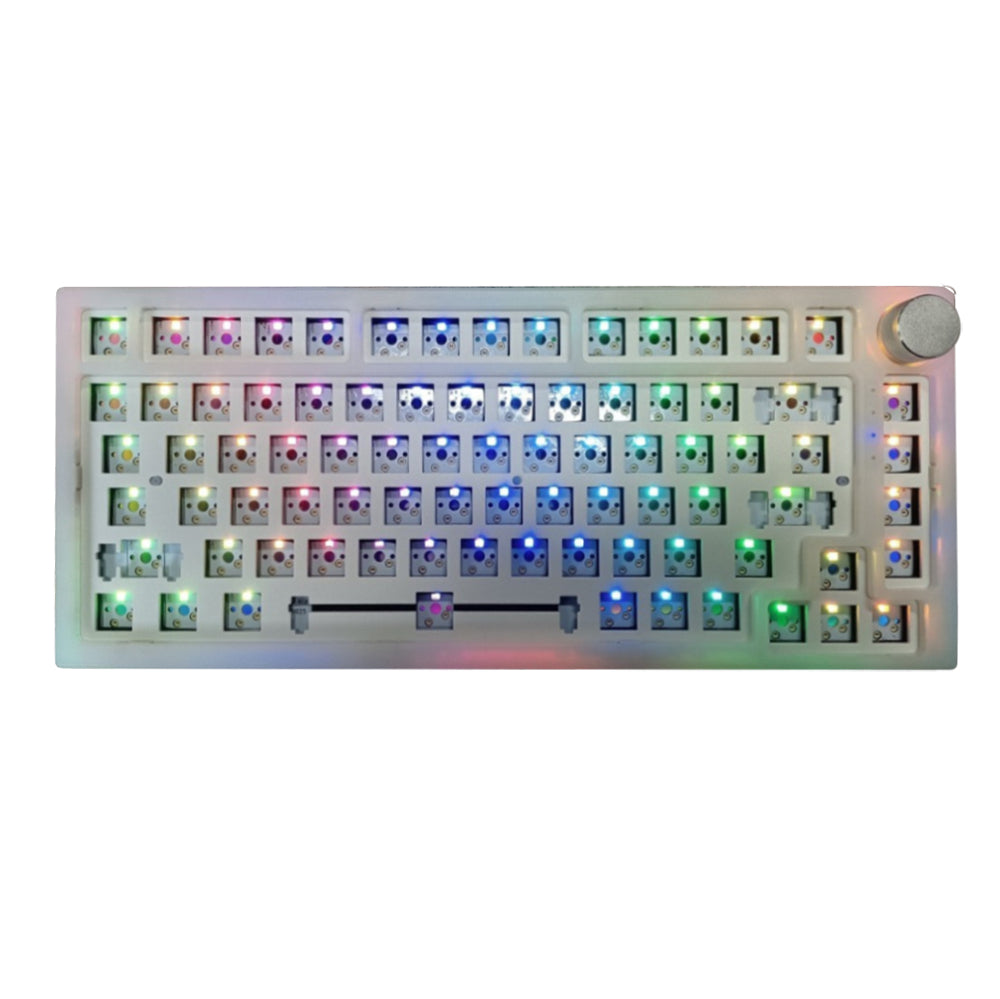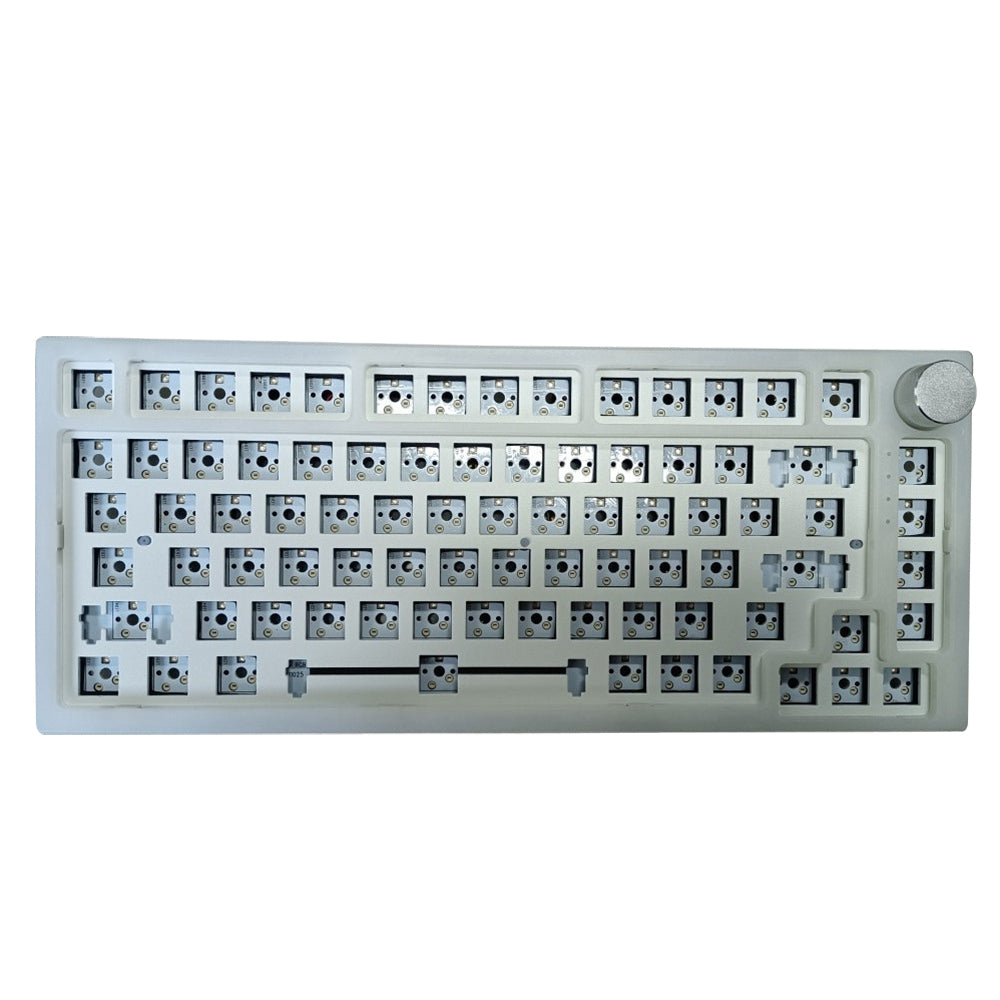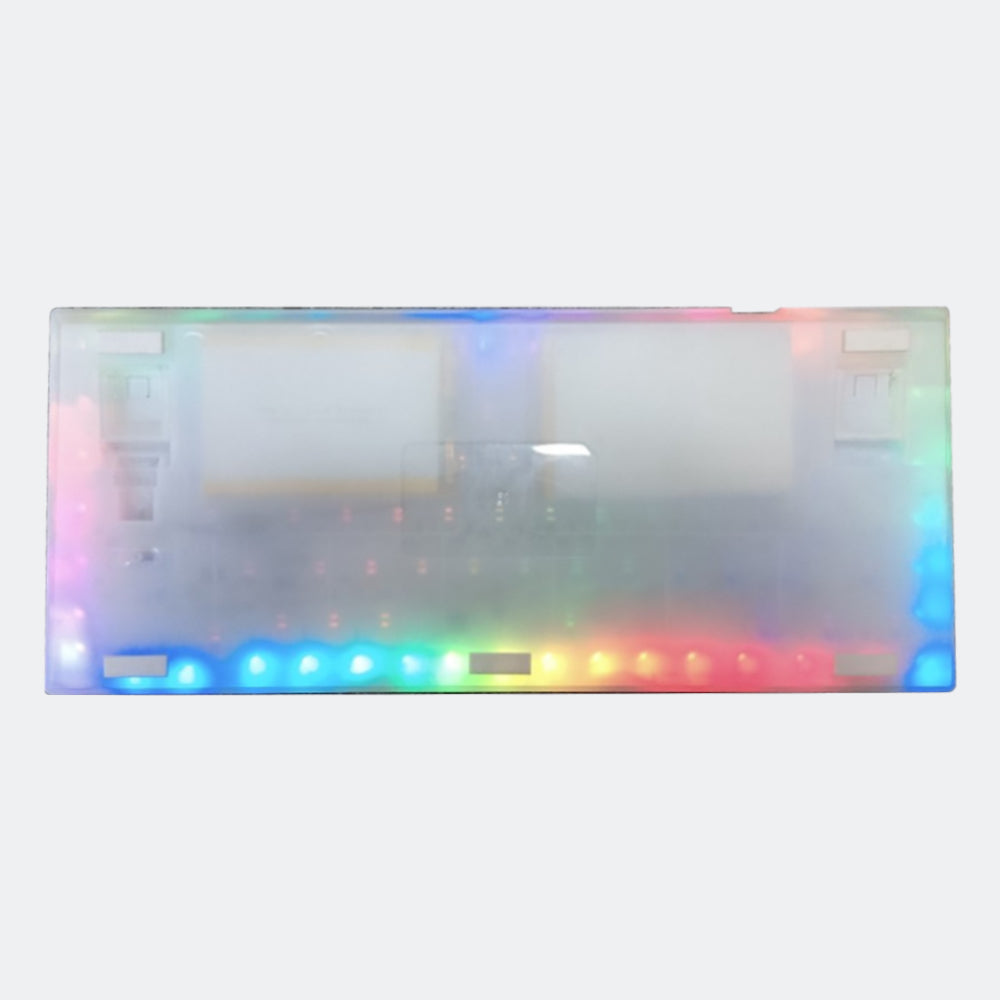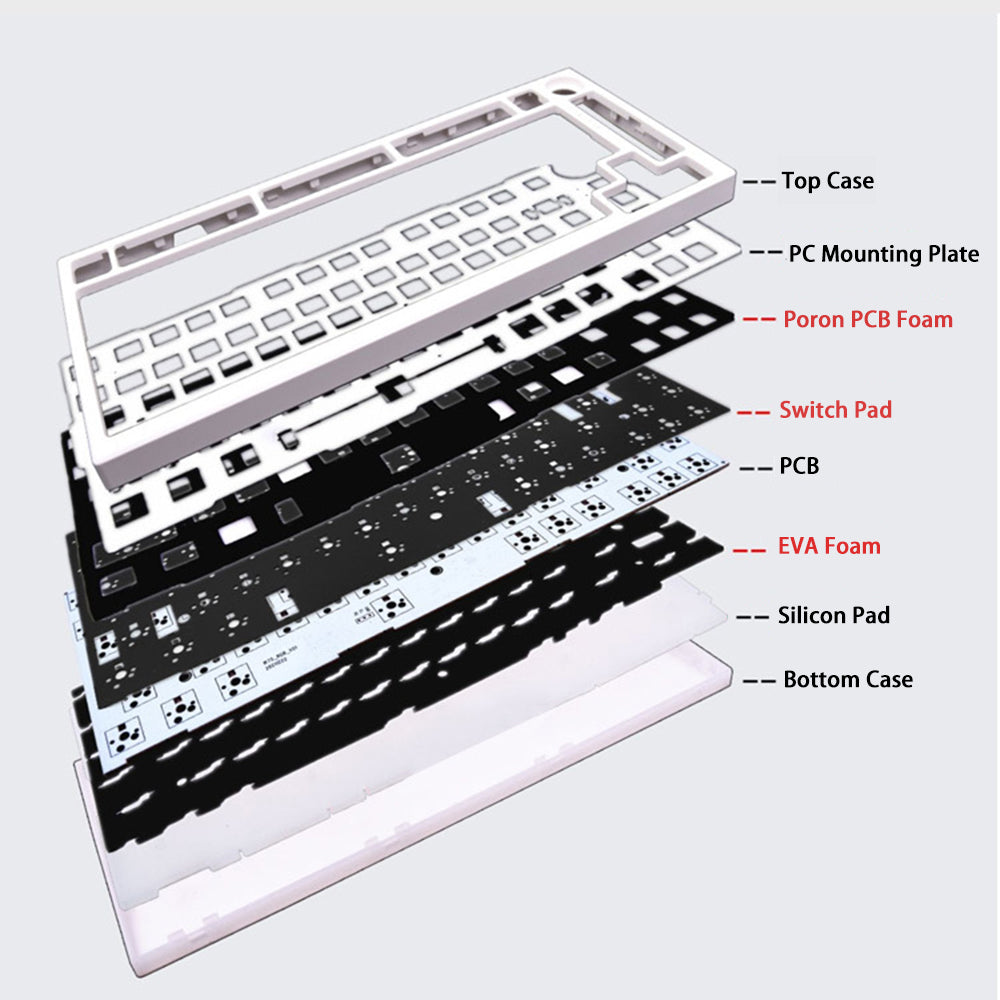 75% 82 Keys Gasket Hot Swappable Bluetooth 5.0/2.4GHz/Wired Mechanical Gaming Keyboard DIY Kit
Gasket-mounted structure with hot swappable PCB
Triple modes: Bluetooth 5.0/2.4GHz/Type-C wired
10000mAh built-in batteries & 16.8M RGB backlight
EVA & Poron foams for absorbing sound
Knob control for volume/play/pause function
Sale price
$79.99
Regular price
$99.99
Free standard shipping to most countries
Enjoy free shipping to most countries*. Please refer to our
shipping FAQ
to see if you apply.
Covid-19 Shipping Delay Notice
Shipping may be delayed due to covid-19 depending on your country regulations.
Upgraded Gasket-Mounted 75% DIY Keyboard Kit
Gasket mounting has become a trendy type recently, where no screw holes are drilled into the switch plate. Compared to a top mount structure, a gasket-mounted keyboard offers better sound profile because the gaskets cushion the shock of each keystroke. Gasket-mounted keyboards also present a softer typing experience, which helps avoid hand fatigue for those who type for long periods. Like its predecessor, FEKER IK75 V5 kit features favorable Gasket structure in a functional 75% layout to bring you an ultra experience.
Triple Modes: Bluetooth 5.0/2.4GHz Wireless/Wired
More than being wireless, we make this kit in triple modes, that is to say, the latest Bluetooth 5.0 technology and ultra-fast stable 2.4GHz wireless, plus Type-C wired mode. Moreover, the supportive software can be used either under the type-C Wired mode or 2.4Ghz mode. Triple modes will be accommodating a variety occasions, such as trip, office, home...no more bulky accessories and no more be bothered by terrible transmission..
Hot Swappable PCB & Lubed Stabilizer
FEKER IK75 kit adopts a hot swappable PCB that can work with most 3pin/5pin switches, such as Cherry, Gateron, Kailh, AKKO, Otemu...Hot swappable PCB means that you don't need to solder the switch and it makes it easier for those who love different types of typing experience. Moreover, the Stabilizer are pre-lubed in factory so you don't need to spend time lubing it. Get it and customize it right away.
10000mAh Large Capacity Battery & 16.8M RGB Backlights
FEKER IK75 V5 is equipped with two 5000mAh battery for ultra long-lasting performance. No more worries of battery shortage while on trip. Total 10000mAh battery will last quite long time as expected. Checking the battery status is also available in this upgraded version. 16.8 million RGB lights are perfect for more customization. Just feel free to enjoy cool RGB effects without any worries.
EVA & Poron Foam Dampeners
To achieve ultimate performance, FEKER IK75 V5 features three different layers of EVA & Poron foams to absorb sound while typing and also reduce shallow sound of bottom case. A normal PC plate are included in the kit for further customization.
Technical Specifications
Hot-swap
Yes, 3-pin & 5-pin
Stabilizer type
Plate-mounted
Cotton layer
Poron foams added
Battery
10000mAh rechargeable Li-ion battery
FN Keys Combination
Ctrl+Alt+Q: Reset
FN+F1: My computer
FN+F2: Desktop
FN+F3: Calculator
FN+F4: Player
FN+F5: Last song
FN+F6: Next song
FN+F7: Play pause
FN+F8: Pause
FN+F9: Mute
FN+F10: Volume -
FN+F11: Volume +
FN+F12: E-mail
FN+` : Color changing
FN+1: Bluetooth No.1
FN+2: Bluetooth No.2
FN+3: Bluetooth No.3
FN+4: 2.4G
FN+I : Print
FN+O: Scroll
FN+P: Pause
FN+Win: Win Lock
FN+Space: Turn on/off backlight
FN+APP: Changing Decorative light
FN+↑: Brightness +
FN+↓: Brightness -
FN+←: Light speed -
FN+→: Light speed +
FN+Del: Switch backlight mode
Inside the box
Keyboard Customized Kit (Case+PCB+3*Mute Cotton+Stabilizers+1*Positioning Board+2*Batteries)
Type-C Cable
2.4G receiver
Drivers ?
I bought it for my first board, and was very happy. Nice quality for the price, really. The only thing that blocks me is the fact that there's no drivers that actually detect your board, and as my keyboard layout isn't the same as before, I'm happy I knew my old layout by heart because I can't remap anything... I've been waiting for months now, hoping for a driver update but nothing... I will recommend this board only the day when the drivers will work
Dear customer,
Thank you so much for your comment.
We sincerely apologize to cause any confusion and inconvenience brought to you.
As the software has created troubles for keyboard users, we will test and fix the problem first and re-upload the software on our website.
Thanks again for your feedback and support.
Kind regards,
Epomaker Team
It's fake
It's not a real Feker IK75. You can get the exact same keyboard on alibaba for half the price. The writing and instructions are all in Chinese and it doesn't say ik75 anywhere on the box. I wanted to get a refund and they told me there would be a 35% restocking fee. Epomaker ripped me off and I will never ever buy anything from them again
A really solid keyboard
I just built this as a Christmas gift for my wife and she absolutely loved it. The whole assembly clips together, but it is quite snug and doesn't rattle at the clips. That silicone pad on the bottom is pretty substantial and adds a lot of heft to the board.
I installed epomaker flamingo switches and it sounds really nice with them.
My only complaint would be that the knob I was sent with it appears to be too big. It neither clicked or spun properly, so I stuffed a little paper into it to allow it to grip onto it's post. All in all not a huge deal to work around. Given that was the only issue I'd highly recommend this kit.
Join us on Instagram
Join our community in Instagram to keep up to date with our news, product releases, sales and giveaways!