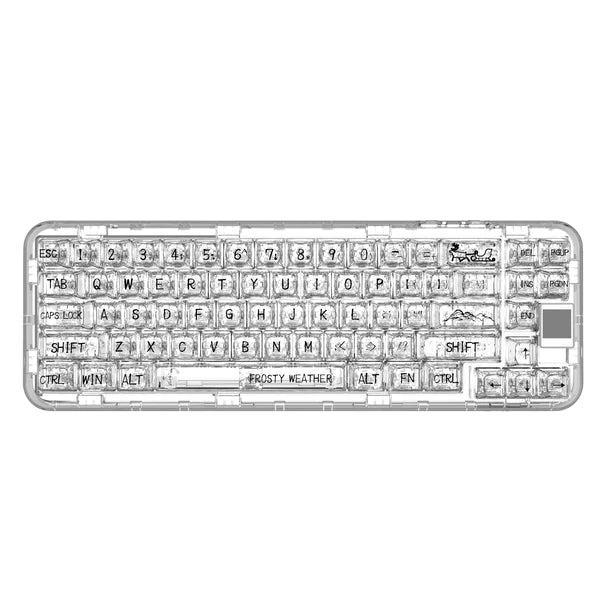 Transparent Gasket Mount Hot-swappable Triple-mode Mechanical Keyboard with OLED Screen
65% Full Acrylic Gasket-mount Mechanical Keyboard
Triple Modes: Type-C Wired, Bluetooth 5.1& 2.4GHz Available
CSA Profile PC Transparent Keycaps
3500mAh Battery Capacity & Amazing South-facing RGB Backlights
Customizable OLED Screen
Sale price
$189.99
Regular price
$200.99
Free standard shipping to most countries
Enjoy free shipping to most countries*. Please refer to our
shipping FAQ
to see if you apply.
Covid-19 Shipping Delay Notice
Shipping may be delayed due to covid-19 depending on your country regulations.
65% Mechanical Keyboard with OLED Monitor
With a 65% layout, the Coolkiller CK68 offers the perfect balance of size and utility, giving you ample room on your desk while still providing essential keys, including the arrow keys and a few function keys. What sets the CK68 apart is its built-in OLED monitor. This compact screen serves as an interactive interface, allowing you to monitor system stats, change profiles, and even display custom images or logos.
Triple Modes: Type-C Wired, Bluetooth 5.1 & 2.4GHz Available
The CK68 isn't just a pretty face—it's highly functional and versatile, too. Featuring triple connectivity modes, this keyboard can adapt to any situation. Whether you're at your desk or on the go, you can use a high-speed Type-C interface. It ensures minimal latency, making it ideal for gaming and tasks that require quick reflexes. For wireless freedom, effortlessly pair the CK68 with your devices using advanced Bluetooth 5.1 technology, as well as its 2.4GHz wireless mode. Simply plug in the USB receiver, and you're good to go. It's an excellent option for users seeking low-latency input without the constraints of a cable.
Gasket-mount with CSA Profile Keycaps
The CK68 takes your typing experience to the next level with its gasket-mount design. This design minimizes vibration and enhances the natural sound and feel of the switches, providing a more comfortable and tactile typing experience. Equipped with high-quality CSA profile transparent keycaps, the CK68 offers a visually pleasing and ergonomically sound typing experience. These keycaps are shaped to comfortably fit the contour of your fingertips, allowing for a more natural and satisfying touch.
Built-in Rechargeable 3500mAh Battery
Never worry about running out of power in the middle of important tasks or intense gaming sessions. The CK68 features a built-in rechargeable 3500mAh battery that provides extended use on a single charge. Whether you're wired or wireless, you can count on the CK68 to stay powered up and keep you in the flow.
Hot-swappable & Amazing South-facing RGB Backlights
As a hot-swappable keyboard, you can easily replace switches on the fly without any soldering required, allowing you to fine-tune your typing experience to suit your unique preferences. Whether you prefer tactile, clicky, or linear switches, the CK68 gives you the freedom to choose. As in the same CK series, the CK68 features custom RGB lighting with a range of presets, as well as the option to create your own lighting schemes. Whether you want subtle backlighting or a flashy light show, this keyboard has you covered.
Specifications for Ice-blade Switch
Ice-blade Tactile Switch
Type: Tactile
Initial Force: 45gf
Actuation Force: 360gf
Bottom Force: 60gf
Total Travel: 3.3 mm
Pre-Travel: 2.3 mm
Ice-blade Linear Switch
Type: Linear
Initial Force: 30gf
Actuation Force: 50gf
Bottom Force: 50gf
Total Travel: 3.3mm
Pre-Travel: 2.6mm
Ice-blade Mute Switch
Type: Linear
Initial Force: 30gf
Tactile Force: 50gf
Bottom Force: 50gf
Tactile Travel: 0.5mm
Pre-Travel: 2.6mm
Total Travel: 3.3mm
Technical Specifications
Switch
Custom Linear Switch
Hot-swap
Yes, 5-pin hotswappable
Stabilizer Type
Plate-mounted
Connectivity
Bluetooth 5.1, 2.4 GHz and Type-C
Inside the box
Keyboard
Instrusction Manual
Coiled Type-C Cable
2-in-1 switch-keycap puller
2.4G receiver
Join us on Instagram
Join our community in Instagram to keep up to date with our news, product releases, sales and giveaways!