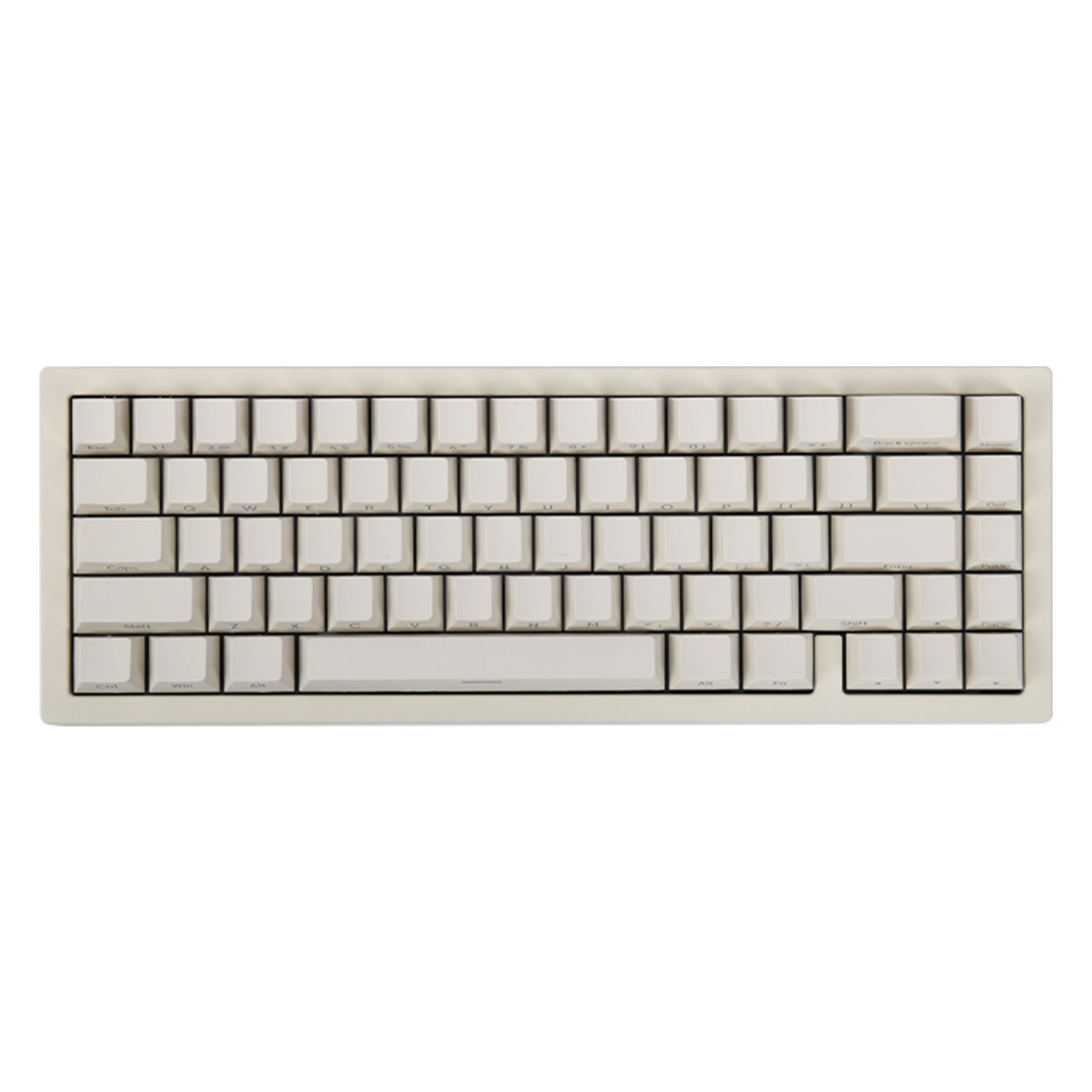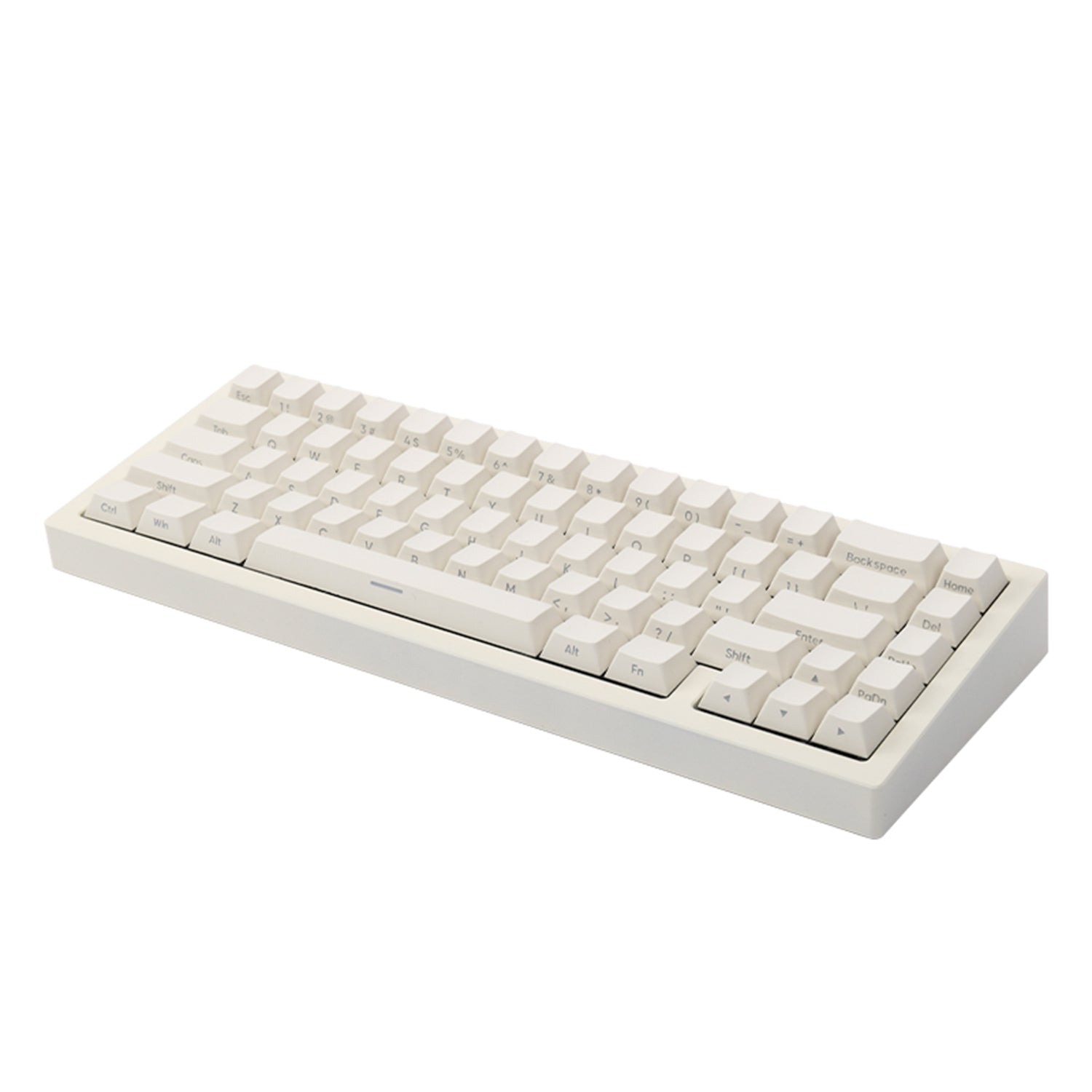 Gasket Mount Hot-Swappable 2.4Ghz/Bluetooth 5.0/Type-C Wired/Wireless Mechanical Gaming Keyboard
ANSI layout, 65% Keyboard with RGB Shine-through Keycaps
Gasket Mount, PC Plate, Triple Layer Poron Foam
Type-C Wired, Bluetooth 5.0 & 2.4GHz Wireless Modes Available
Hotswappabe with 3-pin & 5-pin Mechanical Switches
Triple Layer Poron Foam: Enhanced Typing Experience
Sale price
$159.00
Regular price
Free standard shipping to most countries
Enjoy free shipping to most countries*. Please refer to our
shipping FAQ
to see if you apply.
Covid-19 Shipping Delay Notice
Shipping may be delayed due to covid-19 depending on your country regulations.
White Aluminum Shell and brushed brass counterweight: Sleek Design and Lasting Durability
The AC067 White 65% keyboard boasts a compact 65% layout, which strikes a balance between space-saving and functionality. Its white aluminum shell not only adds a touch of elegance but also ensures durability and a premium feel, making it a reliable companion for both work and play. The brushed brass counterweight adds a touch of luxury to the keyboard's aesthetics. Its presence enhances the overall visual appeal and serves as a weighty foundation, contributing to the keyboard's stability during use.
Gasket Mount, PC Plate and Triple Layer Poron Foam: Enhanced Typing Experience
The gasket mount design, combined with the triple layer of Poron foam, offers a unique typing experience. The gasket mount reduces vibrations and helps dampen the sound produced by keystrokes, resulting in a quieter and more enjoyable typing experience. The PC plate, made from polycarbonate, strikes a balance between rigidity and flexibility, resulting in a pleasant typing feel. The triple layer of Poron foam further enhances this effect by absorbing vibrations and reducing noise.
Hot-swappable PCB and Melon Linear Switch
The AC067 White keyboard supports both 3-pin and 5-pin switches, and they are hot-swappable. This means that you can easily remove and replace switches without the need for soldering. Hot-swappable switches allow for customization and experimentation, enabling users to tailor their typing experience by trying out different switch types. The 5 pin Melon Linear switch is part of the Fresh Fruit Series. It has a 43g actuation force, providing a light and responsive keystroke feel.
Multiple Connectivity Options: Versatile Connections for Any Setup
The keyboard offers three connection modes: 2.4GHz wireless, Bluetooth 5.0, and Type-C wired. This versatility enables users to connect the keyboard to their devices in various ways, providing flexibility for different setups or environments. Whether you prefer the convenience of wireless connectivity, the stability of a wired connection, or the compatibility of Bluetooth, the AC067 White keyboard has you covered. The AC067 White keyboard is equipped with a 2000mAh battery, ensuring extended usage time on wireless mode.
Cherry Profile Keycaps with Side Engraved RGB Shine-through Characters: Ergonomic Design and Striking Lighting Effects
Cherry profile keycaps are renowned for their ergonomic shape, providing a comfortable typing experience. The keycaps on the AC067 White keyboard feature side engraved RGB shine-through characters. This unique design allows the keyboard's customizable RGB lighting to shine through the sides of the keycaps, creating an eye-catching and visually appealing effect.
Technical Specifications
Keycap
Cherry PBT side character
Keyboard structure
Gasket
Switch
Custom 43g linear melon switch
Battery capacity
2000 mAh
Product size
323*117*34mm
Inside the box
Keyboard
Type-C Cable
Instrusction Manual
2.4G Receiver
Join us on Instagram
Join our community in Instagram to keep up to date with our news, product releases, sales and giveaways!