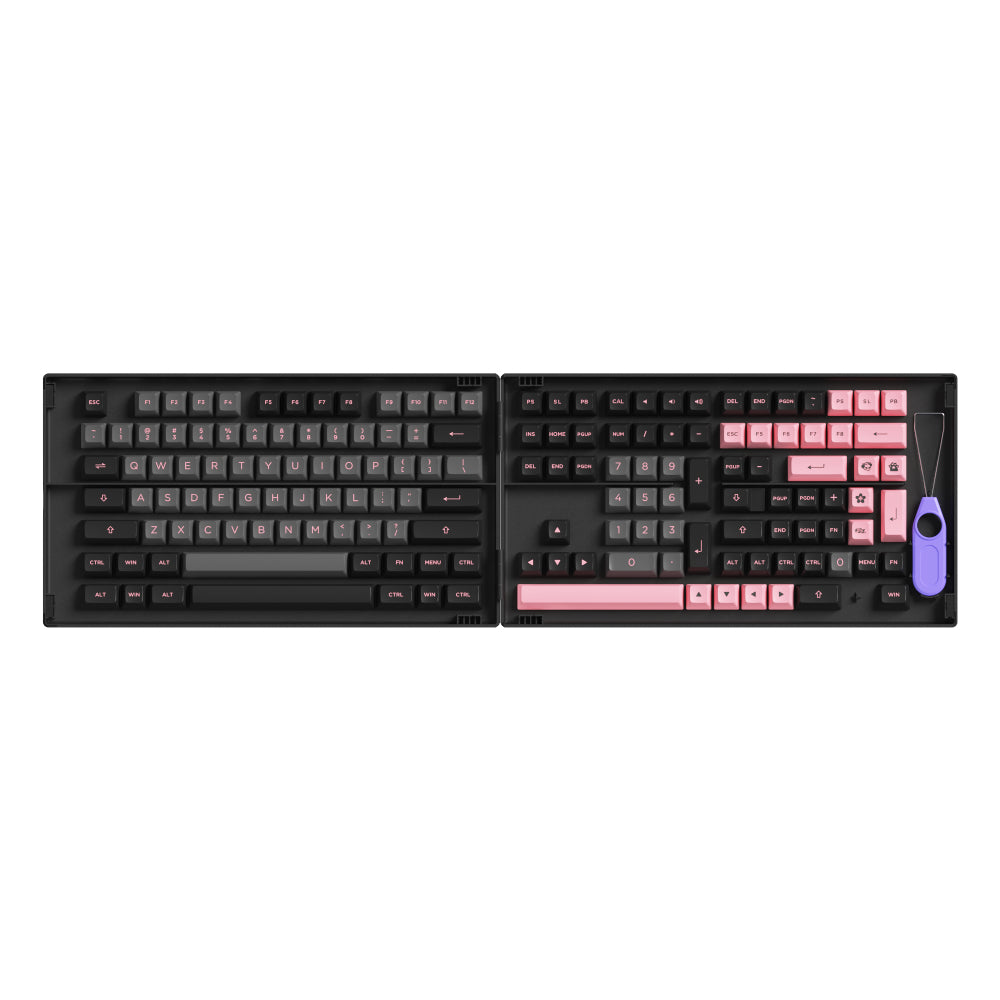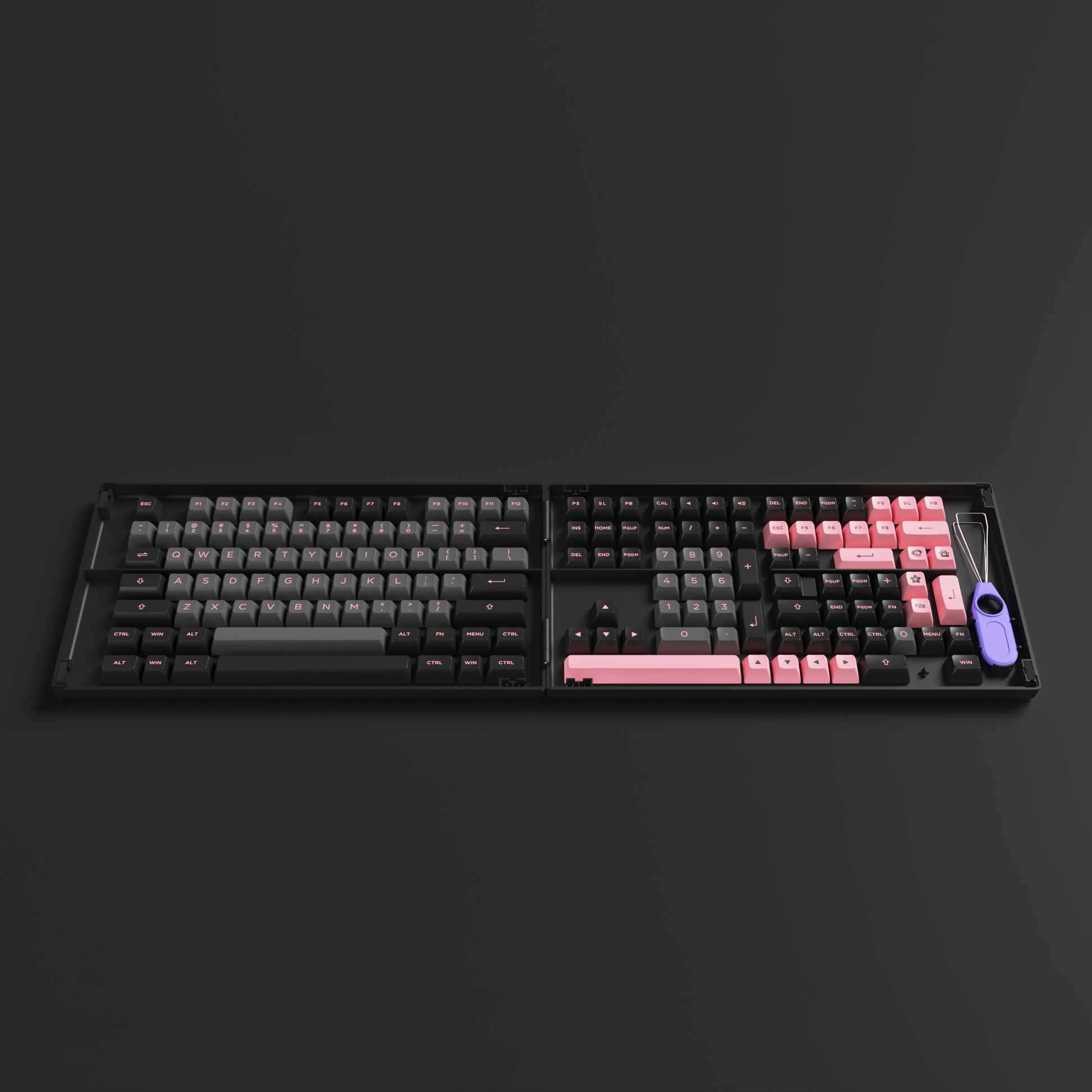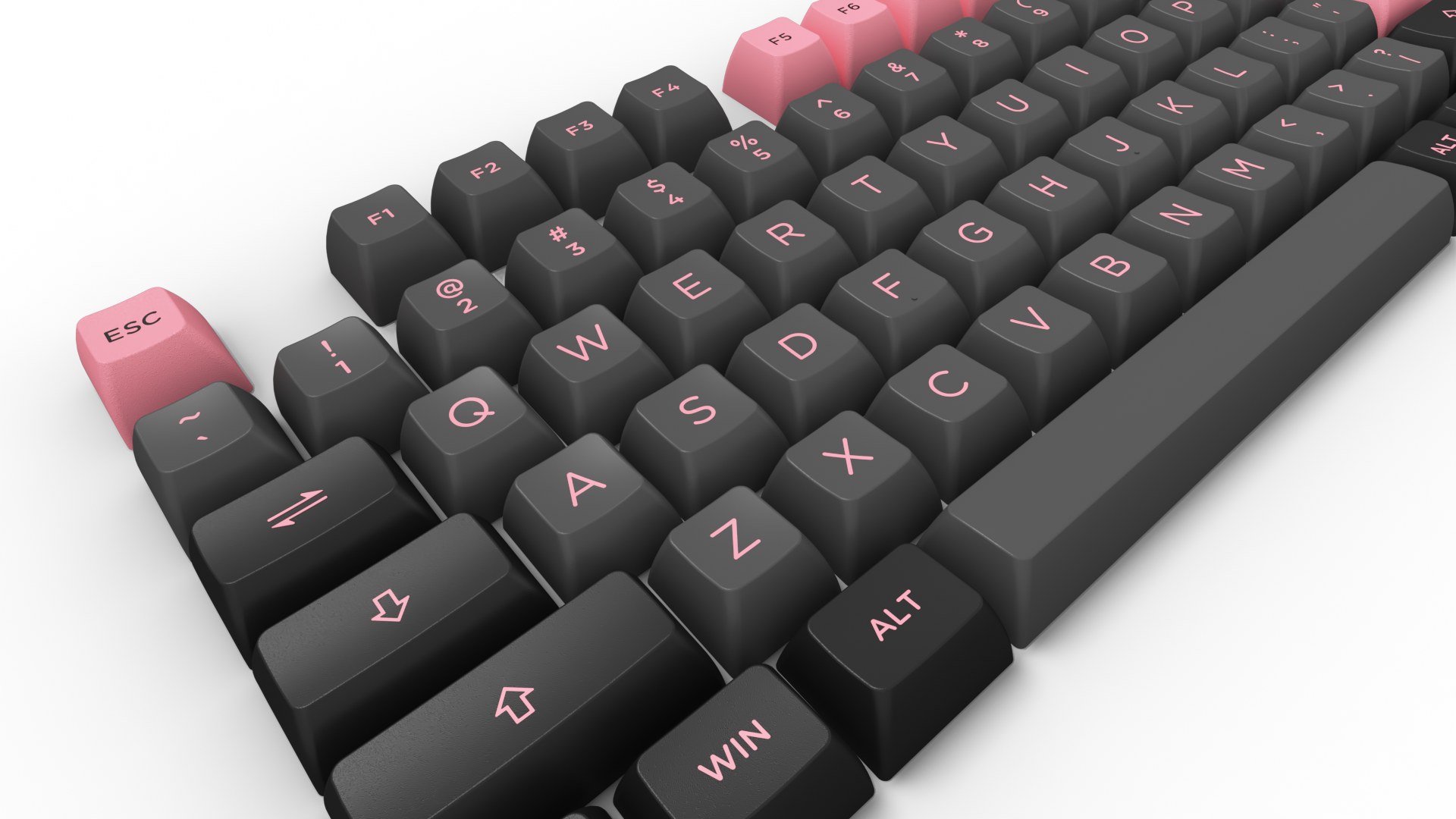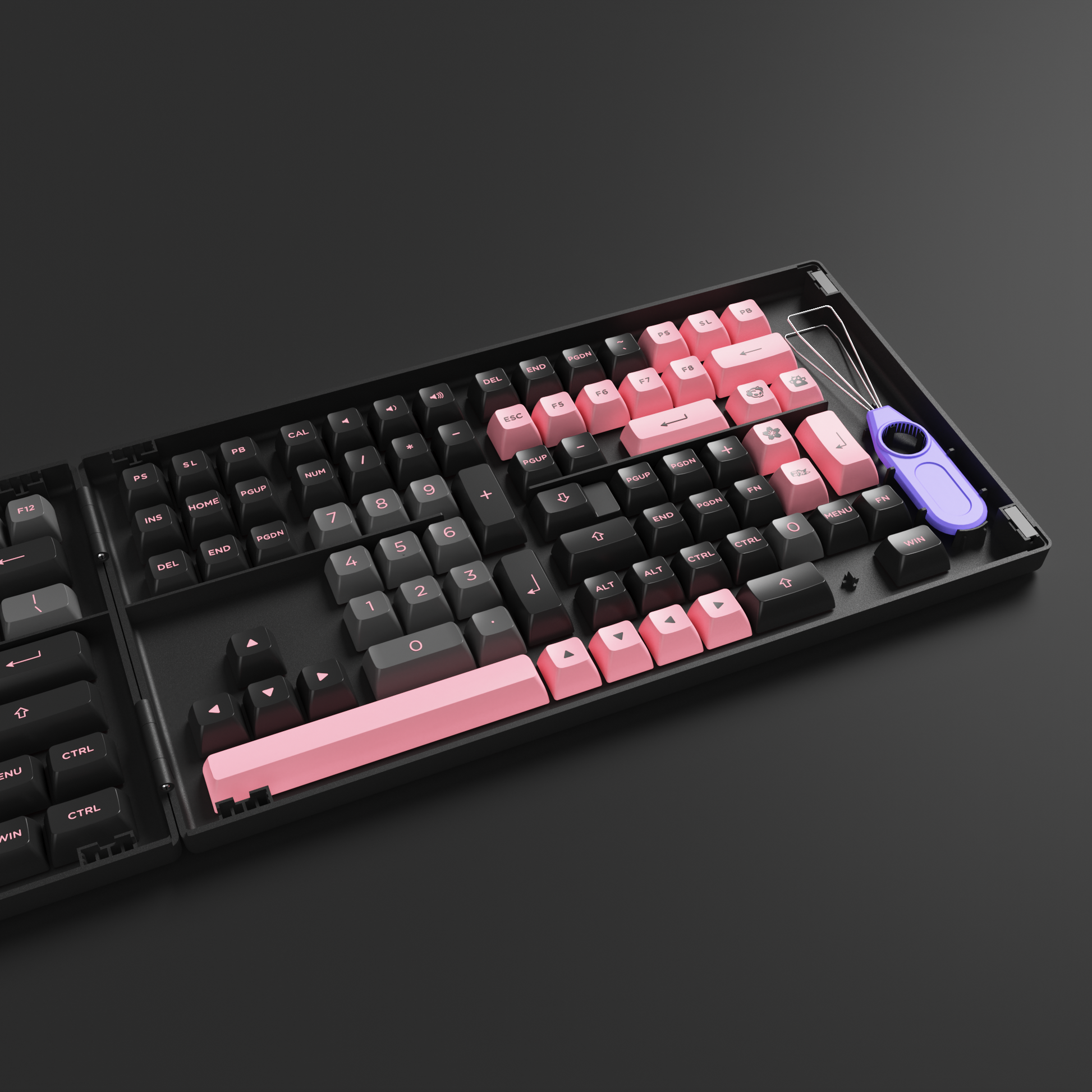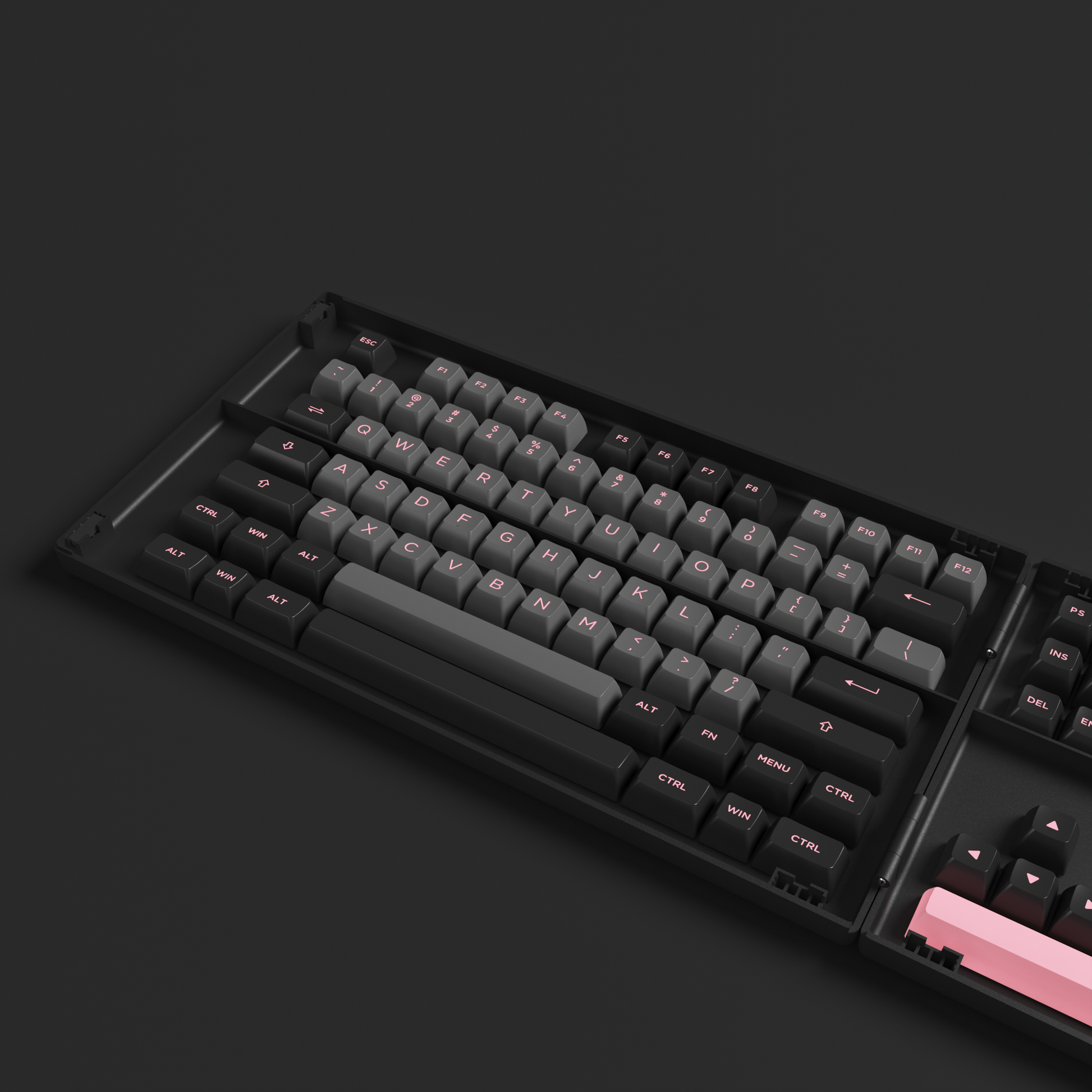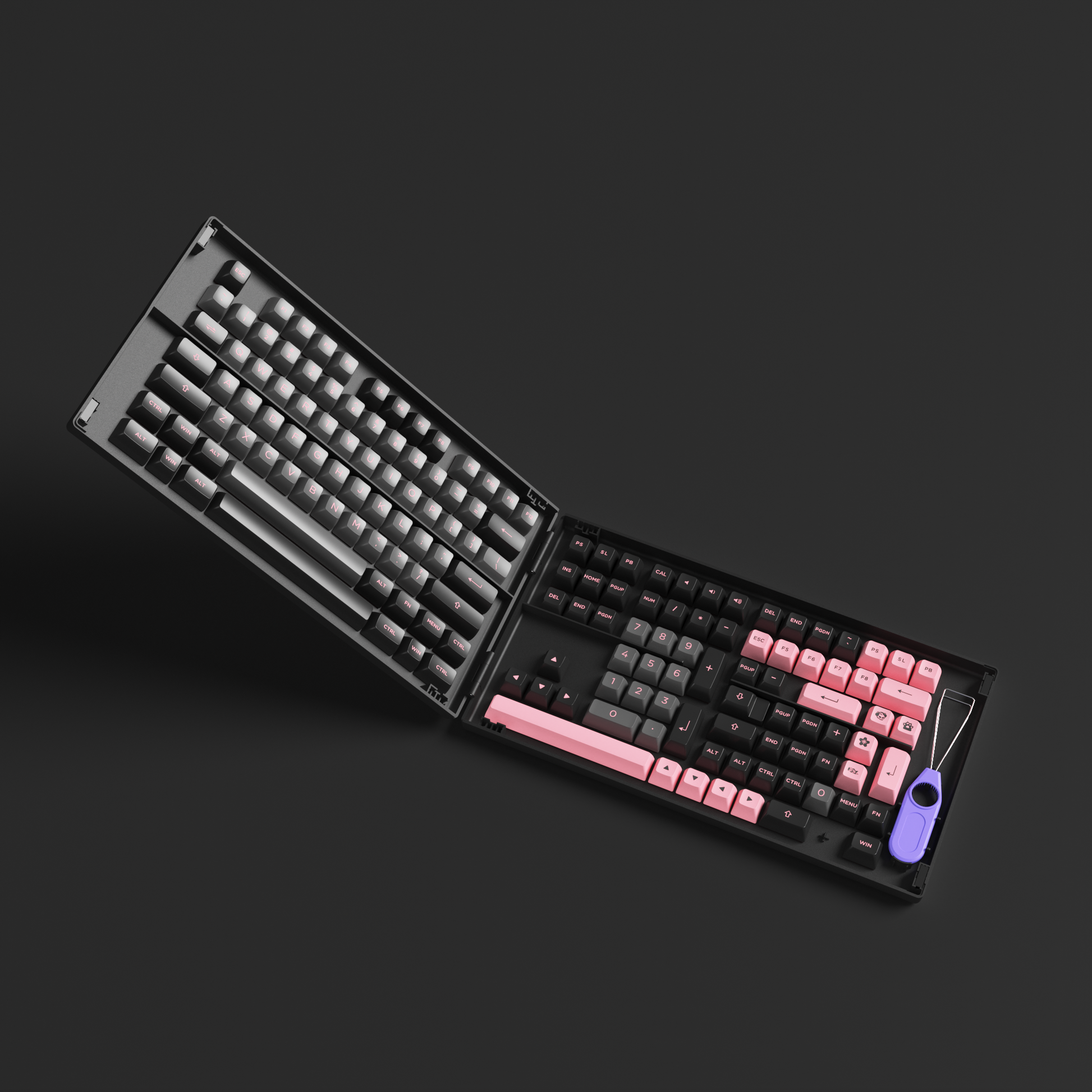 AKKO Black & Pink ASA Keycaps Set
ASA Profile Double-shot PBT 108 Full Keycaps Set, with 49 Extra Novelty Keycaps
Full Size Set, Suitable for Any Layout
Sale price
$41.99
Regular price
$69.99
Free standard shipping to most countries
Enjoy free shipping to most countries*. Please refer to our
shipping FAQ
to see if you apply.
7-Day Return Policy
You may return any non-customized and non-sales product that is sealed, within the 7 days upon receiving it.
AKKO Black & Pink ASA Keycaps Set
Sale price
$41.99
Regular price
$69.99
Forever Black and Pink Color
Less is more. For this set, we have interpreted our way of simplism while also have a twist to it. Designed in three simple colors, black, dark grey and searing pink, the low key keycaps is telling her story in a implicit way. Take a close look, the large pink character matches so well with the dark tone, just as sweetness meets darkness. 
ASA Profile Keycaps Full Set
If OEM profile or classic Cherry Profile wasn't your jam, you may have luck in AKKO unique keycaps profile, ASA profile. This profile is built in high profile, sculpted. This keycaps set can work as the most basic and comfortable set. If you are looking for something that can improve your typing experience, don't spend milliseconds looking for the next key, simply get this set and make your productivity faster.
Durable Fade-Resistant PBT Doubleshot Material
Made from PBT plastic—long considered the superior keycap material—this MX-compatible set is both long lasting and resistant to the shine that occurs after long hours of typing. Compared to ABS material, PBT is less common and feel textures and more more durable. It's dry and not easy to get oily. It does not wear down over time like ABS does.
Full Size Set, Suitable for Any Layout
AKKO Black & Pink keycaps set has a full size base set and some extra novelty keycaps. Especially the custom pattern for function keys is easy to use. No matter you got a 60%/75%/80%/90%, TKL or a full size keyboard, we cover it all. This set will fit any size keyboard. Get one set and make it all work. Well-packed keycaps set with the custom storage box can be an ideal gift for anyone who's into colors.
Double Shot Technique
AKKO Black & Pink keycaps adopt double-shot technique, a more complicated manufacturing process where two separate plastics are injection molded to make the keycaps. Details and techniques made this set an ideal and the best choice when you are looking for a replacement set.
Technical Specifications
Keycaps profile
ASA profile
Number of keycaps
108 full set+49 extra keycaps
Compatibility
60%/65%/75%/80% or full size, any layout in general
CapsLock
1.75U/Stepped keycaps
Inside the box
AKKO Black & Pink Keycaps set
Keycap puller
A well-made storage box
pictures do not match the actual product
In real life keycaps more peach color and not pink at all, looks so different then on the pictures
Dear Customer,
Thank you for your review. We are sorry for not bringing you a happy purchasing experience.
Please don't worry, we will be fully responsible for it.
In order to solve your problem in a better way, our team has contacted you throught support@epomaker.com, we are looking forward to your reply.
Have a nice day!
Best Regards,
Epomaker Team
Really nice
Uniformity of legends and straightness of longer keycaps are both excellent
Neat set
All work fine, got used to the feel of the keys, and I'm enjoying them. My space bar did come warped, though
Great looking and feeling keycaps
I mainly purchased these keycaps to replace my old set as I just wanted a different color scheme. These keycaps fit my budget but I was hesitant of the profile just because I had never heard of it before. If I had to describe them, I would say they are similar to KAT, just a little more ergonomic. The design of the keycaps is also very nice, the colors look good in person and so far all of the keys have held up well. The quality of the keys also slightly concerned me before I purchased them because I have bought more "budget" keycaps before that had horrid fitment and did not line up correctly on the keyboard. I noticed none of that with these keycaps. Overall, I will be looking at AKKO for future keycap purchases!
Satisfactory
This is my first set of key caps so I don't have much basis for comparison. I am enjoying them right now though!
Join us on Instagram
Join our community in Instagram to keep up to date with our news, product releases, sales and giveaways!